Gods Unchained - 1UP Cartel Operator Report Week Two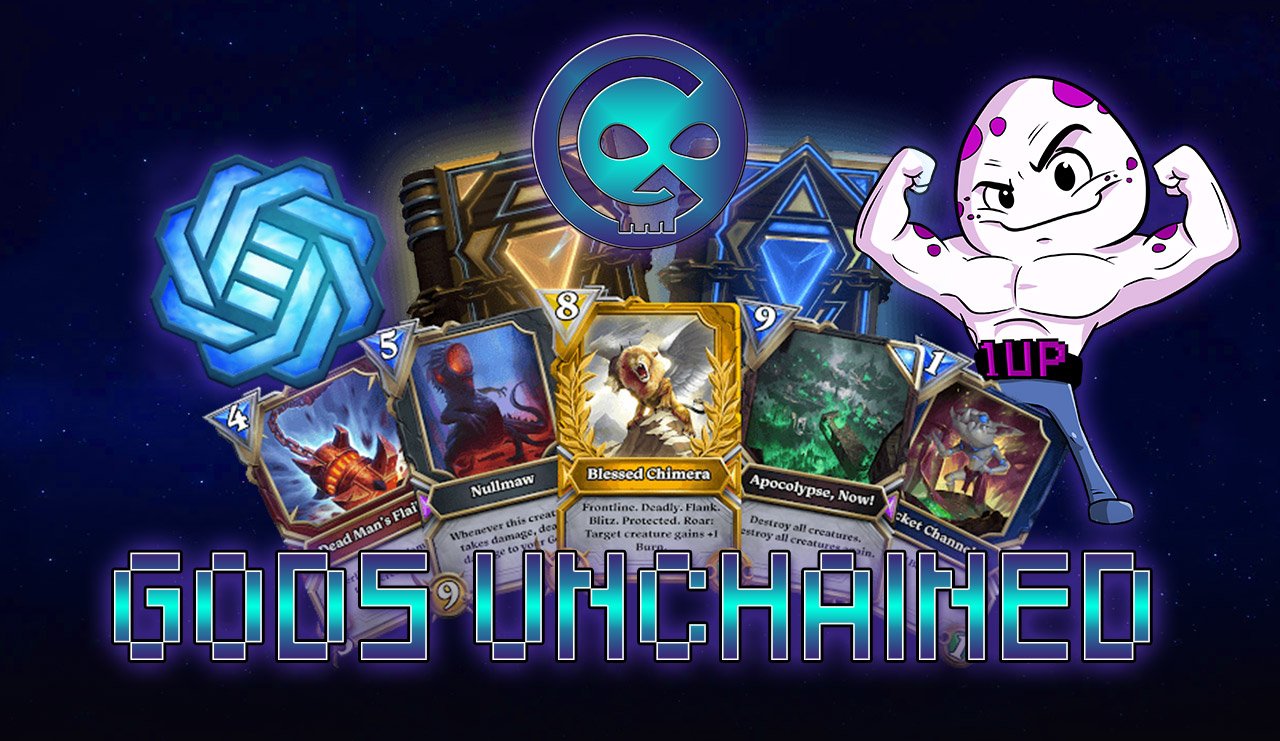 Welcome mortals, you have arrived at the #OneUp and #Cartel weekly Gods Unchained report. We are going to give you an update on news, future plans, my account value increase, some tournament announcements, and finally have a video tutorial for you with a basic overview of the Gods Unchained UI.
News
Discord Hacks
What is happening in the Gods Unchained world this week?
We had a few big things happen in the world of Gods Unchained this week and we are going to give you a detailed rundown of it all right here. But before we get started I want to thank you for all the support we got on our last post. Just shows how strong #OneUp and #Cartel are. And to those who left comment on the post I would like to give you an extra special thanks. I do believe I got back to everyone. And that is why we are here for interaction as well as showing you what a marvelous game Gods Unchained is.

The Great NFT Minting Scam of 2022
Multiple times during this past week the discord server of Gods Unchained was hacked. During their first hack a fake NFT minting project was spammed in the channel. And sadly people who clicked on the link and connected their wallets lost the corresponding currency they paid minting fake Gods Unchained NFTs. The good news is that on January 12, 2022 the GU discord announced that all the victims of the "Grand discord hack of 2022" have been reimbursed. They were paid on mainnet or layer 1 as some know it in the currency they used to mint the fake NFTs.
For the announcement from the discord you can go to the Official Gods Unchained Discord. And read it directly from the team.
A second attack took place the day after the NFT scam. This attack was bots spamming all the discord channels. Additionally some people granted token approvals for $GODS and the attackers took the victims tokens from them. Roughly 1,931.48 $GODS was stolen in this manner. But the team did reassure everyone their tokens will be reimbursed. They are asking that if you were a victim and had tokens taken from you to please revoke permission from the attackers address. You can see the discord link for the Gods Unchained Official Discordif you need to figure out what address you need to revoke permissions from.

The Team Was On Top of It
The good news is the weaknesses have been addressed. And I personally contacted the Gu team to ask how they were breached. I was first directed to speak to Petrichor who heads up the editorial team as I was asking for an interview of what went down. He was nice enough to get back to me in a timely manner. He told me he was going to pass my question along to Eclipse who is one of the community managers. The following day he messaged me and this was his statement.
"Hey mate, getting back to you on this one.

While we believe in transparency, this is one instance that we're not going into detail here as we don't want to give anyone insight to security procedures (at the risk of giving people information that will help them compromise security as it would directly affect users) but the team have knuckled down on Discord security, currently actioning a thorough sweep. This involves updating all current functions and channels, but also updating the entry process to the Discord (including alerting people to the correct processes, having the information to help everyone be wary of scams from the get-go), as well as looking into the implementation of user validation, which extends to our account creation.

A good thing to note is: if something sounds too good to be true, it likely is. Make sure to check the #report-scams channel in Discord before taking action, as well as report any scams to this channel that you are concerned about.

The annoying caveat is, as Discord is a third-party platform we can't make it 100% secure so there could always be breaches, but we can secure it to the best of our ability."
This was a direct message from Petrichor to my private discord. I was grateful to get a response and although it does not go into detail about how they solved the issue that is understandable. After the attacks they do not want to let outside people know what measures they are taking to prevent attacks in the future.

Blessings of the Gods
Now for the blessings of the Gods news and what I claimed this past weekend.
The Gods Unchained team made an announcement on January 10, 2022 and laid out a loose roadmap of the plans for the $GODS token. While also give a brief look at the progress the game has made. The first number they introduce you to is that there are currently over 13 million God Unchained NFTs out in the world. With over 65k unique asset holders. Pretty impressive numbers with great growth potenial still available. The full statement is available for your viewing at the Official Gods Unchained Blog
The next pretty amazing numbers given are that since March 2021, over $25m worth of Gods Unchained assets were traded between its players on the IMX platform. And the last week of 2021 they saw astonishing growth of over 62k new users. They claim that this is a 300% growth in numbers that they were seeing mid October. Which was before the $GODS token was launched. For those out there who love statistical data there are more numbers you can view at the Gods Unchained Official blog
Personally I do believe the blessings of the $GODS event is the reason for this huge injection of players to the game. The amount for games per week exploded. So much so that one week they saw 11.7 million games play. This happens to double the number of total games played for the entirety of 2020.

Staking GODS
Now to the actual $GODS token talk. They very briefly talk about the $GODS staking. And perhaps as early as next week a % of $GODS tokens spent in the store, and the forge will begin to funnel into the rewards pool. They state that staking will start later in the year. Now this is my one issue with the Gods Unchained team they never give us hard dates on when features will be rolled out. They do not even need to mention hard dates just say Q1 or Q4. I feel like if they did this then the player base could hold the team more accountable for delays.
They then give examples of what $GODS governance would look like for the token. That voting could include matters pertaining to the distribution pool or even future partnerships. Then they speak about the forge and shine forging past that of meteorite. Which is a great Segway into the new daily play to earn feature, and how shine will effect your daily earnings when it comes to the $GODS token.
They do not give any hard numbers as too how many tokens can be earned for an all gold deck. While also not mentioning if your entire deck has to be a certain shine to earn. Or if each type of shine in your deck will just give you points and based on those points you will win a certain amount of $GODS. If you would like to see the teams announcement word for word on the $GODS staking and play to earn you can check it out on the Gods Unchained Blog

Using GODS
Giving more utility to $GODS.
Then we get a breakdown of how $GODS will be used in both the Gods Unchained store, and the sales of the secondary market. The Gods Unchained store is where you can purchase packs from the new expansion that is currently running. The secondary market is speaking of all transaction on the IMX platform, and all though not mentioned I would imagine this would include Token Trove.
What this means is the 20% or all main sales, and 20% of all secondary sales will be made with $GODS token. They feel like this will bring more utility to the $GODS token itself. So when you go to make a purchase you can use your $GODS token if you so chose. If not and you want to use ETH, USD, or does not have enough $GODS token the 20% will be swapped on the open market.

Mobile Launch
Looking ahead!
The glance over the mobile which they hope they will have a small playable alpha in the first have of 2022. With a much wider release of the app in the second half or 2022. We are then told they are doubling down on the core set refresh that should shake up the meta a little bit. Followed by new expansions, items, and the most exciting for me game modes. This all seems pretty exciting. I just wish there would have been more solid timelines laid out for us.
All the times mentioned were very broad strokes of when things might happen. If you want to read the full article posted by the GU team you can give it a look here.

Weekend Ranked
Big Beasts Nature — 17/25
How I did this past weekend ranked.
This previous weekend ranked I started at the Auric Gold ranking. I was able to go 17/25 for the weekend. I completed the main blessings of the $GODS event as well as the two bonus portions for a total of 3.5 out of 4 points. I also completed the 30 wins during weekend ranked that gives you the bonus rare divine order expansion pack. The regular rewards for my weekend ranked performance are one rare core pack, two epic core packs, and two divine order expansion packs. We add this in with seven rare core packs just from leveling up for the week. This will give us a total of thirteen packs.
The $GODS token earned during this weeks event came out to 8.65. There was an issue with the $GODS token distribution so on Friday I was only able to claim 6.18. The team made an announcement stating the remainder of the tokens would be claimable on Monday. For me this did not occur until Wednesday when I was able to claim my additional 2.47 giving the above mention 8.65. And the time of writing this the current value of $GODS token is $2.95 per token. The reason for the recent drop as that the coins bought in the ICO or initial coin offering we unlocked so there was a sell off and people taking profits.

GODS Rewards Delayed
Gods Unchained attacked by bots in game?
You heard me right. Gods Unchained was recently swarmed with over an estimated thirty-two thousand bots this previous weekend ranked. The team is award of this attack and is taking immediate action to ban these accounts. An unfortunate side affect of the attack is packs from weekend ranked were delayed. They have since been given out at the time of this article being written. However the $GODS token you were meant to earn for taking part in the blessing of the $GODS event has been delayed.
They are trying to make sure to have all the bot accounts banned before the tokens are passed out. This way the tokens are not give to fraudulent accounts. The tokens should be released the week of January 17, 2022. Another unavoidable side to this attack is that some real players may have gotten banned. If you feel you are one of those players you can appeal your case by simply clicking Here.This is the official support ticket system for Gods Unchained.

Navigating the Gods Unchained UI, Claiming GODS, and Forging Cards

Account Progress
At the current price my coins from the week had a total value of $ 25.51. The value of my cards increased by $38. So all in all a pretty good week.
The best pull of my three Divine Order packs would certainly be the Necroscepter card I pulled. At the current time of writing this article that card alone has a value of $11.80 so a pretty decent price. This card has become a staple in many Zombie board wipe death decks. Adding a 1/1 zombie with leech at the end of my turn. If I am frenzied at the end of the turn I give that zombie +1/+1. And if a zombie enters my void my opponent loses 2 favor. So you can see how that would easily be my best pull. And be an in demand card if I wanted to sell it.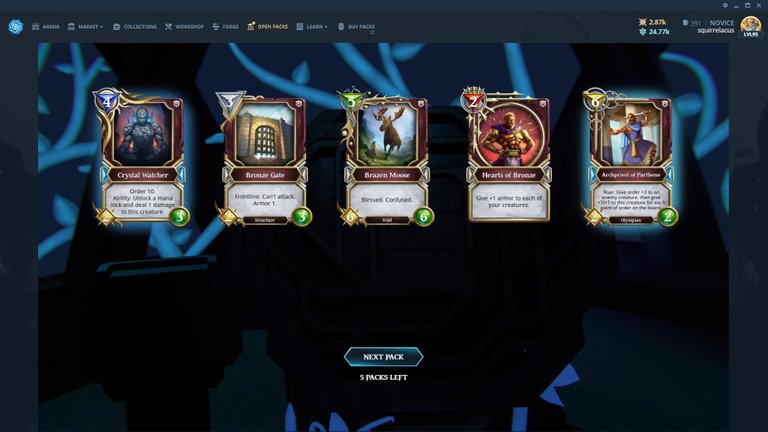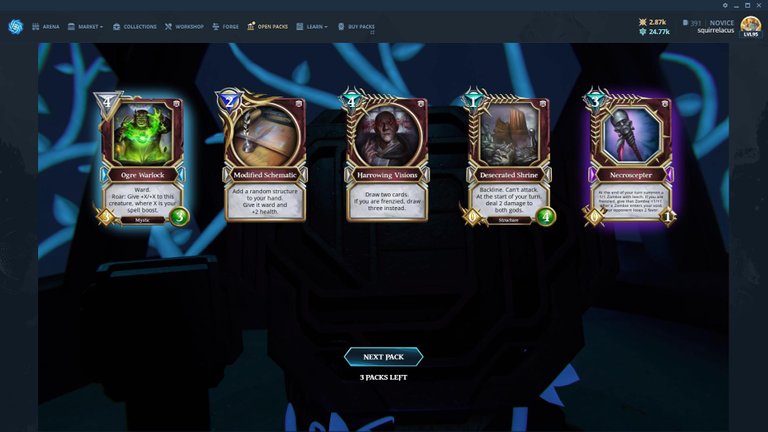 So by taking part in the past weekend ranked event I was able to gain some more core packs and core cards. These will be important moving forward as we can forge higher shines. Which will then have direct correlation with the $GODS daily play to earn mechanic. I was also able to secure my second Necroscepter which I have been taking a look at. Since board wipe death has been performing very well. I was able to accumulate more $GODS tokens. I am currently holding those until staking goes live. I feel the tokens true value has not been found yet. So in my eyes the $GODS token will see a decent price increase the second half of the year.

So looking ahead to next week I am aiming to hit around the same win rate. If I can do this I will be able to secure two Divine Order packs. Then hit the 30 wins over the entire weekend. Doing that gives you one additional Divine Order pack. So if I can do that I will have a total of three Divine Order packs. I am currently trying to acquire my missing nature cards from the set. Me being free to play this is my best shot at filling out my deck without spending my $GODS token or my own personnel money. I will also continue to see if there are cards I know I will never use and sell them off to buy cards that fit my playstyle.

Weekly Gameplay
Tournaments
Player numbers and a series of six month free to enter community tournaments?
It was reported during the week that we saw over seventy-two thousand players. This number has accounted for the bots that were banned. That is a pretty solid number for the community as it continues to grow. And a recent tournament has been announced. It is being called the Play2Earn league season 1. The tournament series will consist of six monthly tournaments with a max of 512 players. These are free to enter events you can click Hereto register for the first event. I would hurry as I have said only 512 players may enter. The top 16 players of each event collect points. Then at the end the top 16 players will take part in a final event.
Tournament Prize Pool
| Place | Prize | Points |
| --- | --- | --- |
| 1st | $500 | 200 P2E Points |
| 2nd | $250 | 150 P2E Points |
| 3rd | $150 | 125 P2E Points |
| 4th | $100 | 100 P2E Points |
| 5th-8th | $500 | 100 P2E Points |
Format:
Top 512 - Best of 1
Top 32 - Best of 3 (win with 2 different gods)
Final 2 - Best of 5 (win with 3 different gods)
All card sets are allowed.
Seeding for the bracket is randomized.
PlayToEarn League - Leaderboard Points:
| Place | Points |
| --- | --- |
| 1st | 5 |
| 2nd | 4 |
| 3rd - 4th | 3 |
| 5th - 8th | 2 |
| 9th - 16th | 1 |
The start time for the first event is January 22, 2022 at 4PM Est. But you must make sure to check in one hour prior to the event start. For further even information of just to look over any other details you can check out the Gods Unchained Discord. Tournament information can be found under the community events tab.

What Is Gods Unchained?
Gods Unchained is a robust digital TCG (Trading Card Game) built on the Ethereum blockchain. As the name implies, the game draws heavily on mythological folklore and combines multiple pantheons (such as Egyptian, Greek and Norse) with various historical highlights. Gods Unchained takes a lighter approach than some TCG's by restricting deck sizes to 30 cards. Players take turns using "mana" automatically accrued over the course of a match to summon creatures, cast spells, and equip relics. Using some combination of the three card types, they attack their opponent until one player's Health is reduced from 30 to 0. The first to do so wins. So battle, collect, play, and earn.
To learn more, check out our Gods Unchained breakdown!

What Is The 1UP Cartel?
The 1UP-Cartel is a mix between a gaming guild like YGG (that invests into gaming assets and creates scholarships for gamers, sharing the gaming revenue), a dividend token (similar to BRO, LBI, INDEX and UTOPIS, paying out regular dividends to token holders from part of the revenue stream) as well as one of the most extensive curation service initiative on the Hive-Engine ecosystem thus far.
Join The 1UP Cartel Discord Today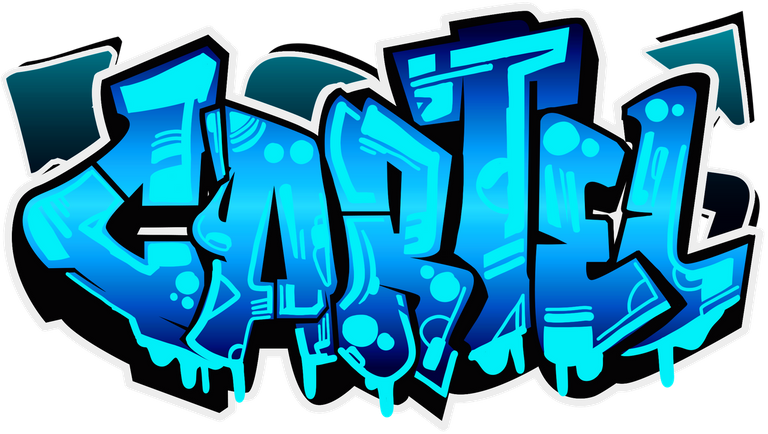 ---
---