Cloudless Sulphur Butterfly On Yellow Flower 🌻 & A Short Story 😻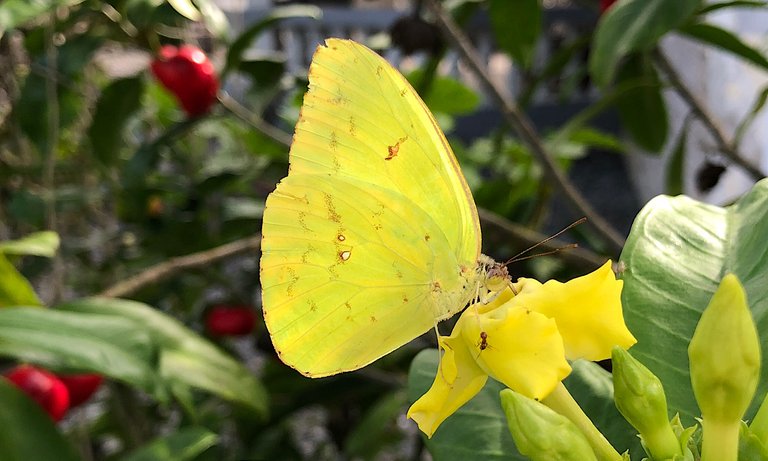 Hello all! I was lucky to get photos of a yellow butterfly this morning. I learned its name is Cloudless Sulphur Butterfly. This kind of butterfly I see them flying past my face every day when I walk outside house, but have never taken a picture of it.
I wanted to have pictures of them a month ago, but they were flying too much. I have never seen them stop in one place for me. I feel sad every time I see them but can not take a picture to show you all. But today I did it, I am so excited about that.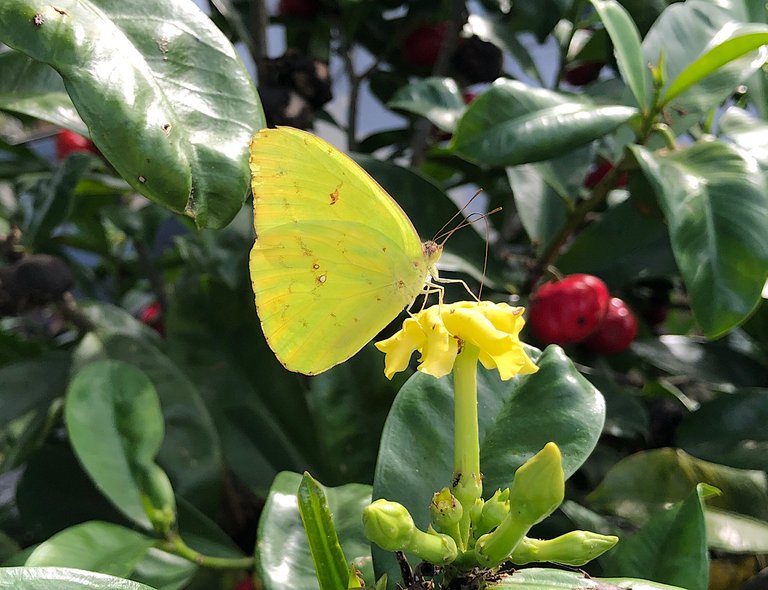 This morning my little girl asked me to go for a look at the tiny bird having eggs near the canal. We saw this bird nesting a few days ago. When we arrived near the landlord's house I saw this butterfly flying past my face and I think it will fly away like always.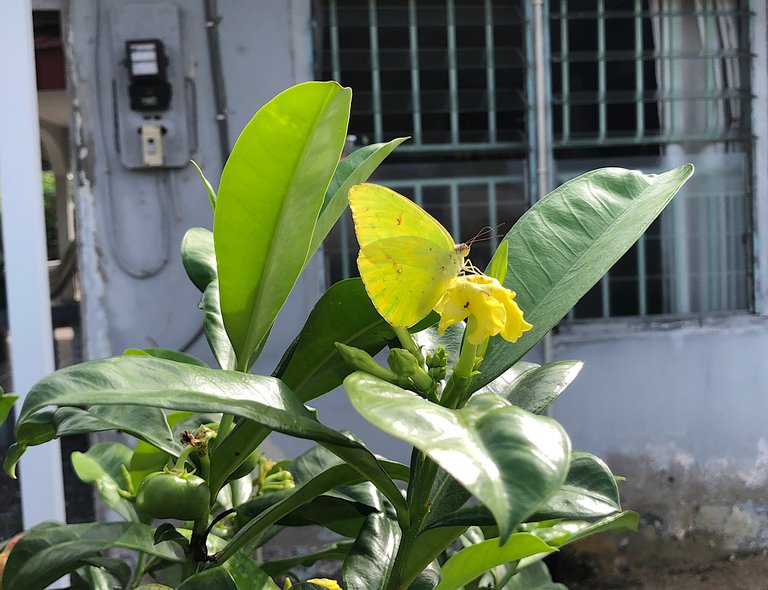 But what I think is wrong, it stopped on the yellow flower. I saw that and I stopped walking and I grabbed my phone for taking pictures.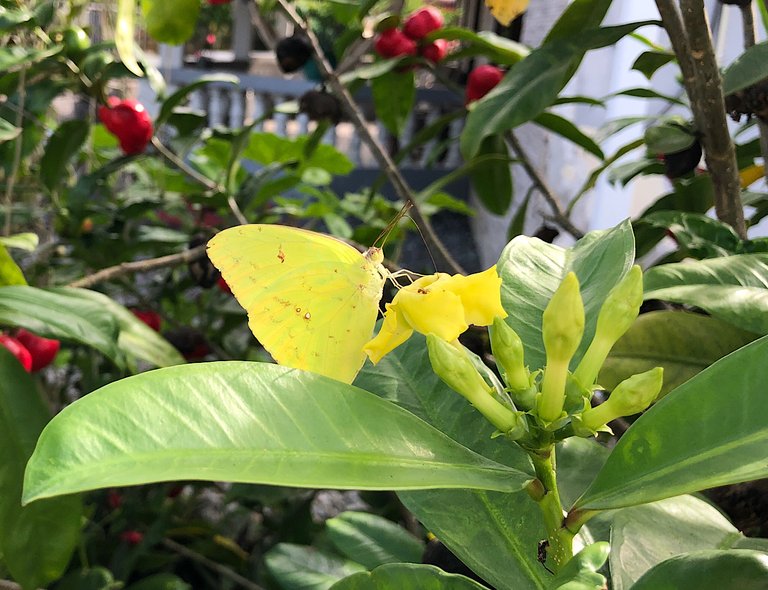 I thought I need to shoot photos so fast because I know already it will fly soon. Yes, it's right, I got close to it and took only one picture and it flew a bit far from me.
I think it will not come here again, so I wanted to come home but I saw it fly back and stop on another flower in the same tree.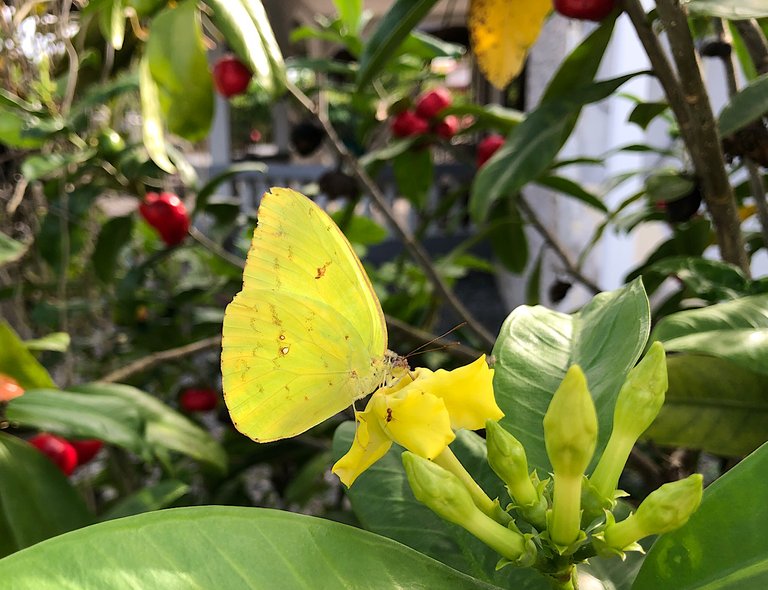 Then I got photos of it again, but very close. I am very happy because yellow is my favorite color and my little girl has a big laugh for that.
I never think this yellow butterfly will let me get pictures of it because I try to take pictures like this too many times.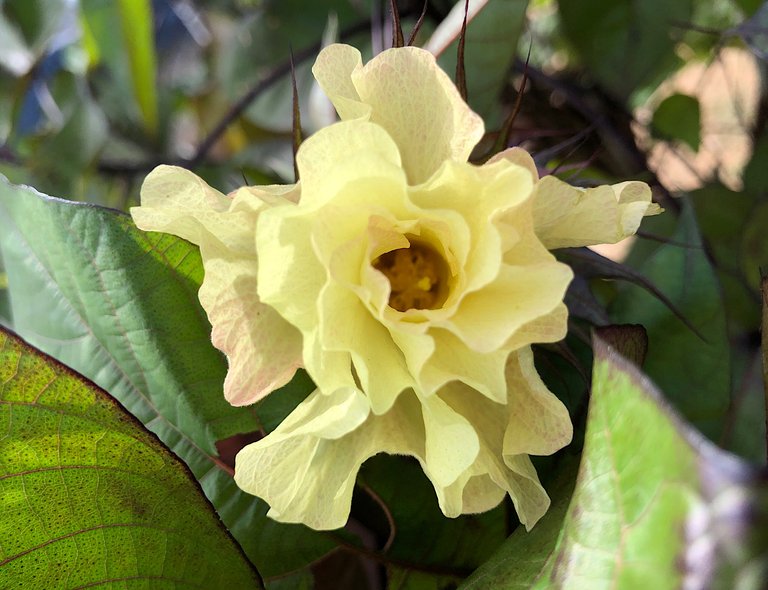 I hope you enjoyed my photos and my short story about this butterfly. Have a beautiful day everybody and stay healthy.

CLICK HERE TO JOIN HIVE AND START EARNING CRYPTO LIKE US
---
---