How To Make Gluten For Delicious Food 🥓 Ital/Vegan Recipe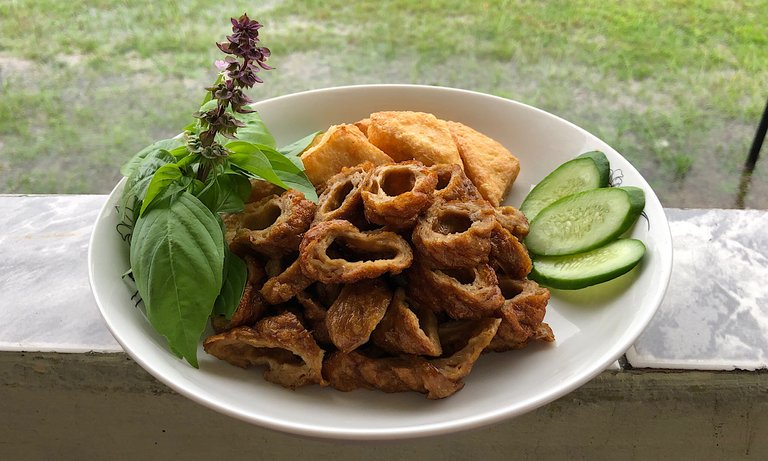 Hello dear Hive friends. A few months ago my mom-in-law send us some gluten because we do not have it here, or maybe have it somewhere but I never saw it. I've made many times but I have never shared the recipe with you all.
I don't know how to call it right in English words. I think you will like it after you can taste it. My two daughters and my husband asked me to make it for them a lot. Thank you for visit my recipe.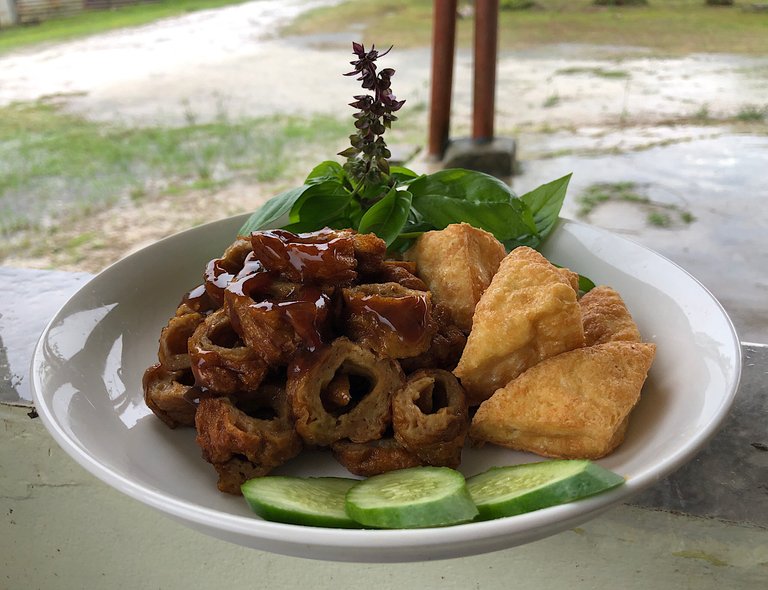 👩‍🍳 How To Make Gluten Snack, Delicious Food
Ital/Vegan Recipe 🔪
វិធីធ្វើសាច់បួសឲ្យឆ្ងាញ់

Ingredients For Make Gluten Meat
2 cups gluten flour
1 tsp white pepper
1 tsp paprika powder
1 tsp chili powder
1 tbsp soy sauce
1 tbsp umami seasoning
1 tsp salt
1 tsp brown sugar
1 cup of water
some stalks of choy sum
Put gluten flour in a bowl and add all ingredients mix well. Then pour the water and make it like a dough. Cut dough like the picture and took two of three shoy sum stalks, and pull the dough and wrap it around the choy sum. At the end of the dough on both sides put the middle of the choy sum. Do this so it it will not come apart.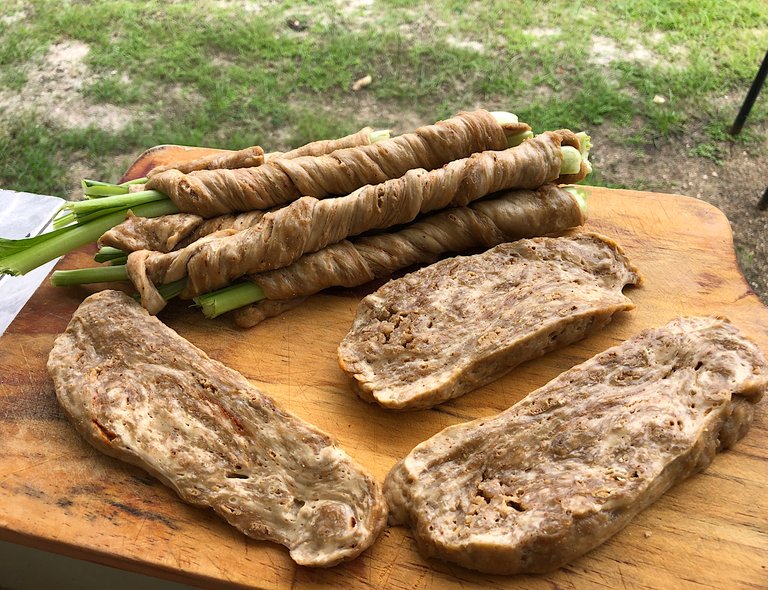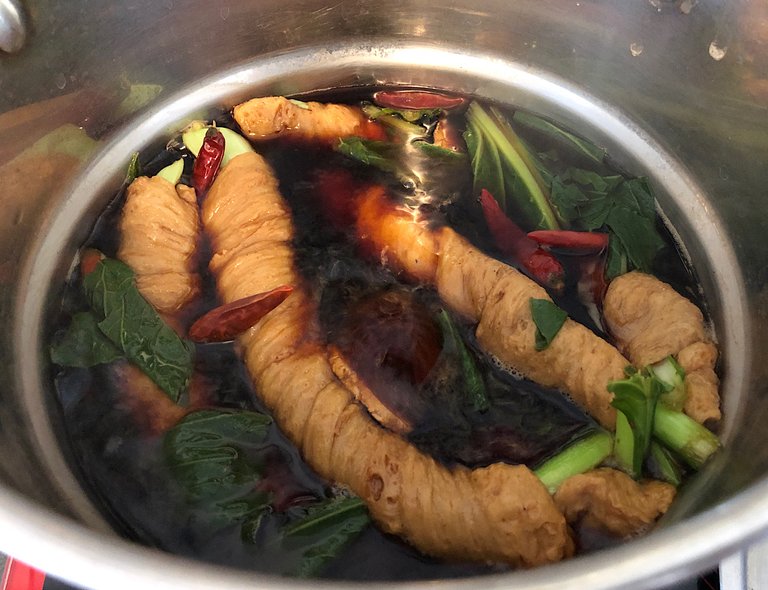 Boil 3 cups of water and add 1/2 tsp salt, 1 tbsp black soy sauce, 1 cinnamon stick, 6 dried chilies, 5 slices ginger. I put choy sum leaves too. After boiling put gluten dough, then boil them around 10 minutes.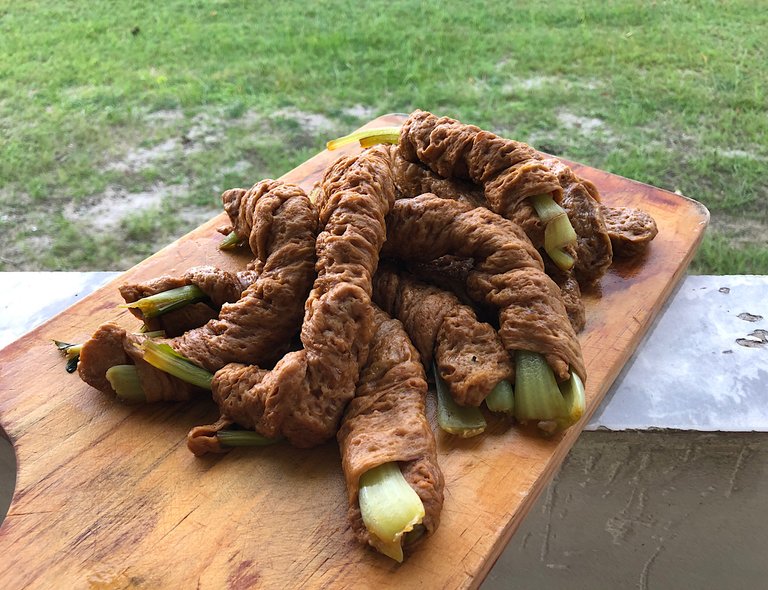 Remove them from the hot water.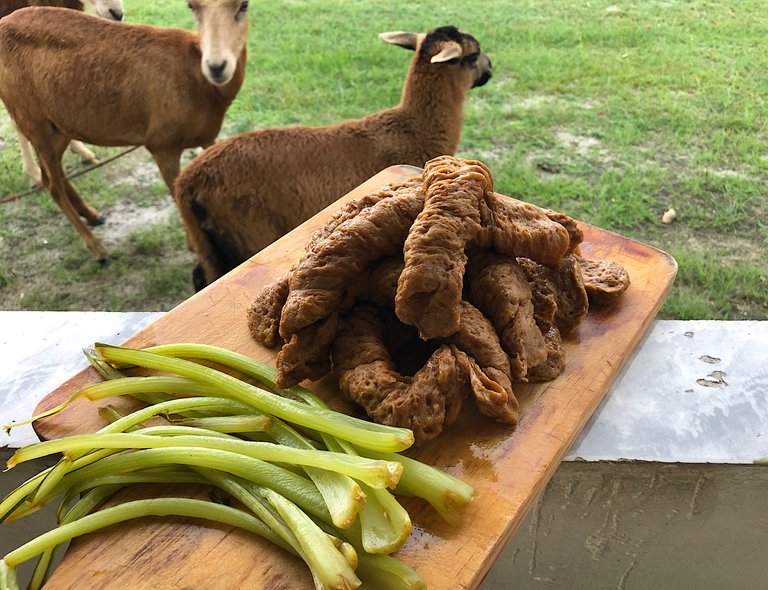 That time start to rain and these goats came to my house because rain.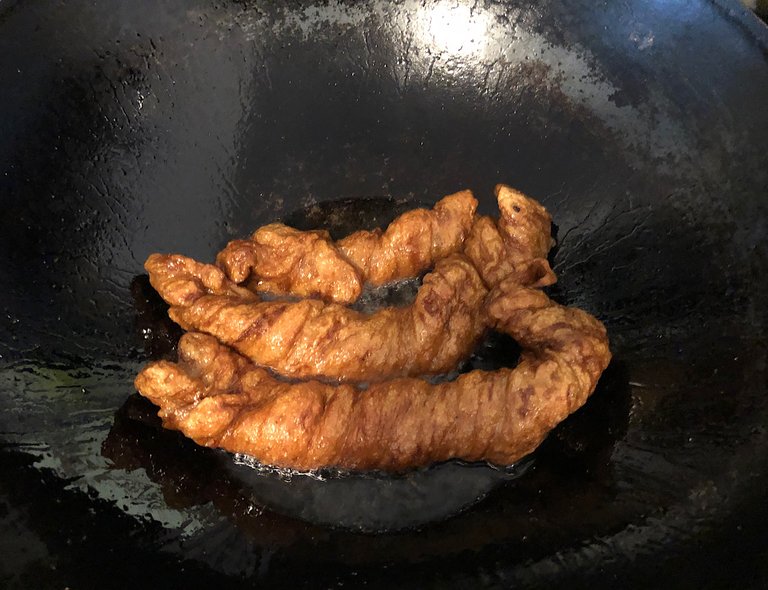 Remove choy sum from them and fry them until brown. We can eat it without frying too, but frying it is more delicious.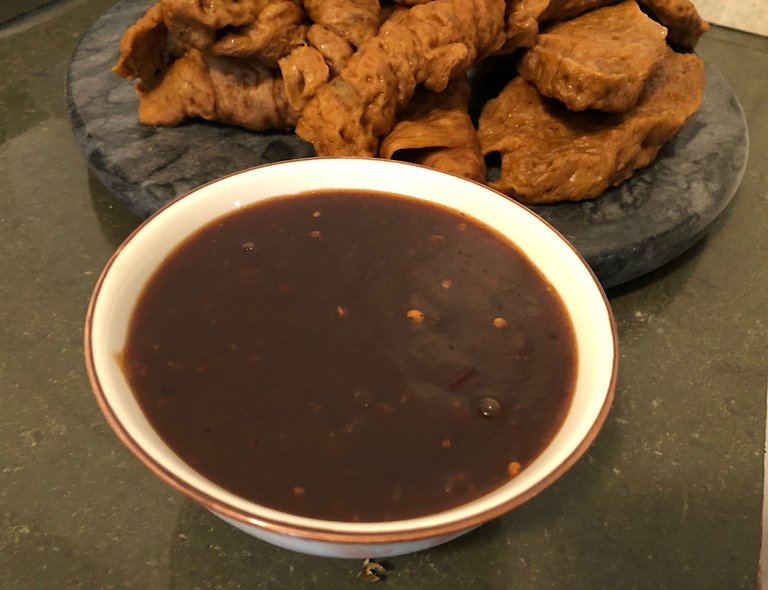 Now I want to show you how to make sauce to eat with it.
Ingredients For Sauce
tamarind water to taste
crushed fresh chilies as you like
1/2 tsp dried crush chilies or to taste
3 tbsp brown sugar
4 tbsp soy sauce
salt to taste
1 tbsp cassava flour
1/4 cup water
Heat a pan and pour a little bit oil, then add all chilies and fry it little bit. After add brown sugar, soy sauce, tamarind water, salt, and stir it well.
Then put cassava flour in the water and stir it until dissolve, then put it in a pan and fry it well. During this time we need to look at it if to see if need to add little bit water or not and taste it's ready.
It's really delicious with this sauce. Normally I make this sauce I like to add garlic too but today I do not use it. This gluten recipe I've made it many times now.
And all the time I change some ingredients and styles because I want to share a good recipe with you all.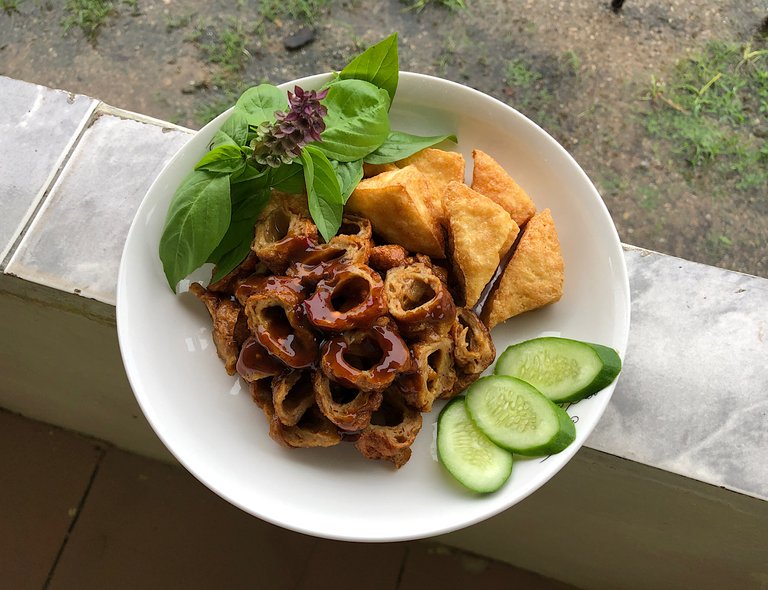 I love to take pictures outside apartment but today has a big rain and inside our apartment is very dark. So the pictures are not clear but they are not bad too. I hope you enjoyed it. Stay safe and safe healthy everyone 😊❤️.

CLICK HERE TO JOIN HIVE AND START EARNING CRYPTO LIKE US
---
---