Steamed Dragonfruit Rice Cakes With Taro Filling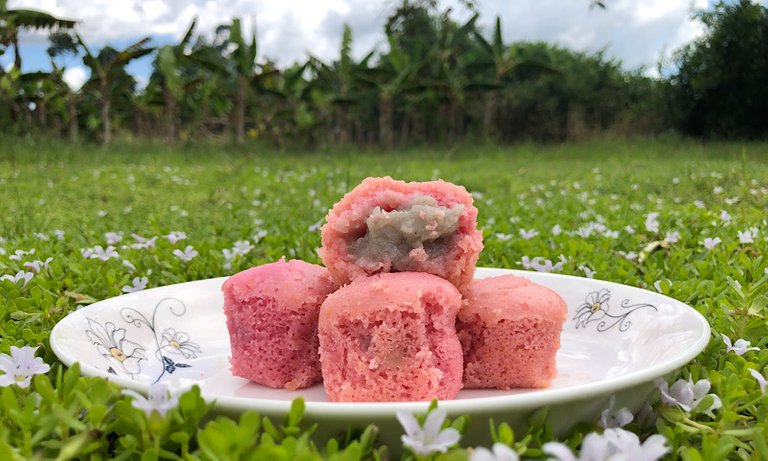 Greetings everyone! I hope you enjoy your weekend. I made a snack to share on Hive with all of you. Before I shared how to make steamed rice cakes, but they didn't have color and filling.
I got taro from the Chinese store so I wanted to make these for my family and the person next door. Normally, it doesn't have filling. I hope you enjoy it.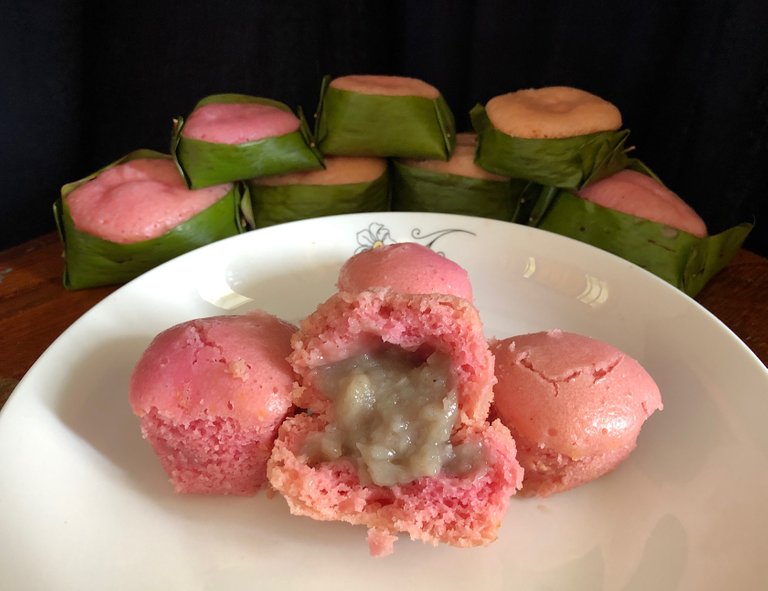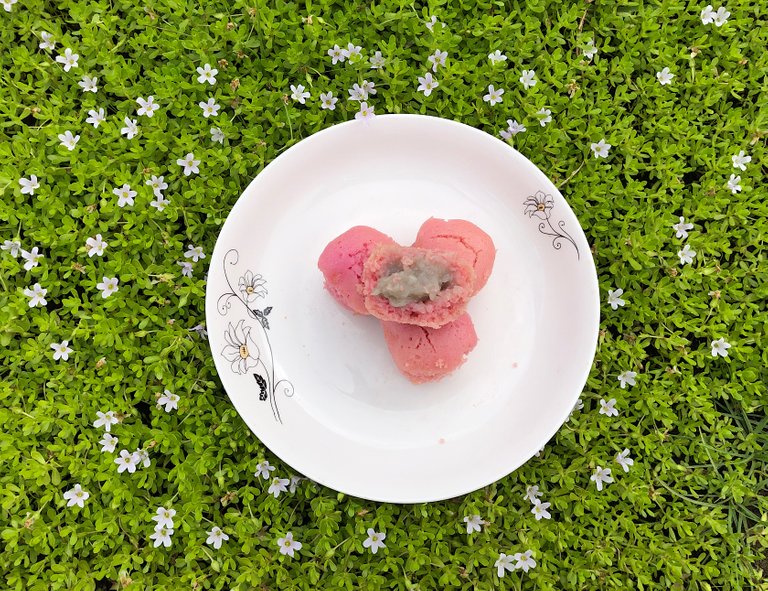 👩‍🍳 Steamed Dragonfruit Rice Cakes With Taro Filling (Ital) Recipe 🔪
វិធីធ្វើនំអាកោស្នូលត្រាវ

Ingredients For Filling
2 cups mashed taro
1/3 cup brown sugar
1/2 tsp salt
1/2 cup coconut milk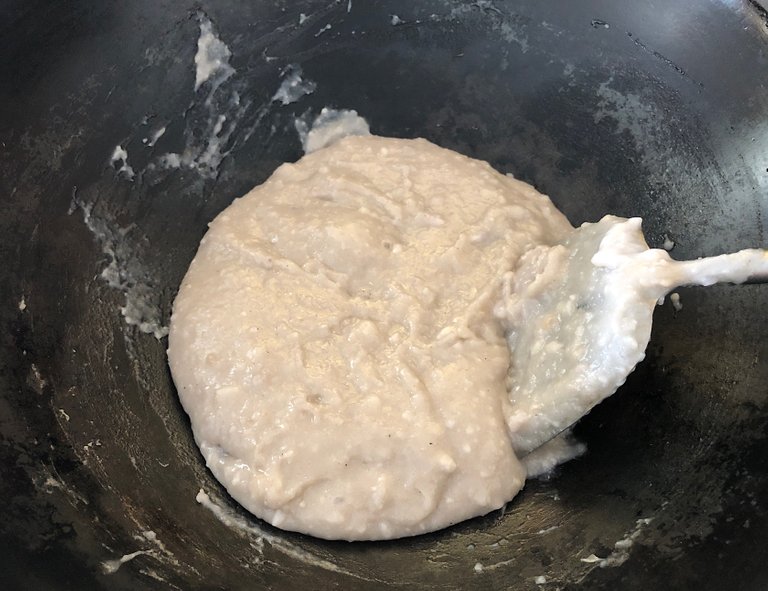 Boil taro, then peel and mash them. Grind it with sugar and coconut milk, then stir it in a pan until dry.

Ingredients For Dough
2 1/2 cups flour
1 1/2 tsp yeast
1/3 cup brown sugar
1/2 cup coconut milk
1/2 of dragonfruit
1 1/2 cups water
1 tsp salt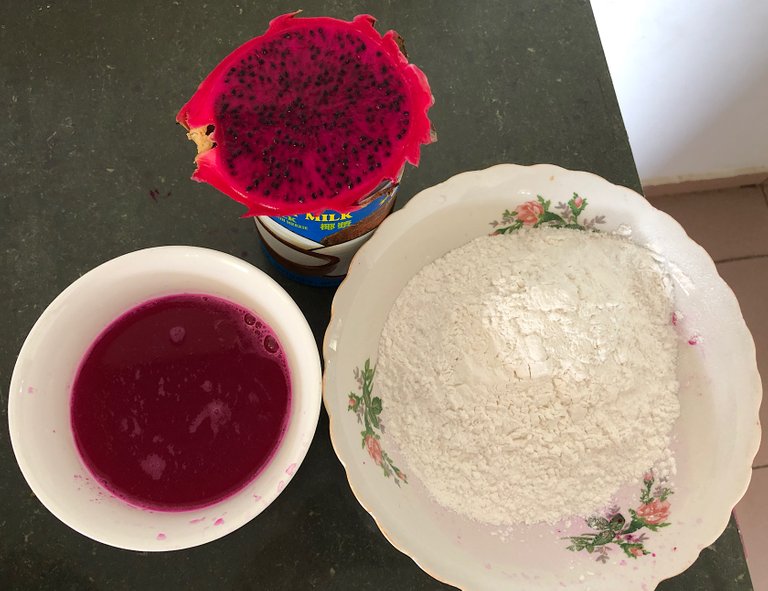 Use dragonfruit for a beautiful color. Mash dragonfruit and add 1 1/2 cups of water, then and pass it through a sieve two to three times to remove seeds.
Now take 1/2 cup of the dragonfruit juice and add yeast, sugar and stir it a little. Set aside for 5 minutes, then take a bowl and add flour, salt, and sugar. Stir it and add yeast water, coconut milk and the rest of the water. Mix it well and knead about 8 minutes.
It will big grow fast, and I put it under the sun one or two hours to make it grow even faster.
While I waited for the dough to rise, I made banana leaf baskets to steam them. If you do not have banana leaves you can steam in anything you have at home. This is easier to make than what I showed you in the last post.
I cut banana leaves for steaming baskets and coconut leaf stems to use like toothpicks. It's easy to make, just cut banana leaves as we want to make them, big or small.
Cut the hard part of the coconut leaves into short pieces, then take two banana leaves or one and fold them, using coconut skewers to close the baskets like in my pictures.
After two hours put one spoon of the batter in baskets and added taro filling in it, then take one more spoon and add on the top. Now steam them 15 minutes. During steaming, be sure not to open the lid.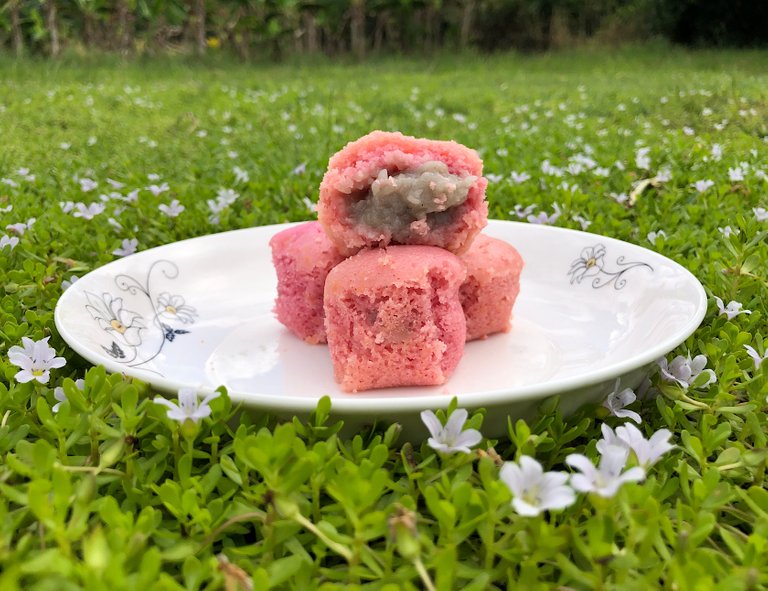 Stay safe everyone 😊.
CLICK HERE TO JOIN HIVE AND START EARNING CRYPTO LIKE US

---
---