🥢 Stir-Fried Glass Noodles With Bean Sprouts 🍝 Ital/Vegan Recipe
Hello dear Hive friends. Today I found bean sprouts in the store, they do not have it for a long time. Now I have it and I wanted to make easy but delicious food to share for the The Plant Based Challenge 👨🏿‍🍳 Week #30 👩‍🍳.
I can make stir-fry glass noodles with so many things, and this is another stir-fry I want to share with you all. This recipe is good for four people like my family. I hope you enjoy it.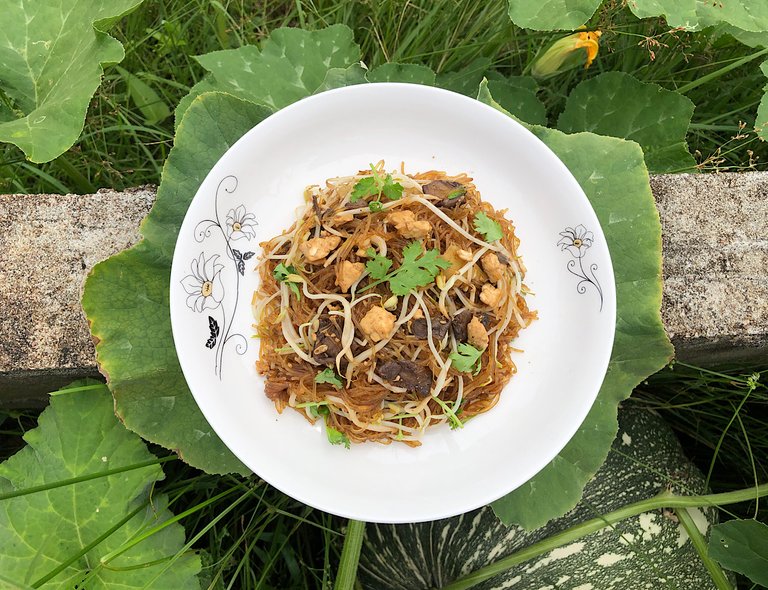 👩‍🍳 Stir-Fry Glass Noodles With Bean Sprouts
Ital/Vegan Recipe 🔪
វិធីធ្វើឆាមីសួរសណ្ដែកបណ្ដុះបួស

Ingredients For Stir-Fry
250g glass noodles
200g bean sprouts
1 small coriander with leaves and roots
10 slices of ginger, or as you like
200g tofu
1/2 cup of sliced mushrooms
4 tbsp soy sauce
1 tsp salt
2 tbsp brown sugar
1 tsp white pepper
1 tsp black soy sauce
1 1/2 tbsp nutritional yeast (optional)
1 tbsp sesame oil
2 tbsp water
oil for stir fry
I used frozen mushrooms, at first they are maybe two cups but after remove from the water, there is only 1/2 cup.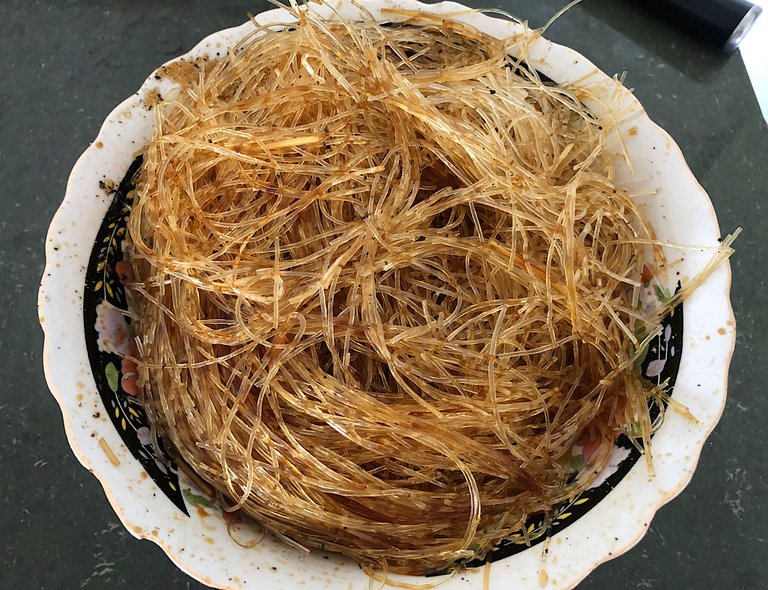 Soak glass noodles in water until soft, then remove them from the water and cut them a little bit.
Take a bowl put soy sauce, black soy sauce, sesame oil, salt, sugar, white pepper, nutritional yeast, water, and stir it well. Next, put glass noodles in and mix it up.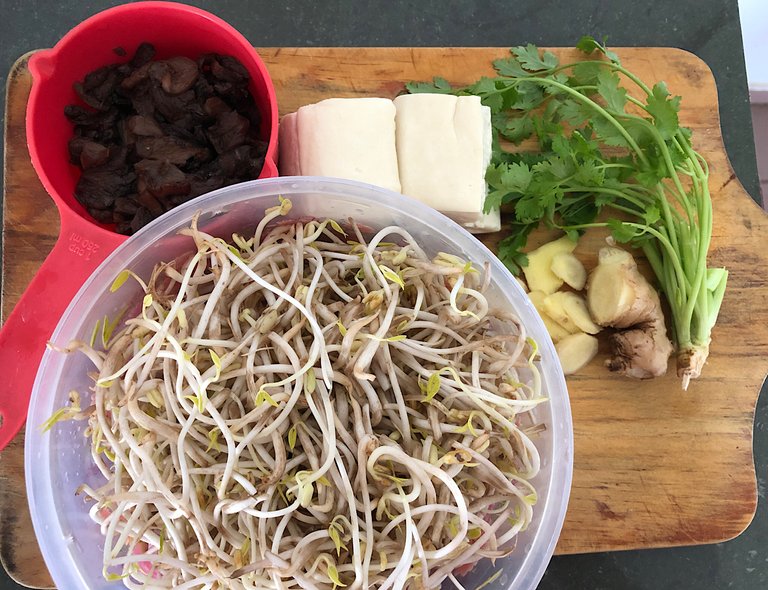 Slice ginger and cut coriander leaves, then cut its roots into 4. It's a big root, if small, use two.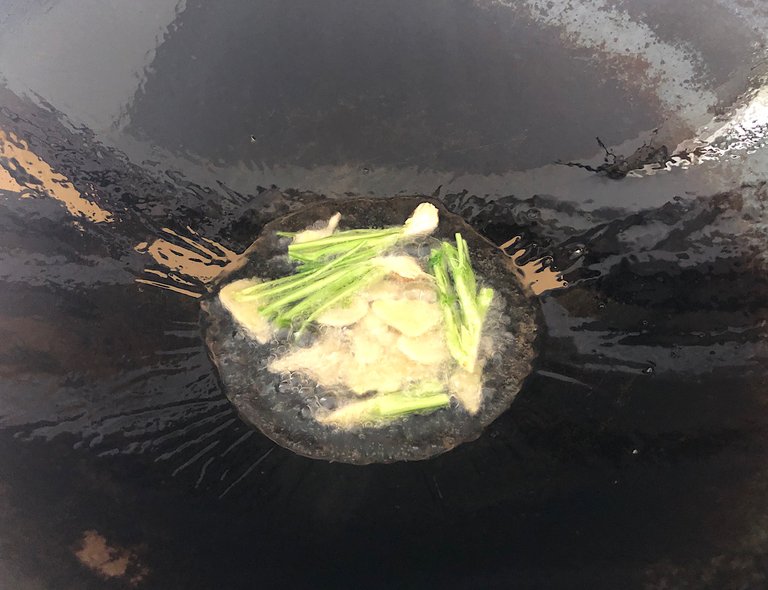 Heat oil and fry ginger and coriander root until smells good.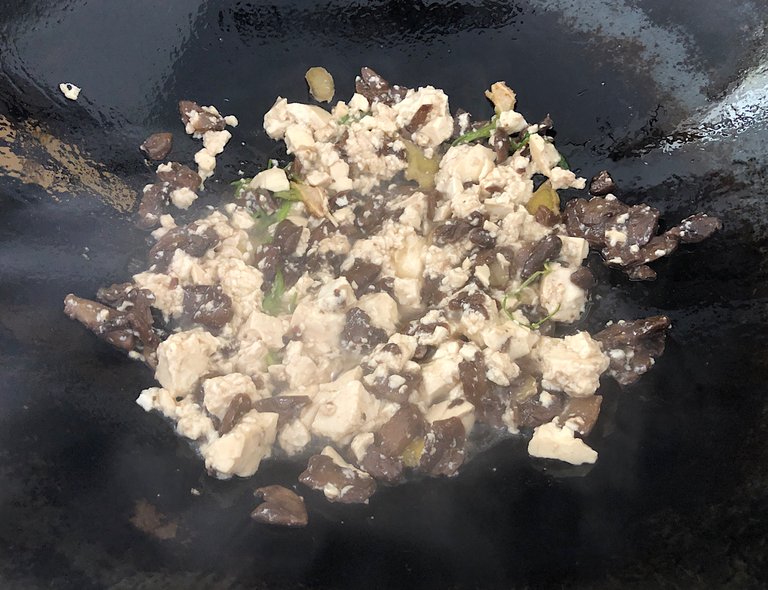 Then add mushrooms and stir-fry it a little bit more, then add crushed tofu stir-fry it well.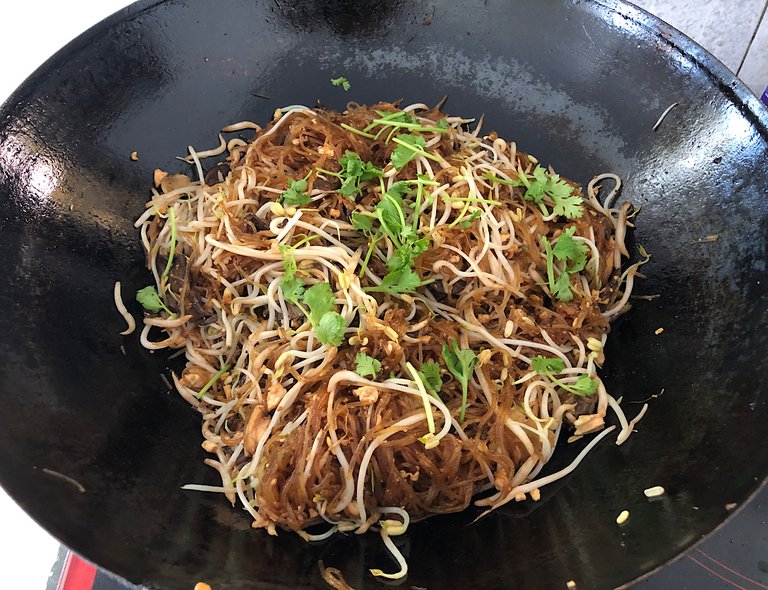 Next put glass noodles and sauce into the pan and stir-fry it very well few minutes, or just look at it, when it's like dry a little.
Then put bean sprouts and fry it well about one minute. Finally, add coriander leaves and stir-fry little bit, it's ready.
It's delicious and my family loves to eat it always. Have a wonderful day everybody. I hope you are all well everywhere you are. Stay safe 😊.

CLICK HERE TO JOIN HIVE AND START EARNING CRYPTO LIKE US
---
---