Vegan Mint Cheesecake 🍰 An Ital/Vegan Recipe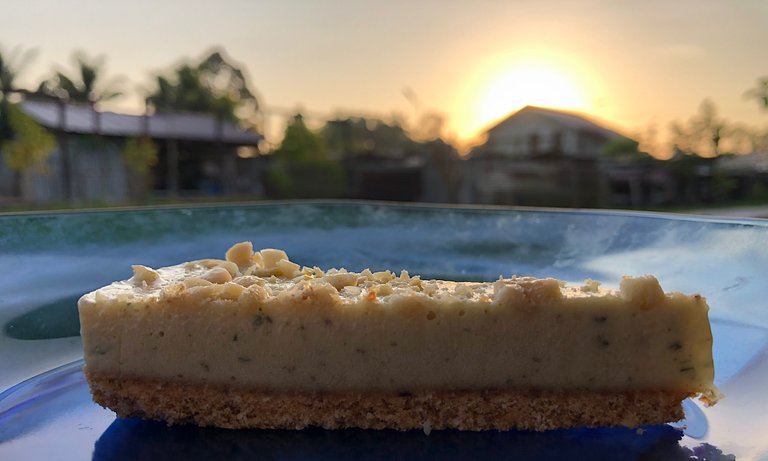 A few days already I wanted to make a cashew cheesecake with mint leaves for The Plant Based Challenge 👨🏿‍🍳 Week #26 👩‍🍳 Come Join Us!!, and to eat too. Here it's difficult to get mint leaves, they have sometimes in the supermarket in big city. My husband bought a bag of mint a month ago, and I used only the leaves, keeping the roots for growing. Now I can pick it sometimes for a recipe.
After I picked the mint already I went to open the door of the refrigerator to get dates (I buy a bag a long time ago), but there are only 8 left now. I closed the door and looked at my family, then I said, "Who ate my dates?" My two daughters looked at Justin and said together "Dad! Dad! Dad!" and he lost hid face from me. He is like a mouse at night, eating everything in the house.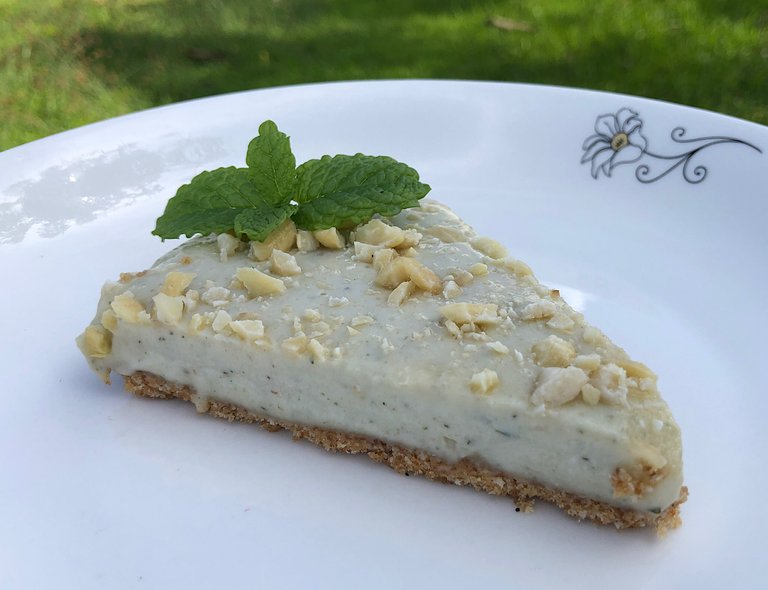 It's not easy to buy dates, sometimes the stores have them, but when they run out it's a long time before they have them again in stock. I always buy one bag when I see them, and keep them for making something special.
I feel angry with him a little bit because I picked mint already but there were not enough dates. But I still did it, I just made it smaller than before with less sugar and oil.

👩‍🍳 Cheese Cashews Mints 🍰 Ital/Vegan Recipe 🔪
វិធីធ្វើនំខេកស្វាយចន្ធីជីអង្កាម

Ingredients For Under
8 dates (more is better)
4 tea biscuits
1/8 cup dry coconut meat
1 tbsp coconut oil
1 tbsp brown sugar
If you have more dates, do not add sugar.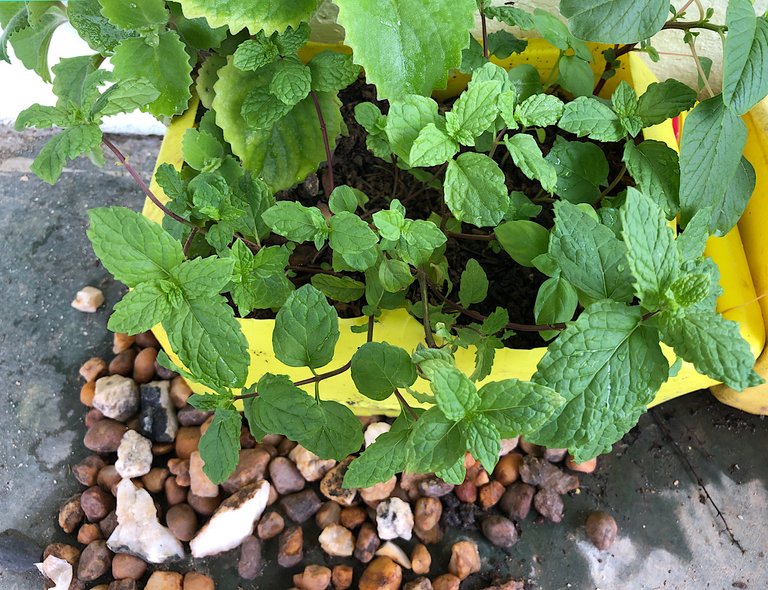 I just grew this mint for a month. I picked a little bit maybe a few times for my daily food.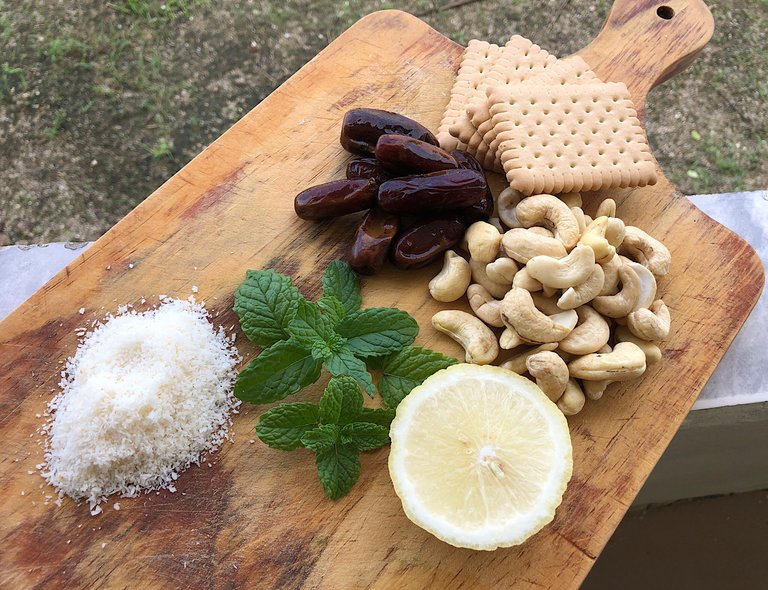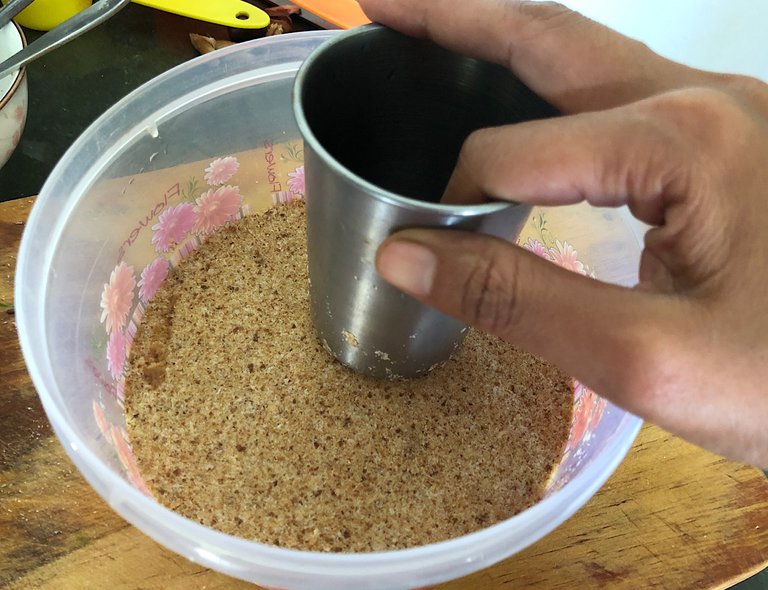 Grind dates, cookies, sugar, coconut meat and oil together, Then put it in a container, take a glass and press it smooth.

Ingredients For Above
1 cup raw cashews
24 mint leaves
1/2 cup coconut milk
1/4 cup brown sugar or taste
2 tbsp coconut oil
lemon juice by taste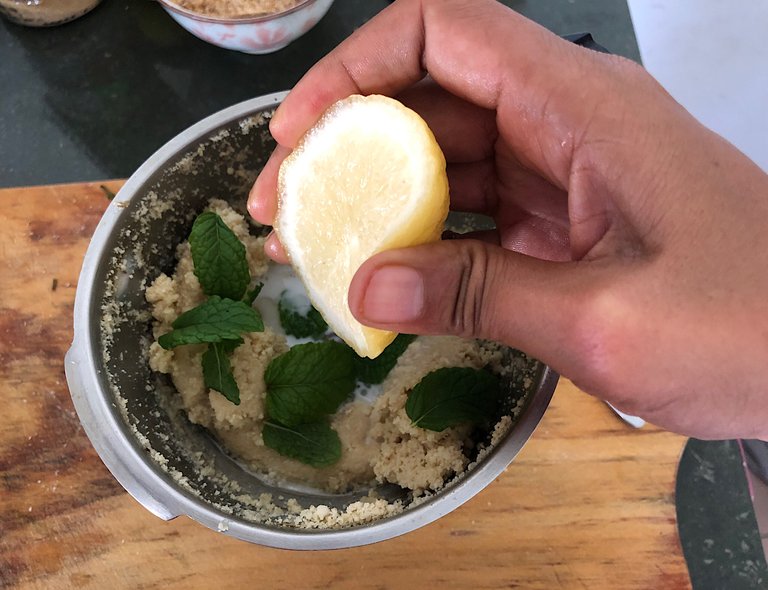 Grind cashews well, then add coconut milk, sugar, coconut oil, mint, and lemon juice, then grind it very well.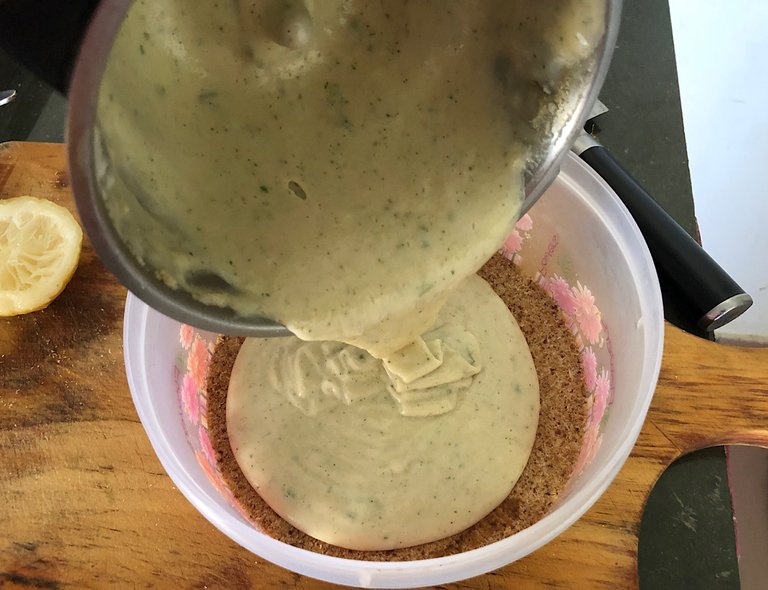 Next put it in the container and tap or shake it until smooth.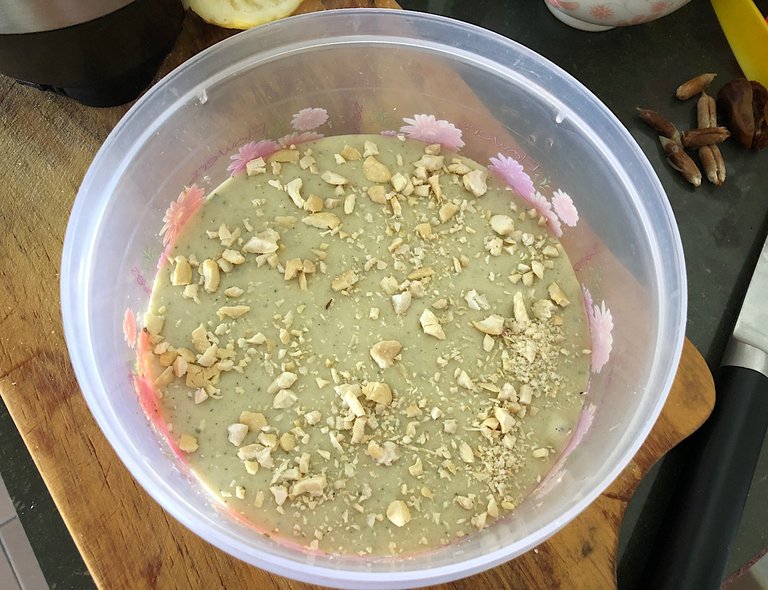 I crush some cashews and put on the top. Close it and keep it in freezer until hard.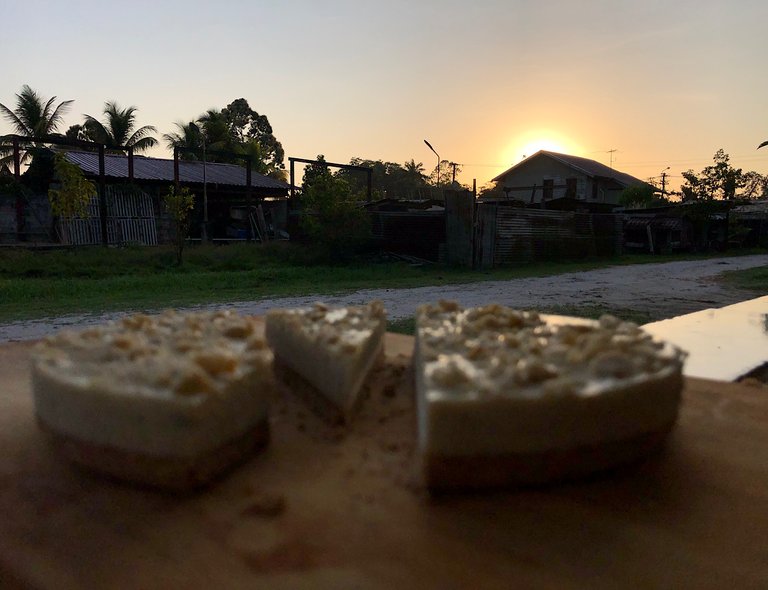 After it hard we can cut and eat it. It was delicious as always.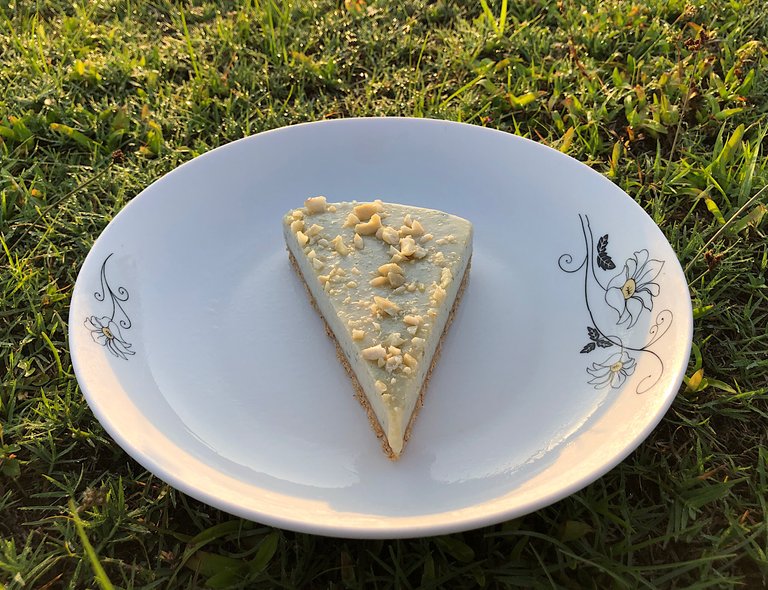 I love to eat it after I get it from the freezer because it's like ice cream. This picture I just got it from freezer in the morning.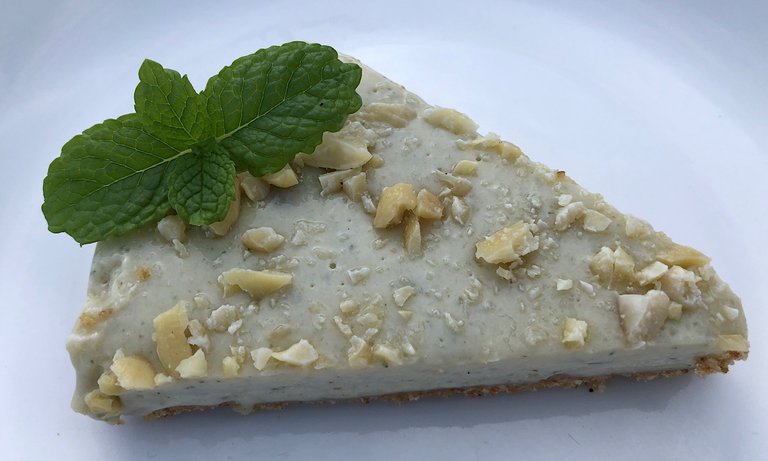 My husband likes to wait a few minutes because he loves eating it after it's soft. I took this pic in the afternoon and I put it outside freezer maybe five minutes and no electricity for a few hours (before that) too, so it was very soft.
I made this cake yesterday in evening for my friend @faustofraser that came to visit us today. I wrote this post yesterday but I posted it today because I don't like to post two times in a day. I worry you all will get bored with me, lol.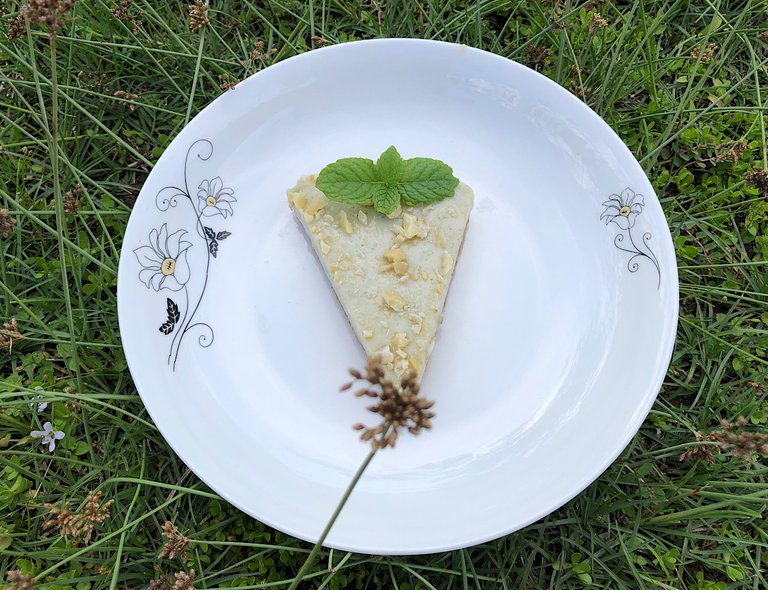 Have a great day everybody. I hope you are all well everywhere you are. Stay safe 😊❤️.

CLICK HERE TO JOIN HIVE AND START EARNING CRYPTO LIKE US
---
---