We Help Mey Yii And Other Kids Go To School 🏫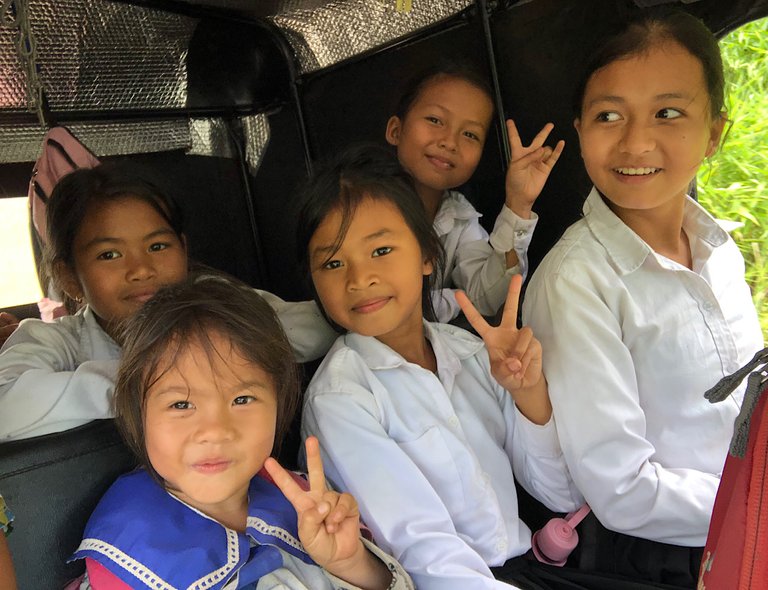 The girl who visits my house every day is named Mey Yii. She is 8 years old but did not go to school for no reason to ride to school. She is not controlled by her parents, she stays with her grandmother.
Her parents have been separated since she was less than a year old, and they have a new family, leaving their children with grandmother without any responsibility as the creator.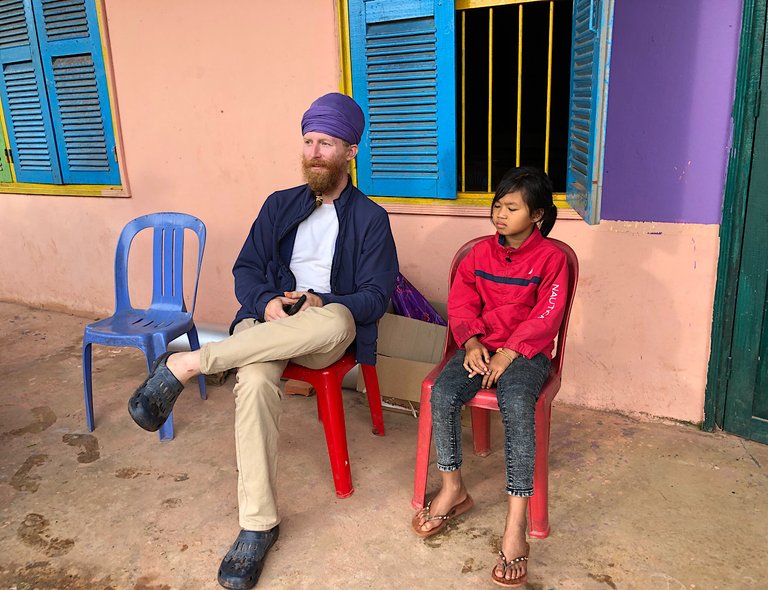 My husband and I told Mey Yii two weeks ago that she should go and tell her grandmother that, Justin will be take you to school every day, but let her grandma go to enroll on the first day. But her grandma never reply us.
I asked her every day about that and she said the same answer that she don't know and her grandma says she has nothing to carry and no money. Then my husband and I wanted to meet her grandma at home. We talked about our wanted to take Mey Yii to school with our daughters every day but you need to register first because you are her guardian.
But she told us that it was difficult for her to go because she had nothing to ride. I said you can ride a tuk tuk with my husband and she replied that she could not get sick and asked me to go instead for her. I enjoy doing it for a kid, but her grandma is very free every day and she can go wherever she wants, but she does not want to take her grandchildren to school. What she did made my husband and I very upset and sad for a kid having grandma like that, and we can not say anything to her and we know all about her from the kids and from villagers. But I don't want to say not good about her in this post.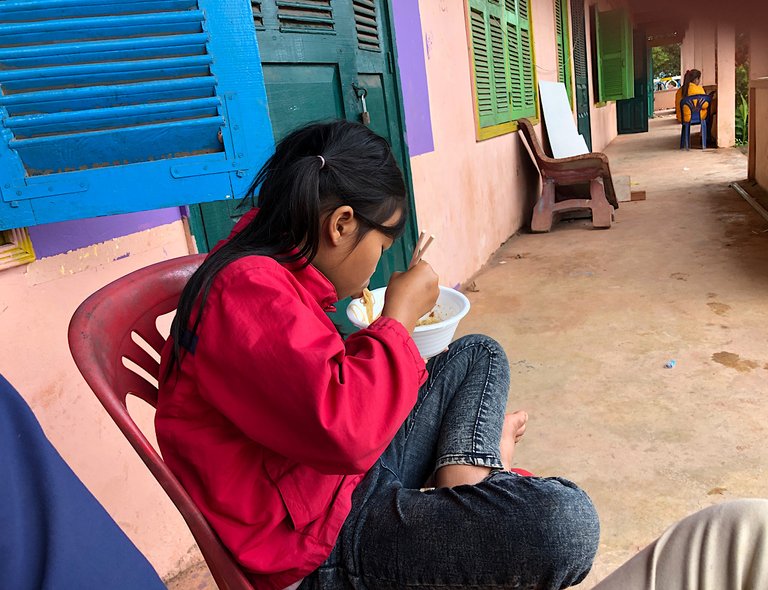 Yesterday, my husband and I sent her to register. The principal did not want to receive her because it was the end of the enrollment year. He said to us waited for more than 4 months to get her to register for school. But I begged him a lot, giving him many reasons, and he finally agreed to let her join the other students. My husband and I were very happy and we took her to buy school supplies. This picture she was hungry and I bought vegetarian fry noodles for her. She always eat lunch with us almost every day.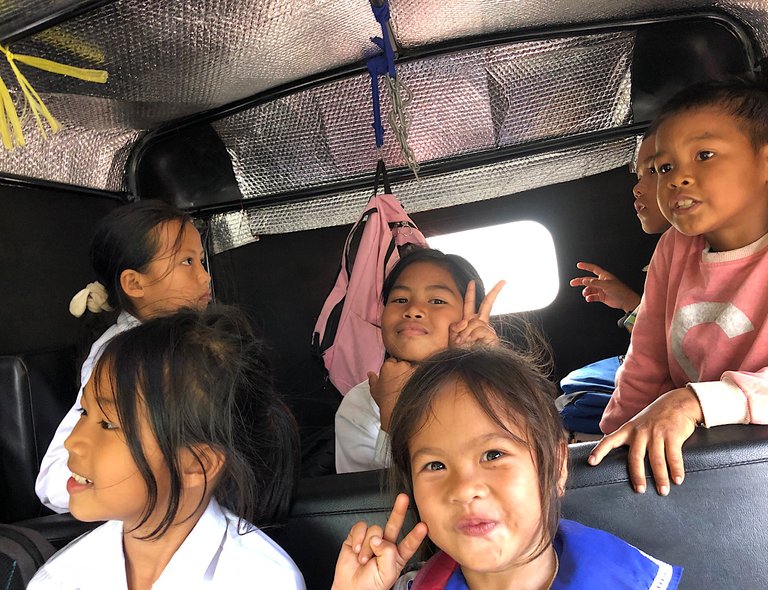 Today my husband took her to school with four other children living in this village. The four children did not go to school every day due to the heavy rain because they only had one motorbike and had to transport four children. That's why I told the children that if you all want to go to school every day, you must come to my house before 6 am. Those kids study in other schools from our daughters school.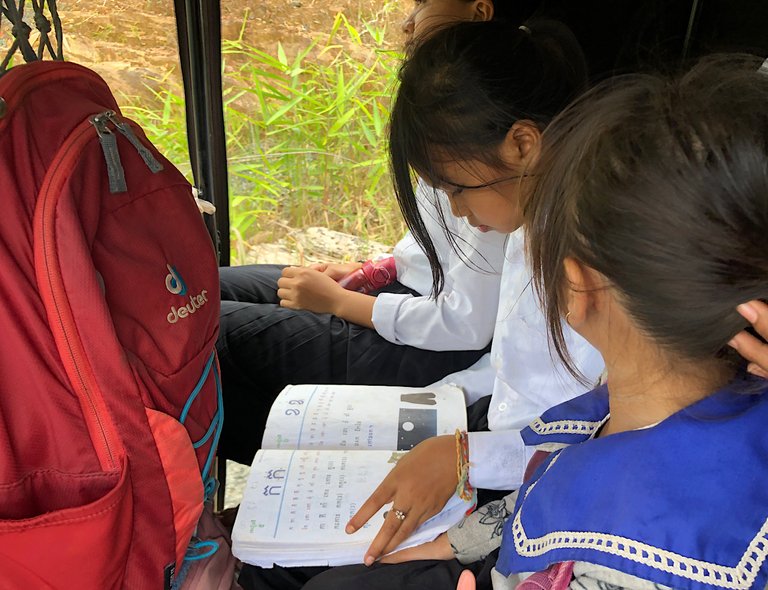 They are very happy and reading the books in the Tuk-Tuk. I saw that I happy also but I feel thinking about my husband, he needs driving a lot and he not sleep enough.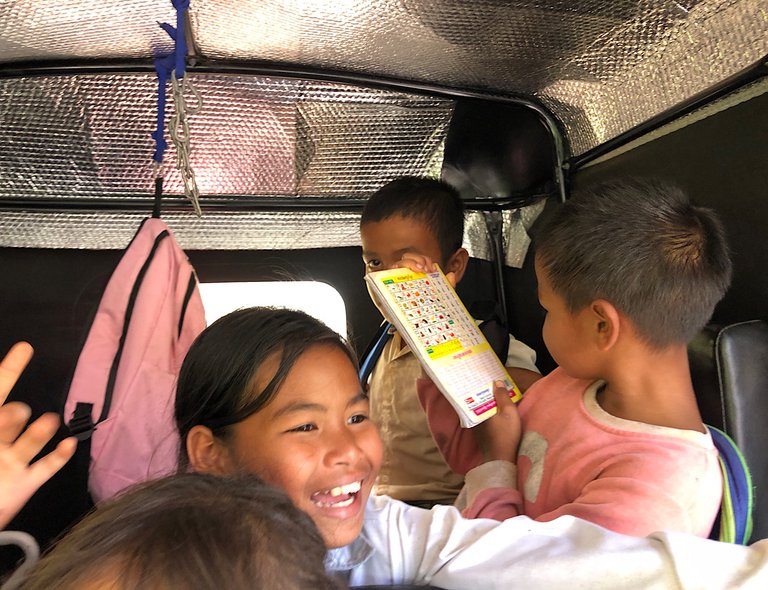 We need to do more work to earn money to buy diesel. I hope these kids are have a good future.

CLICK HERE TO JOIN HIVE AND START EARNING CRYPTO LIKE US
---
---