[ESP/ENG] TRYING SOMETHING NEW || INTENTANDO ALGO NUEVO
I welcome you to another session of this challenge. Today's topic is quite interesting and took me a lot of thinking of recent activities that I have done that is quite new and not my usual activity.
Les doy la bienvenida a otra sesión de este desafío. El tema de hoy es bastante interesante y me llevó a pensar en actividades recientes que he hecho que es bastante nuevo y no mi actividad habitual.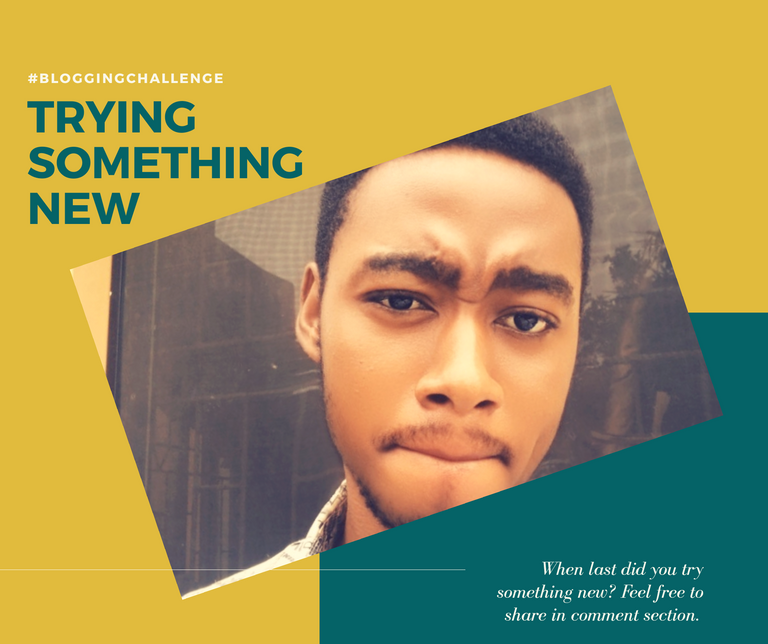 It is very obvious I spend 50% of my life activities on Hive. So most of the new things I have tried for now is basically on Hive. So I would be sharing three things that's quite new to me.
Es muy obvio que paso el 50% de mis actividades de mi vida en Hive. Así que la mayoría de las cosas nuevas que he probado por ahora es básicamente en Hive. Así que compartiría tres cosas que son bastante nuevas para mí.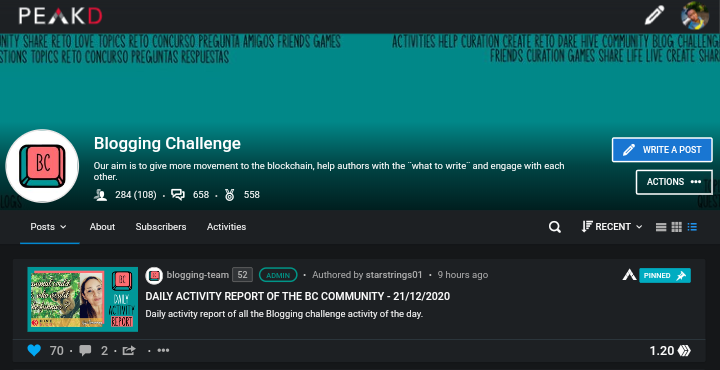 1. Creating and Running a Community: Yes! The blogging challenge community is actually the first community I created though it wasn't created and run by only me but with @tripode and @cwow2. It is a new thing to me and I must say giving the try to creating the community was one of the best move we made. At first, we didn't want a community because many things are involved running a community and even making it active but we decided to challenge ourselves into doing it anyway and it is working out really fine I must say!
1. Creación y ejecución de una comunidad: ¡Sí! La comunidad de desafíos de blogs es en realidad la primera comunidad que creé, aunque no fue creada y dirigida solo por mí, sino con @tripode y @cwow2. Es una cosa nueva para mí y debo decir dar el intento de crear el complejo fue uno de los mejores movimiento que hicimos. Al principio, no queríamos un complejo porque muchas cosas están involucradas en ejecutar un complejo e incluso hacerlo activo, pero decidimos desafiarnos a hacerlo de todos modos y está funcionando muy bien debo decir!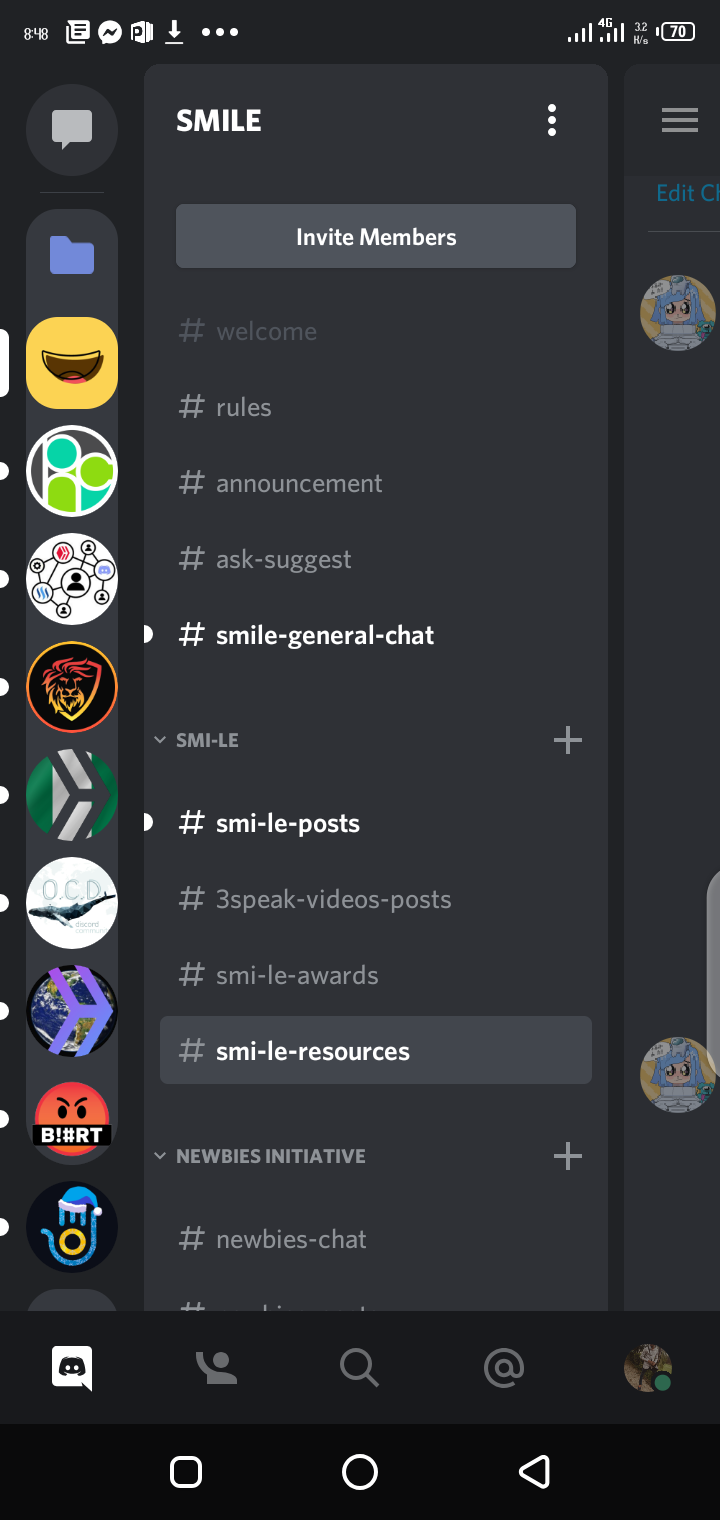 2. Creating and Running a Server: I didn't actually create the server myself though but it was an agreement that tripode creates the server, while I create the community. The truth is I never thought the server will grow as big as it is now. We are even having over 200 members in the server with different contests and challenges running in it and we have more plans coming ahead. It is definitely due to the collective efforts between the three of us and I must say, we are doing well!
2. Crear y ejecutar un servidor: En realidad no creé el servidor yo mismo, pero fue un acuerdo que tripode crea el servidor, mientras que creo la comunidad. La verdad es que nunca pensé que el servidor crecería tan grande como lo es ahora. Incluso tenemos más de 200 miembros en el servidor con diferentes concursos y desafíos corriendo en él y tenemos más planes por delante. Definitivamente se debe a los esfuerzos colectivos entre los tres y debo decir que nos va bien.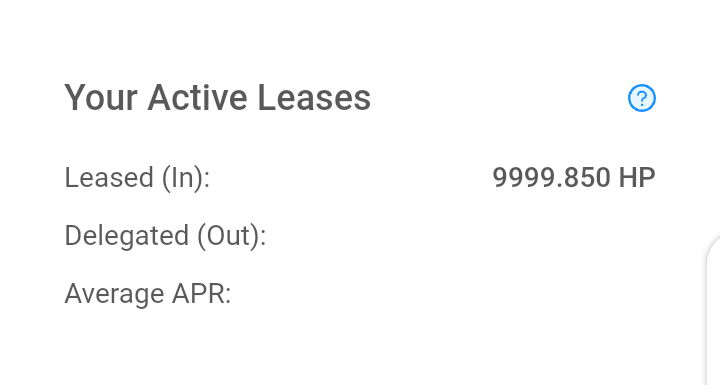 3. Buying a lease on Dlease.io: This is actually something new that I very much recently did which is about 3 days ago. I bought a lease of 10,000 Hive Power as a trial to see how it could help me support contents entries in both contests and challenges in the community and server. By the end of the month when the lease is renewed, I would definitely renew the lease or buy more lease and maybe this time, it would be a lease of 20,000 HP.
3. Comprar un contrato de arrendamiento en Dlease.io: Esto es realmente algo nuevo que me muy mucho recientemente hizo que es aproximadamente 3 días atrás. Compré un contrato de arrendamiento de 10.000 Hive Power como prueba para ver cómo podría ayudarme a apoyar las participaciones de contenido en concursos y desafíos en la comunidad y el servidor. Por el final del mes cuando se renueva el contrato de arrendamiento, me gustaría definitivamente renovar el contrato de arrendamiento o comprar más contrato de arrendamiento y tal vez esta vez, sería un contrato de arrendamiento de 20,000 HP.
---
Now you have read those new things I have tried out, feel free to share yours in the comment section below 🤗
---
Ahora has leído esas cosas nuevas que he probado, no dudes en compartir la tuya en la sección de comentarios a continuación 🤗
---
This is the part 3 of the 30 days blogging challenge questions made by @cwow2
Esta es la parte 3 de los 30 días de blogging preguntas de desafío hechas por @cwow2
If you have some questions you want to make for the challenge, feel free to contact us on Discord
Si usted tiene algunas preguntas que desea hacer para el desafío, no dude en ponerse en contacto con nosotros en Discord
If you also want to join and begin the challenge, we have part 1 and part 2 question sets. you are free to take the questions from below and start making a blog on it.
Si también desea unirse y comenzar el desafío, tenemos la parte 1 y parte 2 conjuntos de preguntas. usted es libre de tomar las preguntas desde abajo y empezar a hacer un blog en él.
| Part 1 | Part 2 |
| --- | --- |
| | |
We would appreciate you publishing your entries in the Blogging Challenge Community and also use the #bloggingchallenge tag.
Agradecemos que publique sus entradas en la Comunidad de Desafío de Blogging y también utilice la etiqueta #bloggingchallenge.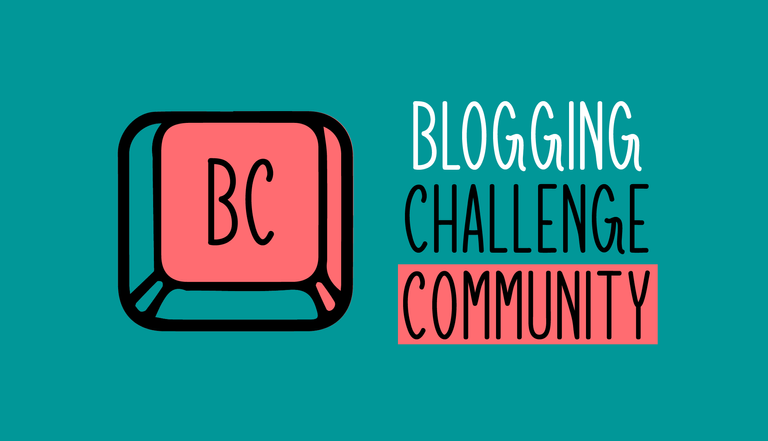 Click on Image to visit the bloggingchallenge community

Image made by @tripode using Adobe illustrator



Feel free to engage in the publications made by other authors in the community and also in the #bloggingchallenge tag, get to meet other Hivers as this is the main purpose of the Community.

Pasts Links Of The Challenge
WHAT ARE YOUR CURRENT VALUES IN LIFE || DAY 1
HOW DO YOU SPEND YOUR MORNING || DAY 2
WHO WOULD YOU TAKE A BULLET FOR || DAY 3 OF 30 DAYS BLOGGING CHALLENGE
IF MONEY WASN'T A PROBLEM || DAY 4 OF 30 DAYS BLOGGING CHALLENGE
WHAT LESSONS LEARNED IN LIFE || DAY 5 OF BLOGGING CHALLENGE
INSTANT LEARNING || DAY 6 OF 30 DAYS BLOGGING CHALLENGE
HATE PAY |¦ DAY 7 OF 30 DAYS BLOGGING CHALLENGE
WHAT IS YOUR CURRENT LIFE SITUATION || DAY 8 OF 30 DAYS BLOGGING CHALLENGE
WHAT LIFE WOULD YOU GIVE TO YOUR KIDS || DAY 9 OF 30 DAYS BLOGGING CHALLENGE
TRUST LIST ¦¦ DAY 10 OF 30 DAYS BLOGGING CHALLENGE
BEST 5 THINGS ABOUT ME || DAY 11 OF 30 DAYS BLOGGING CHALLENGE
IMPACT TO THE WORLD || DAY 12 OF 30 DAYS BLOGGING CHALLENGE


Click on the banner to get redirect to the server. Art made by @tripode
---
All images in this post are mine except otherwise stated
---


IF YOU LOVE THIS POST, YOU CAN KINDLY SUPPORT BY YOUR COMMENTS, REBLOG AND UPVOTE. IT WOULD BE MUCH APPRECIATED

THANKS FOR VISITING MY BLOG 😇💕
---
---