SHARE YOUR BATTLE Weekly Challenge! VENARI KNIFER or UNICORN?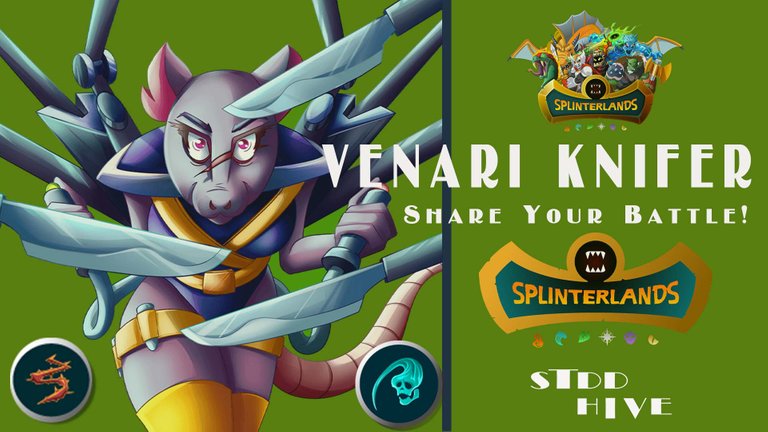 Logo Splinterlands and character image owned by @splinterlands. Edit by @stdd - Font used is Open Source
Hi There!
This babe in yellow stockings or boots is underestimated by many. Very wrongly so. Like every Splinterlands monster, she needs a worthy mate. Well, or a trio of monsters that will reveal her abilities. Let's see how I manage to unlock her secrets in this post!
This post is written for SHARE YOUR BATTLE Weekly Challenge! VENARI KNIFER. The Challenge is held weekly, so if you'd like to participate, you can join at the link above. And to make sure you don't miss future Challenges, subscribe to Splinterlands community.
VENARI KNIFER
| THEME CARD INFORMATION: TIME MAGE | |
| --- | --- |
| EDITION | CHAOS |
| RARITY | COMMON |
| ELEMENT | EARTH |
| LEVEL | 1 |
| MANA COST | 6 POINT |
| ATTACK | MELEE |
| ABILITIES | THORNS |
VENARI KNIFER is a monster with a melee attack for 6 mana with Thorns ability, speed 4, attack 2 and health 7 at first level, it's perfect. If it weren't for mages, a lot of people will say. That's what I thought when I saw it. In a pinch she can be put in second position or behind, but I use her in a different way. Below you will see one of my options.
My Team
| Splinter | Mana Cost | Position | Reason |
| --- | --- | --- | --- |
| | 3 | Summoner | Removes shields from enemy monsters to speed up victory. |
| | 6 | 1st | Strikes first and defends itself with spikes if the opponent's first position is a monster with a melee attack. |
| | 9 | 2nd | Distracts all enemy monsters while Venari Knifer deals with the first row. |
| | 3 | 3rd | This little guy finishes off those who are left with 1 health for 3 mana. |
| | 6 | 4th | Treats Venari Knifer while she is sharpening her knives. |
| | 5 | 5th | Mage with enemy magic reduction. Indispensable monster if there is a smell of mages in the air. |
| | 8 | 6th | A speed shooter who will take out anyone in 2 rounds who is not thicker than 8 health. If thicker, others will finish him off. |
| Total Mana: | 40 | | I used up all my MANA and put the Mitica, just because of the Venari Knifer selection. |

RULESETS

ARMORED UP - adds 2 shields to all monsters. Due to this, we can assume that the enemy will play mages. Therefore, it is important to either remove the shields, or also play mages and defend against mages. HOLY PROTECTION is a shield that completely ignores the first attack. In this regard, it is important not to scatter your attack to different positions. Otherwise you will inflict the first damage to the opponent only at the end of the round or at all in the second round, which should not be allowed.

Strategy for Battle
When an opponent is supposed to have shields, I often like to play a Wizard of Eastwood summoner to remove one problem at once and combine mages comfortably with ranged and melee monsters. Since shields were 100% assumed in this fight, I chose that strategy. Next, I was waiting on the enemy mages, so Mushroom Seer had to protect me from the first onslaught. If you look closely, all of my monsters are attacking the first position to take out the tank or whoever will be there right away. Also, MYCELIC SLIPSPAWN was to slightly divide the enemy's attack directions and take her off the VENARI KNIFER as much as possible. This bunch works great, especially if you lower your opponent's attack so that MYCELIC lasts as long as possible. Let's see how well my strategy worked.

BATTLE
A video of the battle that I uploaded to YouTube can be seen below👇
View the fight in full on the site without registration Battle
Let's see how my round-by-round strategy worked out.
ROUND 1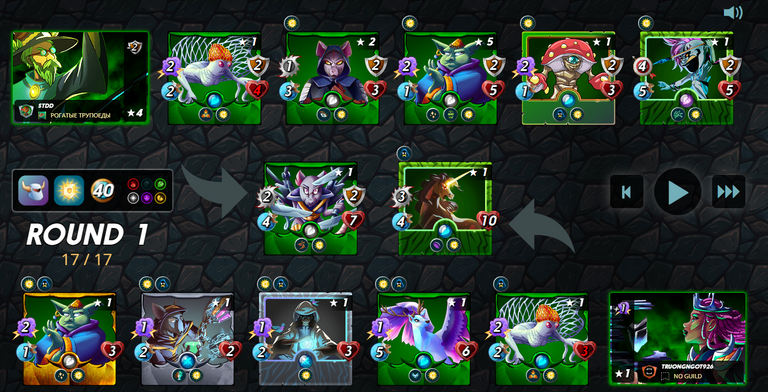 The enemy did have mages. All except the Unicorn Mustang. Also, the opponent also divided my attacks, transferring them to his MYCELIC SLIPSPAWN. But since I removed my opponent's shields and lowered his magic, I was already ahead by 1 health MYCELIC in the first round.
ROUND 2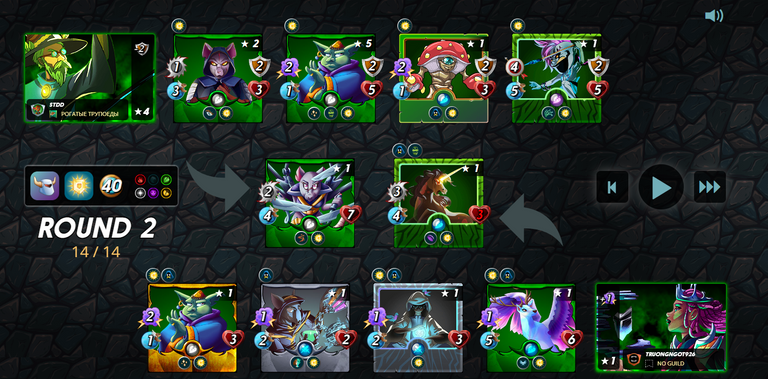 In the second round my Mitica immediately destroys my opponent's MYCELIC and my monsters switch to the Unicorn attack. I also lose MYCELIC, but at the very end of the round. I'm still ahead and my VENARI KNIFER has 7 health and my opponent's Unicorn has only 3.
ROUND 3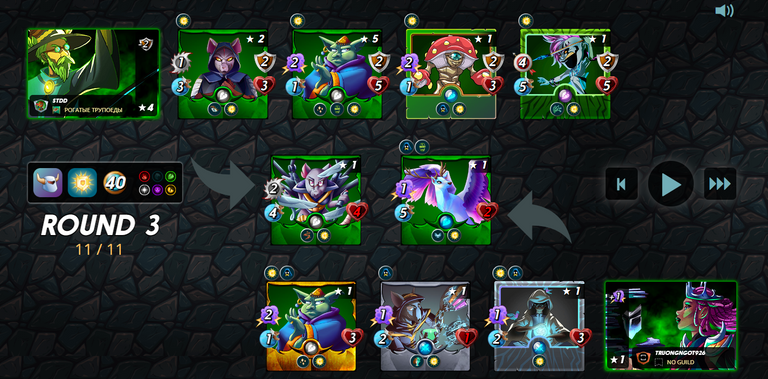 At the very beginning of the round, my Mitica takes out my opponent's Unicorn and we go to attack the next monster, REGAL PERYTON. My monsters are all in place and it smells like victory.
ROUND 4-5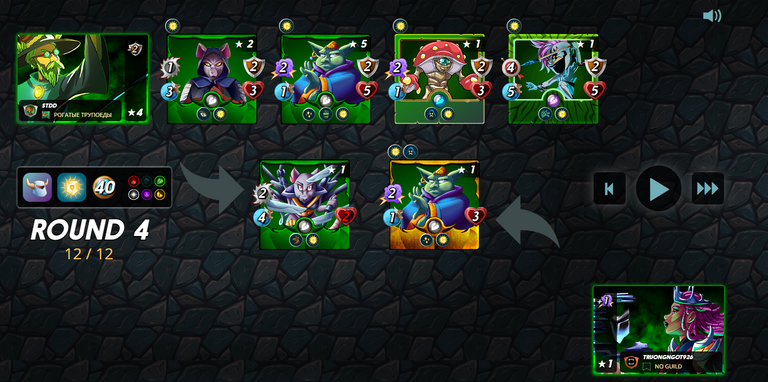 In the fourth round, I systematically eliminate one monster after another and heal VENARI KNIFER, so all my monsters are in place. At the end of the round, my opponent has only the GOBLIN PSYCHIC. But he doesn't solve anything anymore, so in the fifth round I get my well-deserved victory!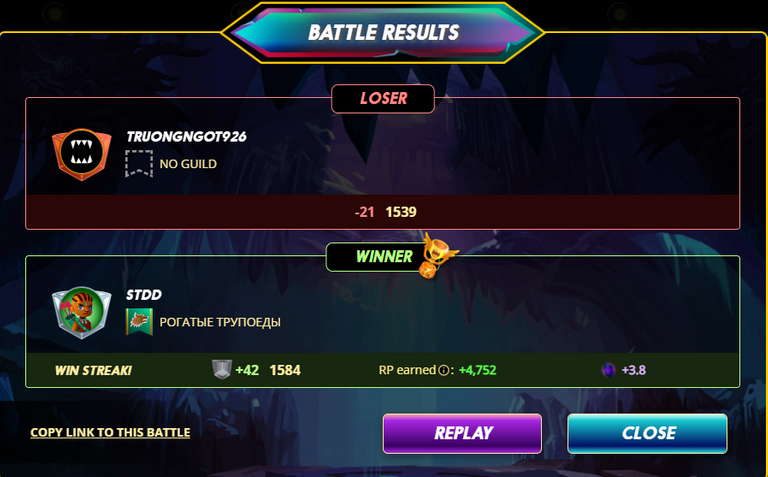 Conclusion
Did my team play the way I planned?
Yes, my formation played exactly as I expected it to. Going back to the beginning, I knew by 99% that my opponent would play an Earth Splinter. I could tell from his last few battles, which gave me a chance to prepare for the battle properly.
Will I do something differently next time?
Yes. If you noticed, I did split my attack when I chose Venari Scout. Only it didn't attack my opponent's first position. I guess I'll have to try another monster for 3 mana next time. After digging through Earth Splinter, I couldn't find one for this battle. But I did find one in Neutral. It's a GRENADIER. I must try him next time!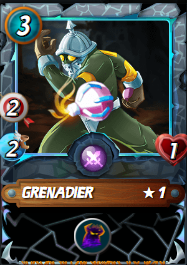 That's all for now, hope this was as useful for you as it was for me!

Unless otherwise indicated, the images in this post are screenshots taken from the sites:
splinterlands.com
peakmonsters.com
peakmonsters.com/market
splintercards.com
tribaldex.com
beeswap.dcity.io
The dividers are also the property of Splinterlands and are freely available.
Splinterlands On Top!


| SPLINTERLANDS.COM | SPLINTERLORE | BLOG | DISCORD | TELEGRAM |


---
---