What I like about ListNers after a week.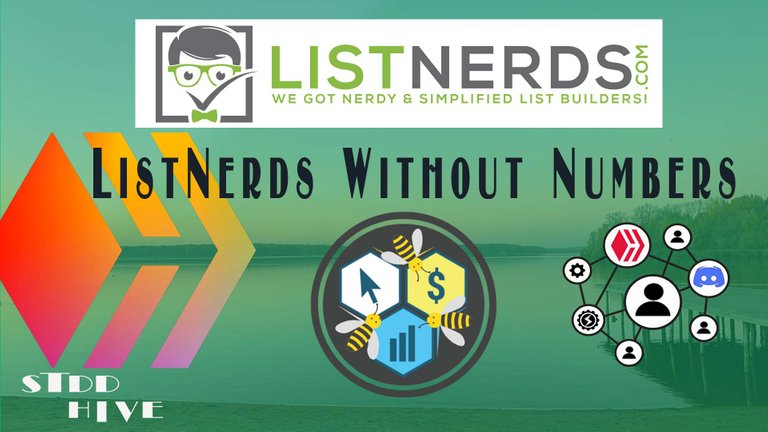 Logo ListNerds, CTP, The Terminal and Hive image owned by @clicktrackprofit, The Terminal and Hive Edit by @stdd - Font used is Open Source

Hey there!
Introduction
If you're looking for a figure you can earn in a month at ListNerds, you won't find that information in this post. Nor will you find the answer to how much your next Hive post will earn you. No one knows that. The important thing to understand is that it's just like in life. Anything can happen, but if you are sincere in your communication, consistent in your writing, and creative in your approach, then Hive, ListNerds, and life will definitely reward you on your merits!
I've actually been on ListNerds for 11 days now, but started participating fully after 2-3 days. You know how it is in the first days in places where you are interested, but nothing is clear. 🤣 After researching everything thoroughly, I found some interesting things that I can use every day. That's what this post will be about. Pros, maybe some cons, and my perspective, which old-timers of ListNerds will be able to refute. After all, I will publish this post on ListNerds too!
If you are interested and want to try after reading this, you can register by following this link ListNerds

ListNerds Features
The first thing worth talking about is what ListNerds is. ListNerds is an email service with a huge number of users who have agreed to receive, read, and send promotional emails to each other. Don't be in a hurry to leave, as I did when reading another post by someone on Hive. I regret now that I left without figuring out the issue. Now, this could have been another mailer from the 2000s, of which I had seen thousands and worked for hundreds, because I was 20+ years old at the time. Really needed the money. ListNerds was definitely not it. Let me tell you what I saw the potential in.

ListNerds in conjunction with Hive
Yes, the first thing I really liked was the huge amount of emails from Hive users. This is not surprising, considering that the creators of ListNerds and CTP (the second layer token of Hive) are the same people. Accordingly, you can see a lot of old acquaintances here, but also meet new people. I've already done that, they're really cool! To give you an example, I came across 5-7 posts in a week that were written very strongly. I decided to read some of these people's other work, as I do on Hive as well. Turns out they've been writing for a long time, and I've been on Hive for a long time, but I only came across them now. And only here!

Concentrate of information
In my week on ListNerds, it felt like I didn't miss anything important in the life of Hive, crypto, and the world in general. Seriously! There are a lot of emails, and there are some "empty" emails, just like there are empty posts on Hive. But the difference is that here I found more important information from 100 letters than from 100 Hive posts, even if I choose them carefully. Plus some of the emails had posts that had already been selected. So you get concentrate from concentrate. Cream of cream, as one Hive user put it. I think this is due to the fact that LisnNerds generously rewards good material with a native token. But more about that below.

Native Token
As I mentioned above, ListNerds links a lot to Hive. Including CTP and Listnrds tokens, which you can find on the Hive-Engine here LISTNERDS and here CTP. While I already knew almost everything about CTP, this is where I was introduced to Listnerds. At the moment it is trading at 1.5 - 2 Hive. But be careful, the liquidity in the market is small, so things can change at any time. I know this from my own experience. Both tokens are involved in the service and bring dividends to their holders (if they are set in the service), as well as affect your efficiency. In fact, everything is a bit more complicated, but I'm not here to bore you. I will only say that to deal with everything is not as difficult as it may seem at first.

A Friendly Community
A community that gently leads you by the hand if you get lost and encourages your first steps if you try. It feels very fast. And since it's all the same people from Hive, the learning curve is quick and the development doesn't end with one direction of ListNerds. This really surprised me, because again, I've been on Hive for a long time, as have many Hive communities. I think it's easier to try it for yourself than to describe it at length. Perhaps everyone will find something for themselves!

The Prospect Of Jumping Into The First Carriage
The relaunch of ListNerds service happened quite recently, about 2 months ago. I do not know how it worked before, but now I liked what I saw in the tokenomics of the project and the overall work of the service. So if you were looking for a notional "startup" in crypto, with experienced people in charge, this is it! And if you start researching it, you'll probably see a wall to buy ListNerds at 1.5 Hive. And you'll probably think, as I do, that it will disappear soon. It will disappear sooner or later anyway. The market will always show the real price of an asset, no matter how the price is held. But that's not what's important. At least for me. What matters is that ListNerds is bringing value right now to its community and to the Hive community at the same time. And I know how friendly the Hive community is. So I'm jumping on that train anyway. I hope it's the first carriage! 😜🤞

Conclusion
I don't like to write posts with lots of numbers and formulas, although I do it regularly. The purpose of this post is to draw your attention to what is already under your feet. Something that can help you in your endeavors on Hive, understanding cryptocurrency or just finding friends or new readers, for your posts. That's what I'm here for, by the way. 😁 Again, I passed by ListNerds several times until I asked a Hive user who got me interested in signing up in two sentences. And here I am! Maybe this story is your case, too?
Then you can register at this link ListNerds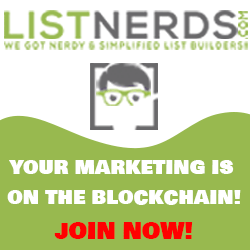 I'm a member of The Terminal community, which helps all Hive users at various levels. You can also join us on Discord by clicking the banner below!⬇️


---
---