Withdrawal or HODL Hive? Web 3.0 through my eyes.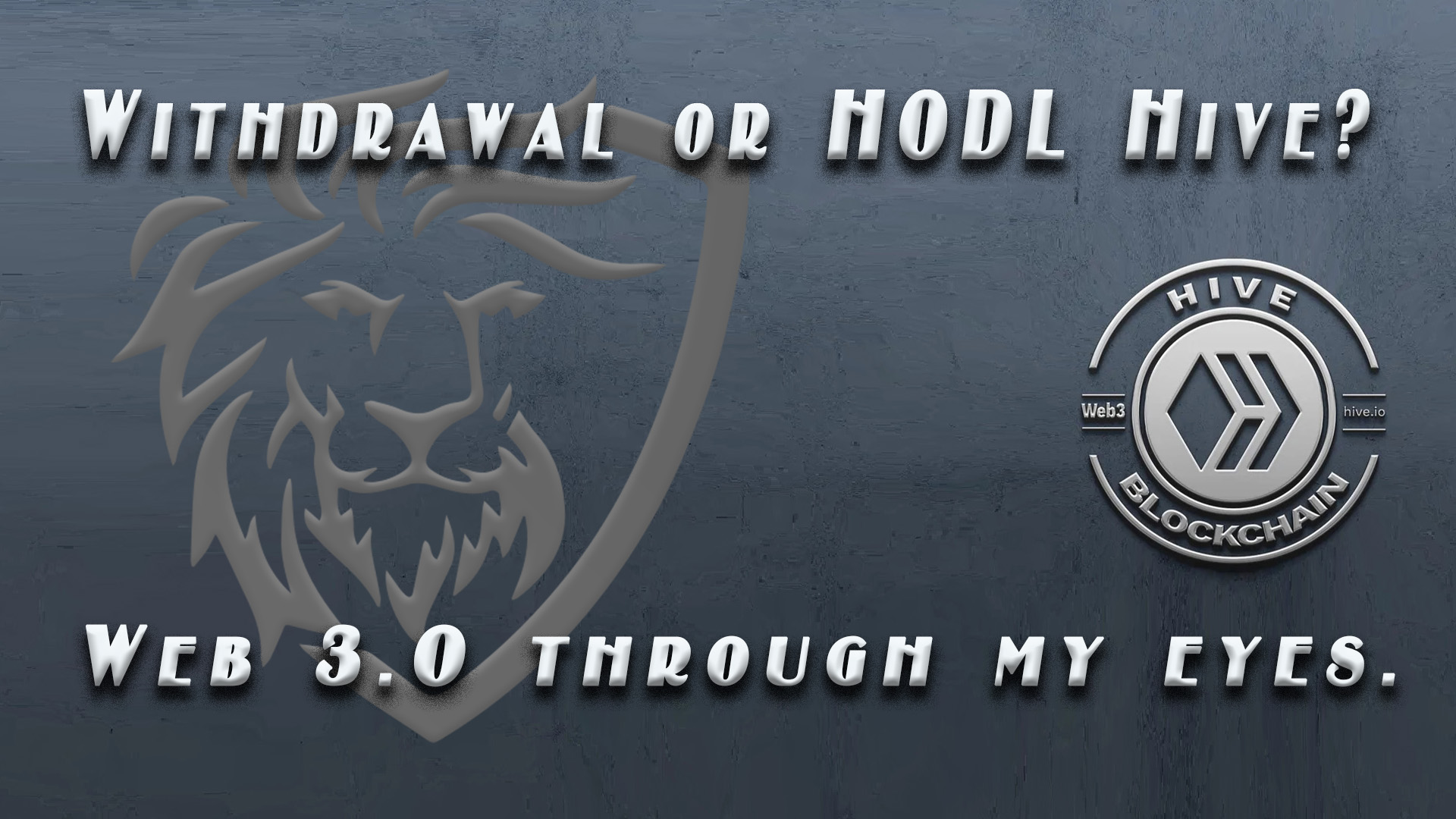 Logo Hive by @doze Edit by @stdd with logo leofinance.io - Font used is Open Source

What's good about any blockchain is that you can watch how your comrades, your favorite writers, or just individual whales develop and move. Hive is no exception to this! If you don't know what to do, look at what the people you want to be done in such cases! That's what I did and still do here!
If I'm not sure about any assets, I look at the owner's reachlist and then look at the volumes, profits, and portfolios of those users. It gives me an understanding of what they are doing it for and what they believe in. We could all be wrong, but people who hold thousands of dollars in one asset definitely know more than I do. Then I can look at people of interest for online activity and the rest of the token activity that comes into their Hive wallet. It pushes my boundaries in terms of understanding in investing and staking. It even inspires me to save when I see great payouts. Payouts that I would be great on for a month in my town.
A separate place in my research is delegating my own HP. I also look at where successful people delegate their power. It also opens up some doors of understanding that were closed until now. Today I want to talk about these actions that have helped me in my understanding of many things on Hive. I'm sure that if all newcomers to Hive understood this, there would be no question of withdrawing assets. At least as active as it is now. And if you wanted to know the answer to the question in the title, my answer is HODL! My thoughts will go on from here...

By delegating, you lose
It's not! Rather, it's not quite so! But that's what I always thought, until recently. But since I have started to actively grow lately and can delegate my power Hive little by little, I went back to study this issue. There are pros and cons. But for my path, I've found a lot of options that I really like.
Yes, it's true that often delegating our HP can lose a percentage of our own power curation. But it becomes acceptable if you don't spend every day on Hive. If you sometimes fail at your real life work and forget about Hive for a couple of days, you're likely to lose your earnings. That's when delegating your Hive power is very much up to you! All you have to do is choose your favorite curator and enjoy the daily or weekly drops that fall into your wallet in the form of liquid Hive or native tokens from the community you delegated HP to. By the way, the liquidity of the tokens also plays a huge role in this! At least for me, that's why below is about it.
By getting liquid Hive or second layer tokens, you definitely gain in decision speed with flexible accumulation or even trading strategies. When you curate in-house, it will take you time to take advantage of these assets. Unstacking at the very least won't give you as much flexibility as delegation will. Buying tokens on the market can also cost more if it's a term trading for PUD, proprietary needs, and other purposes.
However, I'm not in favor of delegating all of your own power, as your upvote is the volume of your love for the community and specifically your favorite authors. It's as much an interaction in both directions as it is in our lives. If you see that your neighbor needs help, and he is constantly bypassed in helping you, your strength and sparks of kindness will fade every day toward him. And it's not about you, it's about those people who really need help. After all, they will give your kindness back to you. And it's not about you again. They will give it back to the community, and the community will give it back to you sooner or later anyway. That's how the world works and that's how Hive works!
That's why I prefer to delegate only 30% of my power. This way I diversify my actions. But everyone decides for themselves... Diversification is another way to flex your portfolio and increase profits in the long run.
By diversifying, you won't wake up in a cold sweat when you dream that your favorite community has closed, or some force majeure has occurred, or the token you've been saving all year has depreciated by 99%. It doesn't matter if it was 1 in 100 of your assets. But if it was your only asset, it can be a disaster that knocks you out of business for a long time. I can see how many Hive tokens have not lost in value or have lost very little even in times of a bear market. You can diversify at first within Hive as well.

Practice
Tokens
Only practice will help you find your own approach to investing, trading, and possibly writing daily posts on Hive. We are all so different in feelings, ambition, and knowledge that my strategy will not fit you 100%. And an individual whale's strategy won't work for me. I'm still shaping my strategy, but I'm looking up from my favorite Hive users. I think that's how I'm going to come up with my own unique way where I'm interesting, moderately risky, and 100% flexible.
If I'm going to add a new asset to my portfolio, of course I'll read the white paper in the official community or website. But you know how confusing they can be, right? That's why it's best for me to have a practical understanding. To see how much profit an asset is making at a given time, it's best to buy it and watch it for a while. However, the numbers can vary if you hold 1 token or 100,000 tokens. Often the rewards can be limited to an amount that is divided among all holders, so your percentage may vary. It depends on the number of token holders and their volume.
So, if you don't want to enter large amounts in advance, but are interested in the profits at the moment, then check it out with different holders with different amounts. To do this, you need to open Richlist on HE Eplorer and select the user you are interested in. For simplicity, I'll take myself and one Richlist user to show this in practice.
I decided to take the LEO token since I'm writing for the LeoFinance community! But you can do it with any token. So, I need to go to HE Explorer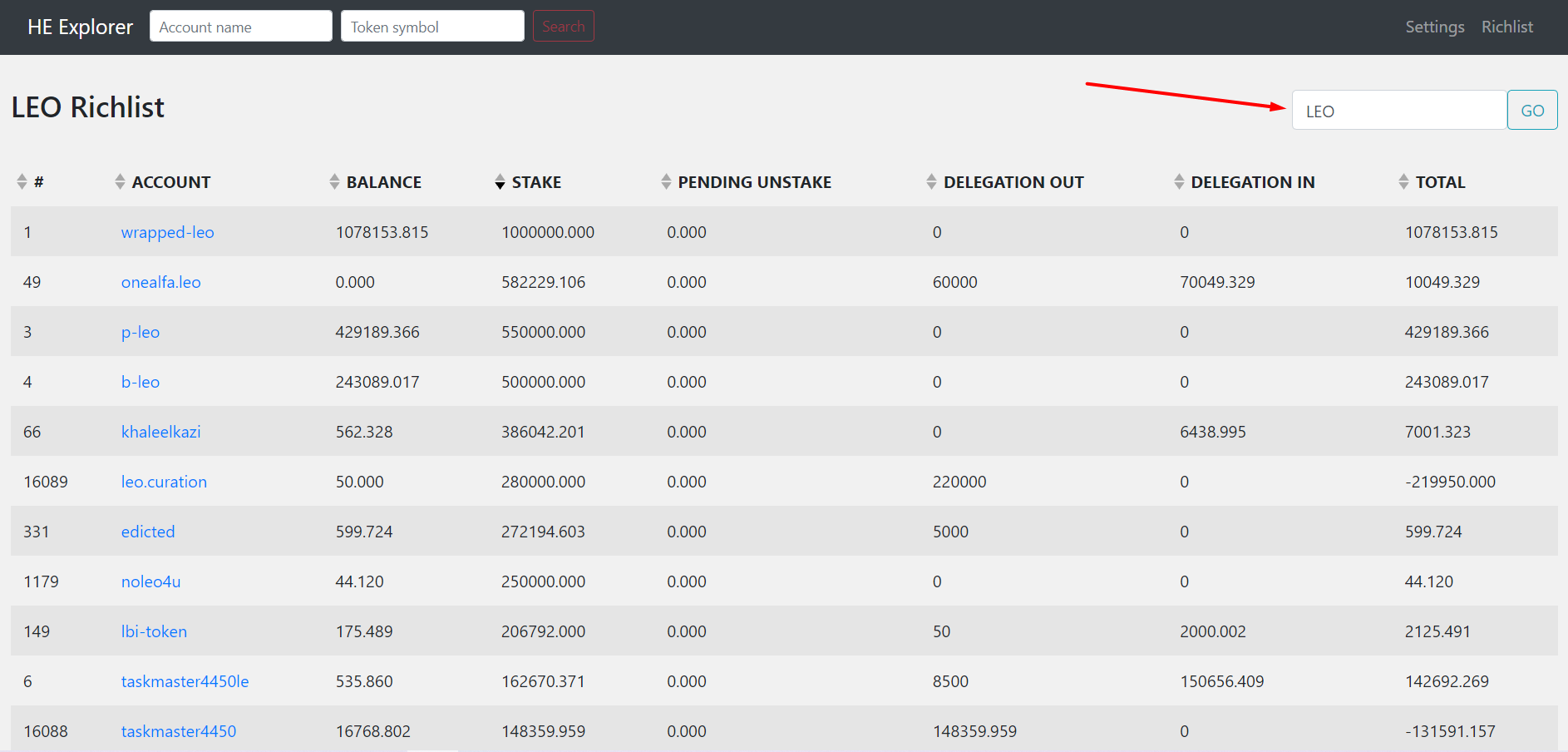 On the right side of the screen, as indicated by the arrow, you can enter any token you want to research. On the page we see the users with the most LEO in staking. I just pre-sorted by the STAKE column. You can do this on any column with just a click of the mouse!

Suppose I want to figure out how much I would earn if I bought 100 or 1000 LEO and curated content with the #leo tag without allowing Voting Power to reach 100%. To do that, I'll take a Richlist user who curates exactly every day and that's how I'll get the average earnings, based on his stats for the last month. And of course I chose @ leovoter! This way, I want to see how much LEO is in Stake.

I find @ leovoter on the list and see that he has 61,000 LEOs in stake. I don't take the exact numbers because the difference will end up being a couple of cents or so.
Then I enter leovoter in the top bar of the site in the Accaunt name field, and LEO in the Token symbol field and click Search!


Next I go down and find a block of transactions called TOKEN CONTRACT. This sample is enough for me to do a quick research.

Again, for speed, I take the average number to be 12 LEO per day. That is, for a stake of 61,000 LEO, we will earn about 12 LEOs each day if we curate diligently and without skipping. To figure out how much we will earn for 100 or 1000 LEOs per day, we need to divide 12 by 61000. This will give us the amount of pay per LEO. Then we need to multiply that number by 100 or 1000 or whatever amount we are going to have to curate LeoFinance content. For 100 LEO - (12/61000) * 100 = 0.019 LEO. For 1000 LEO - O.19 LEO.
I had 300 LEOs in my account until recently, so my curation fee should be (12/61000) * 300 = 0.059. Let's check this at HE Explorer

As you can see in the screenshot, although the calculations were very approximate and very fast, I got the right numbers, which will allow me to understand what I should expect from my future purchases and curation. Again, this is how you can find out information on any token. It might be other transaction names or other fields to look at. But blockchain allows us to find out information that banks don't provide. Information that is not available from public sources in Web 2.0. Welcome to Web 3.0!
This post is very long, and I haven't written half of what I wanted to. So as not to bore you with a million letters, I decided to continue in the next separate post. Let me know if it was helpful! You may want me to talk about finding information that interests YOU. I'd be happy to try to describe it.
And that's all for today. And do your own research!

I am also a member of the following communities!⬇️
All banners are clickable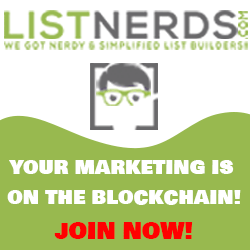 Posted Using LeoFinance Beta
---
---