All-Time High for LeoFinance Ad Revenue and Website Traffic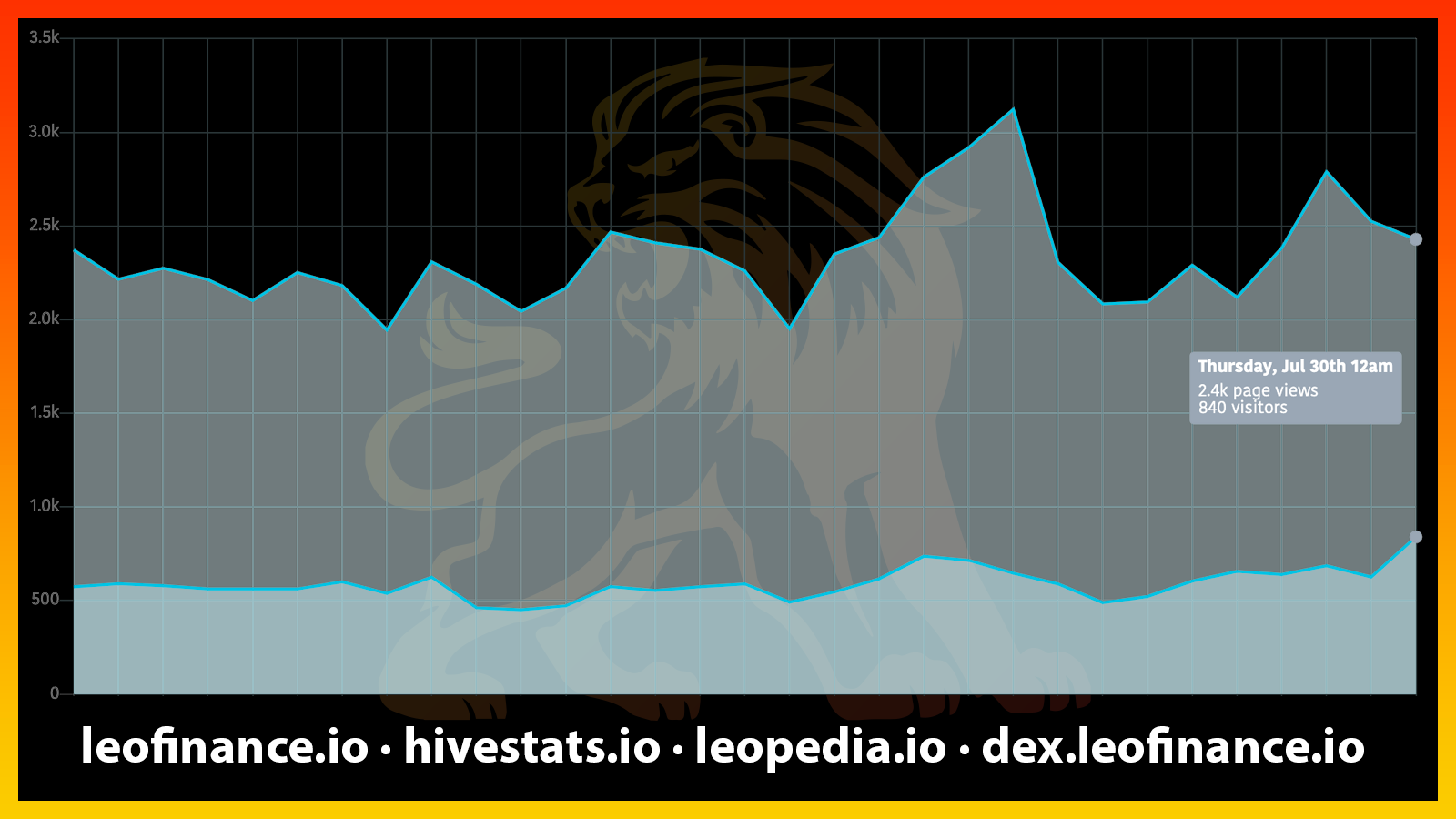 Yesterday - July 30th, 2020 - was our highest day for ad revenue and website traffic on LeoFinance.io. Our official ad buyback & burn report for the month of July will come out tomorrow, but today's post will highlight a historic day for our ad program.
First, I'll briefly describe our ad program for anyone who might not be aware of how it works:
The LeoFinance community operates 4 websites - hivestats.io, leofinance.io, leopedia.io and dex.leofinance.io. Each of these websites contain various ad placements. As visitors and returning users view our portfolio of websites, we collect ad revenue each day.
The revenue is paid out as Bitcoin and then is converted into HIVE on an exchange. From there, we send the HIVE to the @leoads account. We then go to Hive-Engine with that HIVE and buy LEO and then permanently burn it from the supply.
If you'd like to support the LeoFinance community and help us generate more ad revenue in BTC to buy HIVE and then buy/burn LEO, then please consider turning of your ad blocker/brave shields and utilize our Hive-based websites.
Our ad revenue has been steadily increasing over the past several months as we successfully transitioned to Hive and added Hivestats and LeoPedia to our portfolio of ad-bearing websites.
For the past month, our average numbers each day have been (See Chart 1):
1,942 Ad Impressions Per Day
2.79 Ad Clicks Per Day
0.1581 Click Through Rate
$5.78 USD Generated Per Day
2.609 CPM
Some days are obviously higher than others and the ad revenue often fluctuates wildly on a day-to-day basis as we see attention increase/decrease from various sources. The general focus of LeoFinance is to increase our average monthly numbers (i.e. the ones detailed above) over time.
Yesterday, we saw a large spike in daily traffic and reached an all-time record high for ad revenue generated (See Chart 1):
3,749 Ad Impressions
1 Ad Click
0.03 Click Through Rate
$10.17 USD Generated
2.30 CPM
Chart 1 - Average Daily Ad Numbers vs. All-Time High
Where's the Traffic Coming From?
Our traffic on LeoFinance.io (and our other sites) is steadily growing over time - which is what we like to see. Yesterday uncoincidentally marked an all-time high for LeoFinance.io traffic: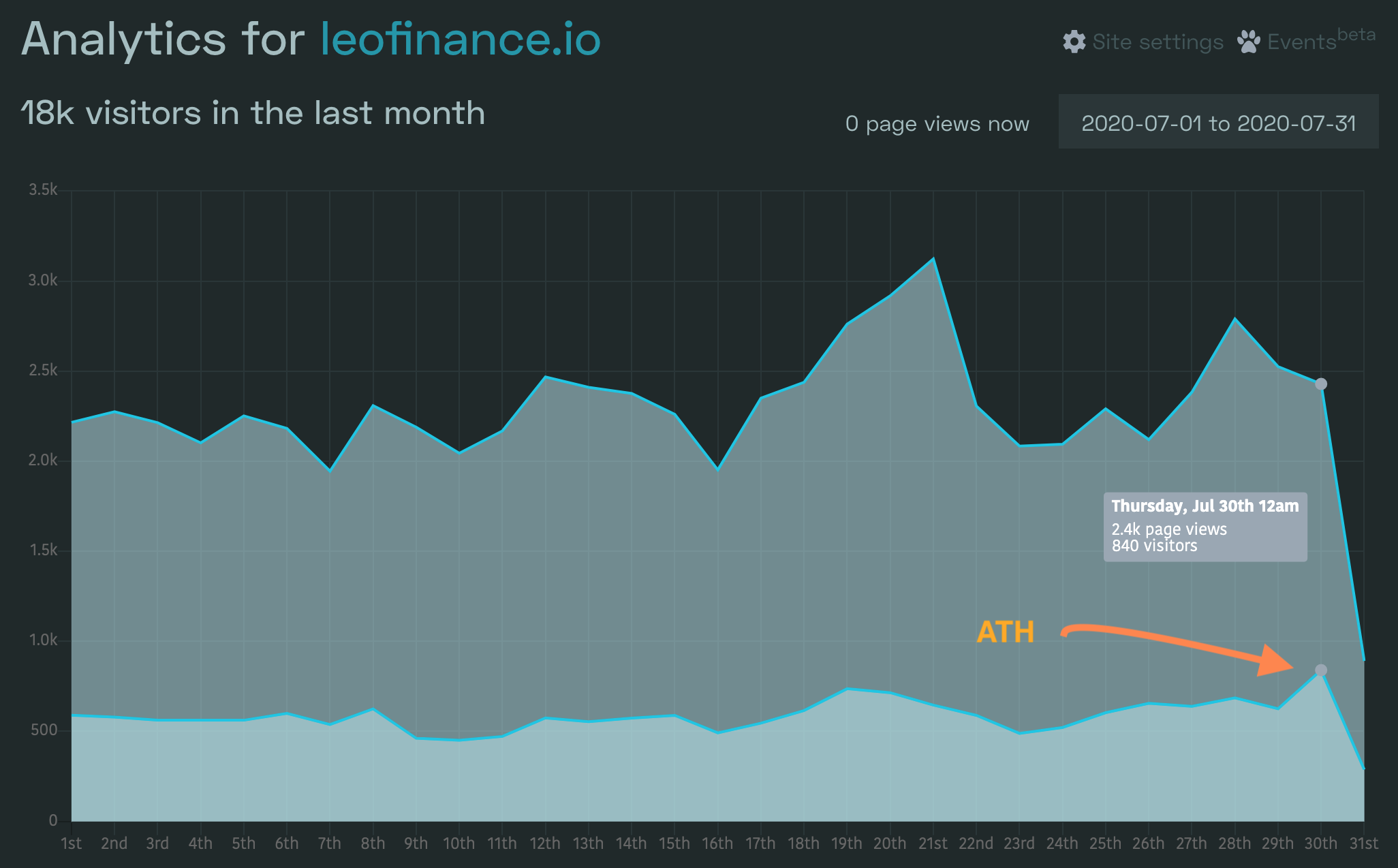 Monthly Traffic Report for LeoFinance.io
From the traffic details, you can see that we typically receive the majority of our traffic from Twitter, Google and Reddit: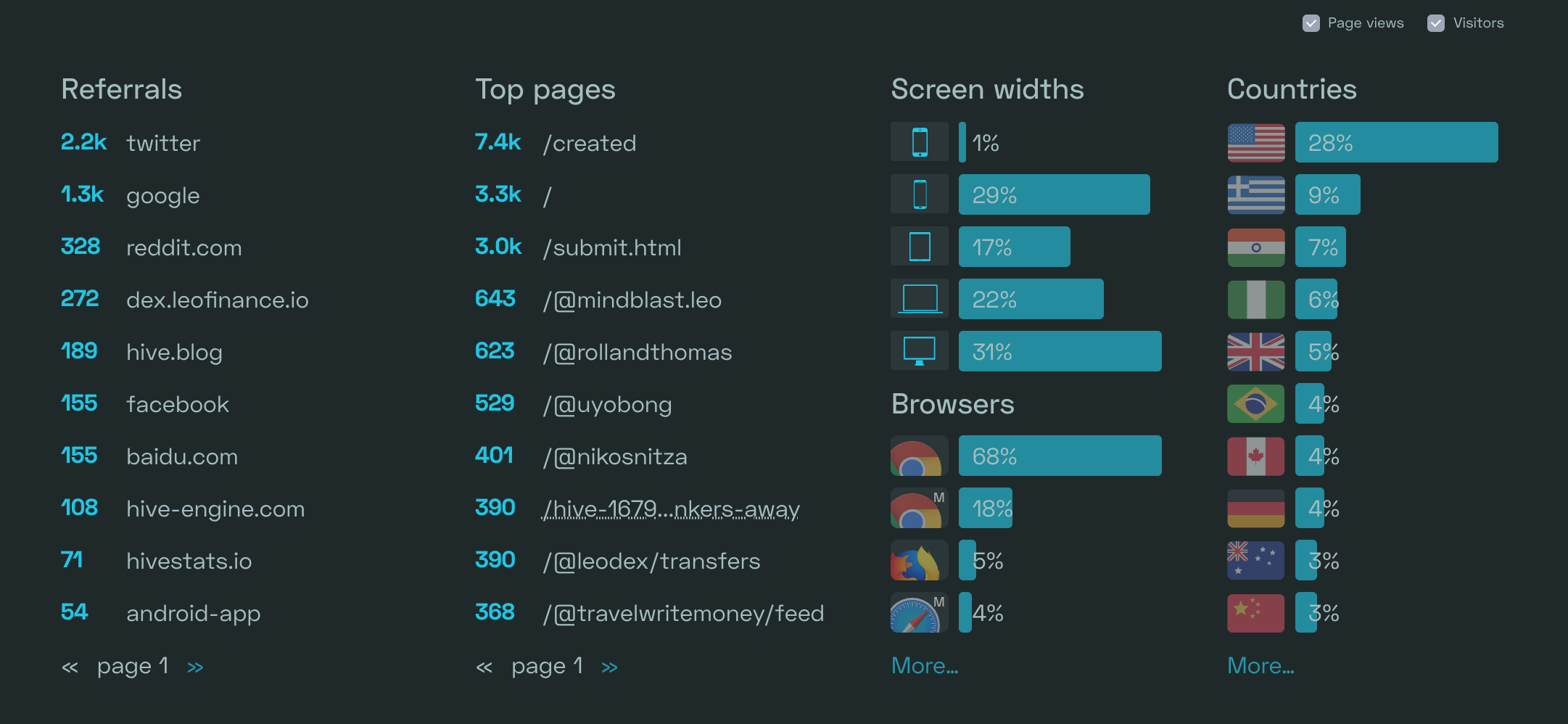 Monthly Traffic Details for LeoFinance.io
Yesterday's traffic details tell a bit of a different story. We saw a spike in internal traffic alongside a new category (reddit.com). If you look at the top post that day (in terms of traffic), it was one written by me (@khaleelkazi) which was promoted on the Bitcoin subreddit by @trumpman - LeoFinance article "trending" on the Bitcoin Subreddit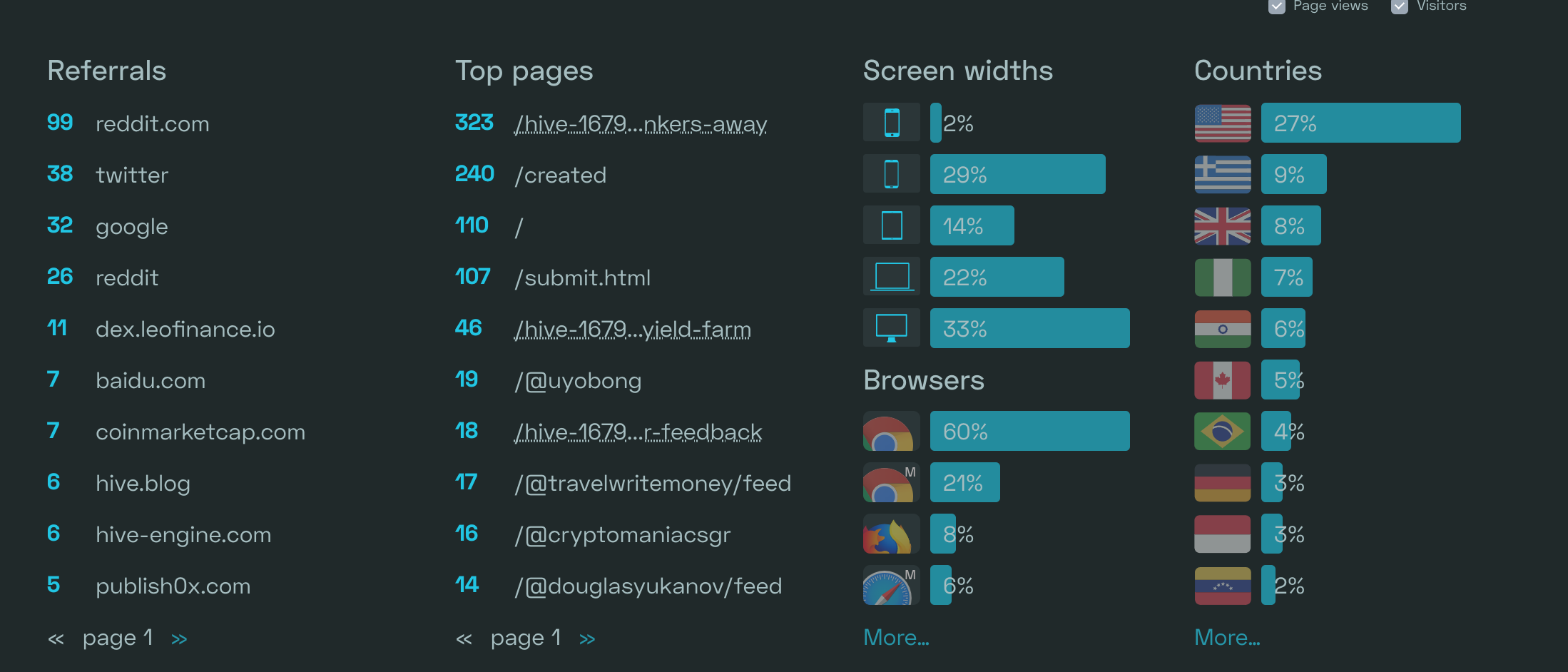 Yesterday's Traffic Details for LeoFinance.io
A Reminder of Fundamental Growth
This post is intended to serve as a reminder that the fundamentals of our community and project are growing. We're ramping up development on all fronts and we are also seeing new all-time highs and more importantly, a steady rise in average daily traffic and ad revenue; two of the important fundamental indicators of success for LeoFinance.
Doing anything we can - sharing links on Twitter, Reddit, Facebook.. inviting friends.. emailing article links.. etc. - to increase these metrics can have a profound impact on LeoFinance in the future.
Other Developments:
The brand-new LeoFinance.io Hive-based interface is still under development. We were planning on an open beta test program starting today, but it's being delayed until next week while some of the major bugs are worked out.
When the beta test program opens up, we'll ask you (our users) to test the site, make some posts and discover any bugs that we've missed. The initial launch will also not be the full version of the website and will have only the core features. Each week or so, we'll finish development on more of the core features and roll them out into the testing program to discover/fix bugs.
It will be an interesting and tedious process, but in the end we will have accomplished two major things for our community:
Get the hell off of Steemit's condenser
Improve our community's UI/UX
Build a better brand identity for LeoFinance
Build a guest account/onboarding mechanism
Perhaps the most exciting thing for us is that we'll drastically improve our ability to add new features and tweak existing ones on the new interface. Working with Steemit's condenser interface sucks and having something built from the ground up specifically for our community will open the doors to future potential that could never be tapped into on condenser/nitrous.

Our Community:
LeoFinance is an online community for crypto & finance. We run several projects that are powered by Hive and the LEO token economy:

Posted Using LeoFinance
---
---