Development Update: New Hive Interface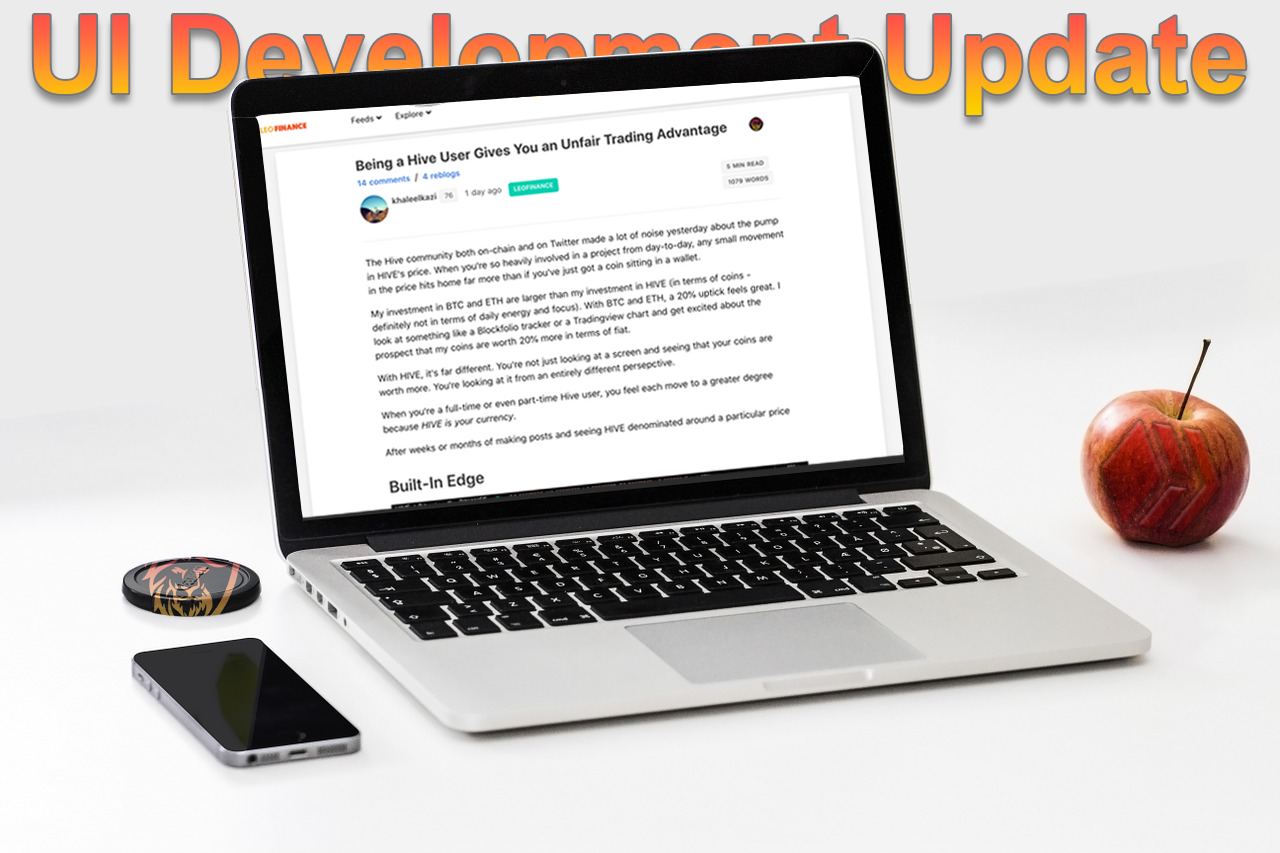 We've made a lot of progress on the new Hive-based interface for LeoFinance. In case you don't know, we're currently running on a forked version of condenser and nitrous. We have some additions and changes that have been made over the past year since our community was created, but a few months ago it became clear that we needed to build our own interface from the ground up.
We have a lot of ideas circulating in the LeoFinance team and community for the future. Additions that we want to make, entirely new features that don't exist on Hive, marketing/lead-generation/onboarding funnels, etc. All of these various ideas are technically possible on condenser, but developing on top of condenser is both hard and expensive.
After discussing a roadmap for some implementations with a few developers, we decided to build our own Hive-based interface from the ground up. It makes the most sense in terms of resources, user experience and potential features in the future.
---
Development Update
In our 2020 roadmap for LeoFinance, we mentioned that the target date for early-stage testing of the new interface was set for July 30th. We've pushed that date back a few times and have kept testing to just a few people.
Keep in mind that this interface is being built completely from the ground up. That means that every little feature is being added one at a time. Small things that most don't even consider like your follower/following page, your settings page, icons, feeds, buttons etc. all are added one-by-one.
I'm hoping that the interface will be polished enough for early-stage beta testers in the coming week, but it is still tentative as we iron out more bugs and add the features from our full design. Since a lot of people are anxious to see/use the new interface, this post will serve as an update on what the interface looks like in its current form and the progress we're making on the designs.
The general mission statement for the V1 design is to create a "PeakD-like" experience from the ground up. As we build that basic layer, the design plans for subsequent versions will add-in all those additional features that cater to our community.
Trending Page: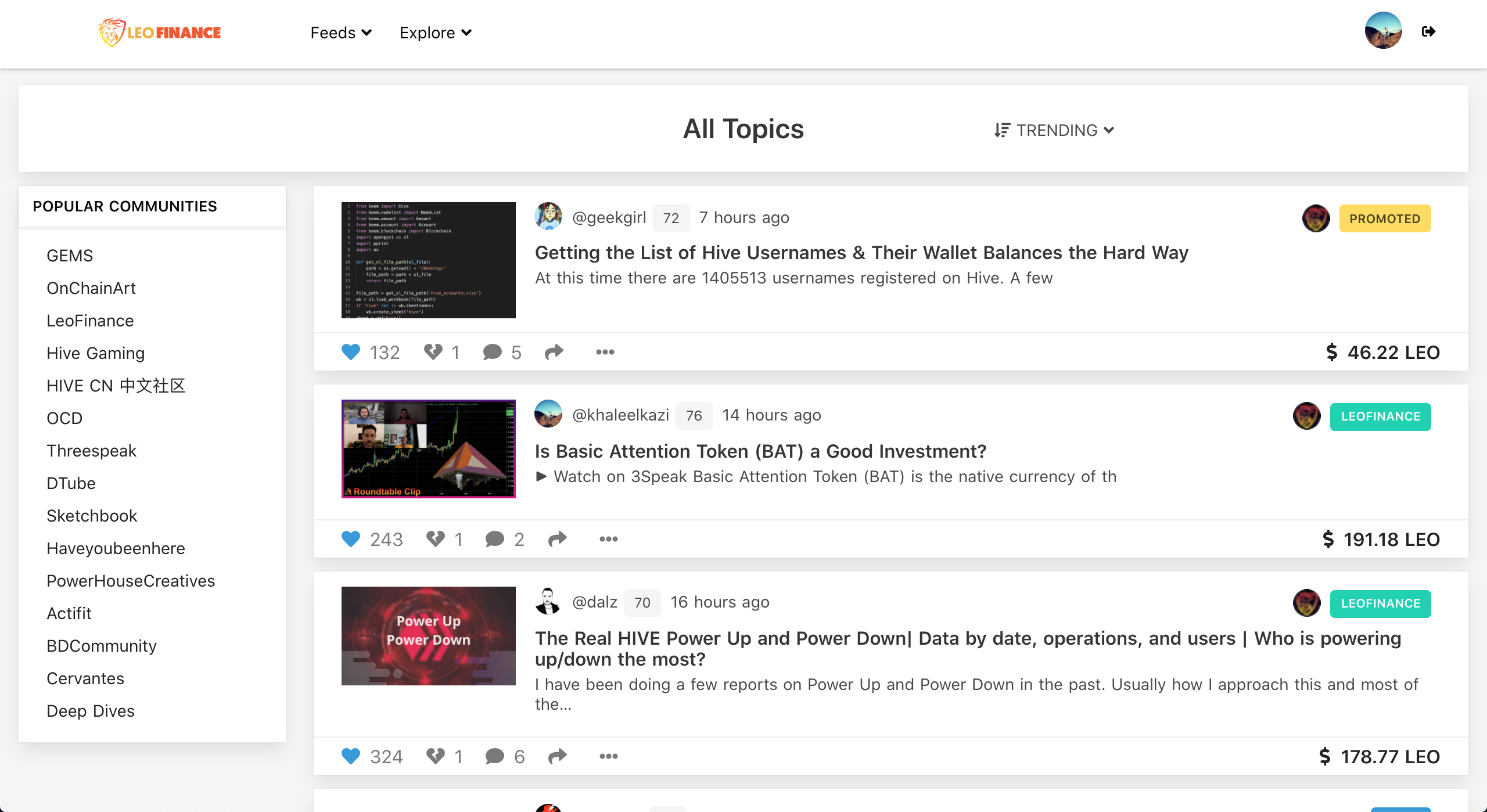 The LEO badge at the top right of a post indicates if it was posted from our interface
Users can promote their posts (or someone else's post) by burning LEO tokens to gain extra exposure on LeoFinance
The sidebar currently shows "Popular Communities" but this is a placeholder. We have other plans for this space ;)
Profile Page: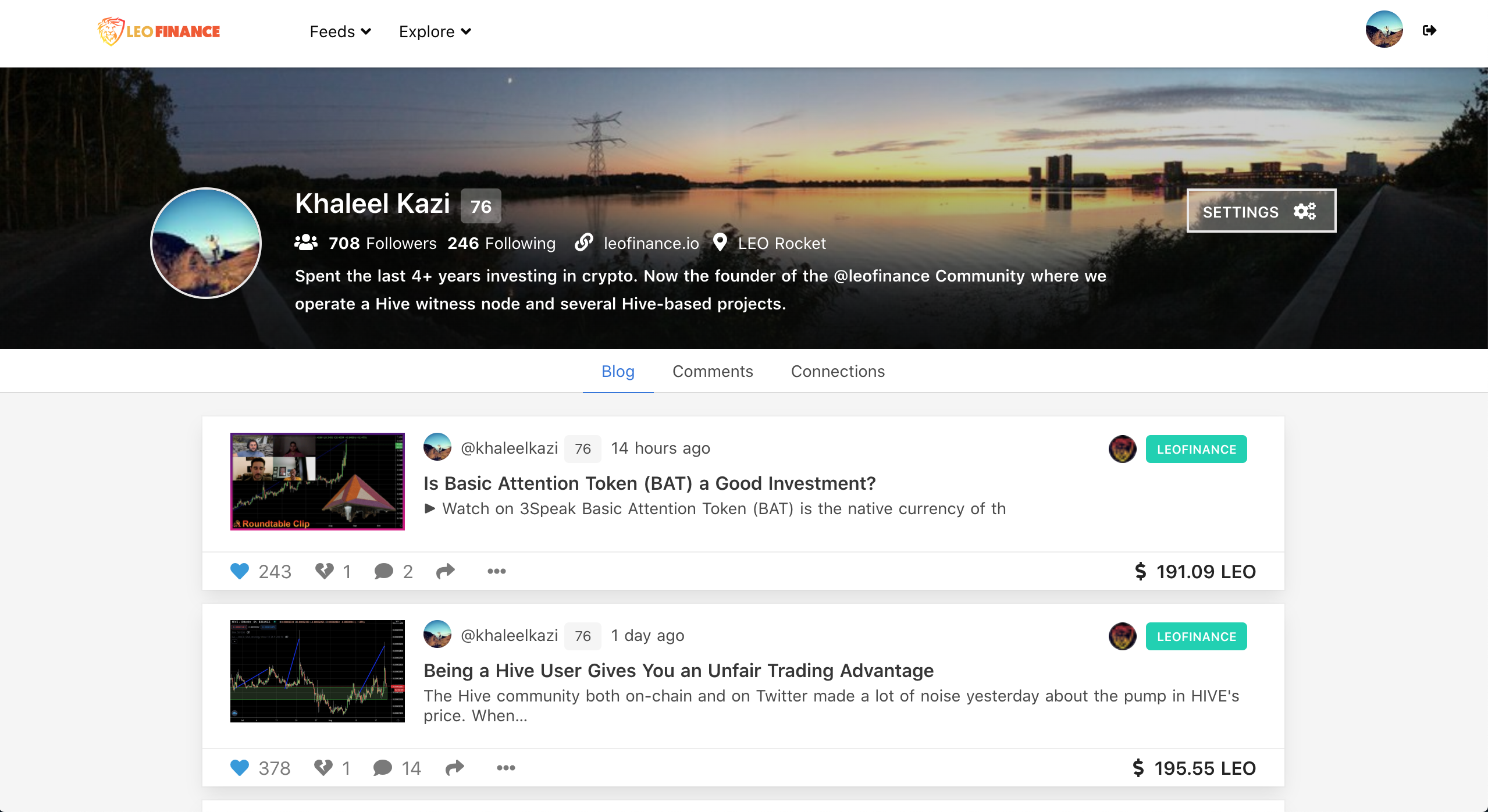 Reblog: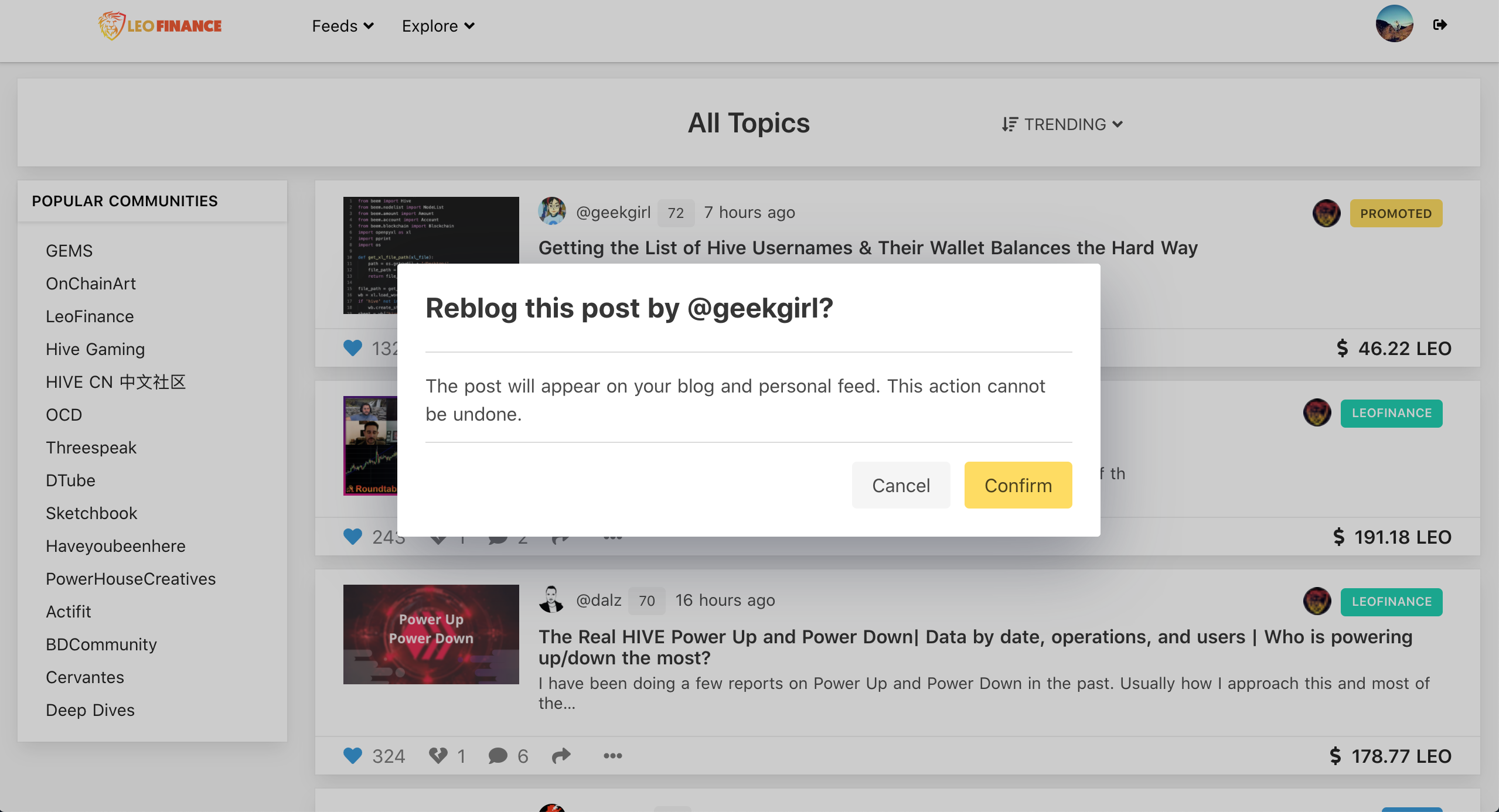 This is how pop-up prompts like reblogging/sending tokens look on the interface. A much cleaner UI than we're used to.
Comments/Replies: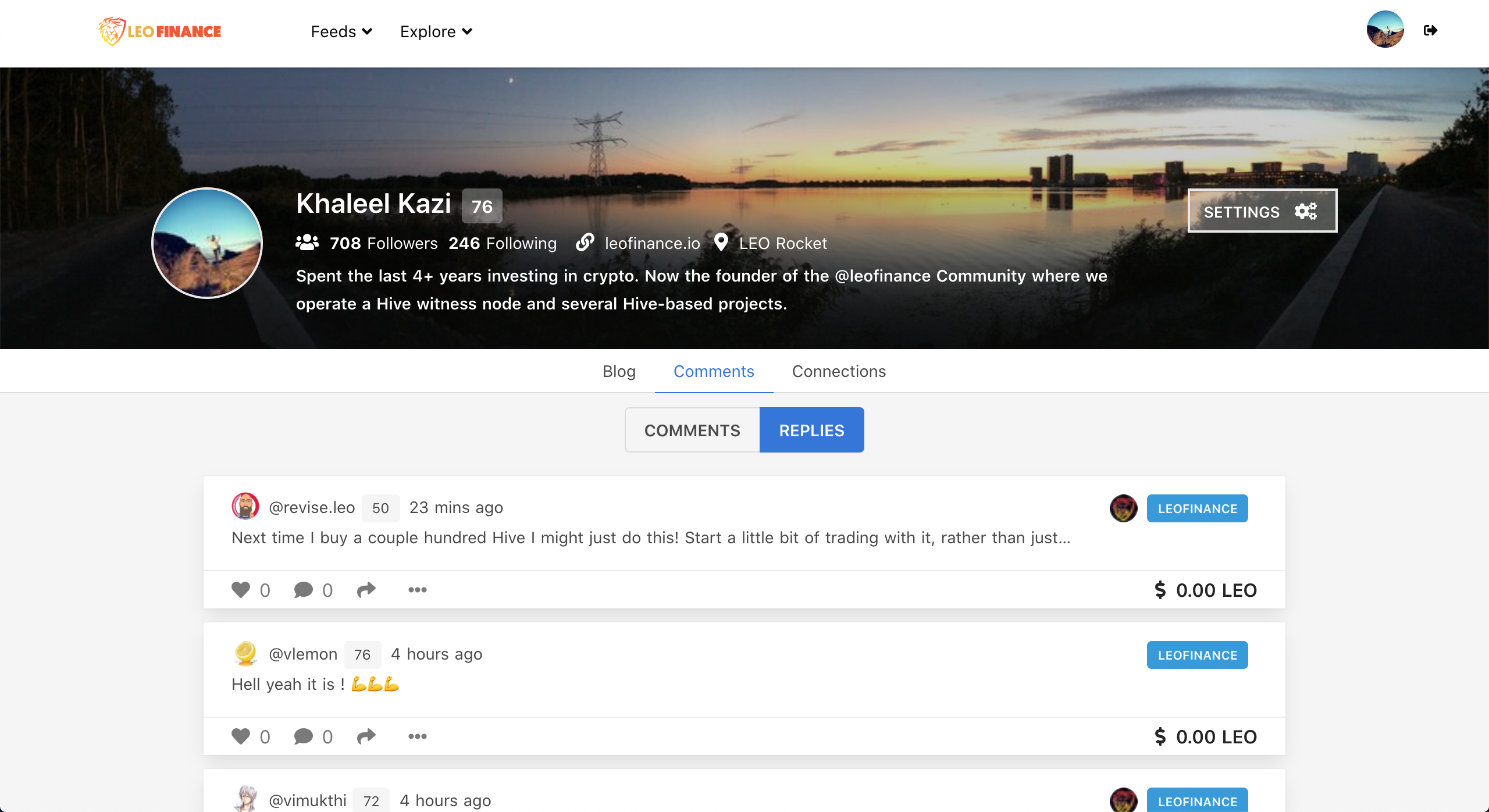 Connections: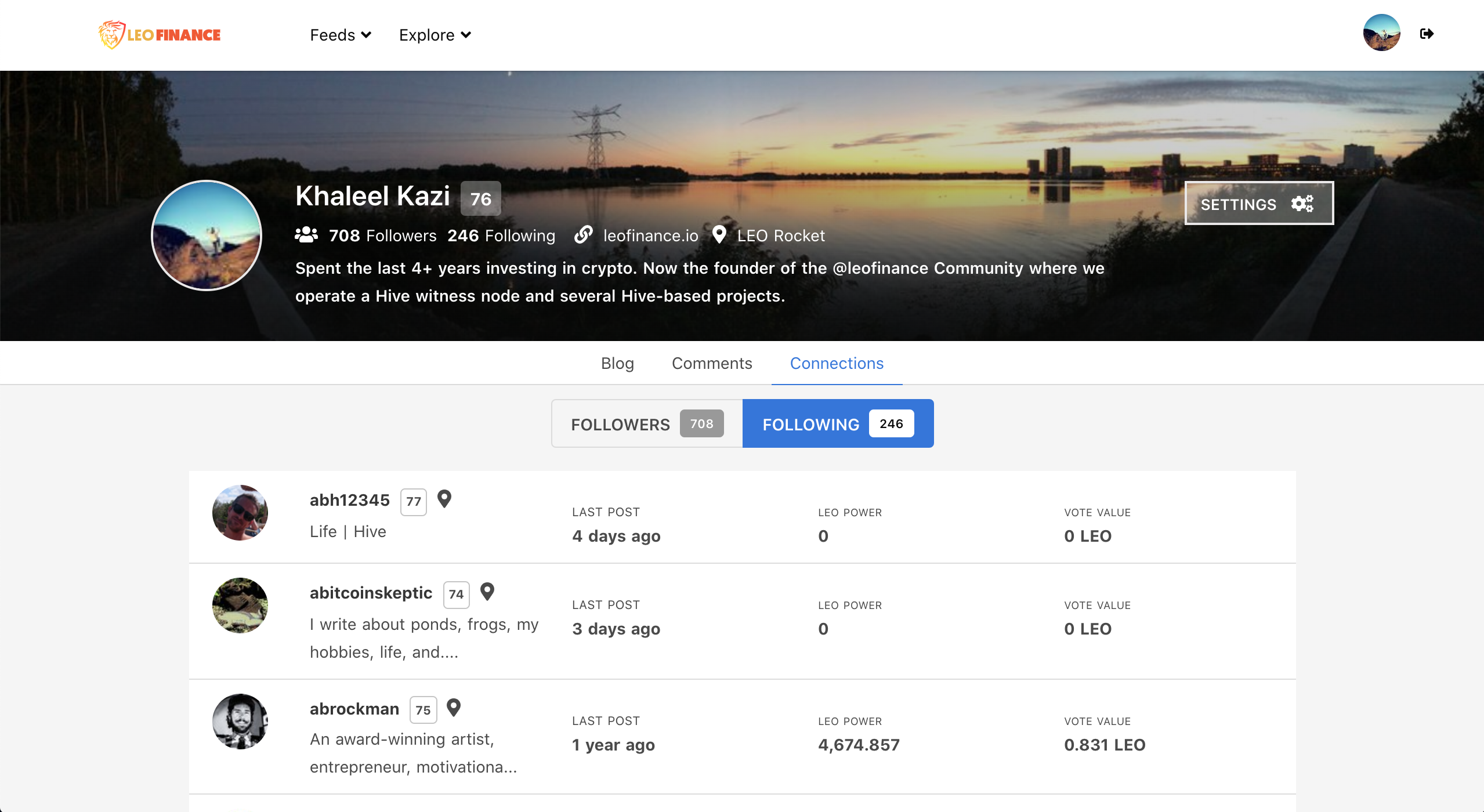 PeakD has this feature for followers/following for Hive. Having this here on LeoFinance is interesting because in place of showing a follower's HIVE POWER/Last Hive Post, it shows their LEO POWER and last Leo Post.
Posts: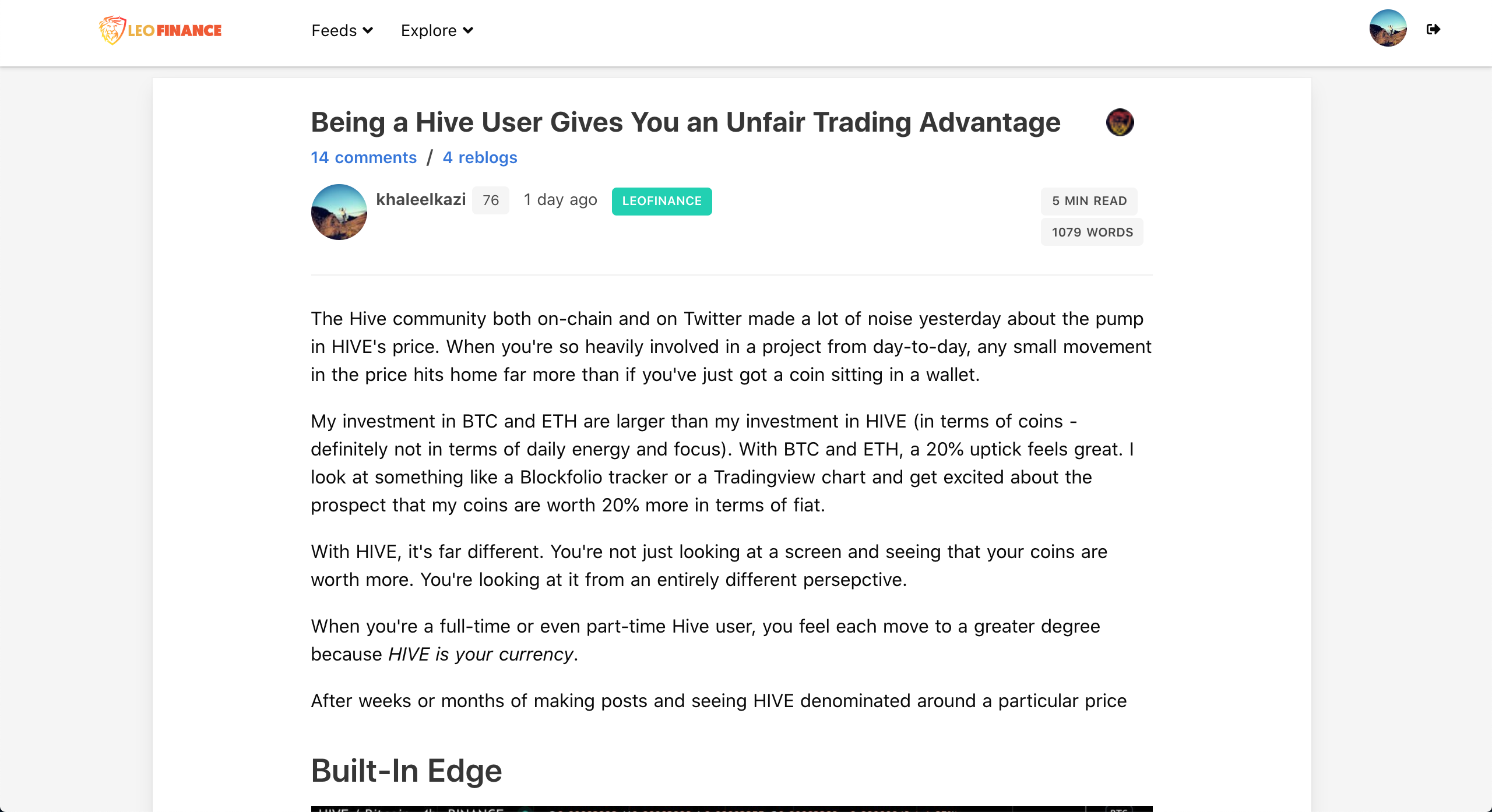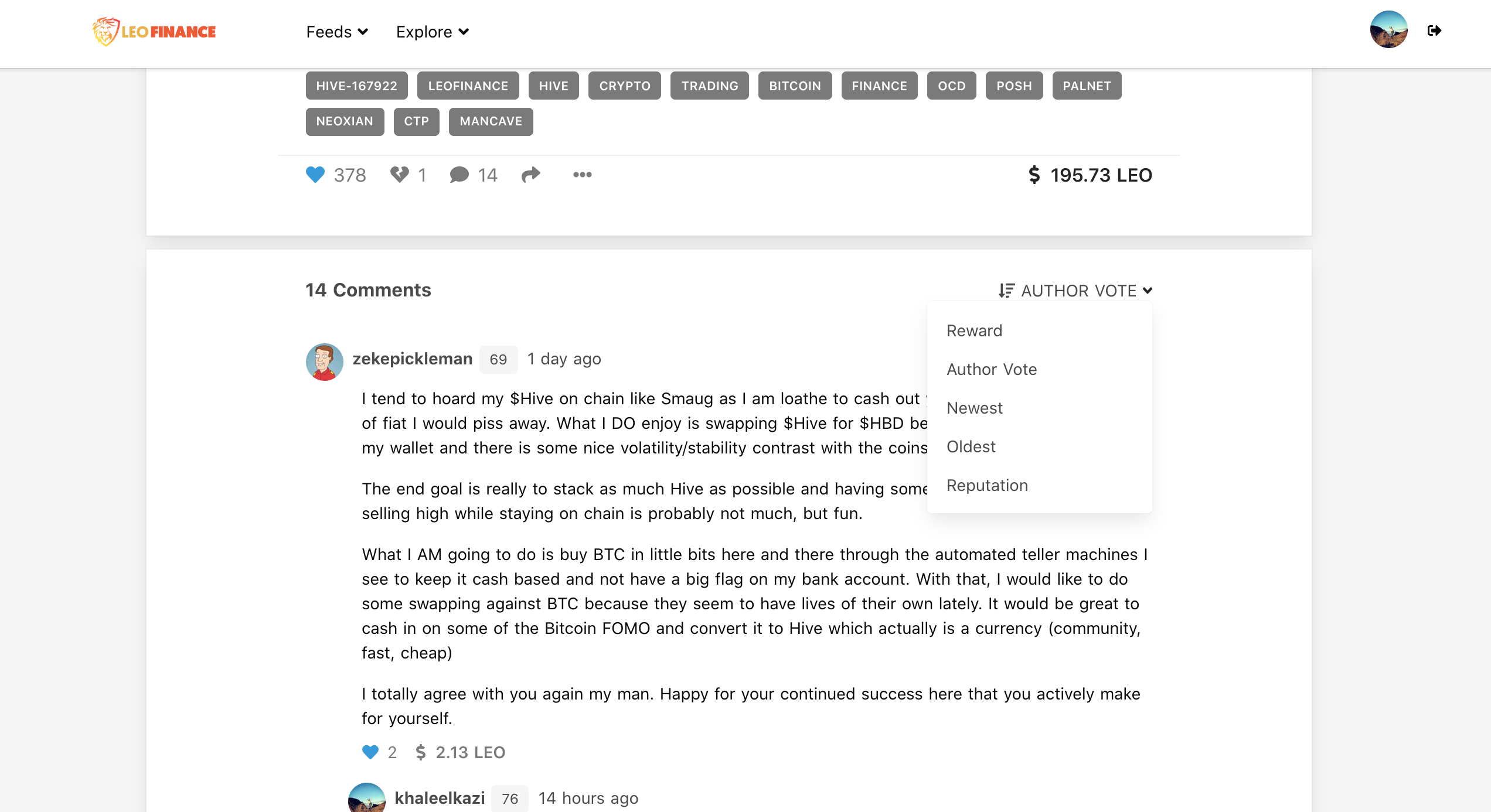 Login With Hivesigner or Hive Keychain:

Our current UI only allows for Hive Keychain or directly entering your posting key into the site. The new interface allows you to simply type in your username and then hit enter. If you have Hive Keychain, it will prompt a login window with Keychain. If you don't have Keychain installed on your browser (or you're on mobile), it will redirect to Hivesigner and ask you to confirm the login.
---
The next feature that is being developed as we speak is the post creation UI. After that, we'll continue down the list through of our UI design.
iteration 1: architecture design ( #1 ) ✅
iteration 2: viewing post modules ( #2 / #3 / #4 / #5 / #6 / #13 ) ✅
iteration 3: user profile modules ( #7 / #8 ) ✅
iteration 4: writing posts modules ( #17 )
iteration 5: user settings / wallet / activities modules ( #9 / #10 / #11 )
iteration 6: ads, advanced SEO, social card, home page ( #12 / #13 / #14 / #15 )
It's a bit hard to put an exact figure on it, since the features are complex and some things take much longer than others but we are about halfway done with the first version of the interface. After we complete Iteration #4 this week (adding the ability to write posts), we will likely open up the interface for more public testing to get feedback and bug reports - the initial plan was to do this on July 30th, but we pushed that back after a few delays.
A few people asked over on Twitter for an exact release date as to when we would completely replace the current interface with our new one. That would be the full rollout of V1 and again, it's hard to put an exact date on that. Optimistically, we'll complete V1 and replace the current interface within the next 2-3 weeks after we finish the initial design and go through several rounds of testing with community feedback.
After that, we'll release the design for V2 and then begin work on adding some of our more advanced and targeted features such as a better signup experience, landing pages, newsletter, and a few other exciting features that don't even exist anywhere else on Hive.
All said and done, I've been using the new UI to read and curate content on LeoFinance as I also test and look for bugs. Even though the UI is still in its infant stages, it's already light years beyond condenser and I'm excited to share this experience with the rest of the community in the coming weeks.

Join Our Hive Community & Earn LEO Rewards!
Earn LEO + HIVE rewards by creating crypto/finance-related content in our PeakD community or directly from our hive-based interface at https://leofinance.io.
Posted Using LeoFinance
---
---