July LeoAd Report: All-Time High for LeoFinance Users and Ad Revenue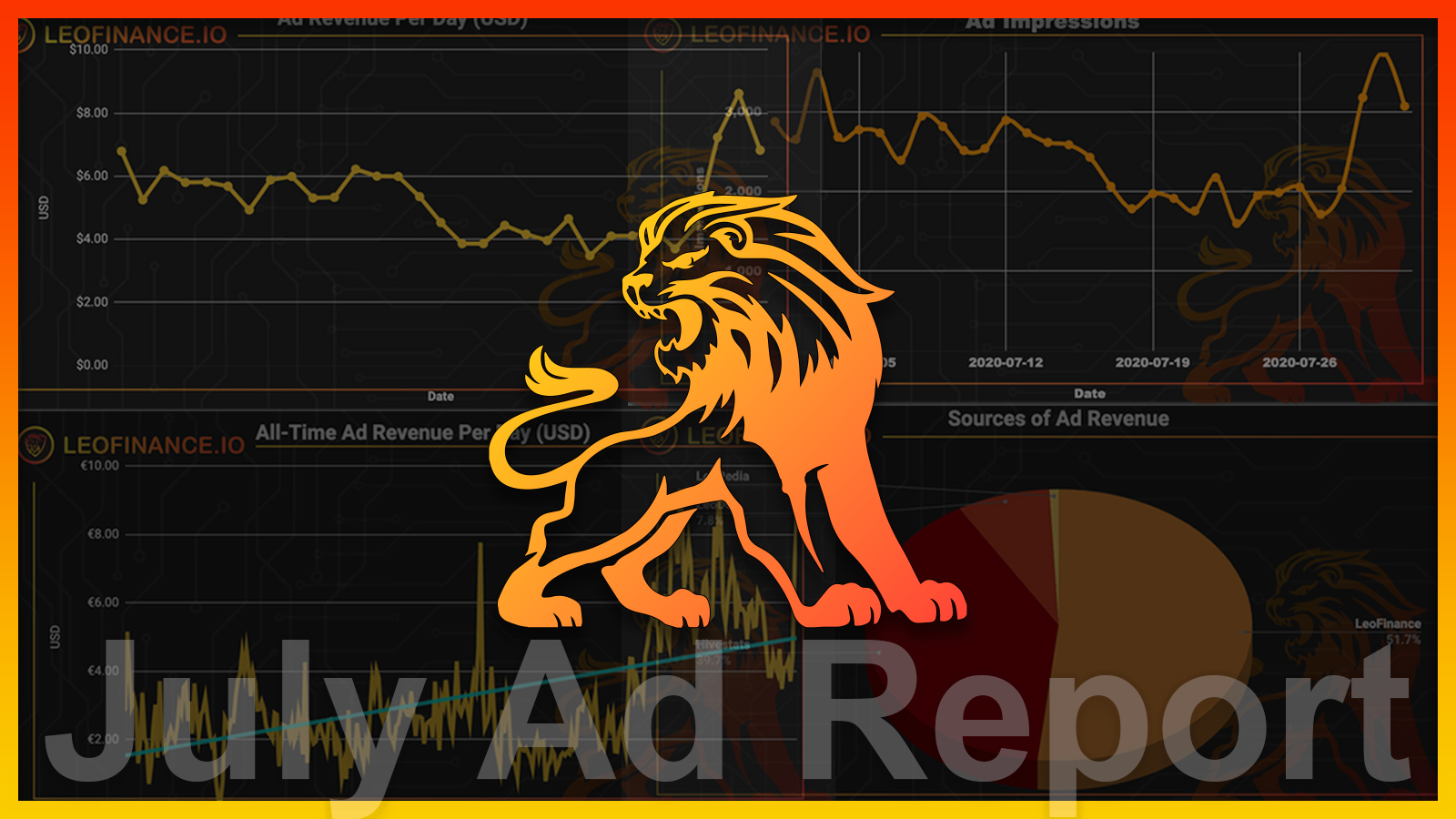 We had a big month in July - reaching an all-time for unique visitors to leofinance.io in a single day and also having our single largest day for ad revenue occur on the exact same day. Coincidence.. I think not!
Note: on 8/4 we ended up smashing through that all-time high for both ad revenue and unique visitors again. That'll give us something to talk about in next month's report.
The marketing efforts both on an official level and on a community-operated level have been extremely effective. There are far too many users to name in this post, but they know who they are. They're out there on Twitter, Reddit, Publish0x, etc. sharing links and bringing non-hive users back to the leofinance website to read articles. It's great for our long-term backlinks and it's also great for our short-term ad revenue and traffic numbers.
This report is a few days delayed (it was supposed to go out on the first of August) and so is the initial release of the new leofinance.io interface.
We're working hard on the projects in our roadmap to get things rolled out, but delays are inevitable and unpredictable. Barring any more unforeseen challenges, we'll stir up a lot of excitement next week as we see LeoDex V5 and LeoFinance V1 dropping publicly.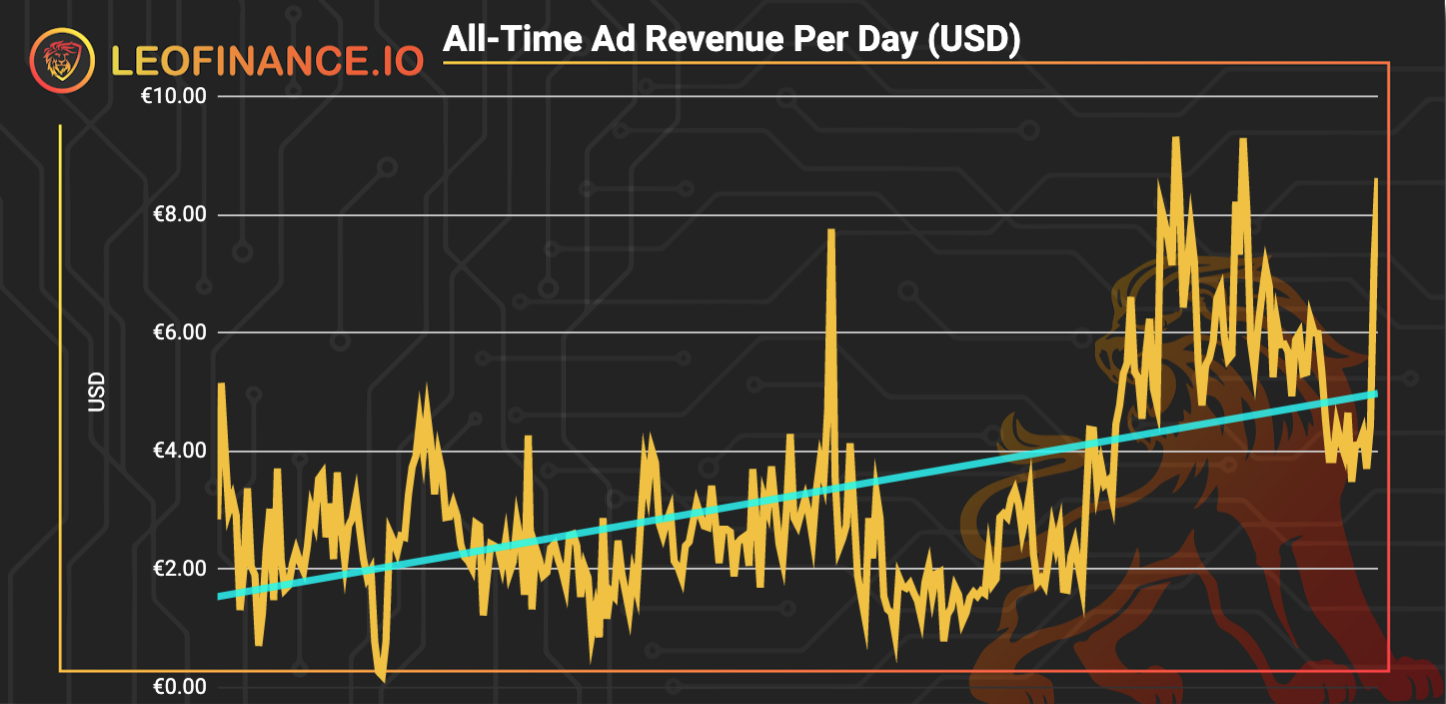 Ad Revenue Per Day (9/24/19 - 7/31/20)
Month to Month

Totals for the Month of July
After the initial release of both https://hivestats.io and https://leopedia.io, we showed a 2.15x increase in month-to-month ad revenue in the last report:
The average daily ad revenue for last month (April 24 - May 24): $3.02 per day.

The average daily ad revenue for this month (May 24 - June 24): $6.51 per day.
This month, our average daily ad revenue was slightly lower than May-June at $6.04 (as compared to $6.51/day) - probably due to a stabilization in the CPM, which determines how much ad revenue is paid out per thousand impressions.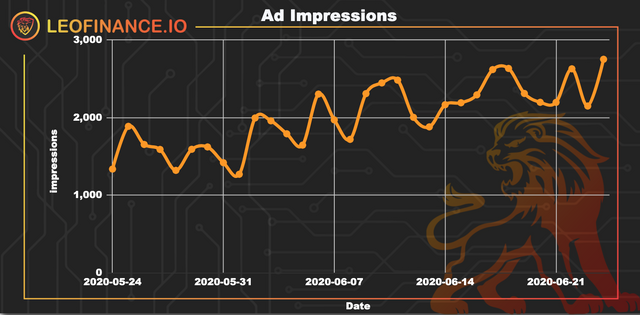 (Last Month) Total Ad Impressions Per Day for June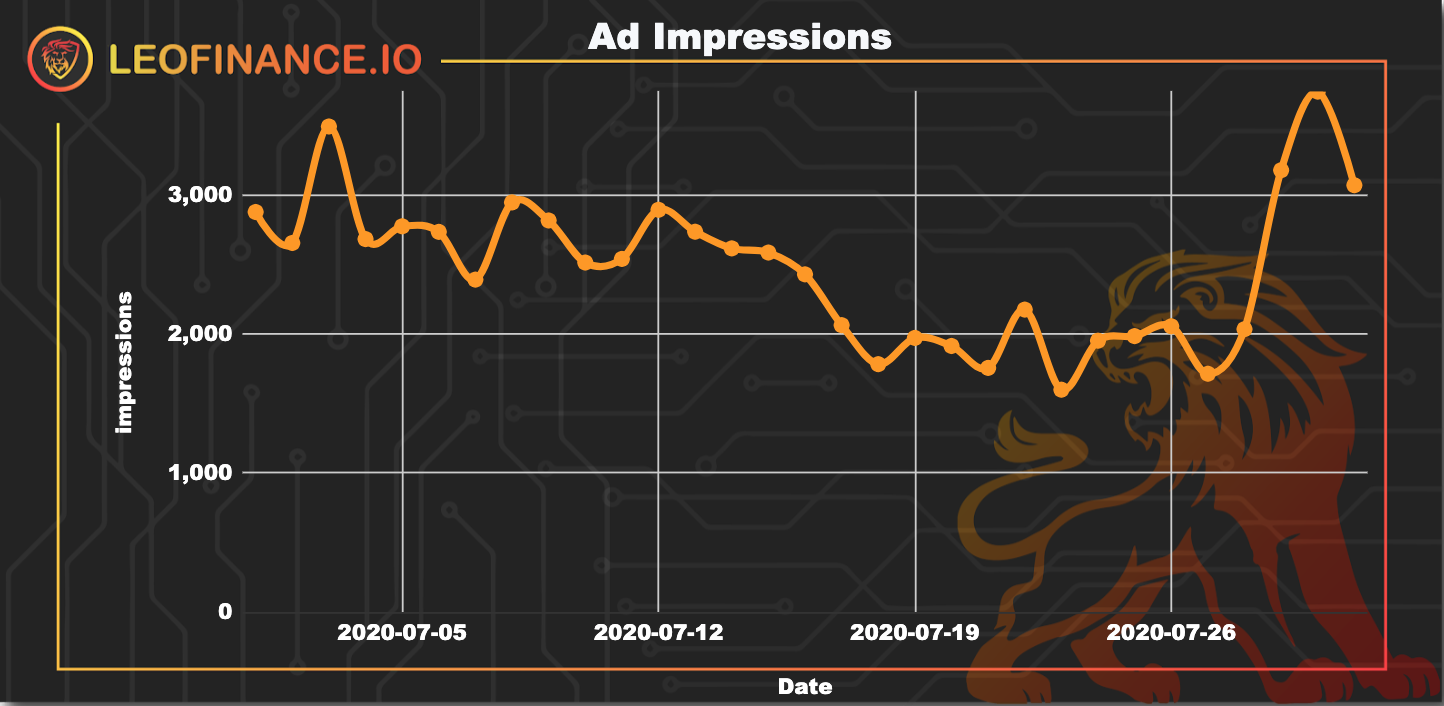 (This Month) Total Ad Impressions Per Day for July
LeoApps and Their Share of Ad Revenue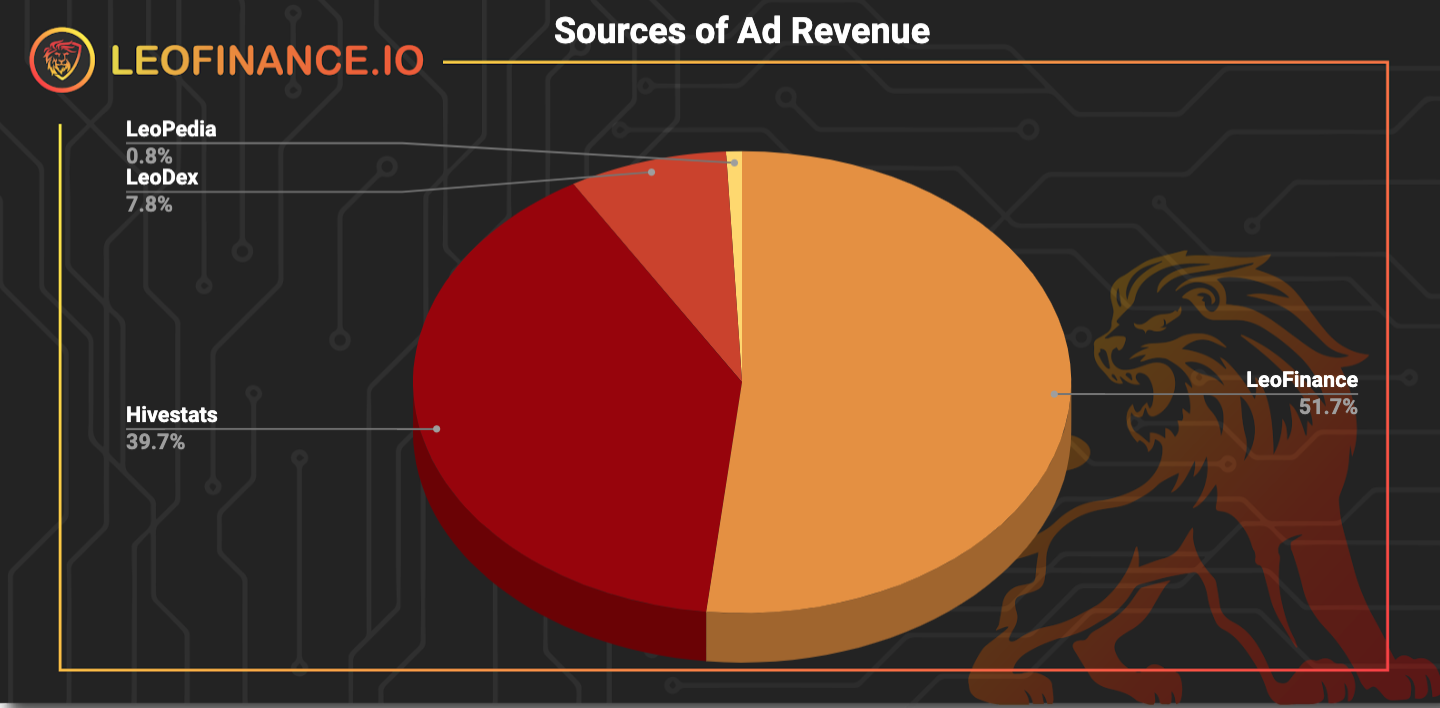 The LeoFinance community currently operates 4 primary websites:
LeoFinance has 3 other applications in the works, which will be rolled out sequentially throughout 2020 (more info on these apps was released in our official roadmap for 2020).
Single Highest Day for Ad Revenue & Unique Visitors to LeoFinance.io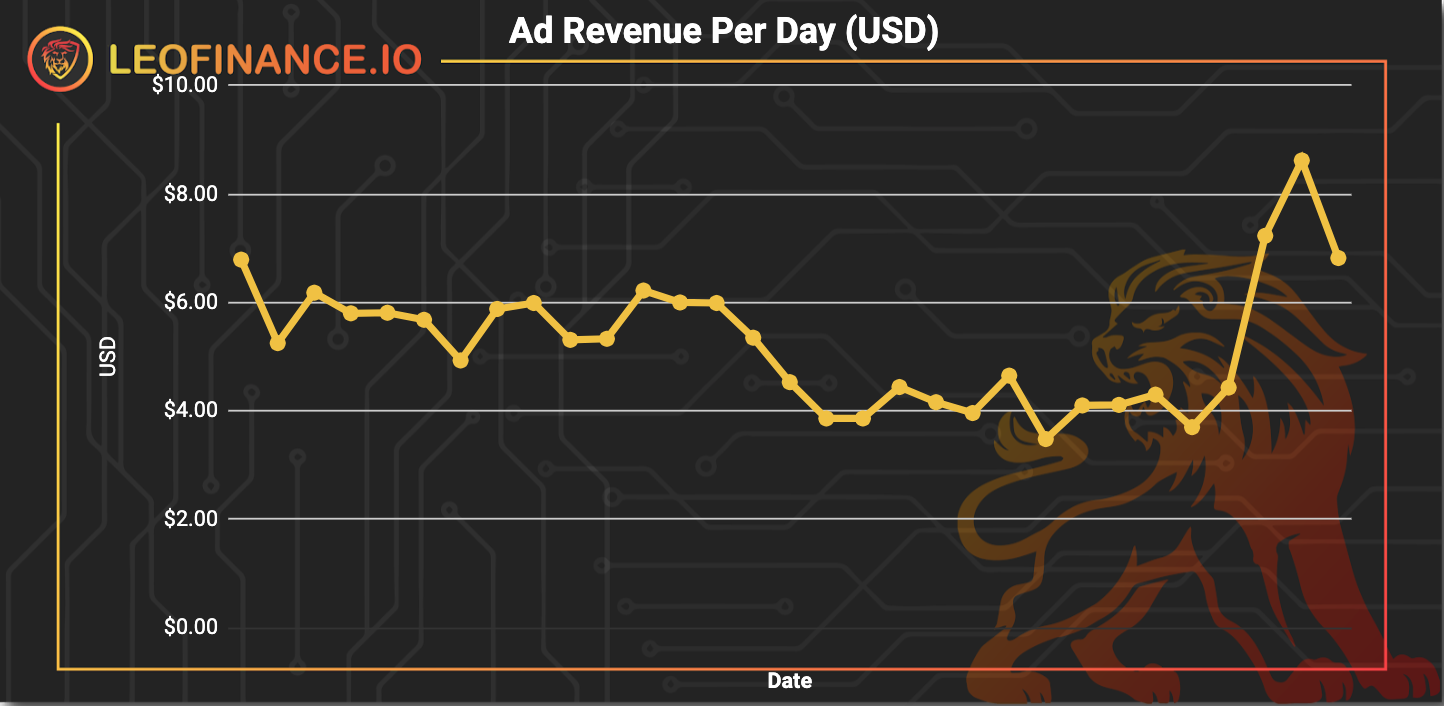 Since we added analytics to LeoFinance and our other websites, it's been a valuable tool for identifying the best sources of traffic and doing our best to increase efforts on those platforms. Twitter is by far the best performer, followed by Google traffic and Reddit backlinks.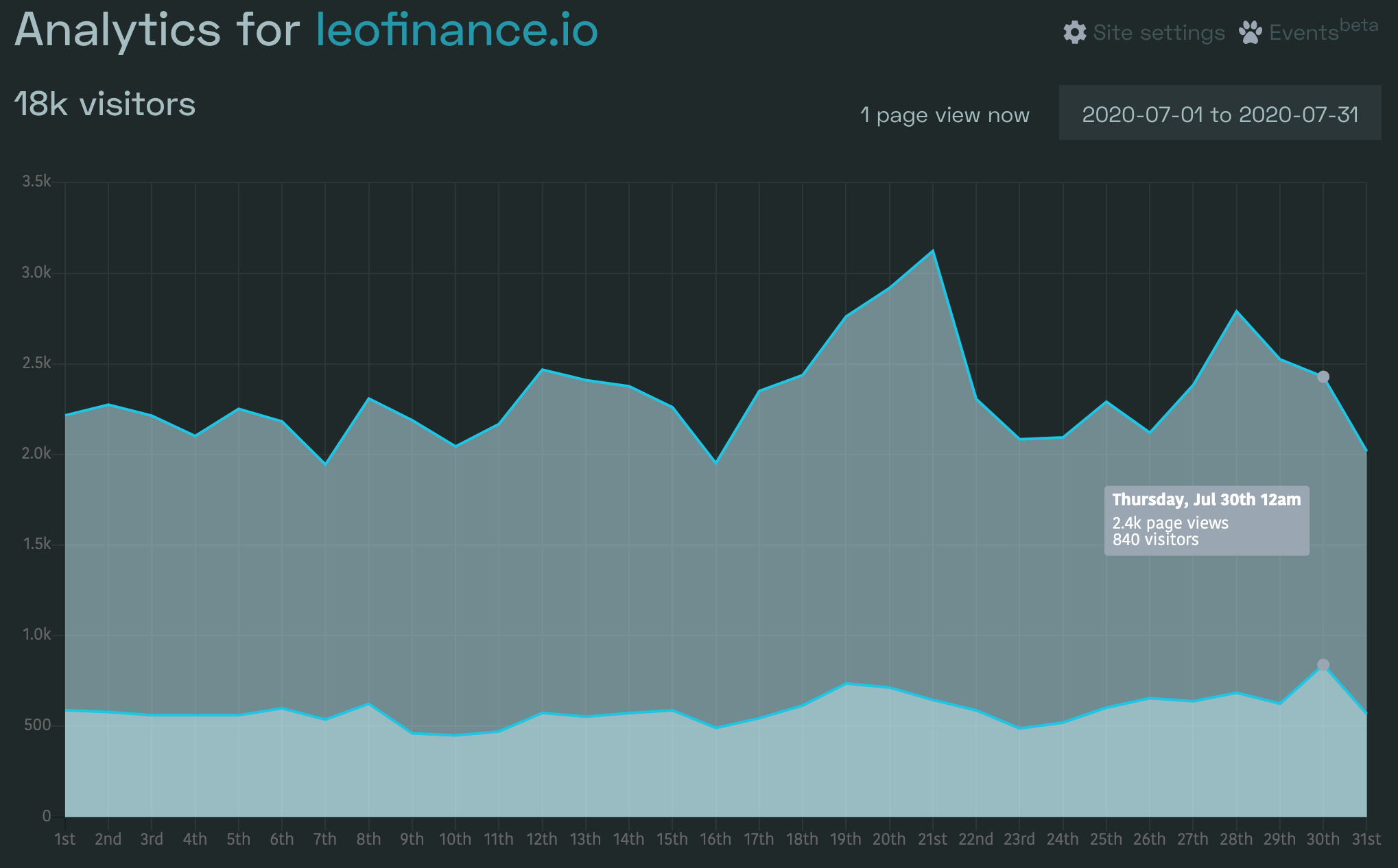 You can check-in on the real-time traffic stats at any time for any of our websites:
LEO Token Burns
With the beauty of blockchain transparency, you can check the @leoads account at any time to see how much HIVE is in there from past ad revenue payouts and you can also see how much LEO is being bought and burned (sent to @null).
In the past month, we bought and burned 1817 LEO from the LeoAds account. There is a remainder of 553 HIVE leftover in the account for ongoing ad buys/burns.
The Leoads program earned an additional 850.79 HIVE for the month of July. Bringing the current available HIVE to use for buybacks to 1403.79. We purchase LEO randomly throughout each month with this pool of HIVE and then send the LEO to null once a month.
note: the Bittrex HIVE wallet is currently under maintenance which is holding up the 850 HIVE for the past month's payout. If it doesn't come back online this week, we'll reroute the HIVE through Binance and send it to @leoads from there.
Bringing Sustainability to Hive
I've had a few conversations on Hive, Discord and Twitter about the LeoAds program lately. As we continue to push out these reports and make tangible progress on our ad program, more and more people are growing curious about the economics of this setup.
Many have realized that if more communities on Hive (and perhaps hive.blog itself) started displaying ads and using that ad revenue to buy HIVE on exchanges like Bittrex in order to send that Hive to a burn account like @leoads to then buy and burn their native token, HIVE itself becomes more valuable.
The model we're following - if scaled - could bring the sustainability that the Hive blockchain needs. Splinterlands has followed their own model of generating revenue through pack sales in other currencies like BTC which ultimately brings revenue into the entire Hive ecosystem.

Our Community:
LeoFinance is an online community for crypto & finance. We run several projects that are powered by Hive and the LEO token economy:

Posted Using LeoFinance
---
---