LeoFinance Authors Earning More in LEO than HIVE | Author Reward Leaderboard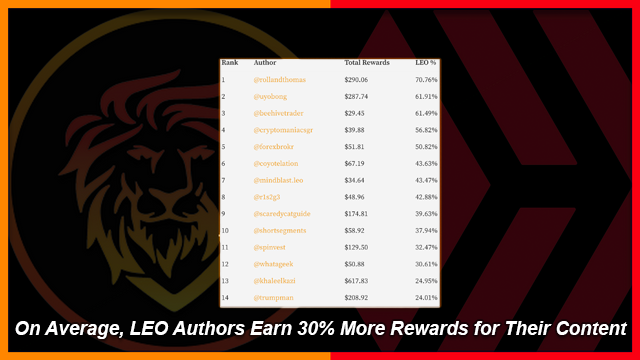 Last month we put out the first report that tracked the LEO vs HIVE rewards for the top authors on the LeoFinance platform. This gave all of us a lot of insight into what is happening as second-layer token rewards for LEO authors are starting to "flippen" first-layer HIVE rewards.
One of the original visions for the Hive blockchain ecosystem was to create tokenized communities. To not only have authors earn in the main base-layer currency (HIVE) but to also empower communities and authors with more individualized and focused token rewards based on the type of content they create.
Over the past several months, we've been noticing more and more authors who earn more value (in terms of USD) from their LEO author rewards than their HIVE rewards.
The entire mission of LeoFinance is to create a hub for crypto & finance creators. A place where their content is posted on the Hive blockchain for posterity/immutability and then monetized with our native LEO token which we aim to drive continual value to via new developments and ad revenue.
These monthly reports will track the progress of this flippening as we empower crypto & finance creators on the LeoFinance platform.
Top 25 LEO Authors ($)
The first chart here shows the top 25 authors on LeoFinance ranked by how much LEO they earned (in USD terms) this month. The LEO column shows their total LEO author rewards broken down in USD earned and the column to the right of that shows their total HIVE author rewards (in USD).
Top 25 LEO Authors (%)
This second chart shows the same top 25 LEO authors, but ranked by the percentage of LEO that contributes to their total rewards. The calculation is simply their LEO author rewards divided by their total author rewards (LEO + HIVE).
What's notable here is that certain authors are already earning more in LEO than they earn in HIVE (in USD terms). There are a handful of authors in this list who are also the top authors in HIVE terms on the entire blockchain. These authors still earn a relatively decent portion of rewards from LEO.
For example, @jrcornel, @tarazkp and @khaleelkazi earn more than $500 per month from HIVE author rewards, yet their monthly LEO rewards still represent 11.28%, 3.77% and 24.95% (respectively).
Our community has seen some incredibly growth over the past several months and we continue to see growth as reported by our weekly LEO Stats Reports.
As we roll out major developments like our new Hive-based interface that we've built from the ground up, a few more projects that we outlined in our 2020 roadmap and the continual growth that we're seeing in ad revenue, we believe that LEO author and curation rewards will only continue to gain more significance for the authors and curators who choose to be a part of our community.
There's never been a better time to start creating, engaging and curating valuable crypto & finance content on the Hive blockchain.
Data by @dalz. Co-written by @khaleelkazi

Join Our Hive Community & Earn LEO Rewards!
Earn LEO + HIVE rewards like the authors featured in this post by creating crypto/finance content in our PeakD community or directly from our Hive-based interface at https://leofinance.io.
Posted Using LeoFinance
---
---