LeoFinance From the Ground Up | Our New Hive Interface Enters Open Beta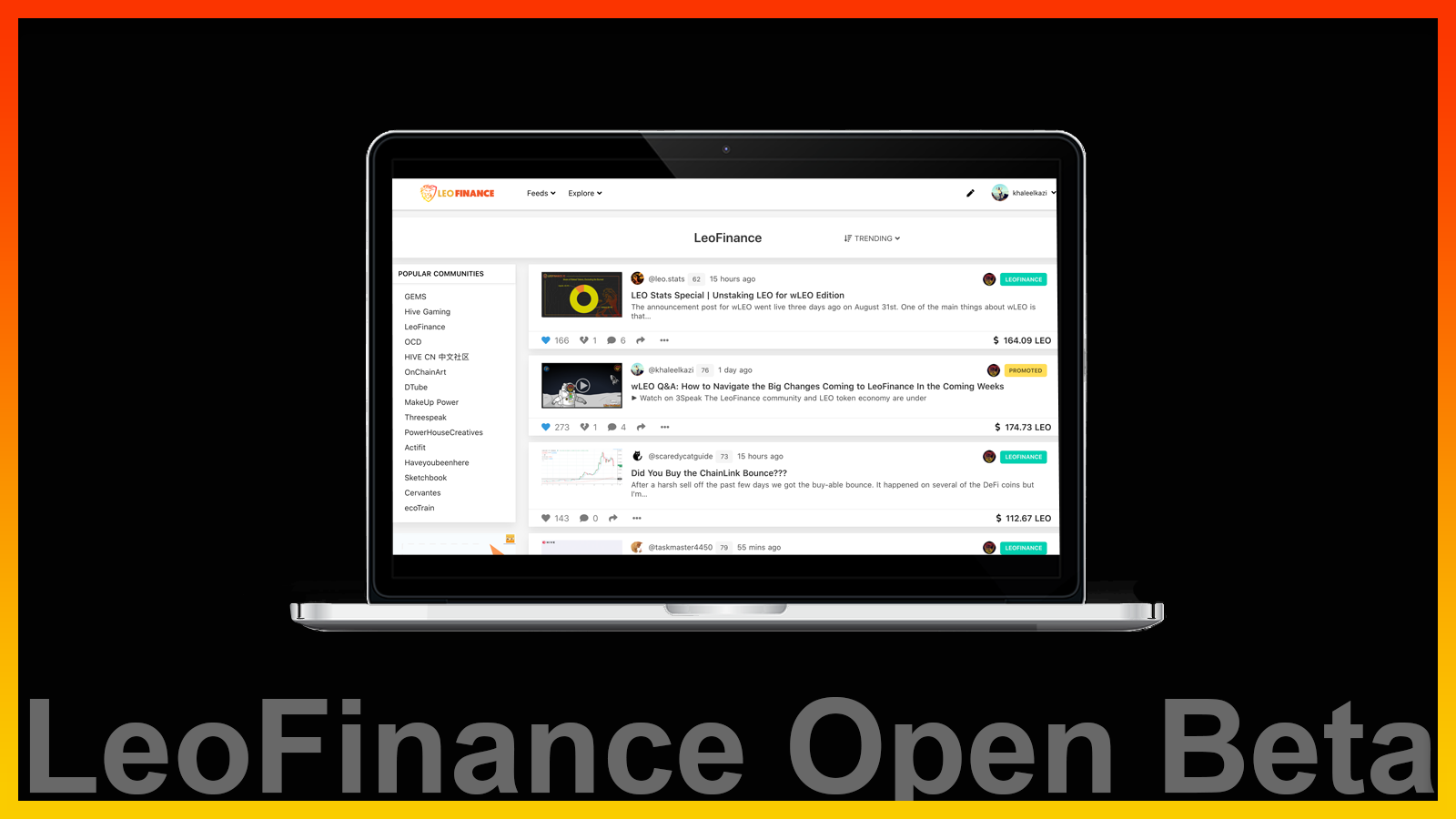 Nearly 14 months ago, we launched the Steemleo tribe on the Steem blockchain. Launching a community and creating the LEO token was an amazing achievement and it took a lot of effort to get to that point. We had created a model for the LEO token that worked and since the beginning, have been an active and thriving community of crypto and finance creators.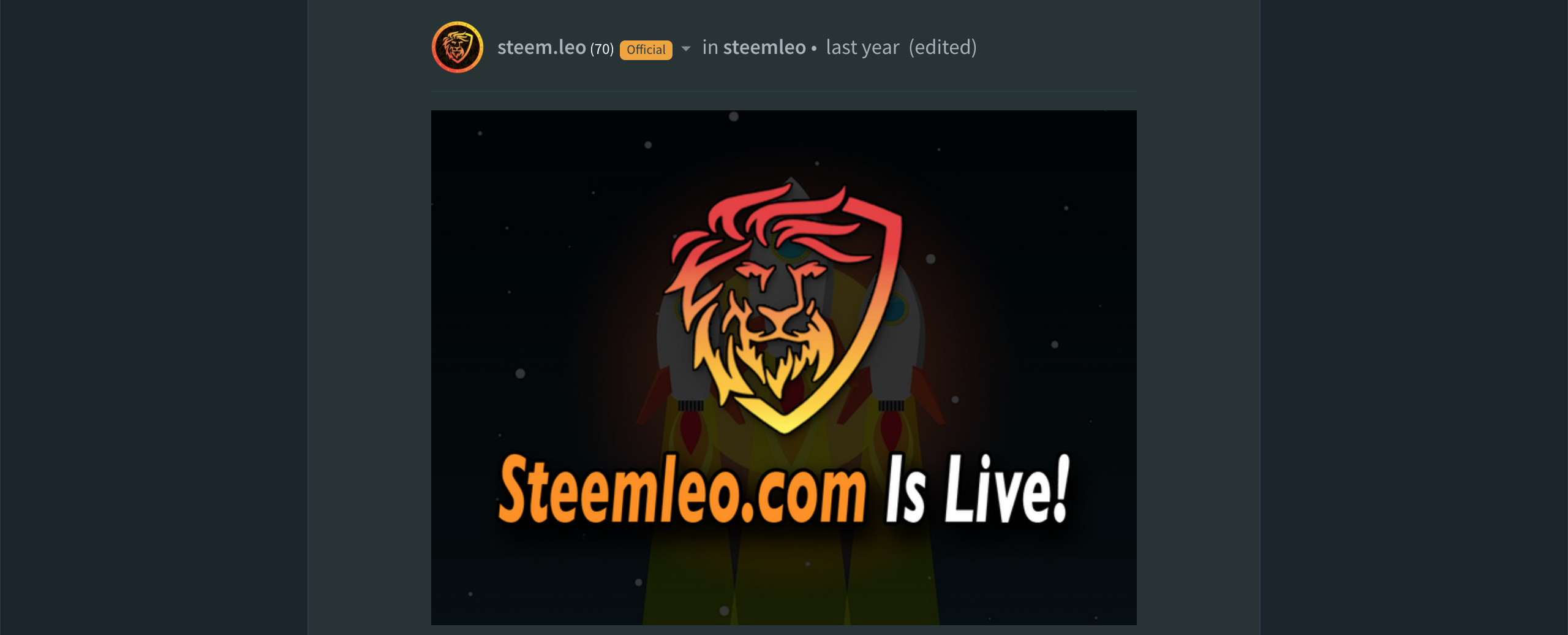 Since then, we've changed in more ways than I ever could have imagined. Adding new apps, releasing new features, growing our community members, etc. When Hive launched, we quickly rebranded to LeoFinance and changed many of the aspects of our community.
We made updates to condenser (the forked build of our leofinance.io blogging interface), adding things like a user dashboard, a tradingview ticker bar and many other UX-oriented changes. We quickly realized that condenser's code was clunky and hard to change. To make the grand innovations and overhauls that we had in mind, we would have to rebuild a new interface from scratch.
LeoFinance, From the Ground Up
Building a brand new blogging interface that is connected to a blockchain is no easy task. It's been months in the making and if you follow LeoFinance on Hive, Twitter, the podcast and elsewhere, then you've grown accustomed to seeing teasers of the new interface as new features have been added and our development has continued.
To reimagine LeoFinance, we first had to build a solid base layer. Anything worth building must first have a solid foundation to build up from. For this, our aim was to create a PeakD-like experience: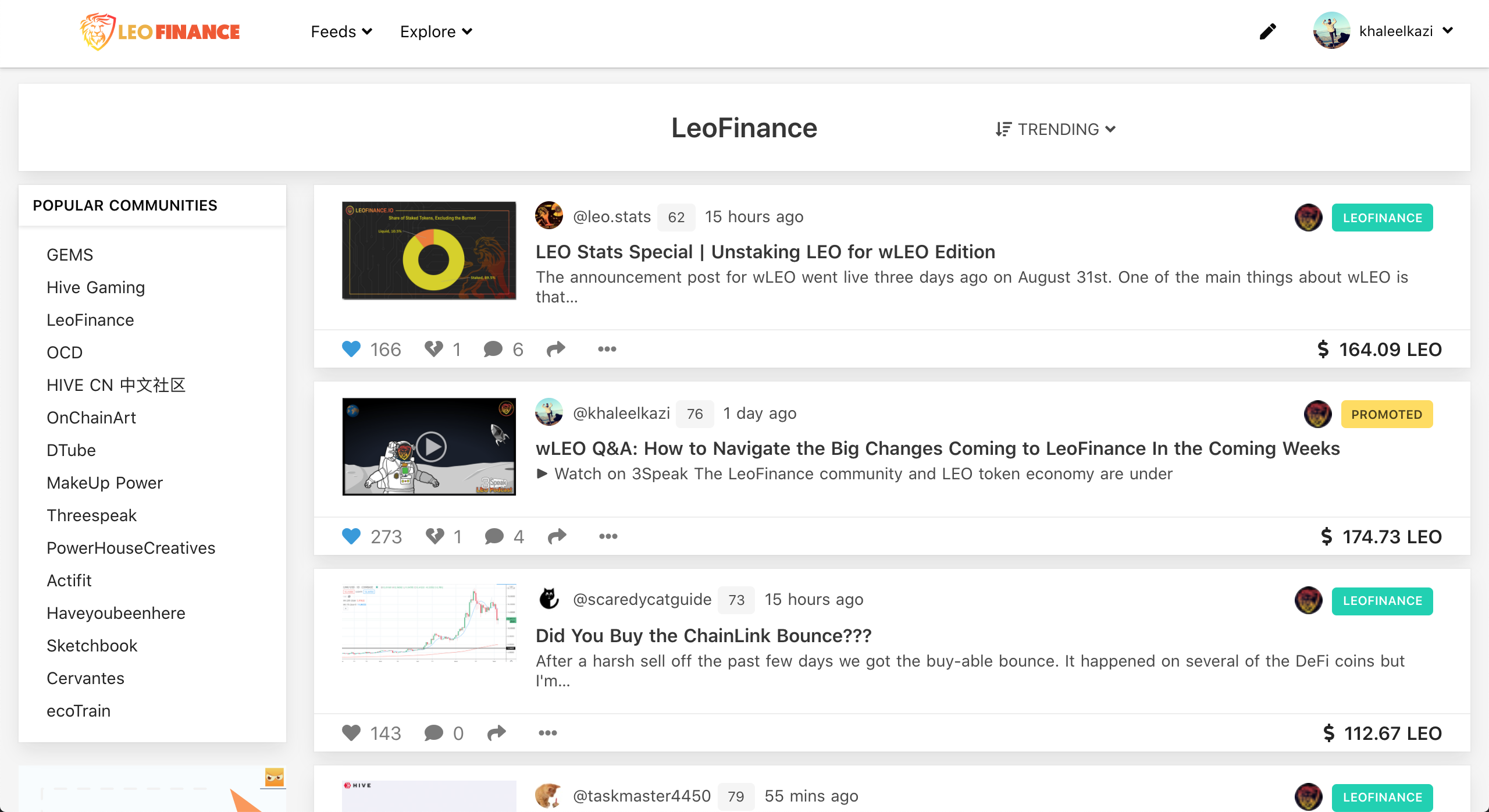 If you go to the Beta interface now, you'll notice that it resembles PeakD in a lot of ways. As we've mentioned throughout the development process: the goal of V1 is to create a PeakD-like experience and iterate on top of it. In the coming weeks, you'll see many new developments hit the interface that will tweak the experience and make it stand out.
We have an incredibly long list of features, design ideas and integrations that we've always wanted to add to our website, but weren't able to thanks to the limitations of condenser. With this new interface, we now have the flexibility to add anything imaginable. We can finally integrate the ideas that turn LeoFinance from a simple blogging interface on Hive into a full-blown media company that retains readers and onboards new authors.
Open Beta Testing
So far, we've spent the last few months building the interface and adding the core features. A few of us have been doing a closed beta test to find some of the major bugs and hammer them out before releasing it to a wider group. Now we're looking for open beta testers to help us discover new bugs so that we can fix them before launching the interface into production and replace condenser once and for all.
The interface is now accessible to anyone. Feel free to use it as you normally would and drop suggestions in our Discord channel labeled "interface-beta-testing".
Important considerations:
This is an open beta: there will be bugs - please report bugs that you find in the Discord server
V1 features are about 80% released - meaning that new features will be added on a near-daily basis as we design and implement them. These features will need continual testing before we move the site to production
With that said, I've already begun using the interface for more than 90% of my Hive-based activities and it is far and away better than our previous interface. I recommend using it as much as possible and dropping your suggestions in Discord so we can quickly iron them out and move into production. Have fun :)
https://beta.leofinance.io
Highlight Reel
To finish this off, I'll highlight some of the core features and pages of the new interface. Keep in mind that this is just the base layer of the cake. Over the next several days and weeks, the LeoFinance interface is going to change drastically as we redesign the user-facing layer of the UI.
Publishing Page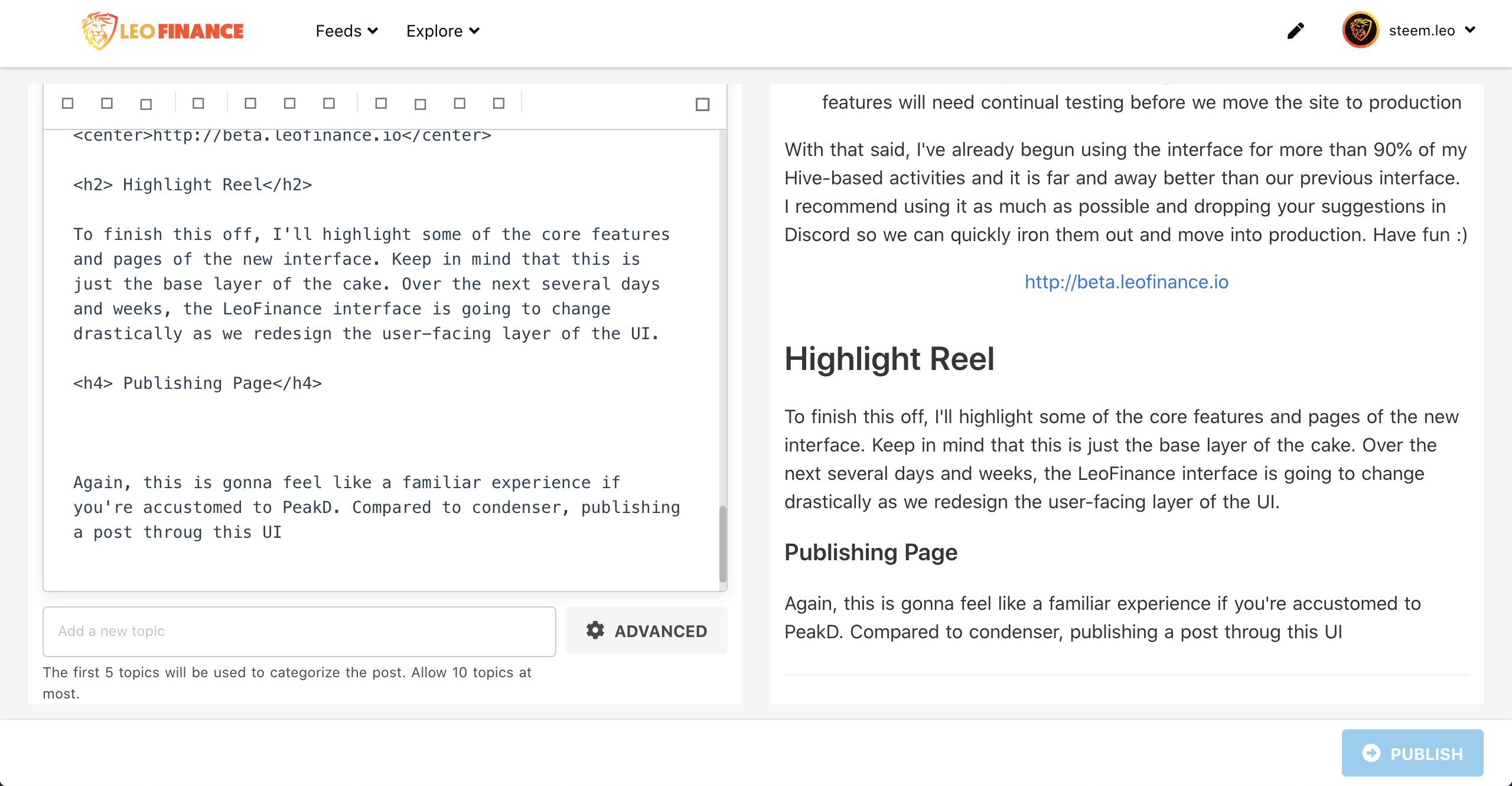 Again, this is gonna feel like a familiar experience if you're accustomed to PeakD. Once you make a post through this UI, you'll never want to go back to condenser. In the next major release of this interface, we'll add even more advanced features like scheduling posts, user customizations and more.

Wallet UI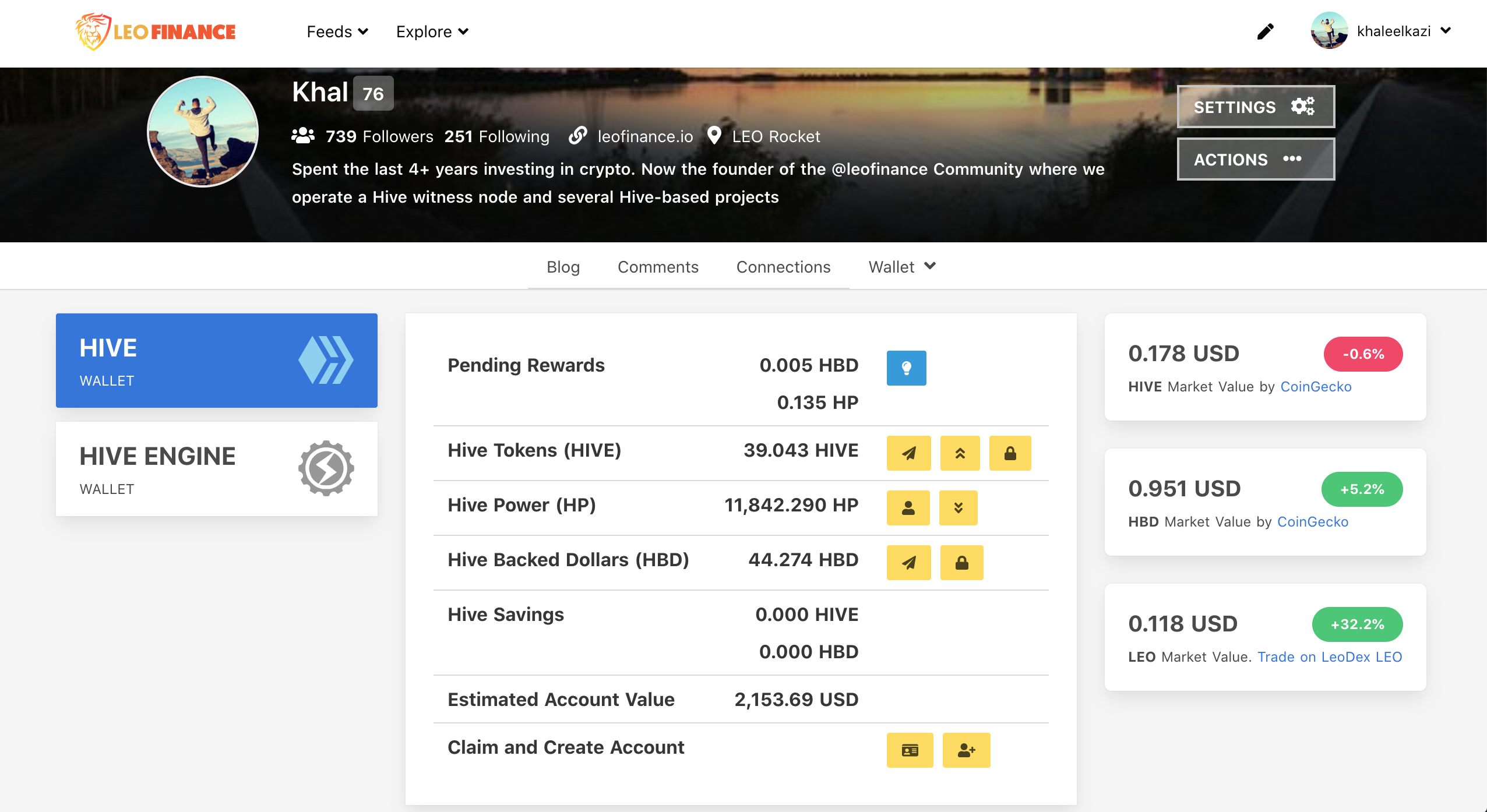 The first thing you'll notice are the HIVE/Hive-Engine Toggles on the left side. You can use these to toggle from between your Hive wallet and HE wallet. We've also gotten a few suggestions to make the default option a "LEO toggle" which will be added soon to create 3 options.
On the far right, you'll see the HIVE / HBD and LEO real-time prices. While the rest of crypto has tanked, LEO has skyrocketed 🚀 - fun times.
The wallet UI features many of the core functions needed on Hive. You can use the interface to:
Claim HIVE Rewards
Send HIVE
Power Up (Stake) HIVE
Add HIVE to Savings
Delegate HIVE POWER
Power Down
Send HBD
Save HBD
Claim Account Tokens
Create Hive Accounts with Account Tokens
Below the main wallet UI, you'll find your HIVE transactions. This will default to rewards + send TXs. In the current form of the interface, you can choose a specific day to go back to (as opposed to scrolling for pagination). In a future version of the UI, we'll add a calendar search feature that will let you find TXs for specific days going back through the history of your account: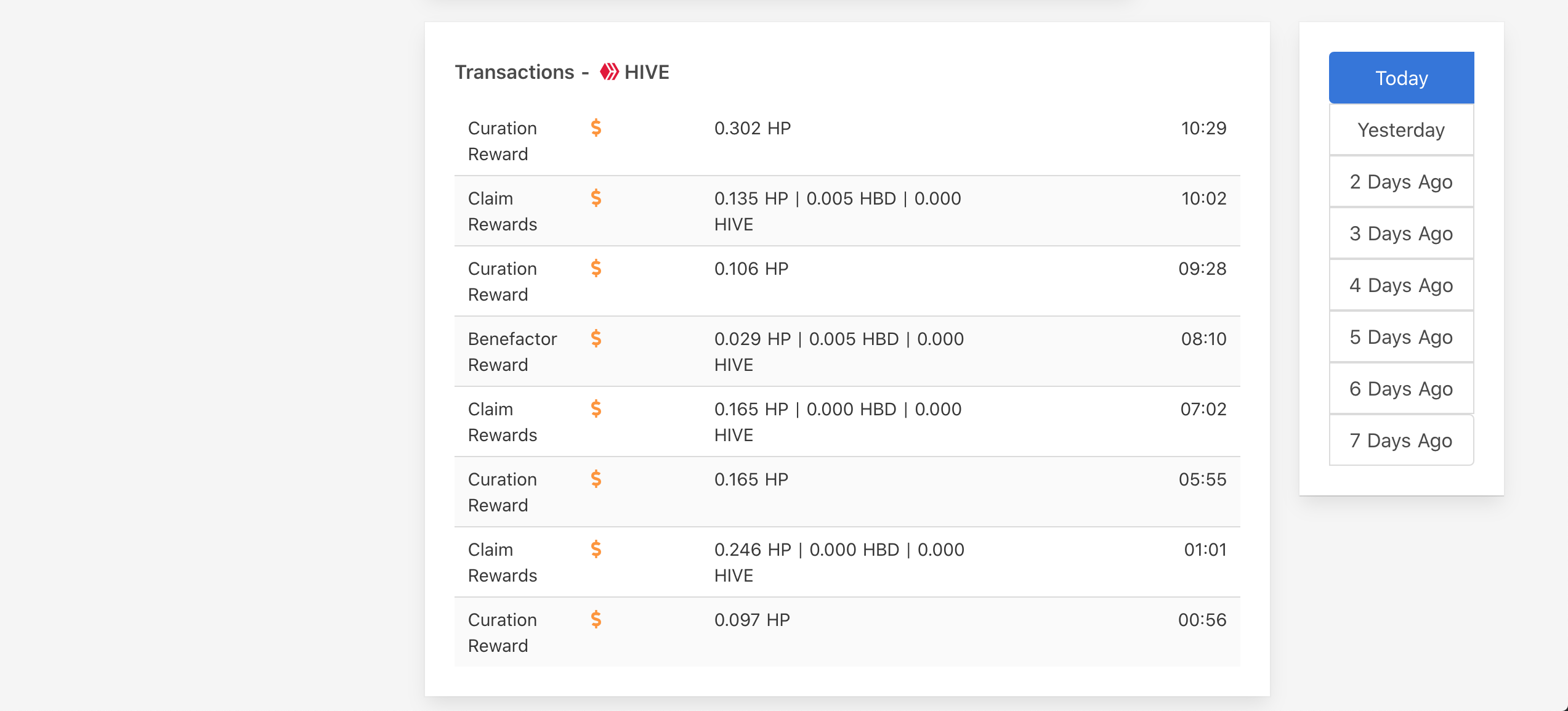 The Hive-Engine tab will show your HE token balances along with your LEO-based transaction history. We have a few important updates to make to this part of the UI which will be released to the beta version in the coming week.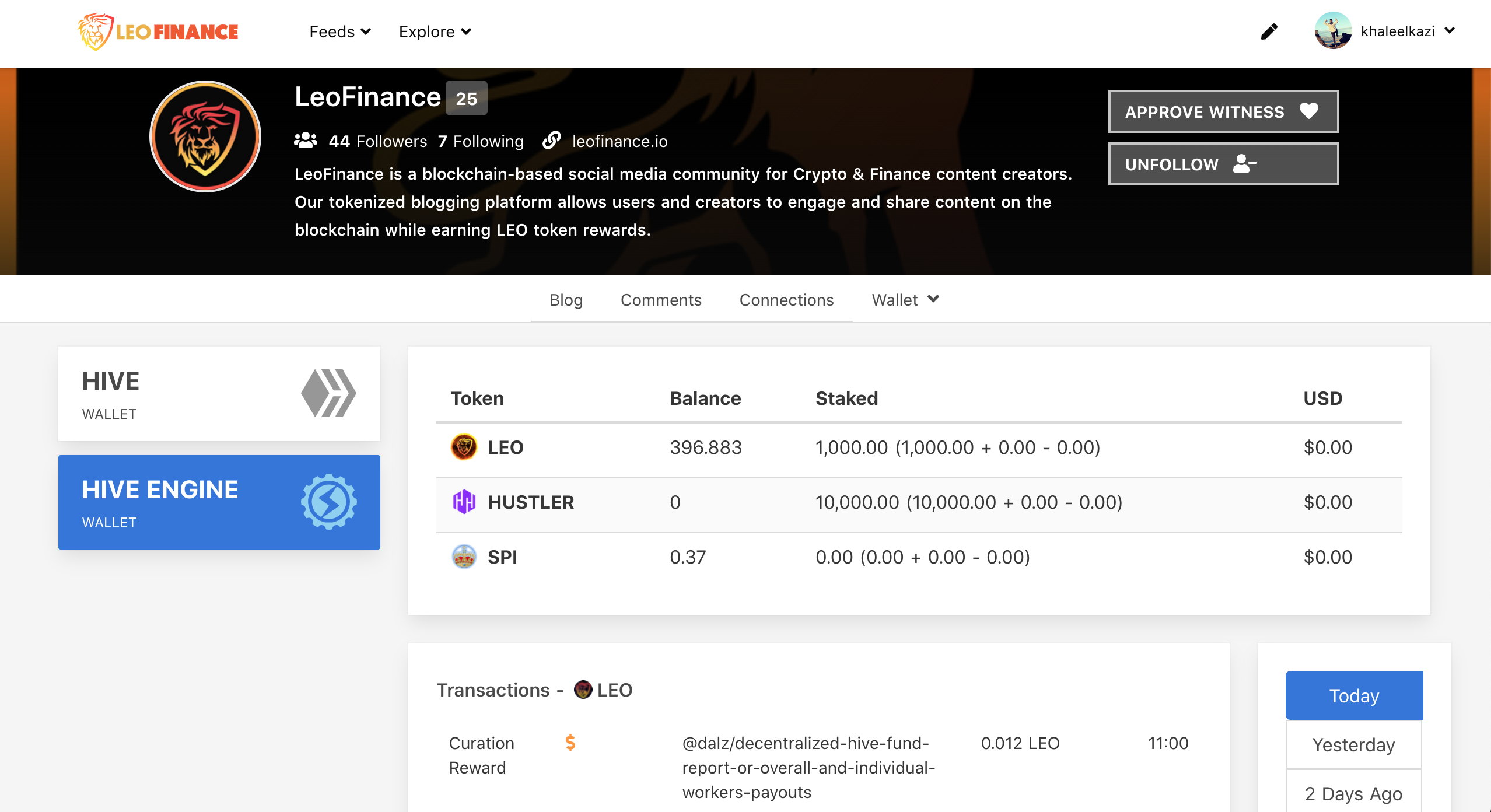 Activities Page
The activites page shows your overall Hive-based activites and has some date + operation filters on the right: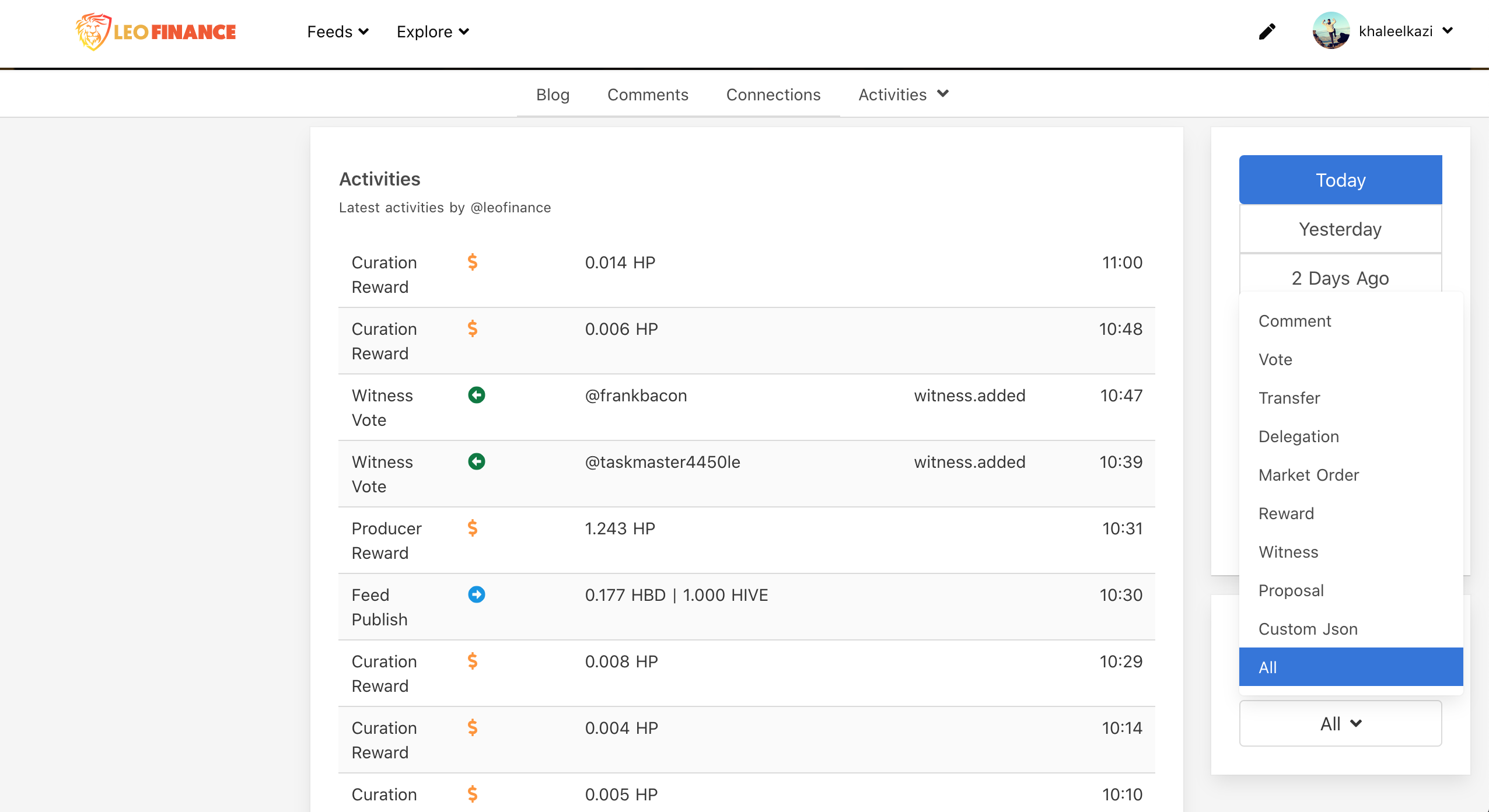 Profile Page
The profile page has some awesome features including the blog filters. This is another PeakD feature that I really enjoy and I'm happy that we included it in this version of the UI. It allows you to quickly navigate the profile of your favorite blogger and find topic-based posts or even find something that you've written in the past.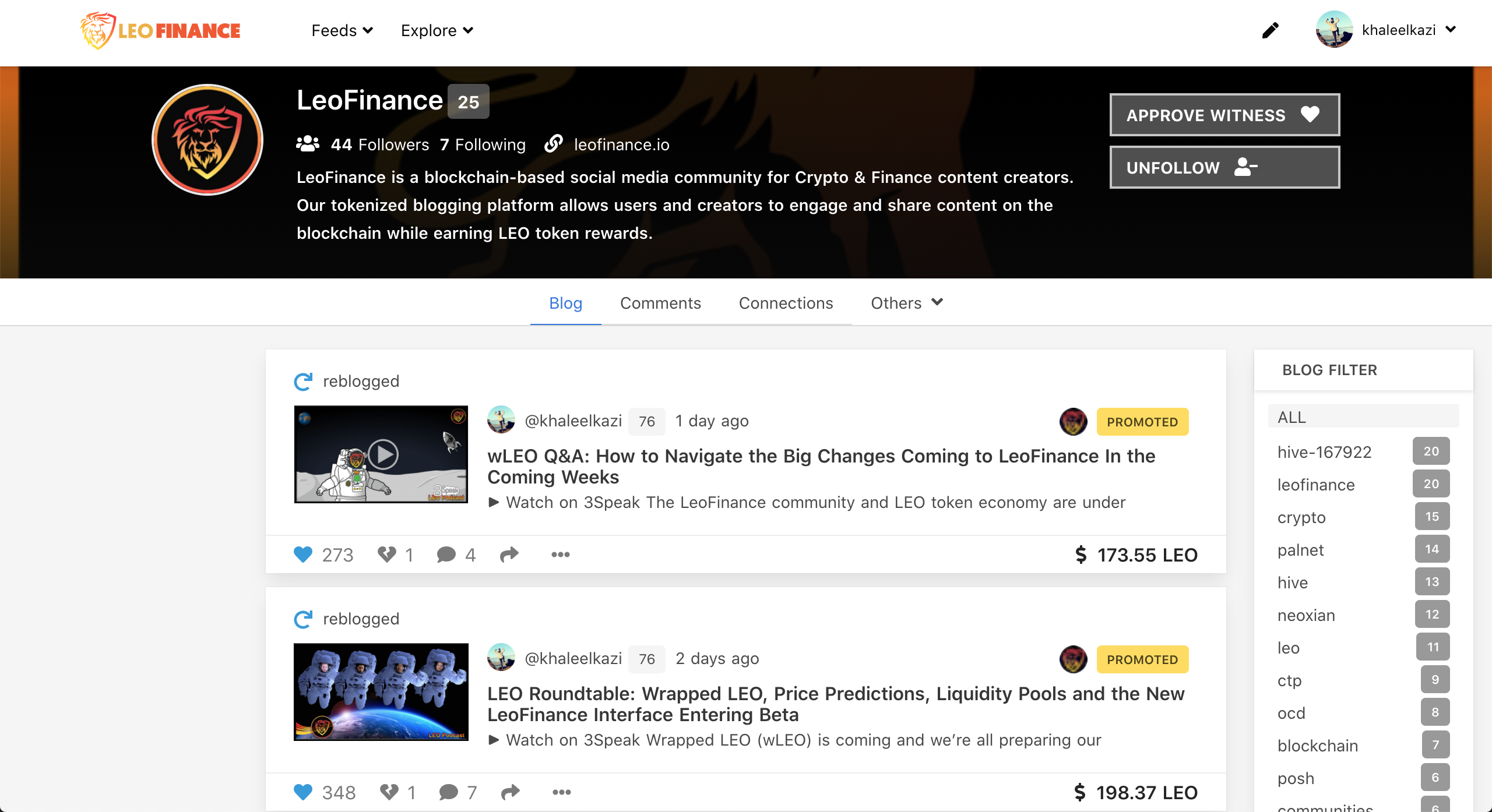 Settings UI: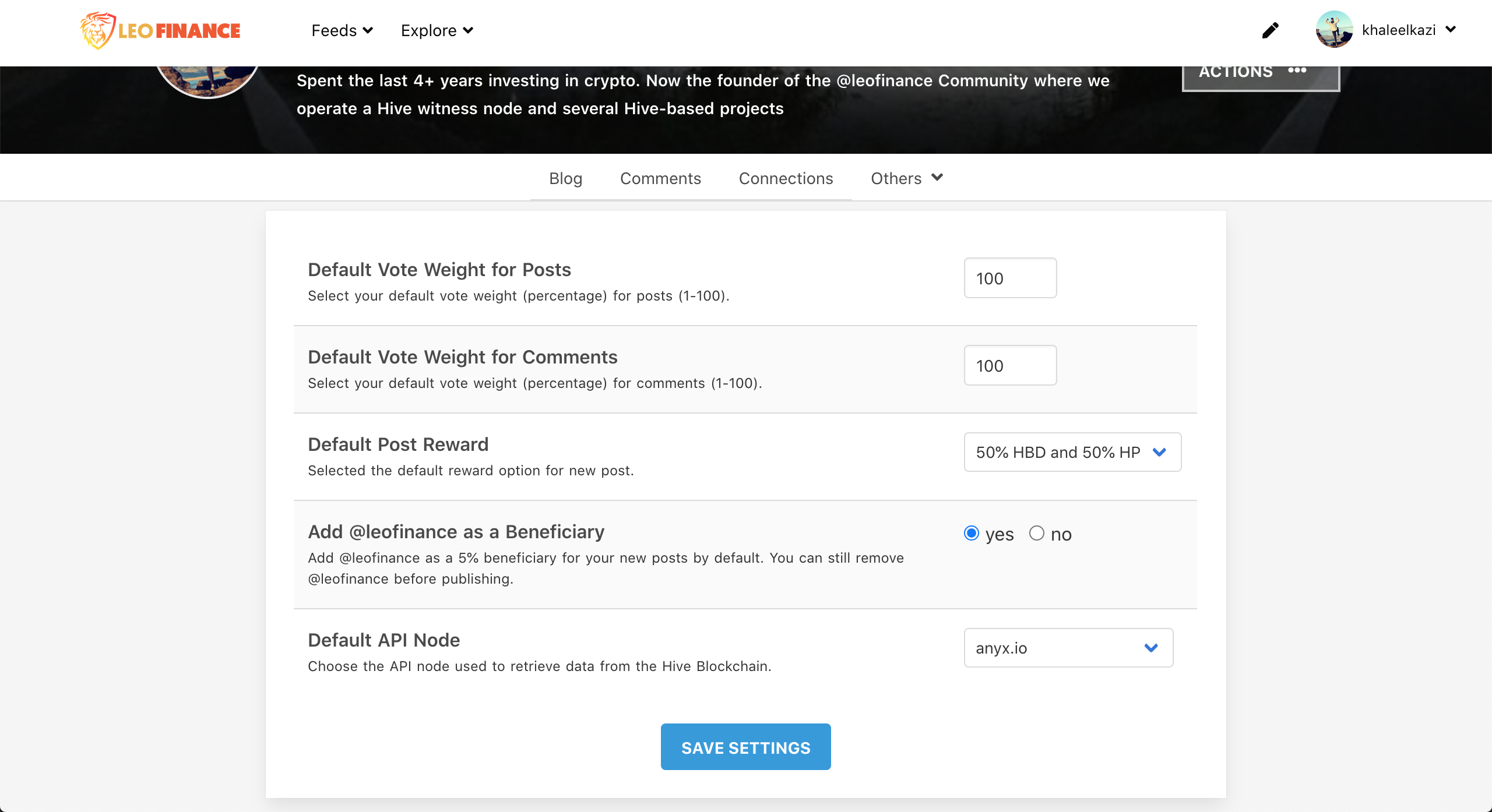 From the profile page, you can navigate to your Settings. This will let you change a few UI based defaults:
Default Vote Weight for Posts
Default Vote Weight for Comments
Default Post Reward
Add @leofinance as a 5% beneficiary to your posts from our UI (defaulted to off)
Choose Hive API Node
Edit Profile:
Just click on the "Actions" button from your profile page and then select edit profile to change your profile details on the Hive blockchain. Again, a familiar experience :)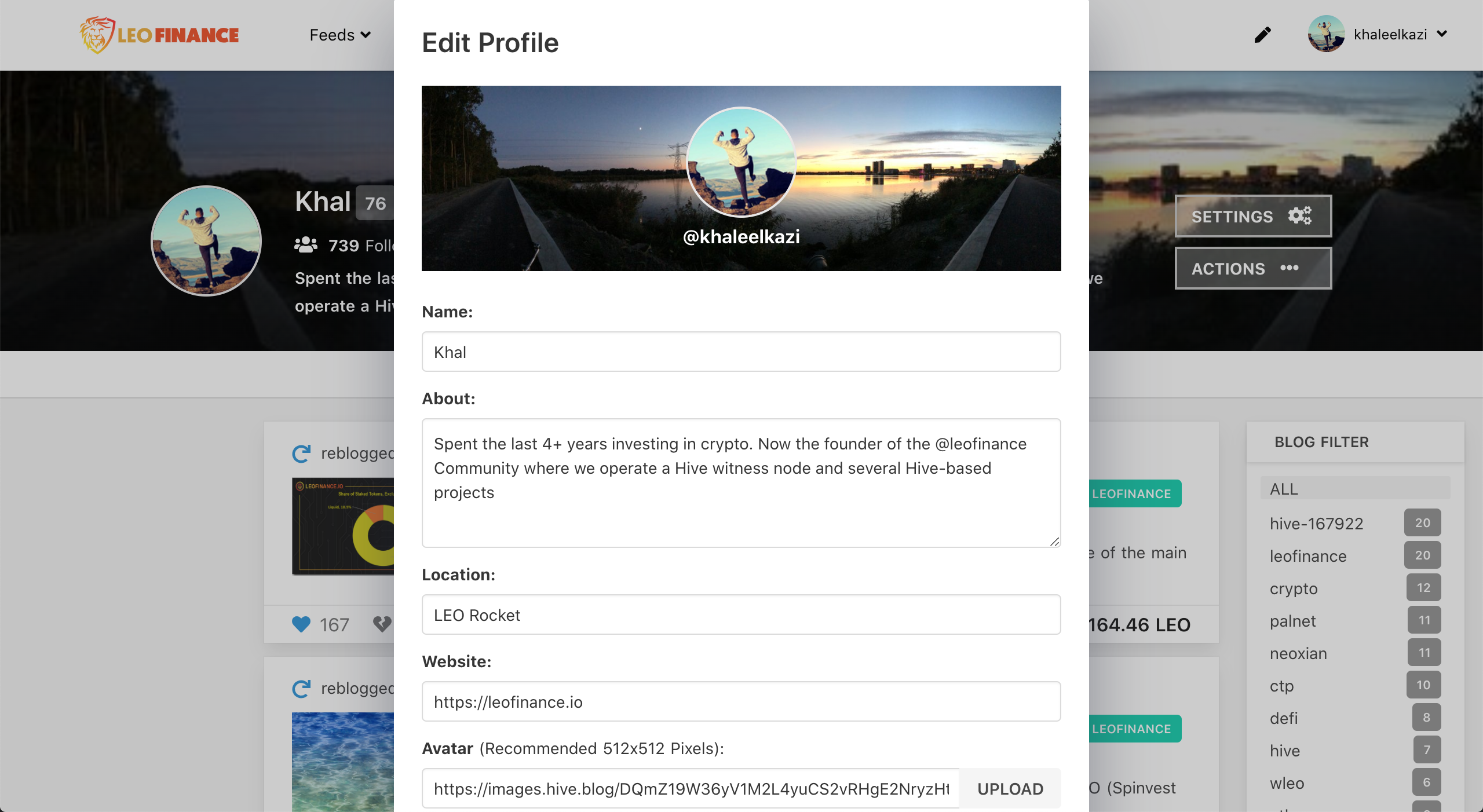 Connections Page:
The connections page is a fun way to track your followers and the people you follow. From here, you can see when their last post on LeoFinance was and also their LEO power and LEO vote value at 100% VP.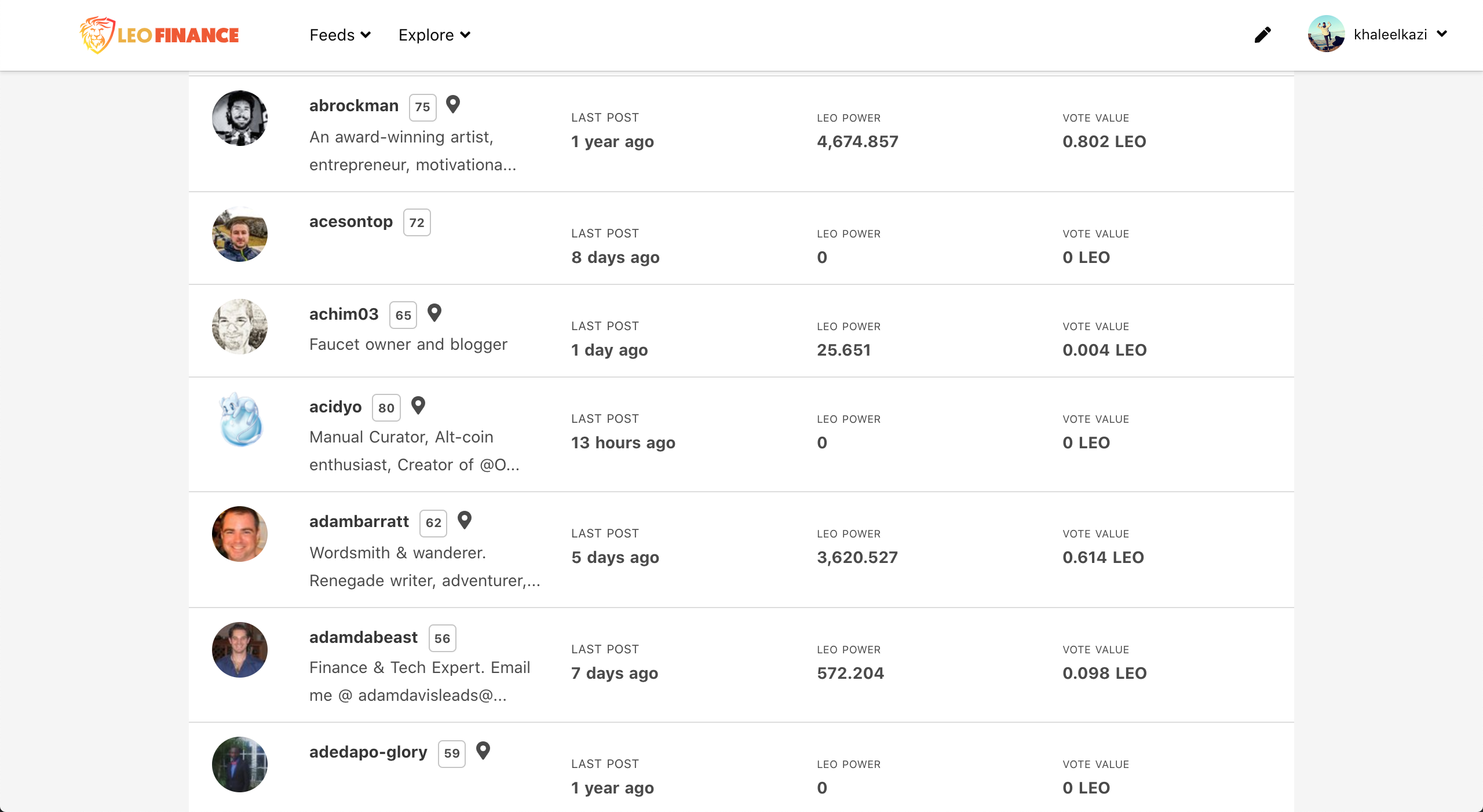 Comments & Replies: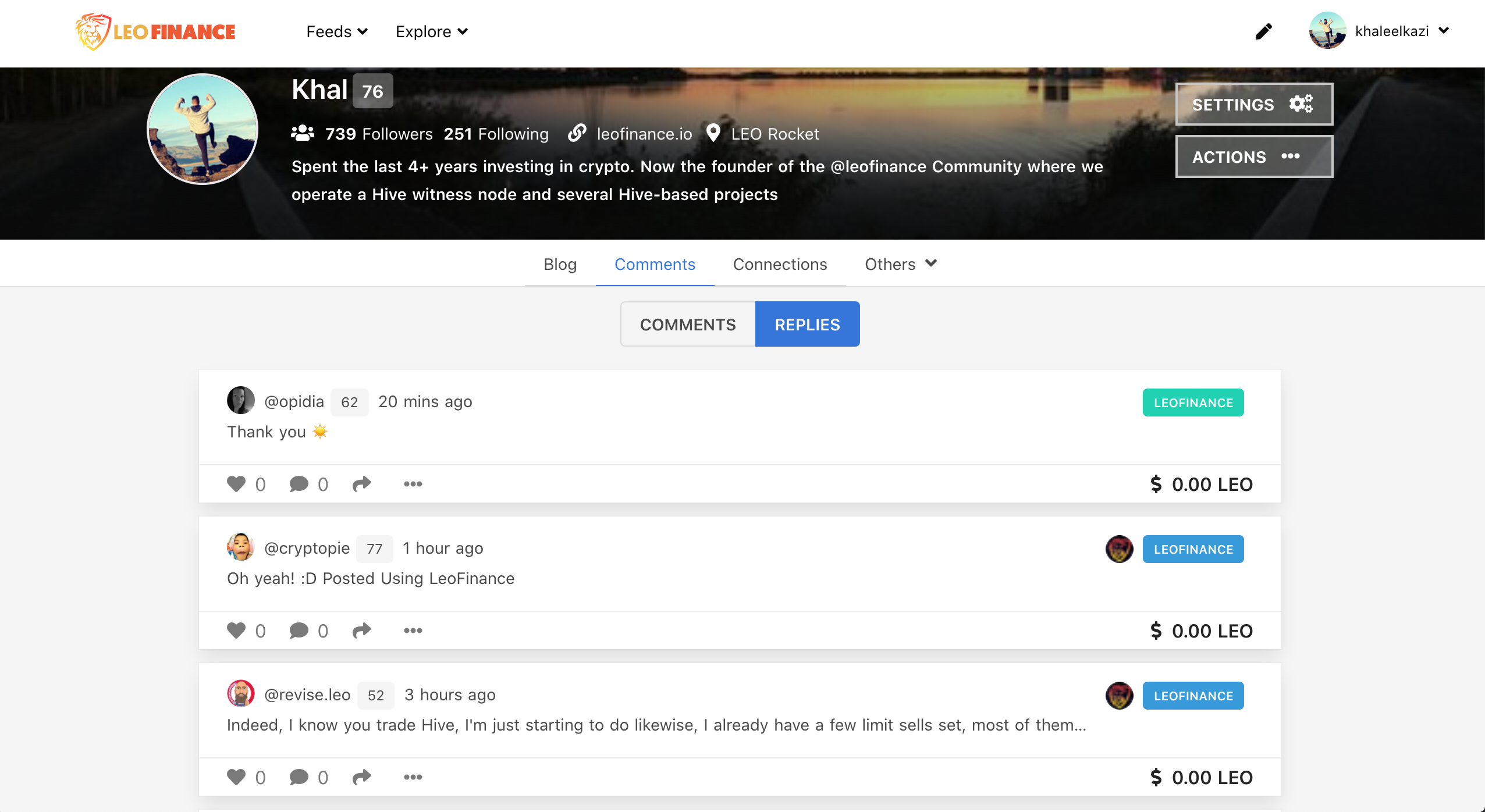 Ad Placement
Ads are one of the primary sources of revenue for the LeoFinance community and LEO token economy. We use all the ad revenue that is earned to buyback LEO from the open market and burn it permanently from the token supply. You can read more about our ad program here.
Our old UI didn't handle Ad placement well. It was a clunky and cheap feeling in my opinion. Among many other things, the new UI allows us to tweak everything to our liking. The new ad placements on the Trending page, post feed and comment feeds look far better.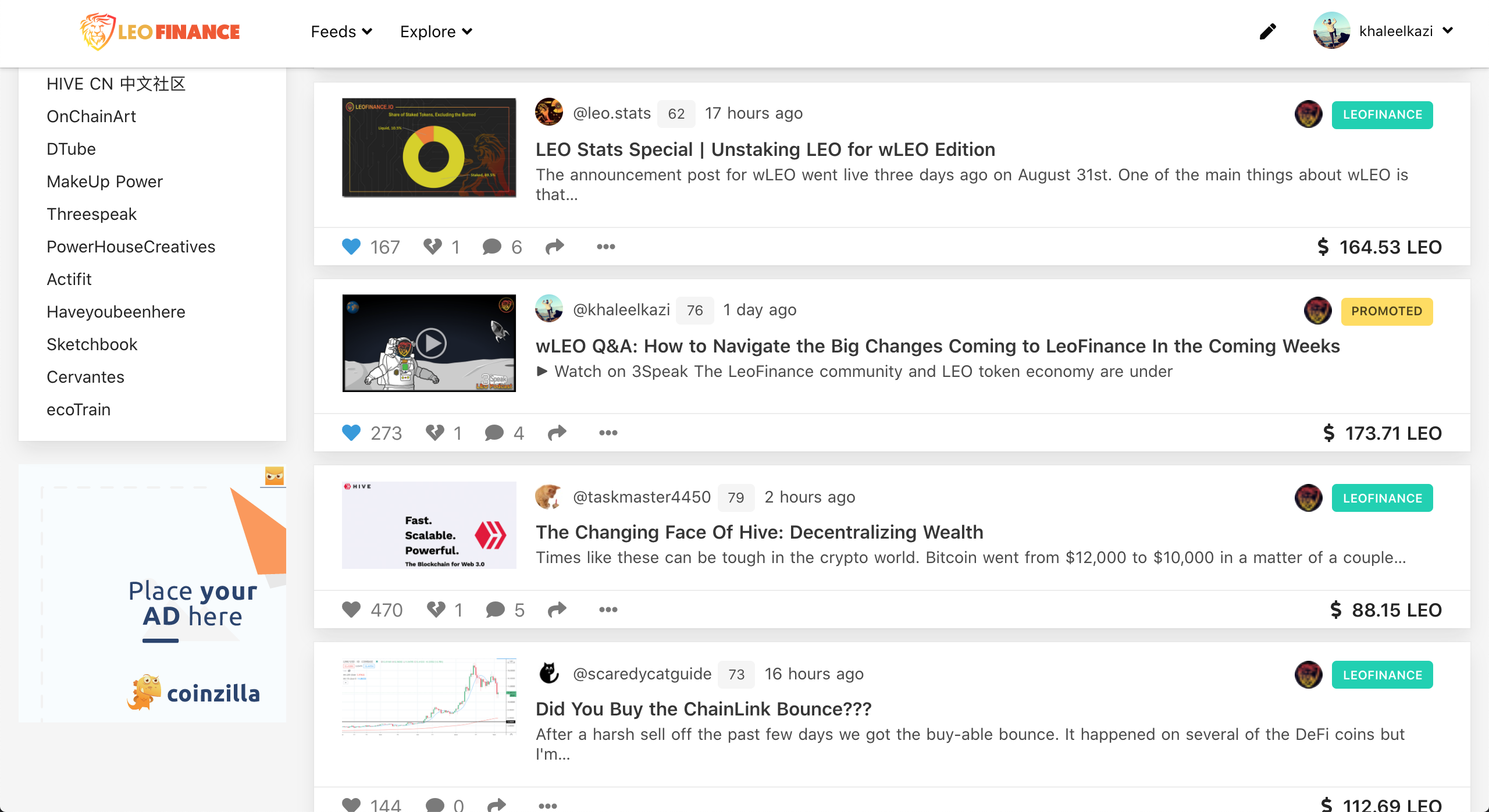 Trending Page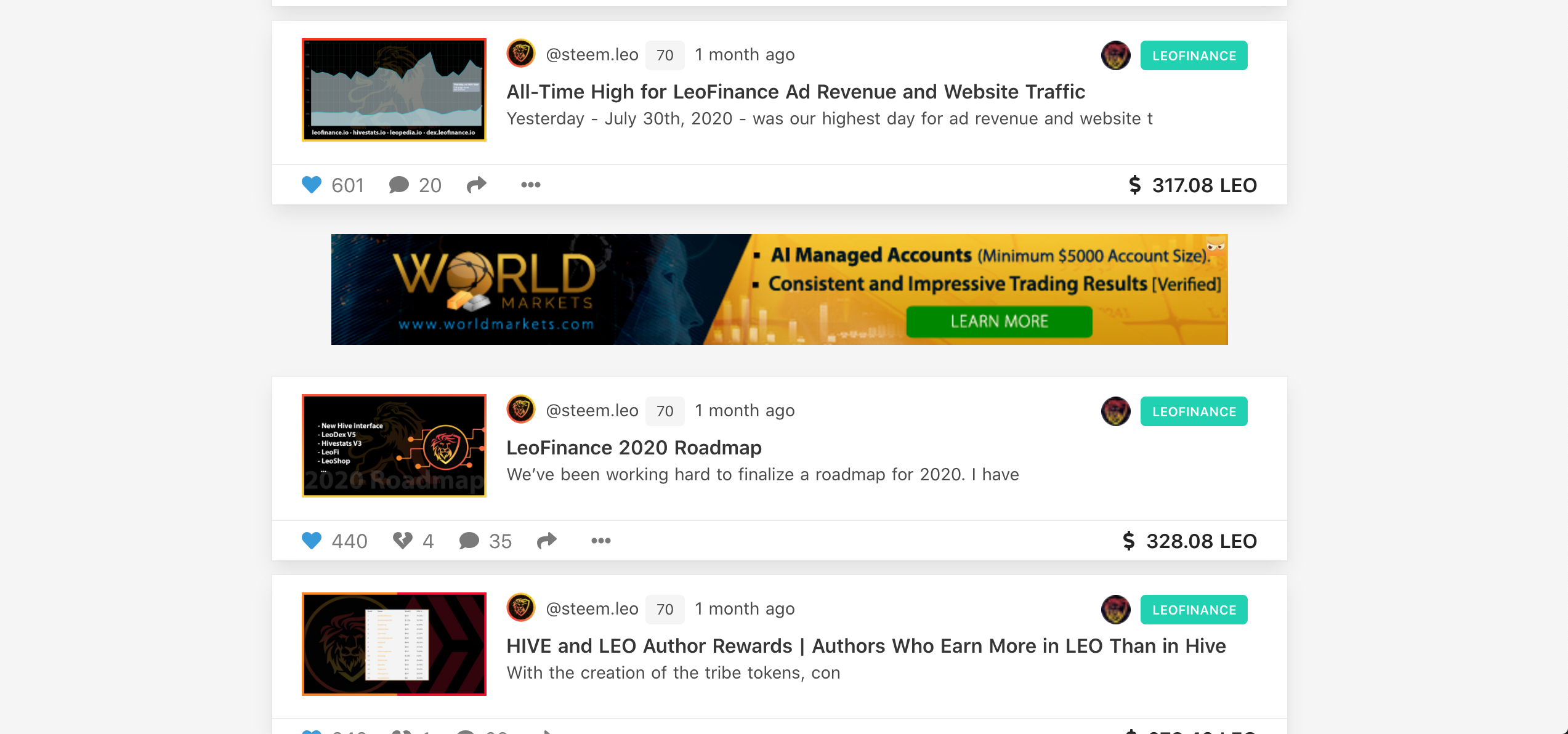 Post Feed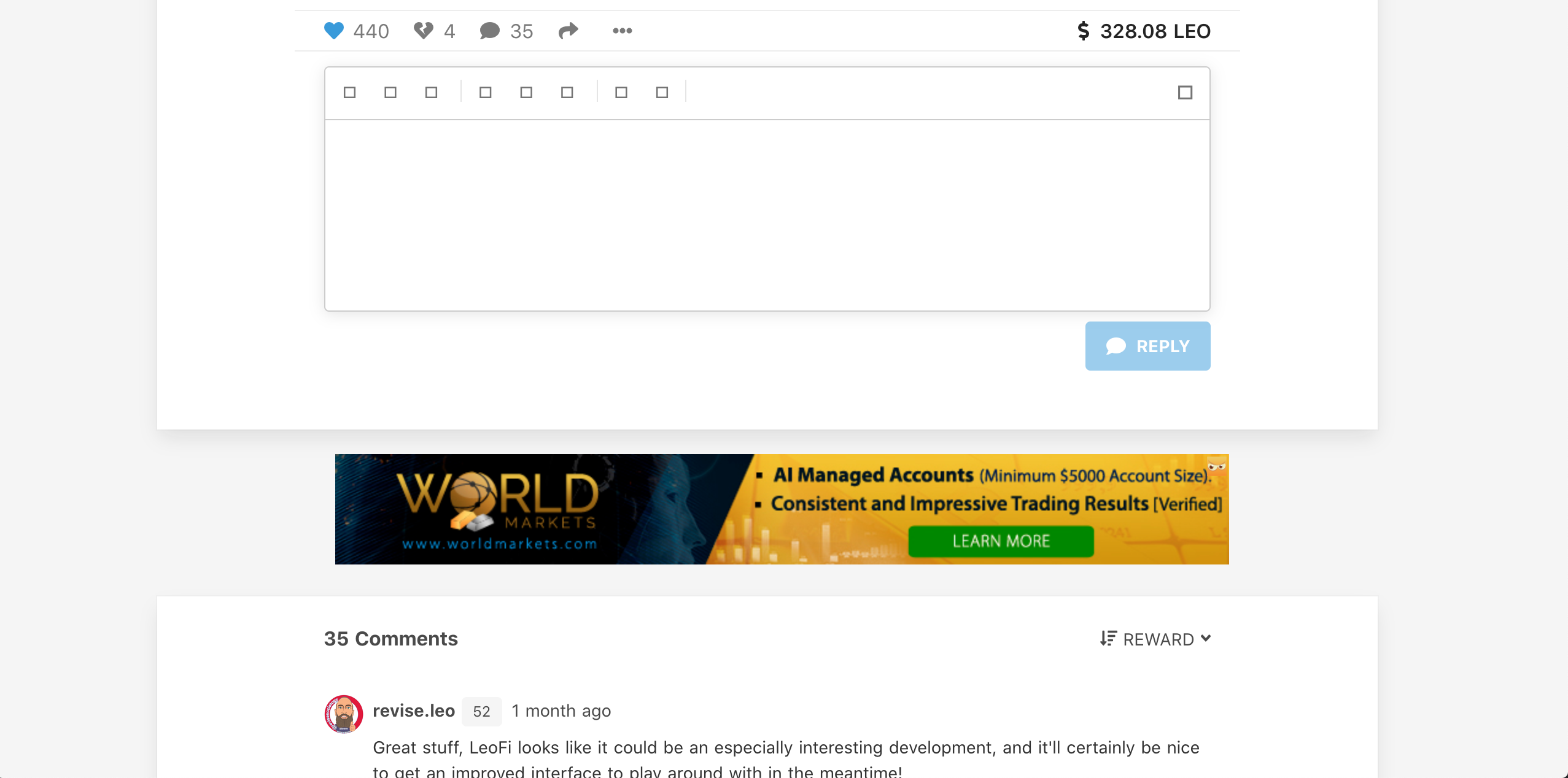 Post Page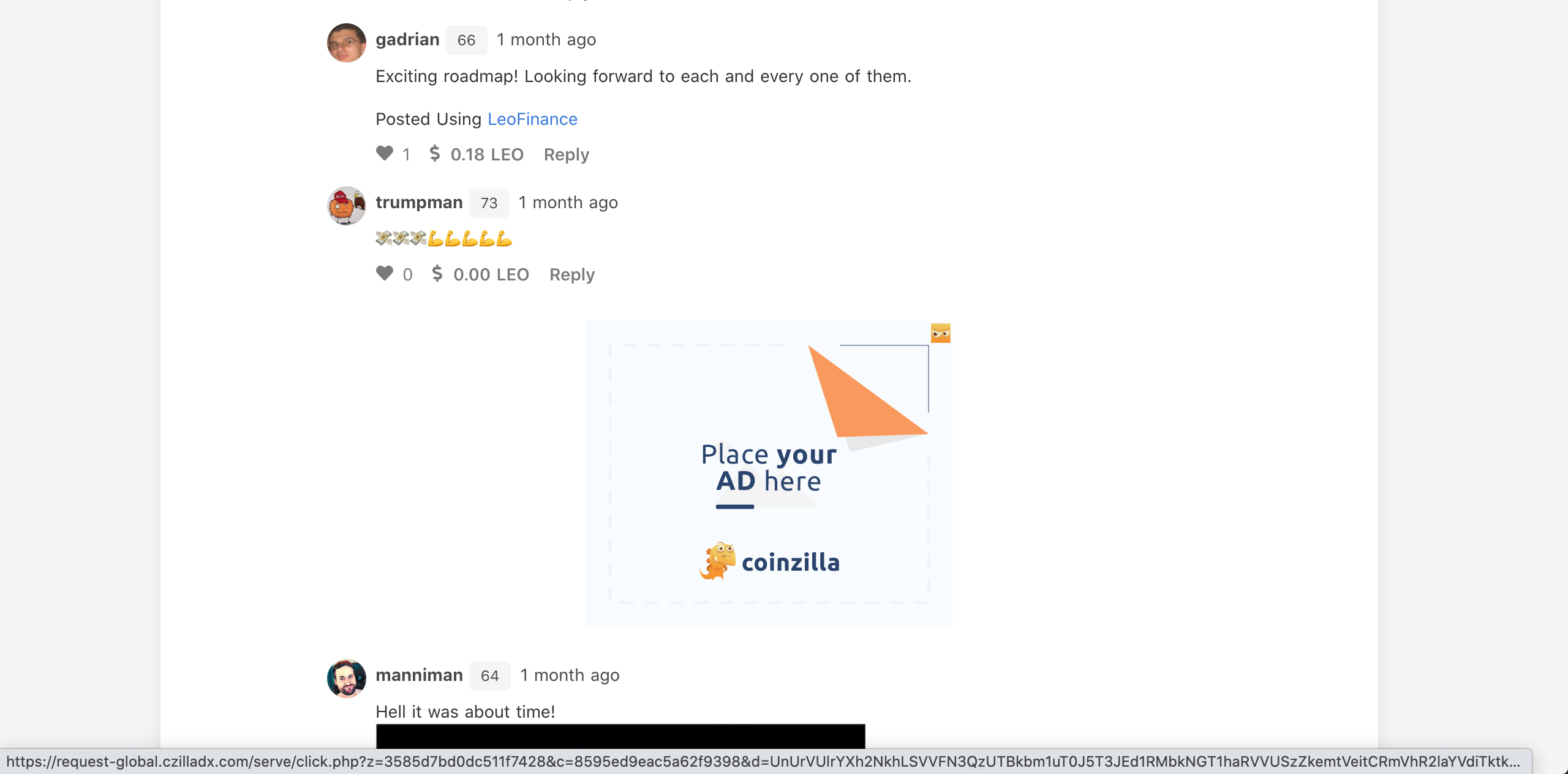 Comment Feed
2020 Roadmap Update:
Our 2020 roadmap outlined the current projects that we're working on. Since releasing that roadmap, here's our updated progress:
Initial LeoFinance Interface Beta Release ✅
LeoFi V1 (wLEO release + listing on major DEXes) - already announced. Release date is tentatively the end of next week
Hivestats V3 (Release Date: TBD)
... read the full roadmap post for more details on future releases
LEO
A lot has been happening in our community over the past 2 weeks. We announced the launch of wLEO and the upcoming exchange listings for our comunity token. This has launched our token to new heights as a buying frenzy for liquid LEO has begun. We're also seeing a record number of users on our interface coupled with this highly anticipated beta release of our new UI.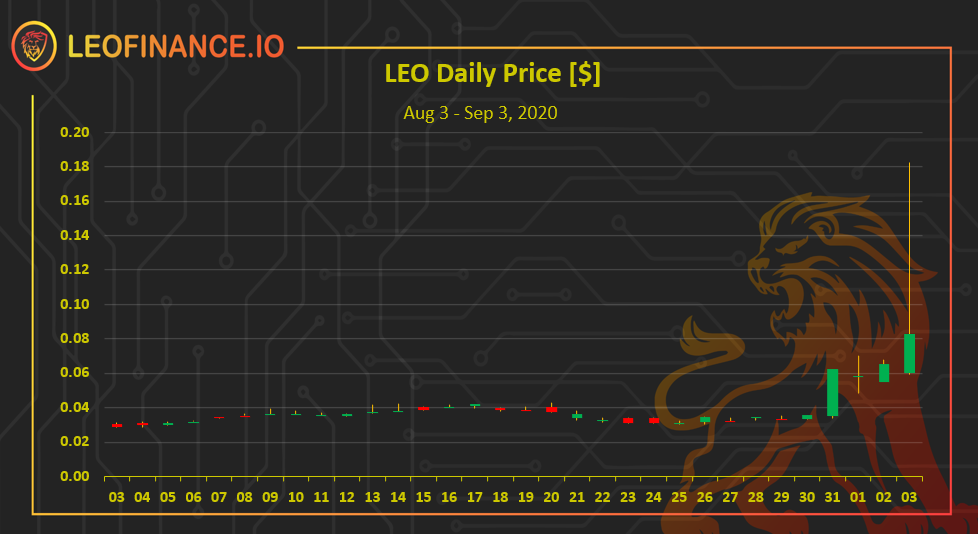 Trade LEO on LeoDex/Hive-Engine and Soon on Uniswap and Other Major Exchanges

Join Our Hive Community & Earn LEO Rewards!
Earn LEO + HIVE rewards by creating crypto/finance-related content in our PeakD community or directly from our hive-based interface at https://leofinance.io.
Posted Using LeoFinance Beta
---
---