Status of my Personal Crypto Account

Greetings, everyone!
Life is hard, especially if one is to consider the evolution of the crypto markets in the last few days. I compiled an update of my crypto holdings, and status of my goals at the middle of the year: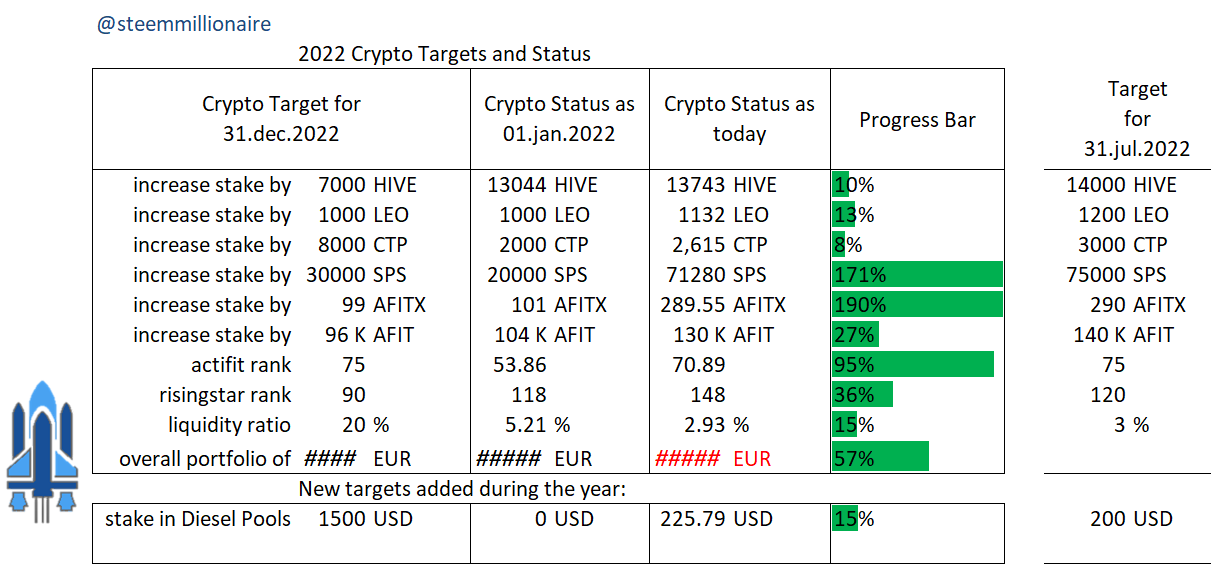 Two of my goals are already accomplished:
SPS stake is significantly higher than what I imagined for the end of 2022. I accumulated much faster, and I decided to hold on it to see the evolution of prices after the airdrop is over. We are twenty days before the end of the airdrop, and I will settle at 75000 staked SPS. Everything on top will go to the market, and funds will be used to push on the other goals.
AFITX stake: I managed to secure a good deal and buy AFITX at a good price. I have much more than I wanted to hold, but I'm happy with my position, and I will keep it around this level.
My major focus for the current month will be to improve my Actifit Rank. I always wanted to be more active, and now with a good stake in AFITX I want to use this advantage and improve my presence on this amazing dApp. If anyone of you would like to join it, you can always use my referral link. If you do so, leave me a comment bellow so I could follow you and use some of my voting power to encourage you to stay active.
Second focus for July is on Rising Star, where I need to get back on Top 120 by staying above 5000 Weekly Minutes and buying 24 packs per week.
How do you stand with your objectives?
Posted Using LeoFinance Beta
---
---