Status of my Personal Crypto Account - July 2022

Greetings, everyone!
I have compiled an update of my Personal Crypto Account and tracking on my goals for this year: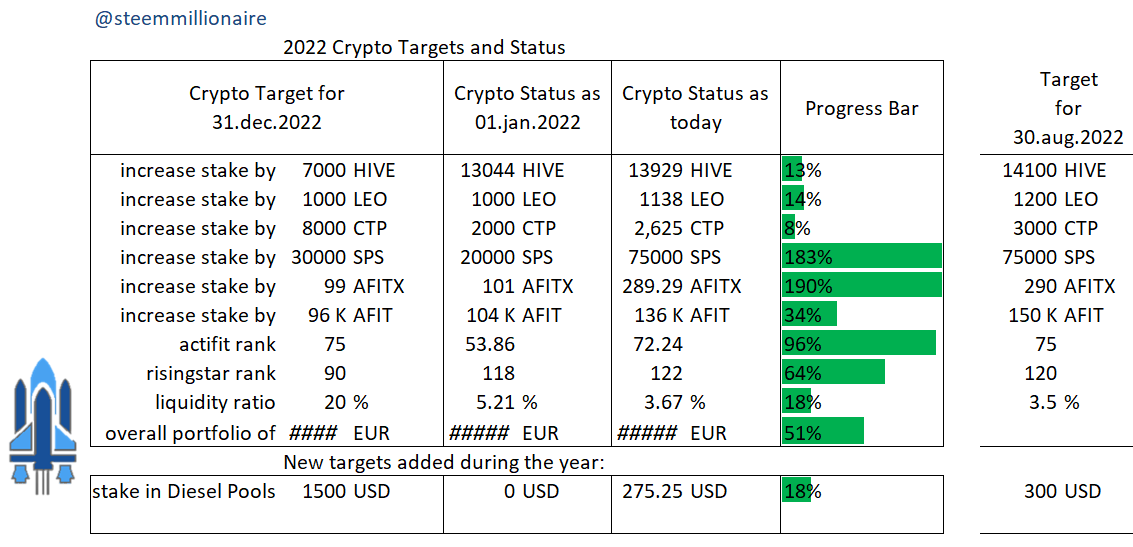 First, the very positive developments of my personal goals:
SPS stake - the Splinterlands Airdrop is over, and I exceeded what I set as a personal goal at the beginning of the year. My long term plan is to stay at 75k Staked SPS. Currently this comes with a 31.21% APR, and I expect also that limited supply will improve the price situation for the governance token.
AFITX stake - the previous decision to buy more tokens from the market proved to be a good one. The price increased significantly, and with the current stake I'm happy for this year. Next my focus is to change my behavior and invest more time in outdoor activities, and capitalize on my invest.
Actifit Rank - on this specific goal I'm also getting close to fulfill the target for the year. The SPS stake has a strong effect on the rank, and there's still lot of improvement potential from publishing more Actifit reports.
Where I'm totally disappointed on my performance is related to my stake in HIVE Power, LEO and CTP. The content I'm creating is not good enough, and I'm not investing sufficient time in preparing my own articles, curation, or interaction with other content creators. This looks to me my week point, and will need a big change.
Focus Points for August:
Looking forward to August, two major focus directions:
Content quality - I need to create better content, and publish at least 5 articles with analyses of different behaviors in personal financial. I believe this is a topic of interest for many people, and I've spent many years in experimenting in this field. In the same time, I will need to improve the way how I use my Hive Power. My current Curation Efficiency is only 2.09%, and a big room gap from my expectations.
Actifit Reports - I recognize that I have a too much sedimentary lifestyle, and my desire to change this was also the trigger for my invests in *Actifit. To capitalize on the my good stake in AFITX, I challenge myself to have more than 20 Actifit Reports published in August.
How do you stand with your objectives?
Posted Using LeoFinance Beta
---
---