01-08-2022 - Let's have a look at SOLANA [EN]-[IT]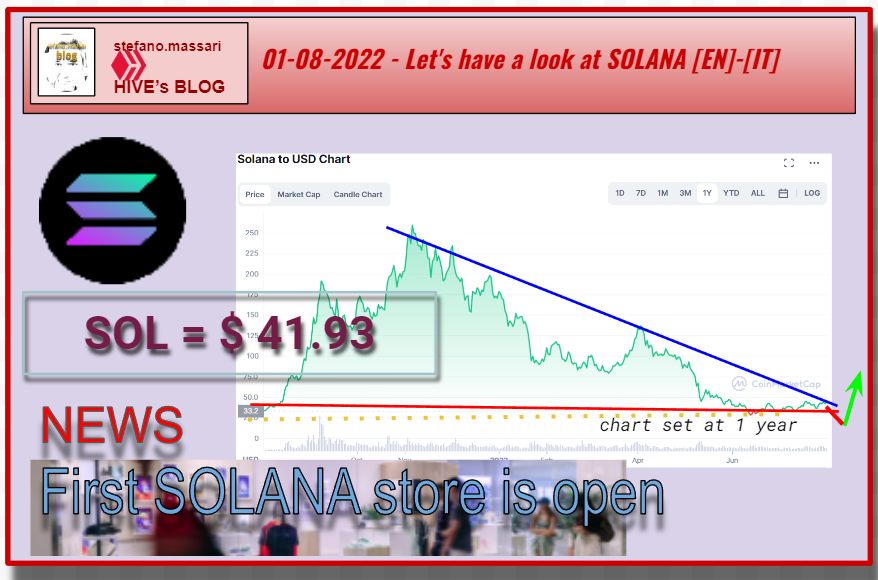 Chart screenshot from: https://coinmarketcap.com/currencies/solana/
Logo source: https://solana.com/it
Source of the screenshots included in the cover image: https://www.hudsonyardsnewyork.com/shop/solana-now-open
---
~~~ La versione in italiano inizia subito dopo la versione in inglese ~~~
---
ENGLISH
Cryptocurrency data.
Characteristics of Solana:
Token name: SOL
Application area: blockchain with smart contracts
Ranking Position: 5
Consensus algorithms: POH (Proof of History)
Market capitalization: $14.5 billion
Circulating Supply: 0.346 billion tokens
Max Supply: There is no ceiling
Total Supply: 0.511 billion
Considerations
On March 8, 2022 Solana had a market capitalization of $42.9 billion; today it has dropped to $14.5 billion. The drop in capitalization has been significant and today it is almost ⅓ of the capitalization at the beginning of March. One of the special features of this blockchain is its consensus system, namely the POH. I tried to inquire about the Proof of History mechanism, but I encountered many technical difficulties. Basically Solana is faster because the output of a transaction is taken and used immediately as input for the next hash. In terms of transaction speed I found this data:
BITCOIN can reach 7 transactions per second (TPS).
SOLANA can reach up to 50,000 transactions per second (TPS)
News
Solana opens its first store to act as a bridge between the blockchain world and the "old" world. The store with modern design was opened to the public in New York City.
Source
https://www.hudsonyardsnewyork.com/shop/solana-now-open
Chart analysis
Today, August 1, 2022, the SOL token is worth $41.93. Exactly 1 year ago SOL was worth $34. After peaking at $255 SOL fell to $40. Near $30 is a dynamic support that has held up quite well over time.
There is a 65 percent probability that SOL will continue to fall back down to $30. I think a return of Solana's price near its static support cannot be ruled out, I also think it will take some time before it goes back up again.
Conclusions
Solana opens a store in New York and this is a first in the blockchain world. The opening of a physical store or point gives a chance for those who want to approach the blockchain world to better understand what is inside this innovative world. Regarding the value of the SOL token, we can say that this in the last period has suffered a major depreciation and its value has returned to what it was a year ago..
Question
What do you think of the new Solana store? Does it seem like a good marketing move?
Previous Posts
https://hive.blog/hive-146620/@stefano.massari/20-12-2021-let-s-have-a-look-at-solana-en-it
First post
https://hive.blog/hive-178708/@stefano.massari/solana-and-the-proof-of-history-en-it
Guidelines or usage information
Currently nothing yet
Disclaimer
I am not a financial advisor, so what is written in this post is a personal opinion, not financial advice. If you want to invest, you have to do it consciously and on your own responsibility.
Referral
My HIVE referral link:
https://hiveonboard.com?ref=stefano.massari
---
ITALIAN
Dati della criptovaluta
Caratteristiche di Solana:
Nome del Token: SOL
Settore di applicazione: blockchain con smart contracts
Posizione in classifica: 5
Algoritmi di consenso: POH (Proof of History)
Capitalizzazione di mercato: 14,5 miliardi di dollari
Circulating Supply: 0,346 miliardi di token
Max Supply: Non c'è una tetto massimo
Total Supply: 0,511 miliardi
Considerazioni
L'8 Marzo 2022 Solana aveva una capitalizzazione di mercato di 42,9 miliardi di dollari, oggi è calata a 14,5 miliardi di dollari. Il calo della capitalizzazione è stato importante ed oggi è quasi ⅓ della capitalizzazione di inizio marzo. Una delle particolarità di questa blockchain è il suo sistema di consenso, ovvero il POH. Ho provato ad informarmi sul meccanismo Proof of History, ma ho incontrato molte difficoltà tecniche. In sostanza Solana risulta più veloce perché l'output di una transazione viene preso ed usato subito come input per l'hash successivo. In termini di velocità delle transazioni ho trovato questi dati:
BITCOIN può raggiungere 7 transazioni al secondo (TPS)
SOLANA può arrivare fino a 50.000 transazioni al secondo (TPS)
Ultime notizie
Solana apre il suo primo store per fare da ponte tra il mondo blockchain ed il "vecchio" mondo. Il negozio con design moderno è stato aperto al pubblico nella città di New York.
Source
https://www.hudsonyardsnewyork.com/shop/solana-now-open
Analisi del grafico
Oggi, 1 agosto 2022, il token SOL vale 41.93$. Esattamente 1 anno fa SOL valeva 34$. Dopo aver fatto il suo massimo a 255$ SOL è sceso fino ai 40$. Vicino ai 30$ si trova un supporto dinamico che nel tempo ha retto abbastanza bene.
C'è una probabilità del 65% che SOL continui a scendere nuovamente fino ai 30$. Credo che non si possa escludere un ritorno del prezzo di Solana vicino al suo supporto statico, penso anche che ci vorrà un po' di tempo prima di tornare a salire nuovamente.
Conclusioni
Solana apre uno store a New York e questo è una novità nel mondo blockchain. L'apertura di un negozio o punto fisico dà la possibilità a chi si vuole avvicinare al mondo blockchain di comprendere meglio cosa ci sia dentro a questo mondo innovativo. Per quanto riguarda il valore del token SOL possiamo dire che questo nell'ultimo periodo ha subito un importante deprezzamento ed il suo valore è tornato a quello di un anno fa..
Domanda
Che ne pensate del nuovo store Solana? Vi sembra una buona mossa di marketing?
Post precedenti
https://hive.blog/hive-146620/@stefano.massari/20-12-2021-let-s-have-a-look-at-solana-en-it
Primo post
https://hive.blog/hive-178708/@stefano.massari/solana-and-the-proof-of-history-en-it
Guide o informazioni per l'utilizzo
Attualmente ancora niente
Disclaimer
Non sono un consulente finanziario, quindi ciò che è scritto in questo post è un'opinione personale, non un consiglio finanziario. Se volete investire dovete farlo consapevolmente e sotto la vostra responsabilità.
Referral
Il mio referral link di HIVE:
https://hiveonboard.com?ref=stefano.massari
---
---