07-01-2023- Take a look at Arc8 [EN]-[IT]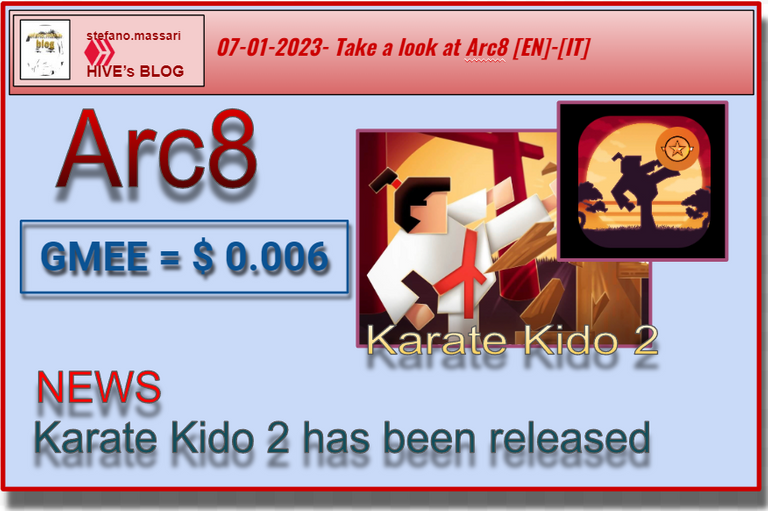 Logo source: https://www.gamee.com/
Source of the screenshots included in the cover image: https://www.gamee.com/
---
~~~ La versione in italiano inizia subito dopo la versione in inglese ~~~
---
ENGLISH
Brief description
ARC8 is a mobile phone application dedicated to entertainment games. Available for both iOS and Android systems
Considerations
Despite the cryptocurrency winter for some sources it seems that Arc8 and GAMEE have had an exceptional year in 2022. In the rankings of the top-rated blockchain gaming platforms ARC8 appeared several times during 2022.
This platform is heavily geared towards blockchain-based gaming with play-to-earn mode exclusively on the phone.
Inside, the following games are available: 99 Blocks, Run!, Man City Striker, Samurai Hold'em, Hoop Shot, Hexonix, Globo Run, Pirate Solitaire, Qube 2048 and the latest entry Karate Kido 2
The platform is based on the GMEE token, a token that is won by performing various daily activities or by playing tournaments. The GMEE token runs on the Polygon blockchain.
Presentation of a game
The latest entertainment game entered is Karate Kido 2.
Below is an image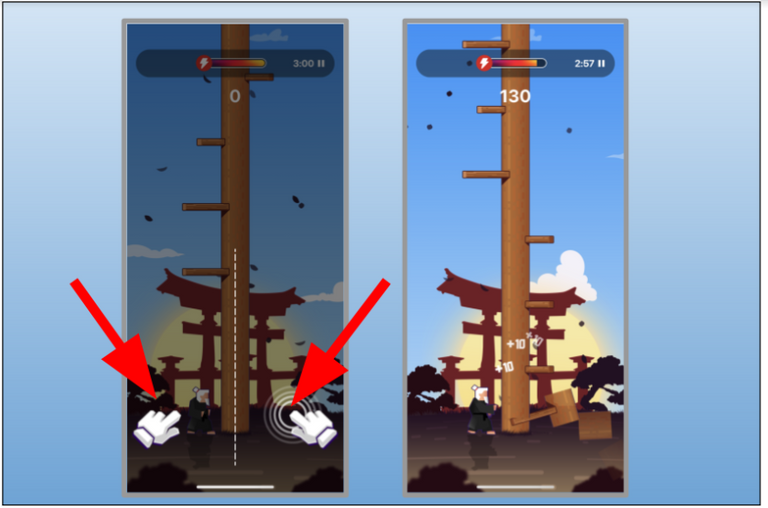 The game consists of knocking down a pole with Karate strokes while trying not to get hit by the boards stuck in it.
The more pole pieces you manage to knock down, the more points you will get at the end.
News
In 2022, ARC8 registered 650,000 new players.
Source
https://gamee.medium.com/arc8-what-we-did-in-2022-to-get-a-4-9-star-play-store-rating-6322108ab250
Conclusions
ARC8 is a mobile application dedicated to entertainment gaming. The platform already hosts a dozen games and one can choose which one they want to play. GMEE tokens are earned by performing daily tasks. To earn more GMEE tokens, one can play tournaments by paying a tournament entry fee in GMEE tokens.
Question
Had you already heard of ARC8?
Previous Posts
No previous posts
Disclaimer
I am not a financial advisor, so what is written in this post is a personal opinion, not financial advice. If you want to invest, you have to do it consciously and on your own responsibility.
App Mobile link
https://www.gamee.com/download?utm_source=2022+Review+(Medium)&utm_medium=Medium&utm_campaign=2022+Review+(Medium)
Referral
Join me in Arc8 and get 40 GMEE tokens bonus! Play mobile games, earn crypto rewards https://arc8.gamee.com/invite/etfano

ITALIAN
Breve descrizione
ARC8 è un applicazione per telefonino dedicata ai giochi di intrattenimento. Disponibile sia per sistema iOS che per Android
Considerazioni
Nonostante l'inverno delle cripto valute per alcune fonti sembra che Arc8 e GAMEE abbiano avuto un anno eccezionale nel 2022. Nelle classifiche delle piattaforme di gioco blockchain più quotate ARC8 è apparsa diverse volte durante il 2022.
Questa piattaforma è fortemente orientata al gioco basato su blockchain con modalità play to earn esclusivamente sul telefono.
All'interno sono disponibili i seguenti giochi: 99 blocks, Run!, Man City Striker, Samurai Hold'em, Hoop Shot, Hexonix, Globo Run, Pirate Solitaire, Qube 2048 e l'ultimo arrivato Karate Kido 2
La piattaforma è basata sul token GMEE, token che si vince eseguendo diverse attività quotidiane o facendo dei tornei. Il token GMEE gira su blockchain Polygon.
Presentazione di un gioco
L'ultimo gioco di intrattenimento inserito è Karate Kido 2.
Qui di seguito un immagine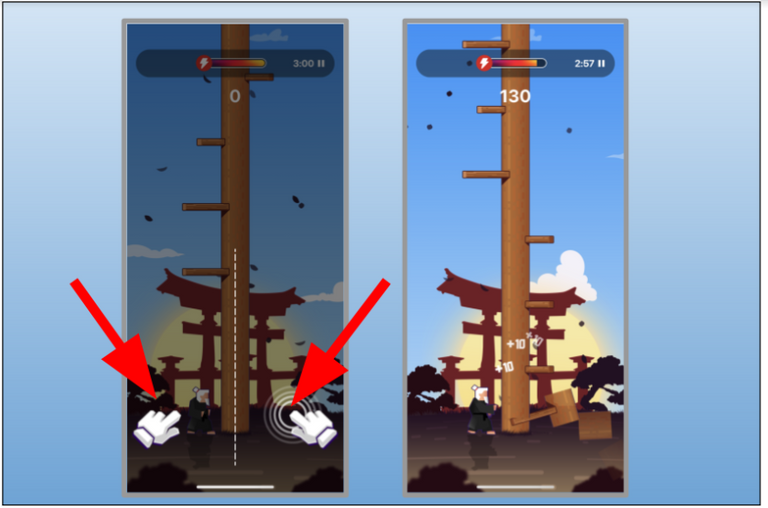 Il gioco consiste nell'abbattere un palo a colpi di Karate cercando di non essere colpito dalle assi infilate in esso.
Più pezzi di palo si riescono ad abbattere e più punteggio si otterrà alla fine.
Ultime notizie
Nel 2022 ARC8 ha registrato 650 mila nuovi giocatori.
Sorgente
https://gamee.medium.com/arc8-what-we-did-in-2022-to-get-a-4-9-star-play-store-rating-6322108ab250
Conclusioni
ARC8 è un'applicazione mobile dedicata al gioco d'intrattenimento. La piattaforma ospita già una decina di giochi ed uno può scegliere a quale si vuole cimentare. I GMEE si guadagnano eseguendo delle attività quotidiane. Per guadagnare più token GMEE si possono affrontare i tornei pagando una quota di iscrizione al torneo in token GMEE.
Domanda
Avevate già sentito parlare di ARC8?
Post precedenti
Nessun post precedente
Disclaimer
Non sono un consulente finanziario, quindi ciò che è scritto in questo post è un'opinione personale, non un consiglio finanziario. Se volete investire dovete farlo consapevolmente e sotto la vostra responsabilità.
App Mobile link
https://www.gamee.com/download?utm_source=2022+Review+(Medium)&utm_medium=Medium&utm_campaign=2022+Review+(Medium)
Referral
Join me in Arc8 and get 40 GMEE tokens bonus! Play mobile games, earn crypto rewards https://arc8.gamee.com/invite/etfano
---
THE END
---
---