NFT by Mistan - Red Naive houses [EN]-[IT]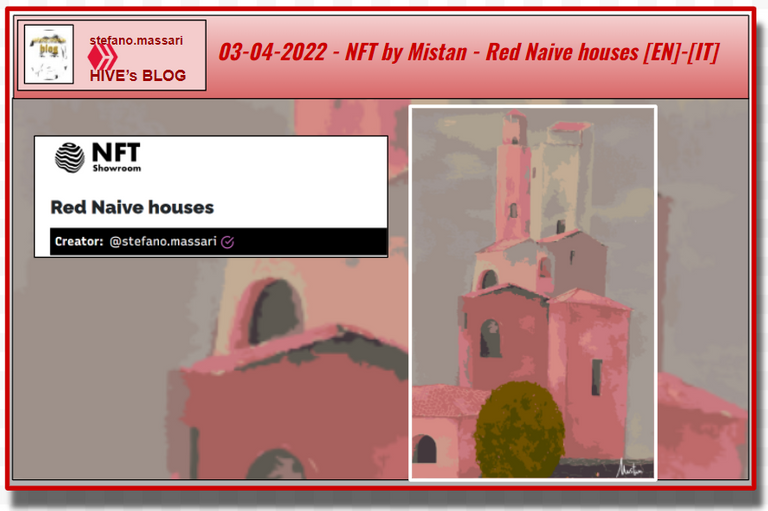 ENGLISH
Considerations
Today April 03, 2022 I tokenized my third digital artwork.
To make this operation I used the NFT SHOWROOM platform, NFT buying and selling platform that runs on HIVE blockchain.
On September 4, 2021 within the platform there were 1394 artists and 9632 works entered, while today's values are as follows:
Verified artists: 1735
Total art sold: 12,208
I don't exclude that by the end of the year the NFT sold by this platform will be about 20.000
Work description
As the third work to be proposed to the blockchain audience, I chose a graphic that recalls the past of the old naive style. I reworked an old work of my father and I obtained the following result.
Title of the digital artwork: Red Naive houses
Total of reproductions: 3
Digital format: .jpg
Year of creation of the digital work: 2022
Current selling price: 5 SWAP.HIVE
Link:
https://nftshowroom.com/gallery/stefano.massari_stylized-paintings_red-naive-houses
The work represents a set of houses drawn recalling the well-known style of painting called naive. The shade of red was sought to break away from the colors you might actually see.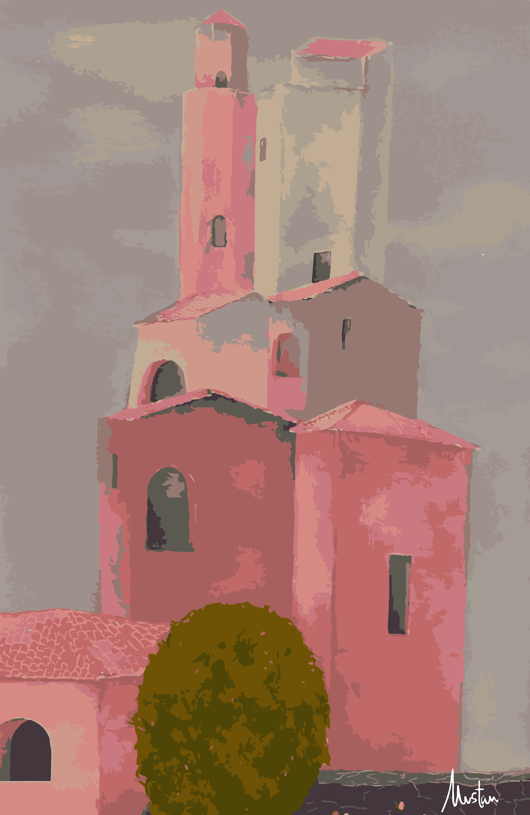 Detail 1
stone wall in the lower right corner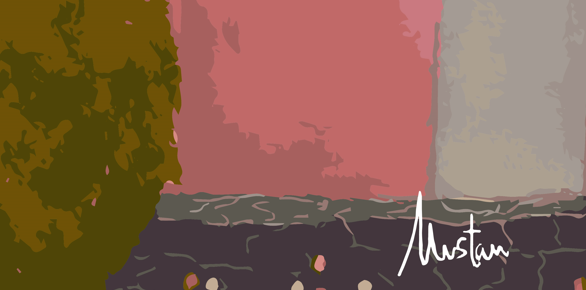 Detail 2
roof of the house lower left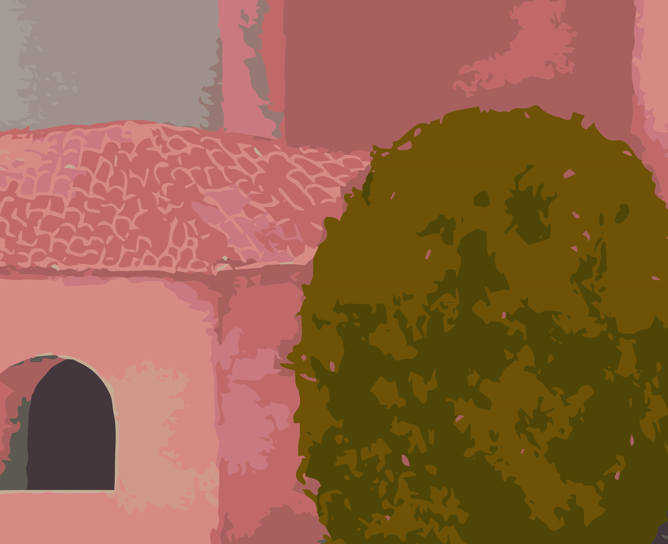 Thanks
I wanted to thank @silversaver888 for the purchase of the work "The silver tree and the pink leaves"
Previous Posts
The silver tree and the pink leaves
https://hive.blog/hive-156509/@stefano.massari/my-first-publication-on-nft-showroom-en-it
Guidelines or information
Currently nothing yet
---
ITALIAN
Considerazioni
Oggi 03 Aprile 2022 ho tokenizzato la mia terza opera d'arte digitale.
Per fare questa operazione ho usato la piattaforma NFT SHOWROOM, piattaforma di compravendita di NFT che gira su blockchain HIVE.
Il 4 Settembre 2021 all'interno della piattaforma c'erano 1394 artisti e 9632 opere inserite, mentre i valori di oggi sono i seguenti:
Artisti verificati: 1735
Totale arte venduta: 12.208
Non escludo che entro l'anno gli NFT venduti da questa piattaforma saranno circa 20.000
Descrizione dell'opera
Come terza opera da proporre al pubblico blockchain ho scelto una grafica che richiama il passato del vecchio stile naif. Ho rielaborato una vecchia opera di mio padre ed ho ottenuto il risultato seguente.
Titolo dell'opera digitale: Red Naive houses
Totale delle riproduzioni: 3
Formato digitale: .jpg
Anno di realizzazione dell'opera digitale: 2022
Prezzo di vendita attuale: 5 SWAP.HIVE
Link:
https://nftshowroom.com/gallery/stefano.massari_stylized-paintings_red-naive-houses
L'opera rappresenta un insieme di case disegnate ricordando il conosciutissimo stile di pittura chiamato naif. La tonalità del rosso è stata cercata per staccarsi dai colori che in realtà si potrebbero vedere.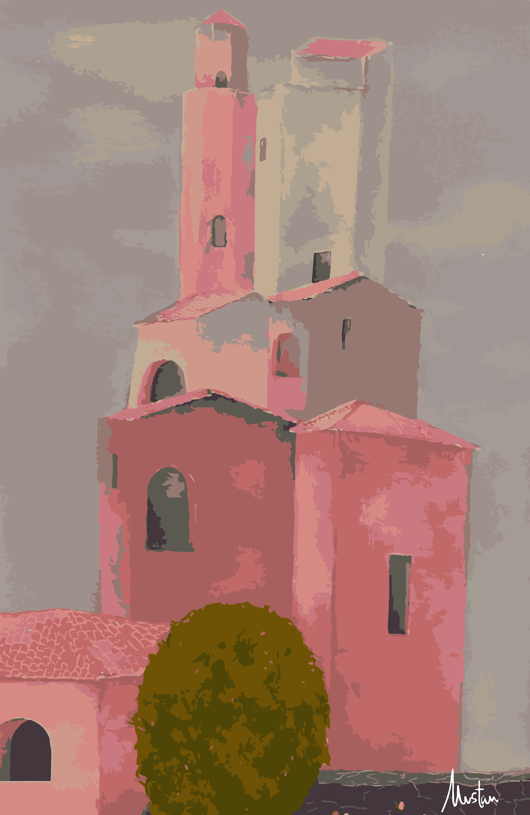 Dettaglio 1
muretto di pietre in basso a destra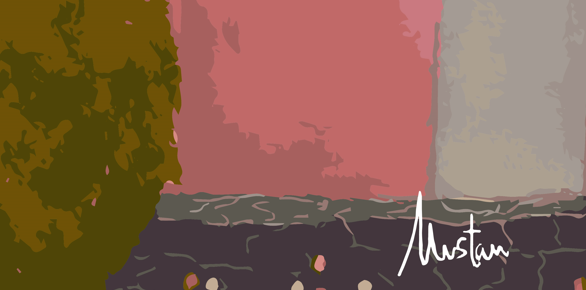 Dettaglio 2
tetto della casa in basso a sinistra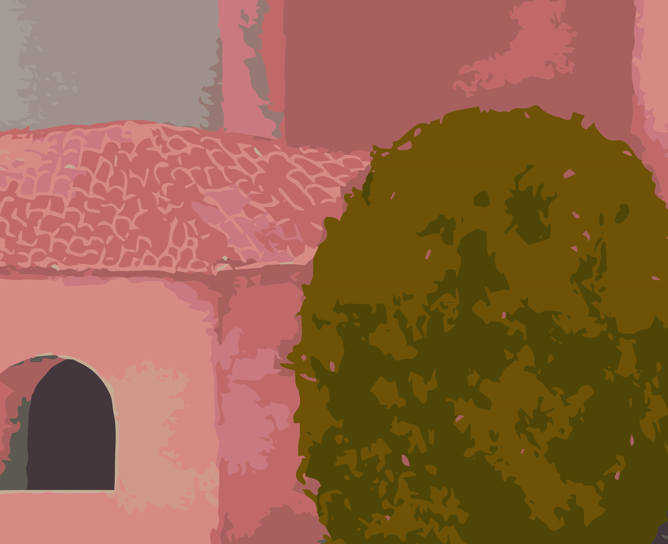 Ringraziamenti
Volevo ringraziare @silversaver888 per l'acquisto dell'opera "The silver tree and the pink leaves"
Post precedenti
The silver tree and the pink leaves
https://hive.blog/hive-156509/@stefano.massari/my-first-publication-on-nft-showroom-en-it
Link alla mia galleria personale su NFT Showroom
https://nftshowroom.com/stefano.massari/gallery
THE END
---
---