THIS IS NIGERIA, TRY NOT TO GET BURNED (VIEWERS DISCRETION)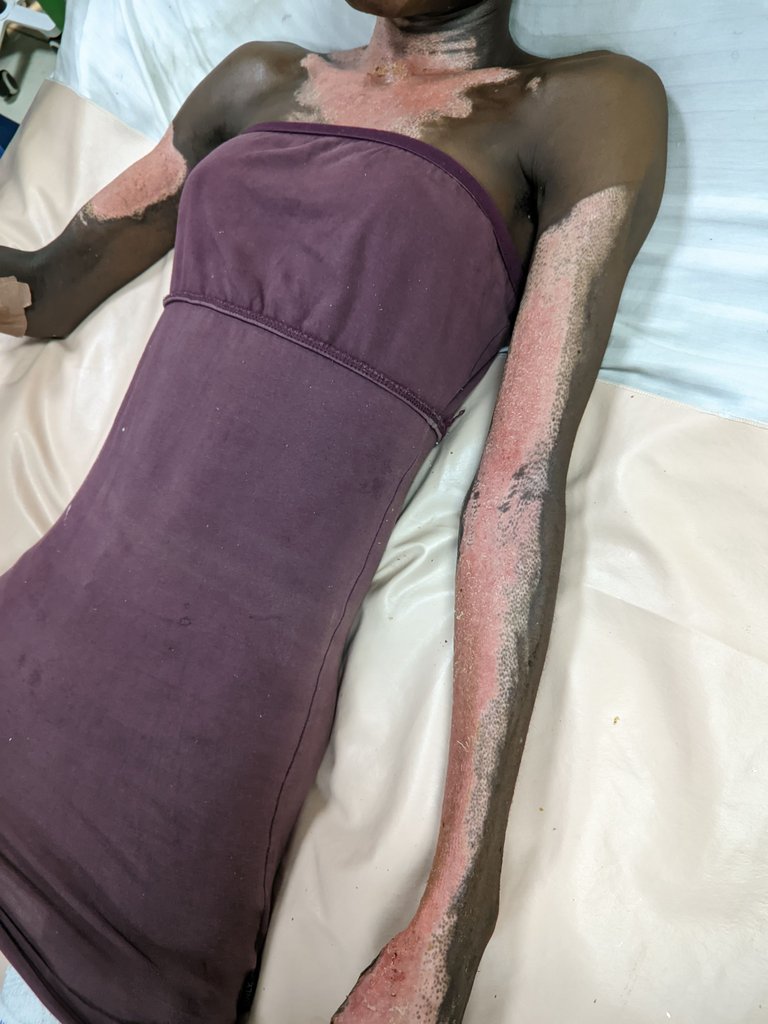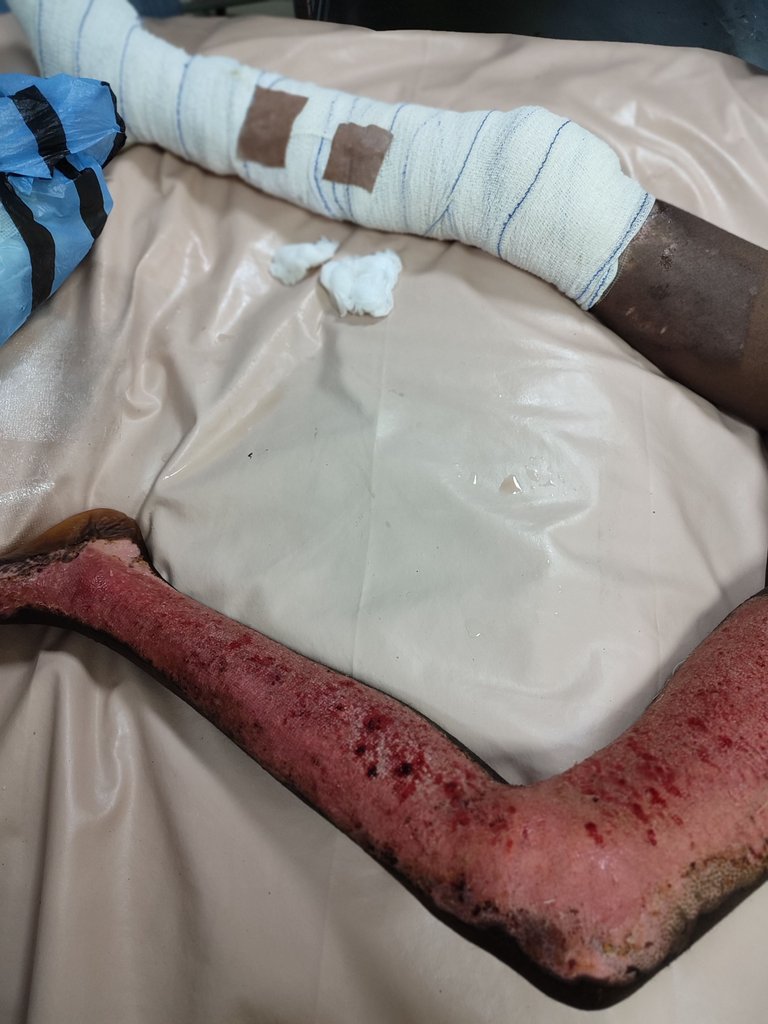 Image source: My gallery
From my experience of working in the burns and plastics unit for almost 2 months, burn injuries are commoner than you think and it is usually from kerosene explosion. About twice a week, we see a case of burns especially in children. Why is this so? I am not saying anyone should get burned but Nigeria is the wrongest place to have such an injury. There are actually only four plastic surgeons in the whole of Calabar where I work as I type. Burns wound is an expensive wound, plastic surgeons refer to it as a luxury wound because the dressing is usually tedious and gives the most worry.
CASE PRESENTATION
A 15 year old girl who was brought into the children's emergency ward with her 16 year old cousin. Both suffered multiple burns injury. This event occurred following a kerosene explosion while the young girl was cooking, a can of kerosene was left open within the vicinity then boom! The girl sustained hers on her both arms, thigh, legs, chest and face! Her cousin sustained burns on his back, trunk and both arms and legs. It didn't affect his face, he was still conscious and his burns weren't as severe as the young girl.She was a bit conscious, breathless and was coughing dark coloured sputum.
WHAT EXACTLY DOES FIRE DO TO THE BODY?
Fire causes "coagulative necrosis" of the skin. Let me explain, the skin is composed of building blocks of protein called collagen. This is responsible for the integrity of tissues of the body. High temperatures like a fire would destroy or denature the protein causing it to clump together(coagulate) and die(necrosis). Think of what happens when you fry an egg, changes from liquid to solid. When protein loses it's structure it becomes useless as a result that protective barrier of the skin is also lost. Fluid escapes into the air, proteins escape, the entire body is vulnerable to any attack whatsoever! It's like your organs are naked!
Smoke from the fire could get into the lungs and cause irritation manifesting as cough and breathlessness. This is called INHALATIONAL IINJURY. A burns patient would die from asphyxia (suffocation) if this is not attended to
We commenced 100% oxygen through her nostrils, established intravenous access so she could received fluid through her veins She received 1 litre of fluid (normal saline) and antibiotics through her veins to prevent infection. She was not in pain because the fire had affected the deep part of the skin where the nerve for pain sensation were located. So her prognosis was very bad. We also gave her tetanus injection. After stabilising her, she was wheeled into the mini theatre. Firstly, no surgical gloves were available in the emergency unit, I had to run to the theatre on the top floor to hunt for them. When we finally got to the mini theatre, we discovered that there was no sterile pack available. (The one that was available had been used) A sterile pack contains sterile gauze, sterile forceps, scissors and other instruments for dressing. A pack is only considered to be sterile when it has been "autoclaved"
As a result, we had to wait for almost an hour for the pack to be ready before we could start the procedure. The procedure is called a wound debridement.
WHAT IS WOUND DEBRIDEMENT
It is the removal of dead and damaged tissue so as to allow the wound heal. Dead tissue lacks blood supply, if not removed, it could affect the healing of the rest of the wound because of restricted of blood supply. Wound needs blood to heal. This also minimizes risk of more infection.This procedure had to be done under conscious sedation.
WHAT IS CONSCIOUS SEDATION?
Conscious sedation is the process of placing a patient in a calm state by giving two drugs: diazepam and pentazocine through the vein. It knocks the patient off however doesn't leave them unconscious.
After the debridement, we had to start the wound dressing. It's like a ceremony and it has to be done by an experienced doctor and nurse, if not properly done you could even cause more harm than good. Firstly, wound cleaned with a fluid called normal saline. This fluid has the same concentration with our body fluids. It contains 0.9 percent of salt forces the liquid in cells to move out of the body when it comes in contact with them. If those liquids are bacterial, they'll be forced out too, effectively helping cleanse the skin.
Next, *sofratulle* is placed on the edges of the wound. It consists of a material called guaze that is impregnated with an antibiotic called framycetin. Gauze soaked in honey is used to cover the burn wound sites. Gauze is a thin cotton fabric used in wound dressing.
WHY HONEY?
Yes you heard me right. Honey is not just a sweetener or a component of beauty cream, it is a **natural medicine.** Use of honey as a natural medicine dates back to 1937. Studies have been carried out in animal models and they revealed that faster healing and less infection occured while using honey for wound dressing as compared to controls
Honey is viscous and hygroscopic ( able to draw water from the atmosphere and form a solution) as a result it provides a moist environment for the burn sound to heal.
Honey contains vitamins, amino acids, antioxidants which are necessary for wound to heal
It also contains hydrogen peroxide which is an antioxidant.Burns is an oxidative injury neaning that it occured due to oxidation therefore there's a lot of free radicals causing damage at wound site,
When honey is applied early it mops up those radicals and there's reduced scars.
Honey has antibacterial, antiviral and antioxidant properties.
Honey also reduces pain
Reduces inflammation and risk of infection
Promotes formation of new skin tissue called granulation tissue
Sterilises the wound thus Honey is used in chemical debridement
After wards, dry gauze is placed to prevent the honey from evaporating into the atmosphere. Next a gamgee is placed above the dry gauze
Gamgee is a layer of cotton wool between gauze, this is to create a soft padding and prevent escaping of fluids or moisture from the burns
The dressing was finally wrapped with creppe bandage and held in place by plaster.
We've been nursing the young girl and her brother for a month now and they have spent a huge lot of money. The wound has to be dressed daily for a while then alternate days and most times materials are unavailable. I don't blame the mother of the victims, THIS IS NIGERIA
We had to place her on a very strong antibiotic because of fear of severe infection as I explained earlier. This antibiotic (Rocephine) is very expensive and they couldn't afford it after a week so we changed to a cheaper less effective one because half bread is better then none. The physiotherapist had to be invited to help her walk and move her joints because the burns affected her joint so she also had to pay a charge for their services.
A plastic surgeon would have to be invited because she's going to require surgery called skin grafting where a piece of skin from an unaffected site is moved to the affected site and provide cover. Think of it like a skin transplant, that would also cost a lot of money.
Let me not go into the hospital bills,
this would cause a cascade of psychological trauma for both the patient and relatives and this is a middle class family at that. This got me thinking, THIS IS NIGERIA, TRY NOT TO GET BURNED
HOW DO I NOT GET BURNED?
STOP USING KEROSENE STOVES, KEROSENE LAMPS, ANYTHING KEROSENE. PREFERABLY USE FIREWOOD IF YOU CANNOT AFFORD A GAS COOKER

CHECK THE TUBES OF YOUR GAS COOKER AS FREQUENTLY AS POSSIBLE TO DETECT LEAKAGE QUICKLY

TURN THE KNOB OF YOUR GAS CYLINDER OFF WHEN NOT IN USE IN CASE THERE'S A NICK OF THE GAS TUBE

NEVER SHAKE YOUR GAS TO CHECK IF FINISHED. NEVER! INSTEAD BRING THE OUTSIDE AND POUR WATER ON IT INORDER TO IDENTIFY THE LEVEL OF GAS, THE POINT WHERE WATER DRIES IS THE GAS LEVEL

DON'T USE PHONES OR LAPTOPS CLOSE TO GAS CYLINDER BECAUSE IF THERE'S AN UNDETECTED LEAK, THEY CAN CAUSE AN IGNITION AND THUS AN EXPLOSION

KITCHEN SHOULD BE WELL VENTILATED IN CASE THERE'S A GAS LEAK, IT CAN DIFFUSE OUT EASILY

BAN KIDS FROM ENTERING THE KITCHEN, THEY ARE VERY MISCHIEVOUS

AFTER 4-5 DAYS, CHANGE YOUR GAS CYLINDER

INSTALL SMOKE DETECTORS AND FIRE EXTINGUISHERS IF THE FUNDS ARE AVAILABLE
IF THE CYLINDER IS ABOVE 10KG AND ABOVE, IT SHOULD NOT BE CLOSE TO THE BURNER BUT KEPT OUTSIDE WITH THE HOSE CONNECTING IT TO THE BURNER
WHAT IF I GET BURNED
Three words: STOP, DROP AND ROLL. This is the first thing, it puts off the fire fast, water is slow
Scream for help and leave the vicinity
Put the affected area under running water while help comes
Remove all clothing
CONCLUSION
Nobody prays or hopes to encounter misfortune but prevention is better and cure and it is very important to create awareness to the public like in markets, churches, schools e.t.c because most times cases of burns arise due to ignorance on the part of the victim and families.
REFERENCES
https://www.ncbi.nlm.nih.gov/pmc/articles/PMC3188068/
https://medswift.co.ke/how-to-prevent-gas-cylinder-explosion-in-5-ways/
https://guardian.ng/news/how-ignorance-inegligence-trigger-gas-explosions-in-homes-plants/
---
---