COIN REVEAL: 2022 2oz Silver T-Rex Zone - Road Sign Shaped Coin

Today's coin reveal post features the Jurassic World Dominion 2022 2oz Silver T-Rex Zone Road Sign Shaped Coin.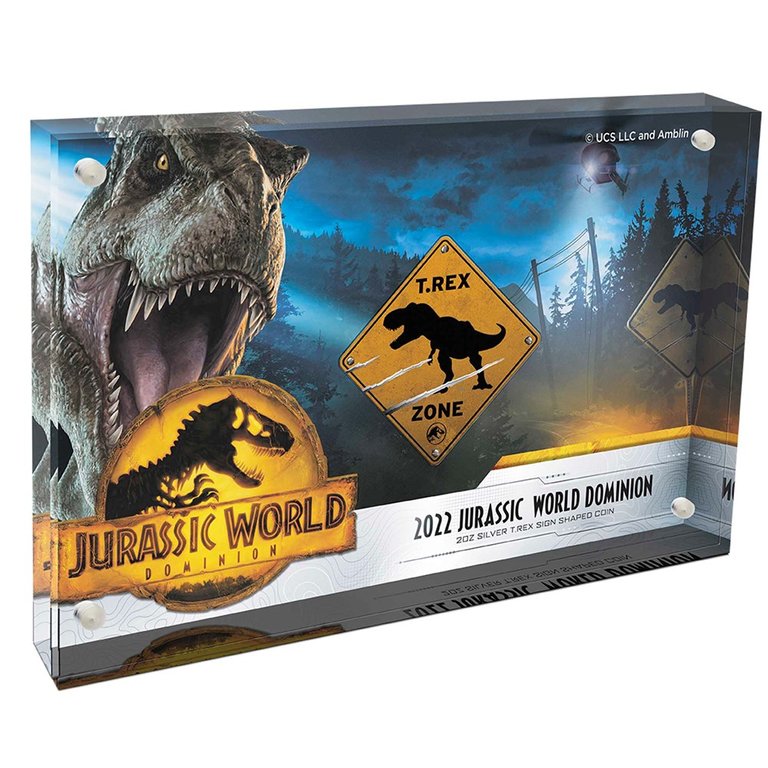 1. Coin Story
This 2oz silver coin was minted by The Perth Mint to celebrate Jurassic World the film series. I have such clear and vivid memories of the T-Rex scene in the first movie. The huge eye and teeth of the T-Rex are etched into my memory.
It is crazy to think that the first movie directed by the famous Steven Spielberg was released in 1993. Since that first iconic movie, there have been four sequel movies. In my opinion, the first movie is still the most memorable and enjoyable.
While writing this post, I just realised that a fifth sequel is due to be released in 2022. Hopefully they do a good job and produce a movie that is enjoyable, has a solid story and has some cool dinosaur scenes.
I really like the design of this coin. It is an antique finish coin in the shape of a road sign. The reverse of the coin is coloured with a yellow background with black imagery and writing. There is a distinctive T-Rex claw mark etched into the coin.
2. Coin Packaging
Each individual coin is shipped in a protective cardboard shipper. The display case is made out of acrylic, the coin is positioned in the middle of the display case. The coin is also accompanied by a uniquely numbered certificate of authenticity. The shipper, display case and COA are all themed with the Jurassic World logo and an illustration of a fearsome T-Rex bearing its teeth.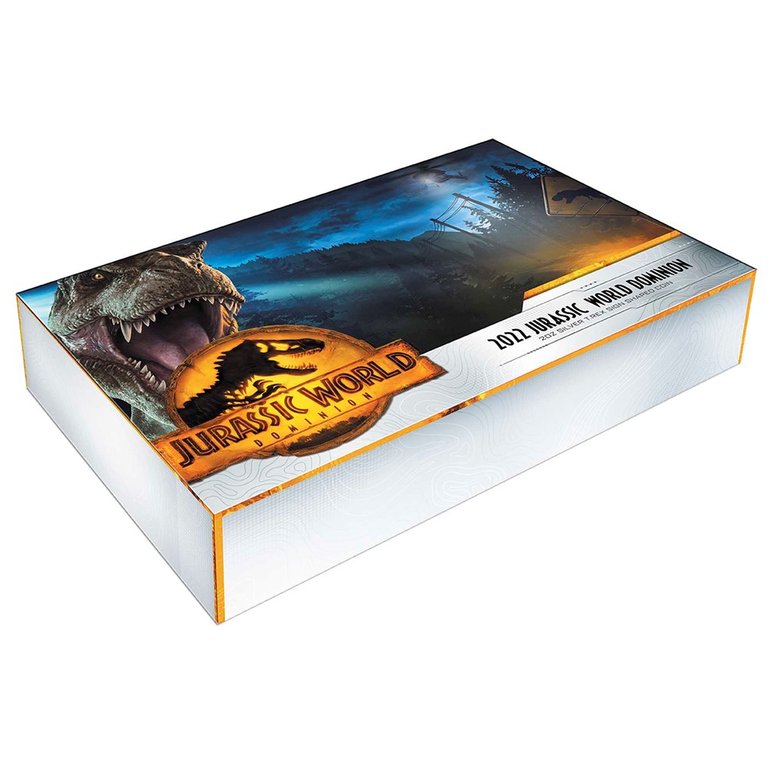 Image source Perth Mint
3. Coin Details
a. Purity
The purity of this coin is .999 fine silver.
b. Details
| Mint/Brand: | The Perth Mint |
| --- | --- |
| Silver Content: | 2oz |
| Purity: | .999 Fine Silver |
| Denomination: | $5 Nuie |
| Year of Issue: | 2022 |
| Edge: | Smooth |
| Finish: | Antique |
| Maximum Mintage: | 600 |
4. Coin Design
a. Reverse Design
The reverse of the coin depicts a silhouette image of an adult T-Rex with a yellow background in the shape of a road warning sign. The word 'T.REX' is written in black above the head of the T-Rex, the word 'ZONE' is written in black below the feet of the T-Rex. The Jurassic World logo is beneath the word ZONE.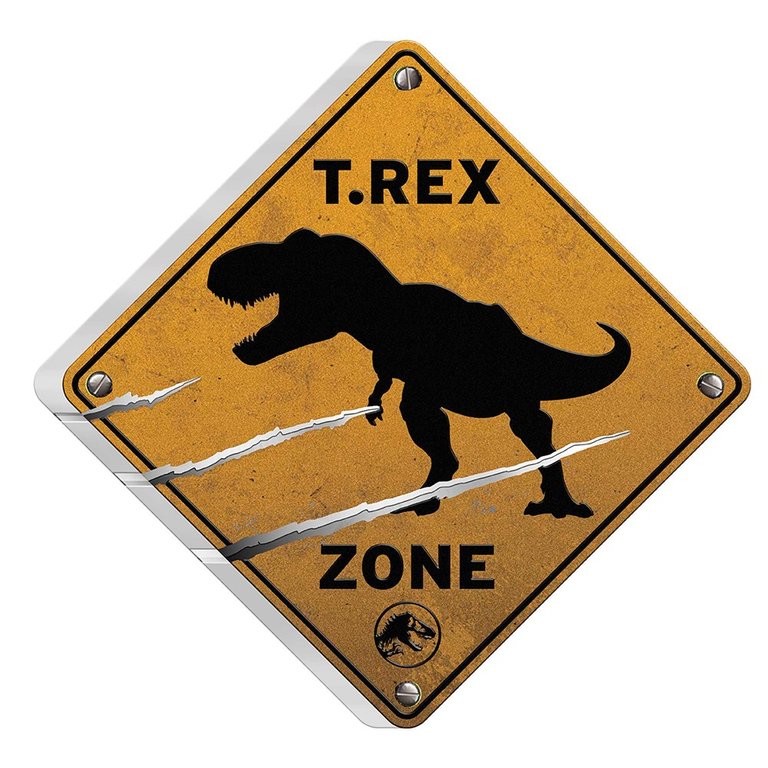 Image source Perth Mint
b. Obverse Design
The obverse of the coin portrays the effigy of her majesty Queen Elizabeth II. The inscriptions 'ELIZABETH II', country of issue 'NUIE', denomination of '5 DOLLARS' and year issued '2022' are written around the effigy of the queen.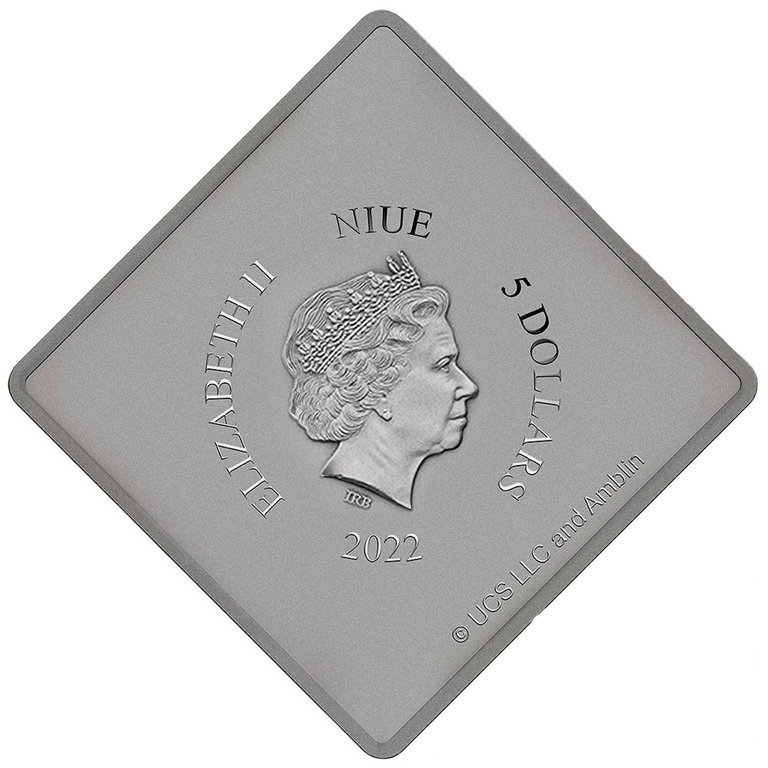 Image source Perth Mint
Post authored by @strenue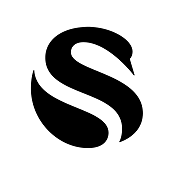 ---
---