COIN REVEAL: The Simpsons - Krustylu Studios 2022 1oz Silver Proof Coloured Coin
Today's coin reveal post features the Krustylu Studios 2022 1oz Silver Proof Coloured Coin by the Perth Mint.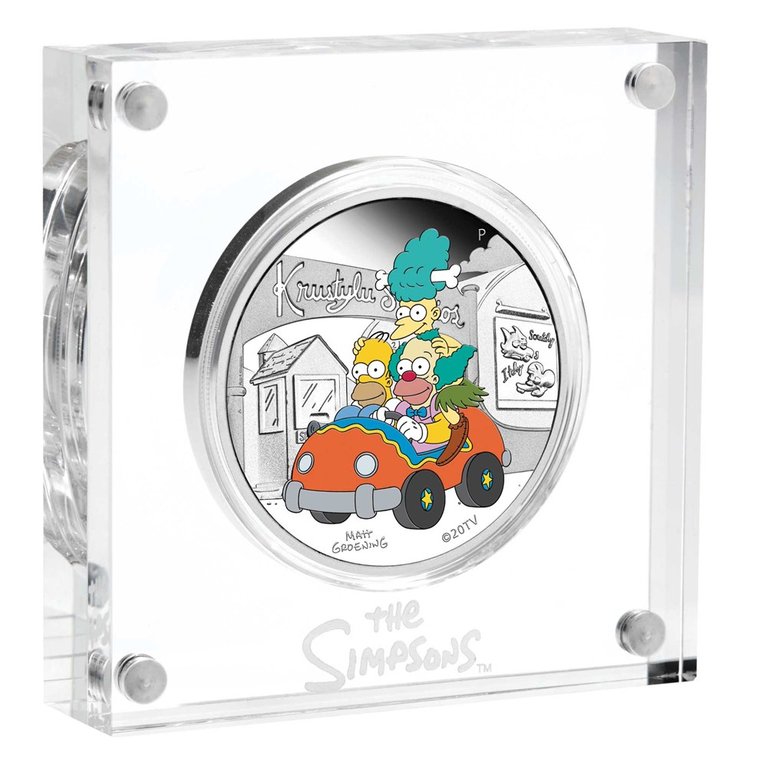 Image source Perth Mint
1. Coin Story
This 1oz silver coin minted by The Perth Mint is to celebrate the long running television series The Simpsons. I grew up with the Simpsons as a kid, it is hard to believe that it is still going strong all these years later.
This coin is a coloured silver proof coin, which I am not usually a big fan of, but I think the colour really works on this coin, as the vibrancy in colour of the Simpsons characters brings the design of this coin to life.
The Perth Mint has the official license for minting The Simpsons designed coins. There are a number of coins in the series and they always seem to be highly sort after by collectors. I currently do not own any Simpsons coins in my stack. I have had a few opportunities in the past, but chose not to each time.
2. Coin Packaging
Each individual coin is shipped in a protective cardboard shipper. The display case inside is clear acrylic allowing you to enjoy the coin design from all angles. The coin is also accompanied by a uniquely numbered certificate of authenticity. The outer shipper is black with silhouettes of Simpsons characters, in the centre of the box is The Simpsons logo.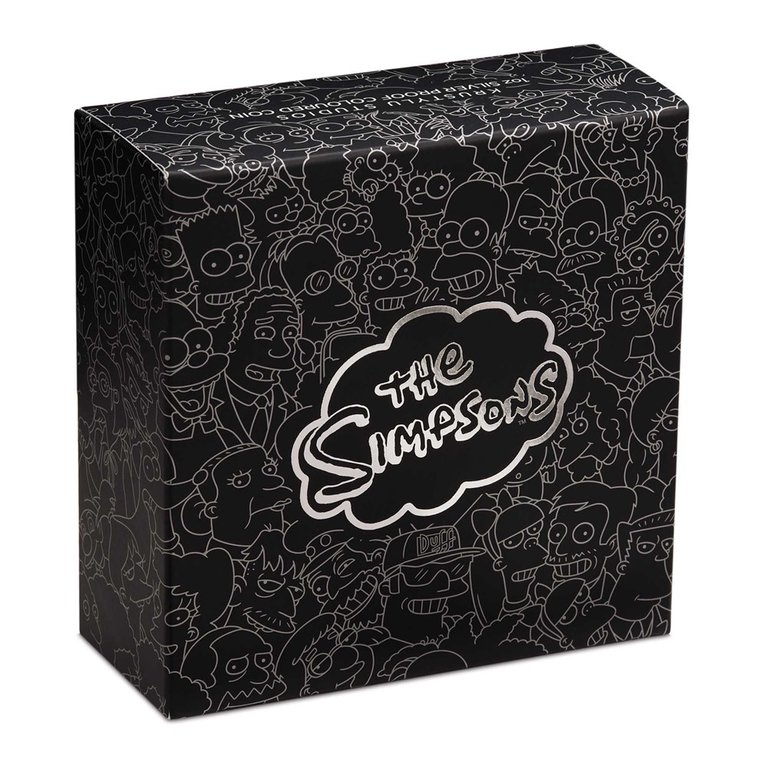 Image source Perth Mint
3. Coin Details
a. Purity
The purity of this coin is .9999 fine silver.
b. Details
| Mint/Brand: | The Perth Mint |
| --- | --- |
| Silver Content: | 1oz |
| Purity: | .999 Fine Silver |
| Denomination: | $1 Tuvalu |
| Year of Issue: | 2022 |
| Finish: | Proof and Coloured |
| Maximum Mintage: | 5,000 |
| Thickness: | 3.5mm |
| Diameter: | 40.90mm |
4. Coin Design
a. Reverse Design
The reverse of the coin depicts images of Homer, Krusty the Clown and Mel, all crammed into the red clown car, the images are all in vibrant colour. Matt Groening the creator of The Simpsons has his signature on the coin. In the background is Krustylu Studios where the Krusty the Clown show is recorded. There is also a billboard of the popular kids show 'Itchy and Scratchy' next to the Studio building.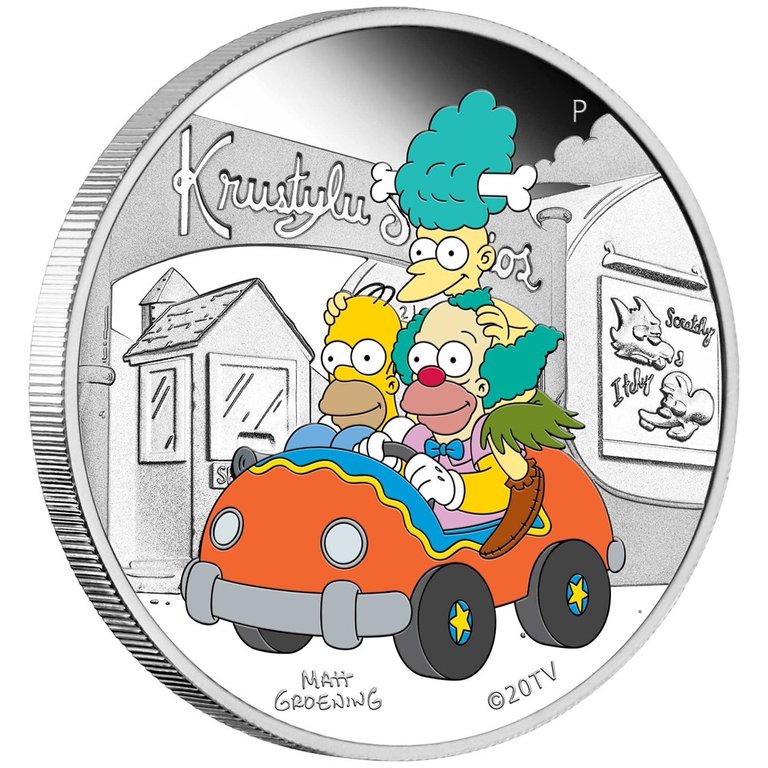 Image source Perth Mint
b. Obverse Design
The obverse of the coin portrays the effigy of her majesty Queen Elizabeth II. The inscriptions 'QUEEN ELIZABETH II', country of issue 'Tuvalu', denomination '1 DOLLAR', year of issue '2022' are written around the effigy of the queen.
The obverse also includes the metal weight of '1oz', metal purity of '9999' and the metal type of 'Ag' which represents silver.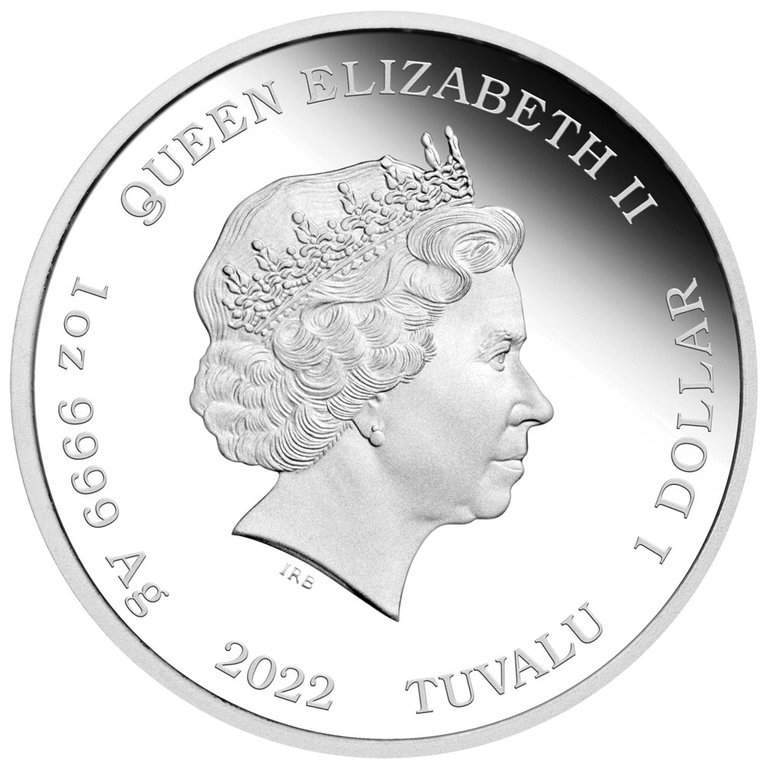 Image source Perth Mint
Post authored by @strenue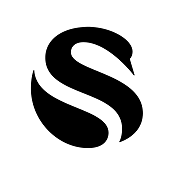 ---
---