HIVE Account Growth - HIVE Power, Delegation, Curation and Tokenomics

This is my third post documenting my HIVE account growth over the past month. I have learnt a lot about the economics of HIVE and its ecosystem during this month. The more I learn, the more excited I get about what an epic platform HIVE is and the myriad of revenue opportunities available to all of us at our fingertips.
I record these posts to share my experience and journey, hopefully passing on tidbits of information that will be useful and helpful to others carving out their pathway on HIVE.
CONTENTS
Some of the topics I will cover in this evening's post include HIVE Power, Delegation, Curation and Hive-Engine Tokenomics.
HIVE POWER
DELEGATION
CURATION
HIVE-ENGINE TOKENOMICS
a. LEO - leofinance.io
b. CUB - cubdefi.com
c. BRO - brofund
d. POB - proofofbrain.io
1. HIVE POWER


source hivestats.io/@strenue
The charts shown above show the growth of my HIVE account in HIVE Power from the 31-03-2021 to the 26-04-2021, they have been sourced from hivestats.io. The majority of this HIVE Power growth has been from authoring posts on a daily basis.
At its core HIVE and its ecosystem is about creating quality original content that adds value for the users of the platform and the users will reward those quality posts accordingly with 'upvotes'. 👆
Creating quality original content is not as easy as it sounds. Authoring posts takes time, effort, research and a lot of discipline. I have formed the habit to author and publish at least one quality post each day. This ensures that I receive an author payout from the rewards pool each and every day. My current daily earnings equate to approximately 0.015% of the rewards fund according to hive.supply/@strenue.
This percentage does not seem like much, but as you can see from the graphs, the constant trickle of rewards adds up over time. With those rewards, there are multiple ways to reinvest your earnings, adding to the velocity of your HIVE account growth.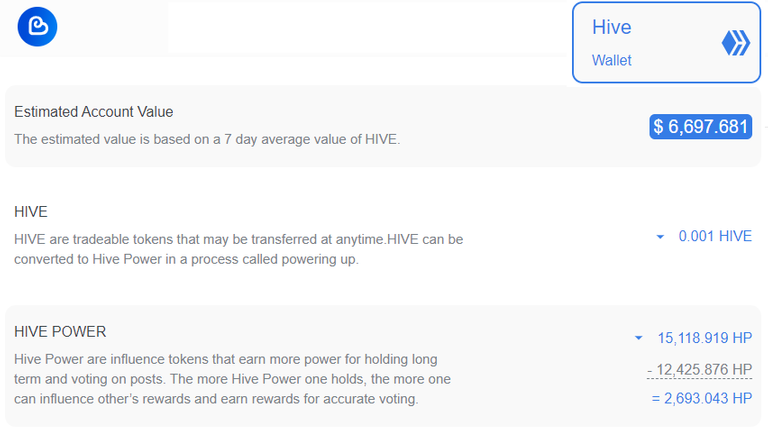 2. DELEGATION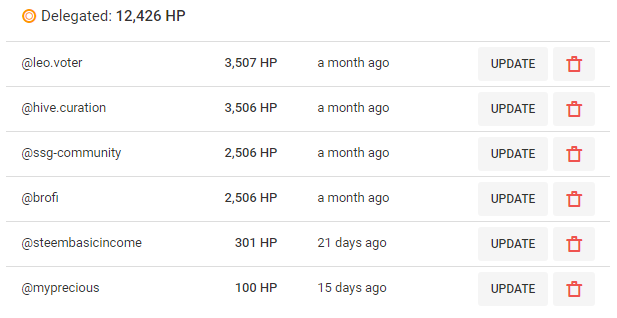 One very simple and low risk way to reinvest your earnings is through delegation. Delegation is when you make a portion of your HIVE Power available to another HIVE account, effectively increasing their HIVE Power. The HIVE account that you delegate to will reward you with passive earnings, usually on a daily basis.
Above you can see all the HIVE accounts that I have delegated a portion of my HIVE Power to. I am quite heavily delegated to four accounts, @leo.voter, @hive.curation, @ssg-community, and @brofi.
Later in this post I will discuss in more detail how some of these accounts reward my account with passive earnings. The gist is that the account will either pay you a daily bounty for your delegation or the account may even upvote your posts.
3. CURATION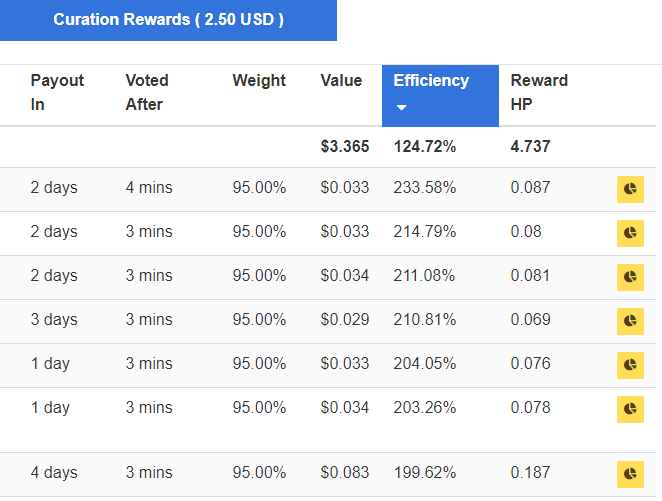 Curation is probably the aspect of the HIVE ecosystem that I have undervalued in the past, when my HIVE Power was low and my 'upvote' influence was inconsequential.
As I have increased my HIVE Power over time, I have started to realise the true value and potential of curation. The image above is from hivestats.io/@strenue, shows my pending curation rewards. You will notice that the pending reward amount is quite modest at the moment, but recently I have tuned up my curation tactics and as you can see my curation efficiency is now up around the 125% mark.
One of the tactics that I have put in place is that I have taken some of my power back, HIVE Power that is. I decided to undelegate my stake from one of the HIVE accounts that was providing me daily bounties. That HIVE Power has been returned to my account and my effective HIVE Power has increased and my 'upvote' value has increased with it.
It has only been a few days, but I have already noticed an increase in my daily curation rewards and my curation efficiency. I am very excited about the potential upside of curation, I will be spending a fair bit more time researching the most effective ways to become an efficient and profitable curator.
I read a saying on a HIVE post once that said, "Dolphins author posts and Orcas curate posts." I did not really understand this saying at the time, but from my recent findings, I think I am starting to understand what it means. My goal henceforth is to get to a stage where my daily curation rewards start to exceed my daily author rewards. That will be a great and rewarding day. 😁
4. HIVE-ENGINE TOKENOMICS


The final topic that I would like to discuss in this post is HIVE-ENGINE and the tokenomics of the HIVE platform. In the early days, there weren't any Hive Tribes that each had their own token. Now there are hundreds of them, it is difficult to keep up as a new token seems to pop up daily.
The four tokens that I would like to focus on are LEO, CUB (issued by leofinance.io), BRO and POB. Each of these four tokens/projects have very interesting tokenomics. I am investing a fair portion of my time learning about these tokens to see how I can maximise my earnings from each of them on my quest to grow my HIVE account. My ultimate goal is to graduate from my current hivebuzz.me/@strenue status of Dolphin to eventually become an Orca.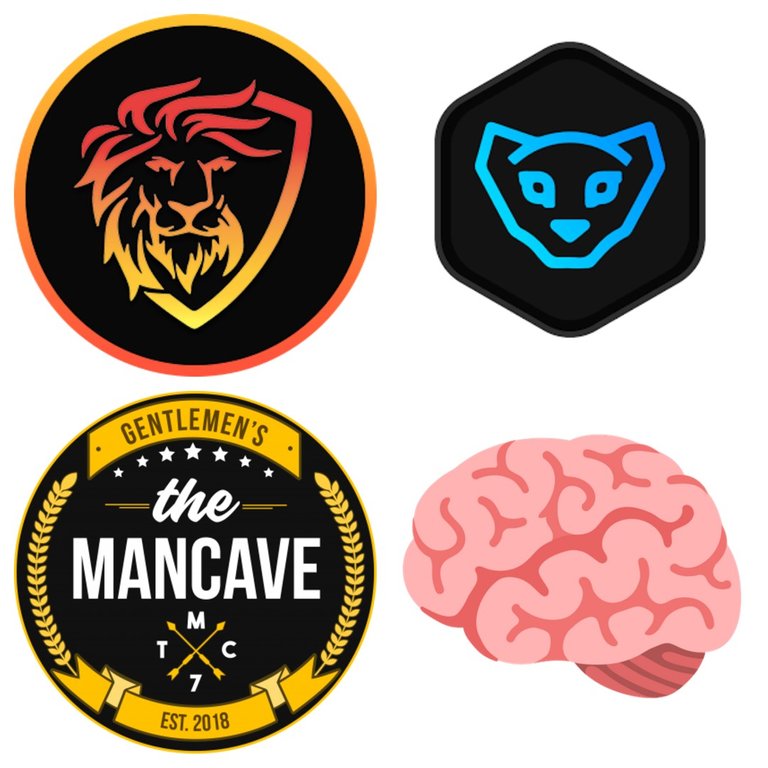 source hive-engine.com
a. LEO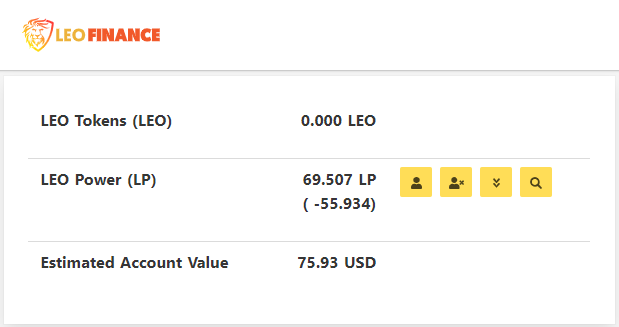 source leofinance.io
The amazing thing about the tribes is that if you author a financial topic post on PeakD, but use the leofinance tag, your post will be published on HIVE and on leofinance.io. For any 'upvote' that you receive on HIVE, you will be rewarded in HP and HBD, but for any 'upvotes' you receive on leofinance.io, you will be rewarded in LP (LEO Power).
The absolute beauty of this is that you open up your potential rewards to a whole new group of users. I had one post on HIVE that did not garnered many 'upvotes', around 0.35 HP, but over on leofinance.io my 'upvotes' achieved around 25 LP, for the exact some post.
My other source of LEO Power is from my delegation to @leo.voter, where I receive earnings via a daily bounty. As you can see from my leofinance.io wallet, I initially began delegating all my LP to @leo.voter to increase my daily bounty, but I have decided to increase my LP. I want to be able to be in a position that if I 'upvote' a post that it will provide benefit to the author on both platforms, HIVE and leofinance.io.
b. CUB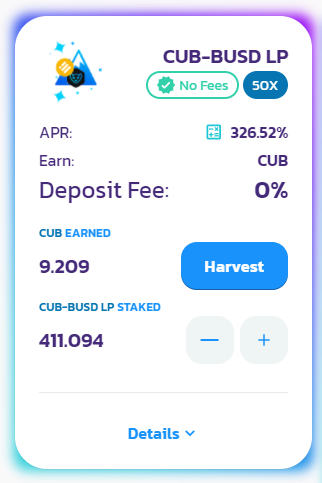 source cubdefi.com
Leofinance issued their own token over on cubdefi.com, called CUB. CUB operates in the new but rapidly growing decentralised finance (DeFi) arena.
DeFi provides the ability to stake an amount of a token you own, then you will receive a percentage reward for the period that token is staked. Staking is very similar to delegating. The current returns for staking CUB tokens in a Den is 121%.
Another function that DeFi allows which is more risky and can result in impermanent loss. This is a temporary loss of funds that can occur when you provide liquidity, this loss can be realised if you withdraw from the liquidity pool. Providing liquidity or farming as it is commonly referred is when you provide liquidity to a market by creating a pairing of two tokens.
In the image above, you can see my liquidity pool between CUB-BUSD. The percentage returns for this farm are currently sitting at 326%. The returns are amazing, but there are definite risks. I am very aware that I could lose all my funds staked in this pool, but I am continually monitoring the risk. I have 9.209 CUB earned that are ready to be harvested. When I harvest my CUB tokens, I often reinvest them into my liquidity pool.
c. BRO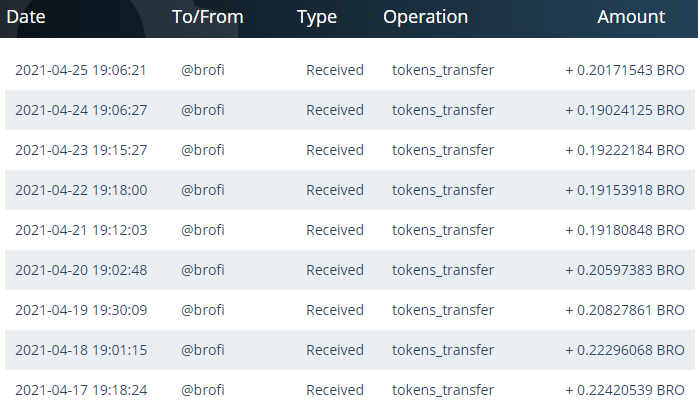 source hive-engine.com
I discussed Brofund in my previous account growth post, so I will not repeat too much here. In short, I have delegated a fair portion of HP to @brofi, everyday I receive a token transfer for my delegation. The token I receive is BRO, I am averaging around 0.20 BRO each day.
The beauty of BRO is that you can delegate any of the HIVE-ENGINE tokens to @brofi. Certain tokens earn better rewards from Brofund than others, but if you have tokens building up in your HIVE-ENGINE wallet, instead of trying to research each token, you can just delegate them to @brofi to incrementally increase your daily rewards.
d. POB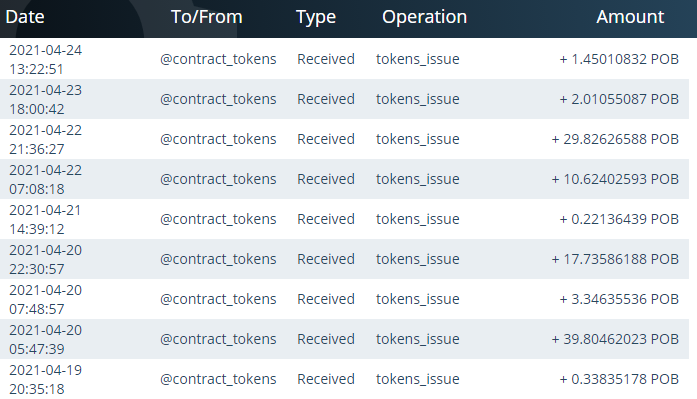 source hive-engine.com
POB stands for Proof of Brain. This is the newest token that I have started researching and the more I learn about it the more I like it. Everything you need to know about this token is in the name. Write posts that prove you have a brain, that show the reader that you have researched your topic and that you have provided some original thought and reasoning.
I wrote a post the other night about 'Laissez-Faire Leadership'. I spent a lot of time and effort on that post. I wrote from personal experience and about a topic that I am passionate about. Much to my surprise and glee, I got an 'upvote' from @proofofbrainio worth approximately 170 POB. At the time of writing this post POB was worth US $0.40, so the 'upvote' was worth roughly US $68.00.
You can just imagine how motivating that 'upvote' was, it has inspired me to broaden the topics that I write about and really challenge my brain to think and challenge my heart to write with meaning.
Conclusion
We are a part of something special here in the HIVE ecosystem. Take your time, do your research and find your niche on this platform. I started on HIVE posting about my passion 'silver stacking'. I still post most days about silver and gold, but my interests and passions have broadened immensely the longer I have been on this platform.
I have realised that it is a big world out there and so many interesting things to write about and discuss with others. The two topics related to HIVE that absolutely fascinate me at the moment are curation and tokenomics. I see incredible opportunities and upside potential for growth in both of these areas.
As I learn more about each of these topics, I will write and share with you. We are all ultimately in this journey together, we all have families to support and provide for, so why not give each other a leg up along the way. 💪😃👍
Post authored by @strenue


---
---