It's Market Friday for HiveBloPoMo!| Pineapples....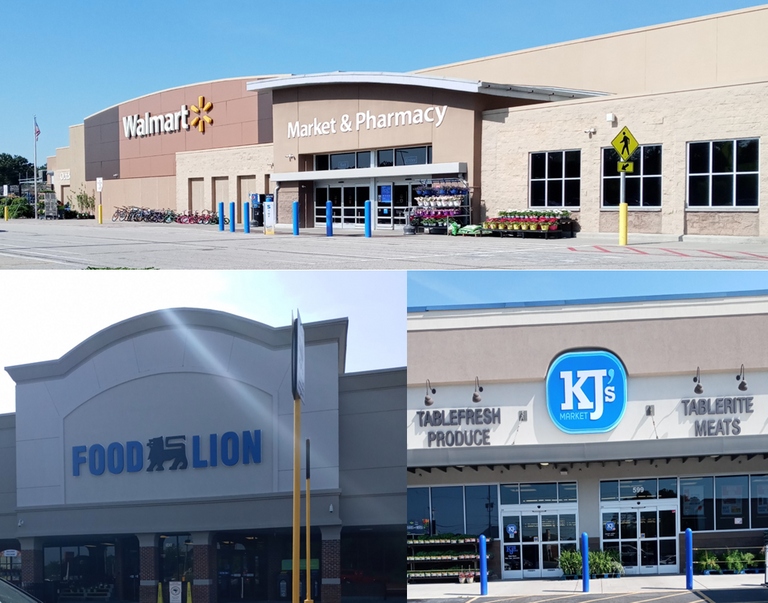 Today for 'Market Friday' I wasn't doing a big food shop but I knew I wanted to get a Pineapple to dehydrate. So of course with it being Friday it was that time every two weeks when I go out and take care of the bills & do a little shopping.
Today I got my Pineapple & I also bout some pears & apples, these are for me to dehydrate. I also picked up a few other items for the house, acouple of food items & non-food items.
Today I want to share with you my area markets. There are only three, and they're all within 1 - 1 1/2 miles of each other & the furthest one from me is about 2 miles.
Pineapple Comparison
Although I already knew that I would be making my purchases from Walmart, I stopped by the other 2 markets just to compare the price, size & quality of the pineapples.
Food Lion
This was my first stop where I found the pineapples to be of great quality, nice & green, they didn't smell too sweet though so unless there was nowhere else to get them I would have gotten them @ $2.19 each. The price wasn't bad but I knew if they were that price there, I could probably do better at Walmart. This store is usually a little higher for most things but is my second choice in town.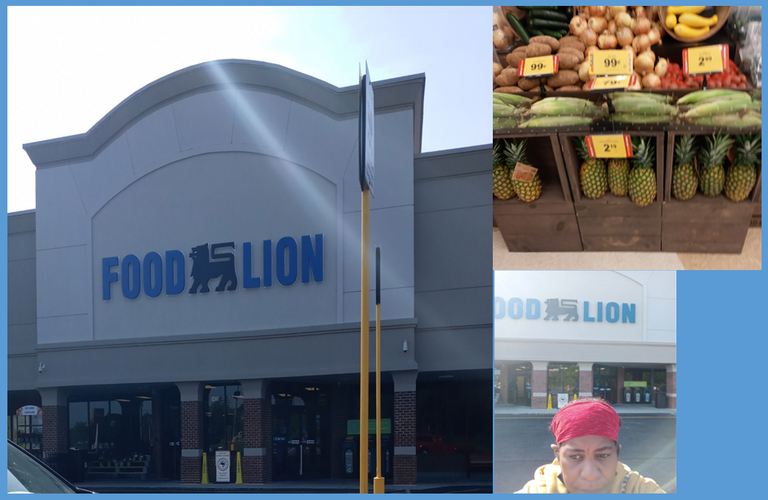 KJ's/IGA
I then went on up the road to KJ's a rather new name but still carry the sign and quality foods of IGA. I'm not sure why the name change but they're a good place to find quality meats at a lower cost but usually everything else is higher. They sometimes have meats that can't be found in the other markets, even Walmart.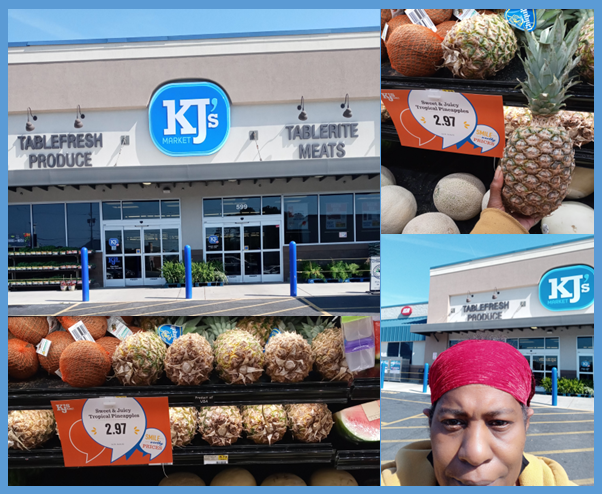 As you can see the pinapples were much higher @ $2.97 ea. and they were rather small and didn't look so good, very little green. This is a store I visit for certain meats or if I can't get what I'm looking for any where else.
Walmart
My one0stop-shop & usually my first choice. They have everything I'm looking for, most of the time & is usually cheaper. Once I'm in Walmart, I usually checkout with more than what I went for.
The pinapples were a steal compared to the other two stores @ $1.68 ea. The quality was comparable to Food Lion but not quite as big, but they were bigger than the ones at KJ's. I got a few more items and moved on.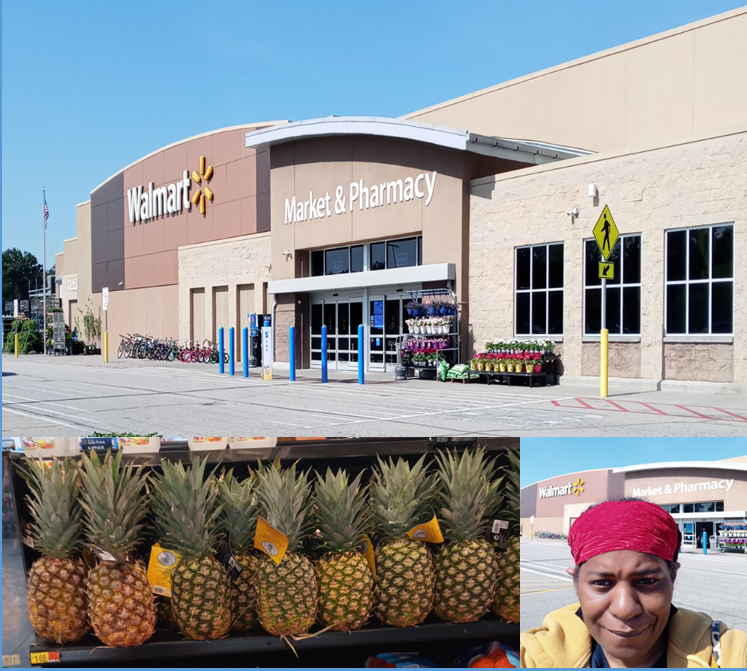 Checkout Time!
Because Walmart is a one-stop-shop, I got everything I intended and more. My list consist of paper plates, mouthwash, baggies, foil, laundry detergent, bread, & tomatoes & 1 pineapple of course, the water was questionable but I decided to go on and get it while I was there.
While shopping I remembered that I needed potatoes. I also remembered to get parchment paper to line my dehydrator with while I was in the isle with the baggies & foil. I also decided I needed to get some chips to go with the sandwiches we were having for dinner today.
As I walked from the groceries on one side of the store to the pharmacy area on the other side, I came across a clarence rack & it hit me that I have a grand daughter who's birthday is Monday & I hadn't gotten her a gift yet. So there's the 2 cute little dresses handing there. Under $5.00 ea.... couldn't leave them behind.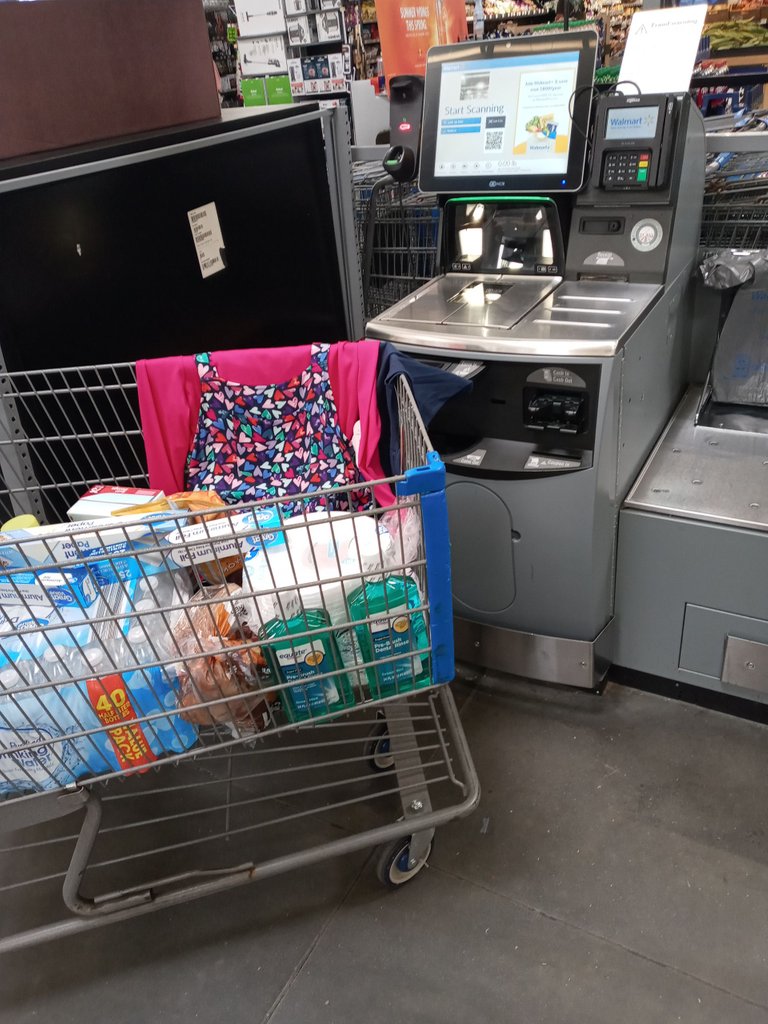 Head for the checkout Charletta.... You've got what you came for & spent enough for one day. I often have to do that or I just might spend more than I should.
I hoped you enjoyed shopping with me today, See you next time as I may do this every couple of weeks. I felt weird the last time I did this (2 weeks ago), but this time I rather enjoyed it knowing I was coming home to share with you.
Really, Who takes pictures in the grocery store?, That was my response the first time & look at me now having fun with it.
Successchar

---
---