Mentors Past & Present | A Freewrite for HiveBloPoMo
Who is or was your business mentor? What lessons did you learn from them? What advice sticks out the most?
This is my Topic and here I answer the 1st question, I will answer the other question in future posts.
This was suppose to be a 5 min freewrite that turned into nearly 20 minutes. And of course I'm OCD when it comes to my writing/typing so of course I edited a little cause I can't stand typos.
Funny as I was looking for prompts to start this freewrite I came across this topic just shortly after the thought an through my mind.
Who Is or Was Your Business Mentor
So here I am. I'm going to talk a little about my past mentors then how I got to where and who I'm with today.
In September of 2014 when I decided to return to affiliate marketing I met a woman online name Sandra. She was a great inspiration to me and I built a friendship with her not just a business relationship. I even got to meet her in person when my Mom was living in Florida and she meet up with me and we had lunch and talked about business and family. The second time I visited I had to stay and take care pf my Mom so she came over to my sisters house and we had a little barbeque on the patio and talked and laugh and just enjoyed ourselves. Then my mom moved from Florida and the visits died but the friendship went on. She had moved on to other things and her life choice at that time took her from the affiliate marketing arena and to a 9 to 5er. That's when we really slowed our connection.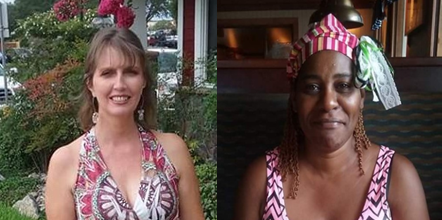 Sandra & Me - Taken with my cellphone on the day we met for the first time.
But before she left the arena she had introduced our group to another marketer who I then followed for about 4 or 5 years. It was a couple Ben Martin & Anji Long. I met Ben first and Anji about a year or so later. They were a great team and offered high end products but they also worked very closely with their team. For years I followed them to the edge of the earth. I felt they actually cared a lot until I didn't some 4 years later. I started to feel like I was being left behind cause I didn't have the money to invest in all the high ticket stuff they were offering. I bought all their courses and joined most of their groups but it just wasn't enough. I was weeded out.
In the middle of 2019 I was still pittering around when my daughter called one day and said hey Click Track Profit is relaunching their platform, she said didn't you get the email. I was like I don't even check that email account anymore, hell, I didn't even know which email address I used.
She forwarded me a copy of her email so I went to the site and just logged in, From there on I made sure that I was around for the relaunch and haven't regretted it since. It was Jon it is Jon yes @jongolsn he's my mentor now and I'm willing to bet will be for the rest of my years in affiliate marketing. I have grown and learned more from him in the last 3 years then I have from anyone in all my years of being in an online business.
Thanks for reading!!
Successchar
---
---