Hive: The Land Of Opportunity
Do you see the opportunity before you?
This is an important question. Most of us tend to miss opportunities, instead opting for excuses and blame. We cannot envision anything different from what is known, often carrying ideological outlooks. This can apply to most areas but gets very dangerous when it comes to technology.
We are in a technological era. For all the negativity in the world, mostly espoused on the mainstream and social media, there is a lot of advancement taking place. The fact that people can complain for minimal to no cost about the plight of the world and reach a global audience is often overlooked.
Imagine trying to do that 40 years ago.
Within Hive, there is a lot of negativity. People seem to want everything now with no concept of development. Do these people realize how long it took the Internet to get where it was somewhere user friendly? It was a couple decades from the time serious work started.
Yet, for some reason, Hive is garbage because it is not the ideal solution for every problem today.
Of course, this mindset overlooks huge opportunities. Hive is becoming the land of opportunity.
In this article, we will cover some of areas that Hive is offering enormous potential.
Micro-Earning
This is one of the most overlooked aspects of Hive.
It all starts with the ability to make micropayments. Due to the feeless nature of Hive transactions, even the smallest amount of currency can be moved. This feeds directly into micro-earning.
Small amounts in a large number of transactions adds up to a lot of money. How do you think Facebook, Google, and PayPal make their money? Is it from a few huge payments?
The answer is the exact opposite. PayPal takes a small percentage of millions of transactions. This adds up into billions of dollars every quarter. Of course, the masses overlook this because we are accustomed to the reverse. We want the big hit.
Instead of that, the focus should be on micro-earning. Over time, it all adds up. This is something that we see dismissed repeatedly by those on Hive. If one doesn't receive a huge upvote on the first post or two, this is a scam and the person leaves.
What is ironic is these same people will often spend time on faucets, looking to get a bit of cryptocurrency for doing certain activities.
A payout of a fraction of a cent can be worth an order of multitude higher in a couple years.
Infrastructure
This is another area that is starting to present itself as a viable solution for people. Again, it is not going to make people rich but can alter their path forward.
We are seeing projects that are seeing to add nodes. These are being formed as decentralized systems. They require a number of people meaning the masses can participate. Also, the servers are usually rather inexpensive, meaning the level to profit is a lot lower.
Here again, we can see another path where people can generate a bit of income by opening up nodes. At present, the system is still in its infancy but it is growing. Some options include utilizing existing hard drive space for decentralized storage.
These are opportunities that the digital world offers. Again, this is expanding which will likely provide a larger amount of options going forward.
Conditioning
Are you conditioned to look for opportunities?
This is a legitimate question and one that is mostly answered in the negative, at least in the West.
We are not conditioned to look for opportunities. Nor is it instilled in us to build wealth. Instead, the idea of getting a job is promoted. Even when it comes to investments, the idea is to find deals in the stock market, an area where the big money was made long before going public.
Here is an example that was posted on threads the other day.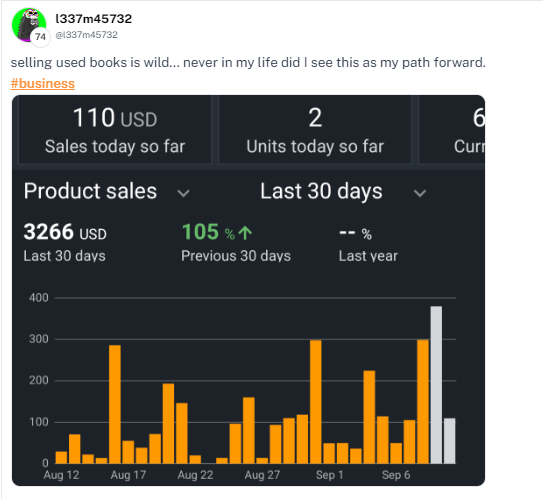 Who would thinking of selling used books other than Jeff Bezos? Looking at the numbers, not a bad 30 days. Certainly, this is something I never considered nor would even know how to do. Nevertheless, we see someone turning this into cash.
Obviously, this is not Hive although, perhaps, at some point, it is integrated into here. What is necessary is to notice how there are opportunities where we do not expect to find them. This gets compounded when we deal with the digital world.
Hive is that. We see things cropping up on a weekly basis. While some might not be profitable, others are. Going back to micro-earning, there are a lot of ways to garner a return on Hive. Getting involved with some of these projects can turn the spigot on.
For this reason, it is best to start conditioning ourselves to seek out opportunities as they arise. Waiting until after they are proven is the point where the large returns were already made.
Asset Ownership
Hive provides the main component that is necessary for building wealth.
Without assets, it is impossible to build anything substantial unless one has a huge income such as an athlete, CEO, or film star. Even these people take their money and buy assets which will grow it.
For those without resources, or living paycheck-to-paycheck, this is difficult. The existing financial system requires one buying assets, something that excludes the majority of the global population.
Digital assets, as their name implies, are different, Just by holding them, there is the opportunity to generate a return. The price of the asset can appreciate while it often can be leveraged for a better return.
On Hive, this starts with $HIVE being staked. One can accumulate more of the coin, similar to getting more shares of stock or stacking commodities while also enjoying any price appreciation.
Over time, this can add up to a great deal of money.
The same is true for the layer 2 offerings starting to emerge. They are commonly built with the same design. Here we see how we have instant compounding due to the fact that the same content can generate rewards in multiple ways.
This can feed into projects that we are more involved with. Swapping tokens is possible, allowing us to enter other applications or games. Here is where people can fill their wallet with assets that help them move forward.
What is the limit to this?
Actually, there is none. A number of years ago, I wrote an article that discussed how people would be receiving dozens of tokens each month. In the next few years, this is likely to jump into triple digits. Tokenization means we will have many streams of income, providing us with opportunities we never considered.
Anyone who is on Hive more than 4 years has seen this transformation happen before our eyes.
The number of opportunities today, as compared to 5 years ago is enormous. Why would this not keep growing? The likelihood is we will have another 10x in the choices down the road.
Expansion has a way of feeding onto itself. Those who take this approach seriously will end up noticing a major difference over the next 24-36 months.
Filling the wallet with assets that have potential is the path forward. That is going to vary for each person but it will entail taking advantage of the opportunities presented here.

logo by @st8z
---
---