How Many Millionaires Will Hive Create?

Here we will engage in another thought exercise to get the juices flowing. What is going to be covered here is based upon the potential we see unfolding with Hive. Therefore, it is vital to deal with the realistic components of what is taking place.
Also, the level of millionaire seems to be something that most feel is "rich". Obviously, depending upon where one is in the world, that will vary. For example, that is not a ton of wealth in an area like San Francisco or Tokyo. Of course, in other parts of the world, even $100K is mind-boggling to most.
For this reason, I prefer to use the term "life changing money" since that encompasses each individual situation.
Ethereum: Millionaire Creator
The world saw a huge influx of those attaining millionaire status when the token really started to skyrocket a number of years ago. This was made up of people who got in early and HODLed until the network got very popular. Of course, this required cryptocurrency expanding to the point where a foundation was established.
Nevertheless, those who were involved in the first smart contract blockchain were able to profit handsomely.
What was unique about this is that it was not the wealthy who got involved. We see a ton of money made of IPOs, as an example. The challenge there is that we know the exclusiveness of that system. Unless one is an accredited investor (in the United States), he or she cannot participate.
Ethereum was unique in that it minted a ton of new millionaires in a very short period of time. This is the advantage to something that is so novel while also being explosive in nature. We also cannot deny that the price move in the last year has seen a ton more wealth created.
This is reminiscent of Microsoft employees in the late 1990s and early 2000s. It was said that the average worker at Microsoft was a millionaire because of all the stock based compensation that was handed out. When the stock finally got to the point it flew, even secretaries (shows how long ago it was) had more than a million dollars.
While it is impossible to tell, especially since a lot of newer people got involved, it is likely that those who were early adopters of Ethereum ended up as millionaires.
Hive Minting Millionaires?
Is Hive getting to the point where it is starting to mint millionaires? Considering all that is taking place, it is a worthwhile question,
There is no question the money on Hive does not compare to Ethereum. Since this blockchain flies under the radar, for the moment at least, we are looking at a slower pace of growth. That said, many of us feel that the foundation is being put in place that will radically alter the financial lives of, ultimately, millions on here.
In short, there will come a day when there are no shortage of millionaires on Hive (or at least those with life-changing money).
Certainly this will not be all in just the Hive people are holding. The second layer is vital to where we are going. Applications and games are essential to the introduction of Web 3.0 to the masses. Here is where Hive is starting to gain some traction.
At this point, any discussion has to start with @splinterlands. There is no doubt that the progress over the last couple months is truly amazing. That game is changing the financial life of countless people.
Let us look at the chart of the total market cap. Notice how the value went parabolic.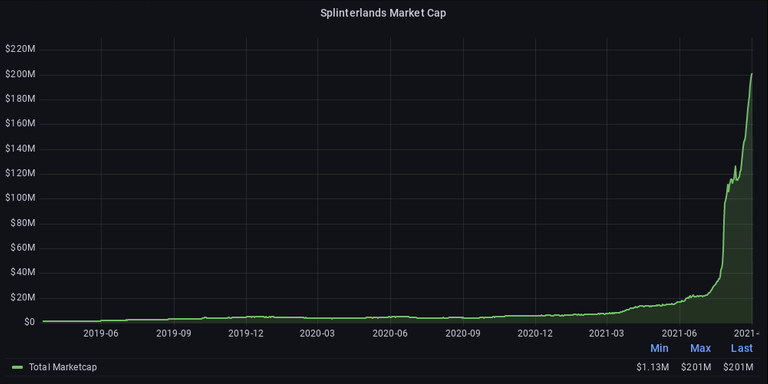 Source
As of when the chart was made, there was over $200 million in value there. That breaks down to 200 millionaires on average. Of course, not everyone is holding the same and the number is likely much lower than that. However, we can see in June it was sitting at $20 million. That means people saw a 10X on their holdings in a couple months.
Considering some got in early and were able to amass some serious cards, they are now doing very well.
The big question is where does this stop. Is Splinterlands even close to being done? The road map shows the team has big plans so there is no reason to believe they intend on slowing down. While it is presently the second most active blockchain game, it still is a minor blip in the gaming world. In other words, there is still plenty of upside.
How many more will fall into the millionaire category before Splinterlands is done?
More Than A One Trick Pony
At present, Splinterlands was the first and only breakthrough. After a number of years of developing, marketing, and trudging along, the game is finally getting the recognition that the team sought. This is bringing a lot of new users to Hive, albeit most of whom will always remain in the game itself.
Nevertheless, we are looking at an ecosystem that is far from a one trick pony. There is a lot of development taking place, much of which provides opportunity to people.
With the continuation of development, we are seeing the expansiveness of what is being tied to Hive grow. Down the road, as Hive starts to get on the radar of people, the offerings we are providing will give them many options. This is of benefit since we should see thenetwork effect kick off for many projects. Not all will be wildly successful yet there will be other breakthroughs like Splinterlands.
Therefore, we will see value expand both on the individual project level and collectively. Each piece is a part of the large, complex system. As more start to enjoy success, the entire ecosystem is enhanced.
This, too, is what happened with Ethereum. There is a lot of development taking place which attracted users. While the transaction fees put a lot of people off, it is still very active with big money players. This sent the value skyrocketing as it took over the DeFi world.
We saw the transition of what was popular on that chain change over time. It dominated the ICO craze, then took over DeFi and is now getting a jump start on NFTs. The later, however, is really hindered by the high transaction fees so we are seeing migration starting to take place.
The same is starting on Hive. We are seeing the branching out which is providing people with a nice basis of holdings. For most, the wealth created on Hive will come from many different sources. Few are loading up on one or two project tokens.
That said, however the goal is reached, we could see a lot of wealth generated on Hive. This will produce life changing money for hundreds of thousands of people. We are already seeing that for people in the lower income areas.
Can this produce a ton of millionaires? It seems like that is a great possibility. Splinterlands is showing us the model and it is not even close to being done. There are others that are going to follow. Airdrops tied to projects that offer a great deal of potential success, such as SpkNetwork will only enhance this.
What are your thoughts on this? Let us know in the comment section.
How many millionaires will Hive create?
---
If you found this article informative, please give an upvote and rehive.

gif by @doze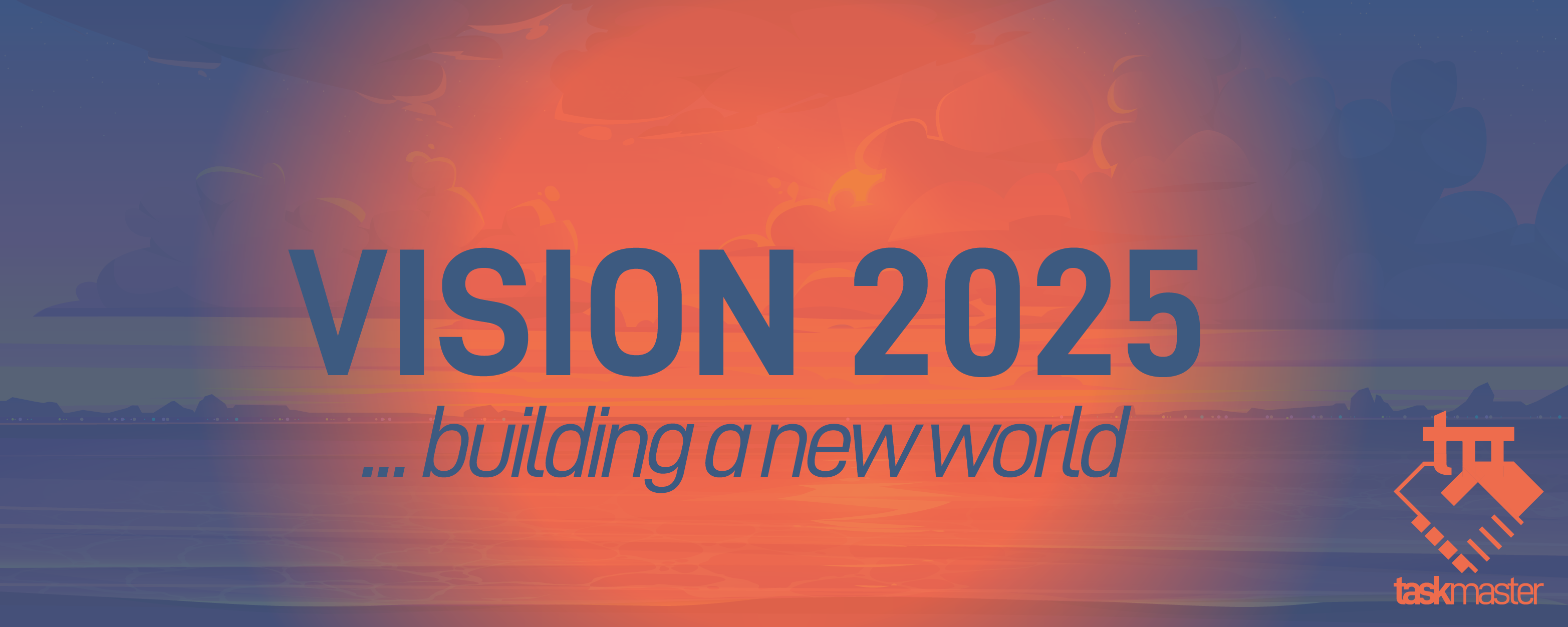 logo by @st8z
Posted Using LeoFinance Beta
---
---