Hive Bonds: How Much HBD Will Be Produced?

What a week it is for the Hive Backed Dollar (HBD). Since we last discussed it, some terrific things happened that should help to propel it forward.
To start, we saw the witnesses raise the interest rate from 10% to 12%.

While a 2% increase might not seem like a lot, keep in mind that it is higher than what the 30 years US Treasury Bond is paying. It is a base layer system with zero counter-party risk. This is a point that cannot be emphasized enough in this world of "rug pulls".
HBD As A True Stablecoin
Much of the focus in our discussion surrounding HBD is to make it a true stablecoin. The entire premise behind Hive Bonds is to help generate more HBD to enable it to function in that manner. It will help with the volatility associated with the price as well as offering the liquidity for people to conduct commerce. It would also provide Hive with a base-layer fixed income market, something that is being destroyed in our present system.
We also need sinks developed but more on that in a moment.
The Hive Backed Dollar is backed by $1 worth of HIVE. A question keeps coming up as to will there be enough HIVE available if we expand it at a great rate? For that reason, let us extrapolate out to see where we will be 20 years down the road.
Before getting to that, we need some context for the stablecoin market. Here are some of the present totals for the most populat stablecoins:
Tether 77 billion
USDC 42 billion
BUSD 14 billion
TerraUSD 9 billion
DAI 9 billion
As we can see, to be a legitimate player in this industry, billions of tokens are required. This only makes sense since it is used for commercial purposes. Many are starting to believe this will get into the trillions in the later part of this decade.
In short, we need a ton more HBD.
Going back to the post about Hive Bonds, we have these proposed rates: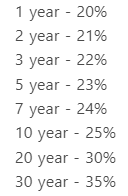 For the sake of this discussion, we will use the 35% rate understanding that not all HBD will find it into the highest yield category. Nevertheless, if we want to get the "most" case scenario, this will do it.
Running the numbers, starting at the roughly 25 million HBD in circulation today, using a 35% return, here is what the chart looks like:
In 20 years time, there will be roughly 10 billion HBD in circulation, presuming all HBD that was in circulation was put into the 30 year bond fund. While the likelihood of this happening is low, the key is will there be enough HIVE to back this. If the HBD total is 10 billion, that means we need at least a $10 billion market cap in HIVE to back that up. From where we are now, that is roughly a 20X over two decades.
---
We are ignoring the haircut rule which would push the market cap much higher. The idea is to see if there is a minimum level of achievability.
There are also other ways to create HBD outside the savings/bond realm. However, we can figure the 35% is overestimated and that will compensate for other means of generating HBD.
---
Of course, we are presuming everyone who has HBD suddenly wants to convert it to HIVE. This is going to be impossible since most of the supply, according to this example, would be locked up for varying lengths of time under a 30 Year Bond. Only a fraction of the HBD would be available for conversion even if it was desired.
Nevertheless, following this modeling, the amount of HBD available in 2 decades would be 1/7th the of today's Tether amount or 1/4 of USDC. It seems like this is still minor league comparatively speaking.
Naturally, the use cases become very important.
Use HBD To Bid On NFTs
Dlux.io just announced that people can bid on NFTs that reside on their platform. This is an auction-type system where users can sell their NFTs. Buyers have the option of making bids using DLUX, HIVE, or HBD.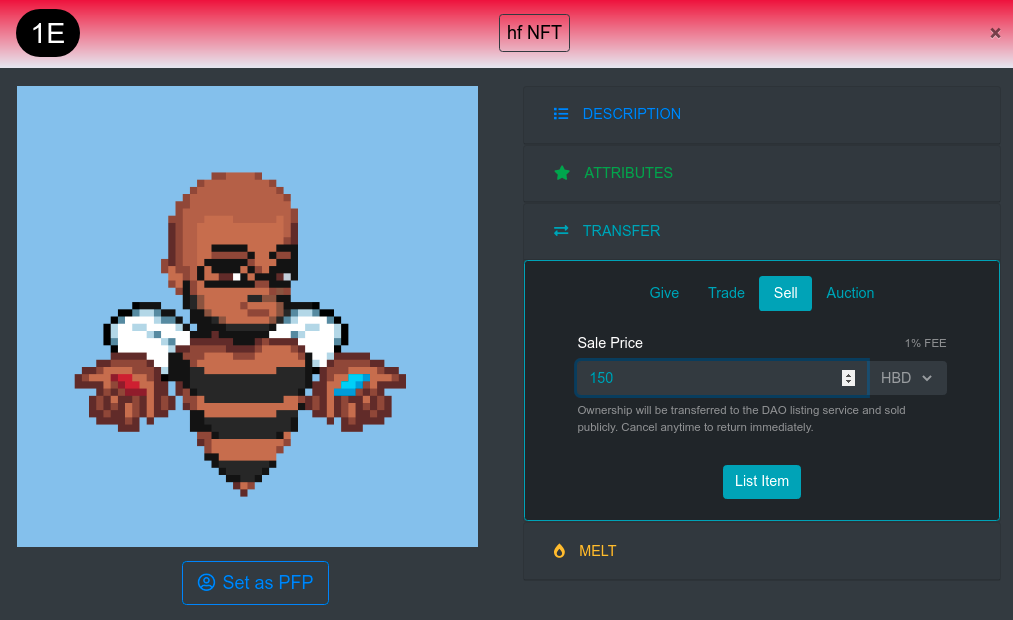 They added a few more features to their site according to this post:
Today we're releasing a few features that should make our NFTs more desirable to collect.
Hive and HBD denominated Auctions
Hive and HBD denominated Sells
Hive and HBD secure Transfers
Selling your Royalties is possible
This is one example of where expansion can happen on many levels. As the features available on DLUX grow, this makes it a more attractive destination to develop NFTs. Of course, as more NFTs are created, this will generate more auctions where people are selling and bidding. This will, in turn, utilize more HBD.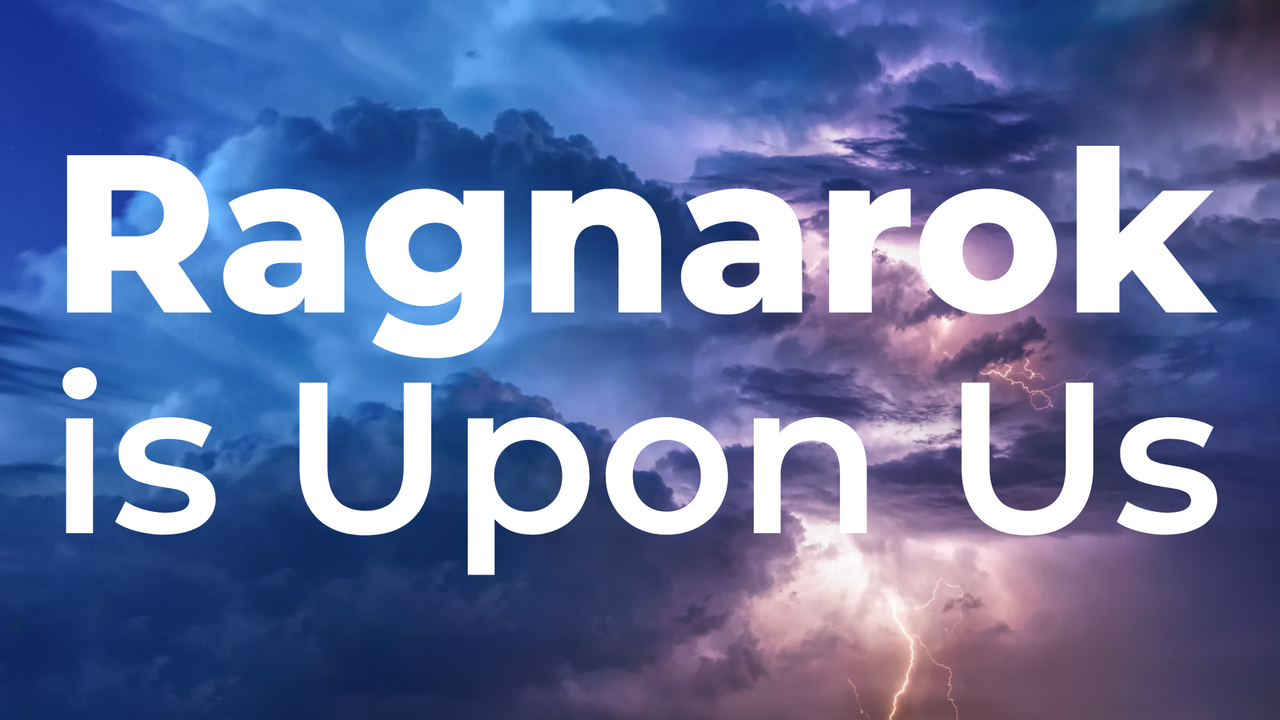 Ragnarok Is Coming
We just got a post called Ragnorak Is Upon Us. In it, we were given some of the details of a new game that is being released on Hive.
This is another NFT-based game that is leveraging the ownership ability that blockchain provides. The specifics were lacking at this time yet there was a piece that is pertinent to this article.
The game is going to use HBD as the purchasing token for some gaming abilities. There are a few examples listed in the linked article which you can check out.
It was summarized this way:
The game will have many HBD sinks. The HBD is sucked into a "blackhole" via the SIP v1, where it will be locked away to earn interest in perpetuity.
Here we see a key concept. The HBD is going to be "locked away" to earn interest. Obviously, by using the word "perpetuity", we can presume this is not a short-term period. Again, we do not have details of what it will be but what if a base-layer option to earn 35% annually was available? Would this be of interest to this gaming community? Think about the revenue that could be generated just in interest payments alone if the game became very popular. This could be used to fund rewards for the players as well as future development.
This is something that all could be resident as a Layer 1 feature on Hive.
Another point was made at the end of the post:
This post is already getting long, & we could talk about Ragnarok all day. The game itself we will break down next week. One tidbit we will leave you with is there are many levels to this game. For instance, a long-term MMORPG (think WOW, but you own it) plan involves the very NFT's you get. This will be a game foundation for many various interoperable game trees to grow from. One account, one deck, all games.
Can we presume that as the game trees expand, all purchases are going to require HBD? It seems very likely given the tone of the rest of the article.
In closing, it is safe to say that the previously mentioned rates will not produce too much HBD compared to the market cap of Hive. We know that not every HBD is going to be locked into the 35% category. In fact, we have to believe that the conversion of HIVE-to-HBD is still going to be a vital feature to generate the HBD required.
What if Ragnarok achieves a similar level of success as Splinterlands. While that would be amazing in the blockchain world, it is still small in overall gaming. Yet that alone would cause a huge need for HBD as players engage with their NFTs. A hundred thousand players would require some HBD to keep improving their experience.
As stated before, the situation with HBD is "the chicken or the egg". We need more HBD on the market yet, for that to happen, people want to see more use cases. This is going to be a continuing situation until enough use cases are on the market for people to use. Then, it is likely, that most will realize how we need a lot more HBD available.
Hive Bonds is a way to develop a fixed income market on Hive which provides a powerful DeFi solution. At the same time, it will generate a lot of HBD which is required. Finally, people will not be afraid of locking up their HBD long term since the bonds will have the liquidity through the selling of the "bond token" on the internal and secondary markets.
All of this will help to stablilize the price of HBD, helping it to keep the peg.
We are already starting to see some things falling into place.
What are your thoughts? Let us know in the comment section below.
---
If you found this article informative, please give an upvote and rehive.

gif by @doze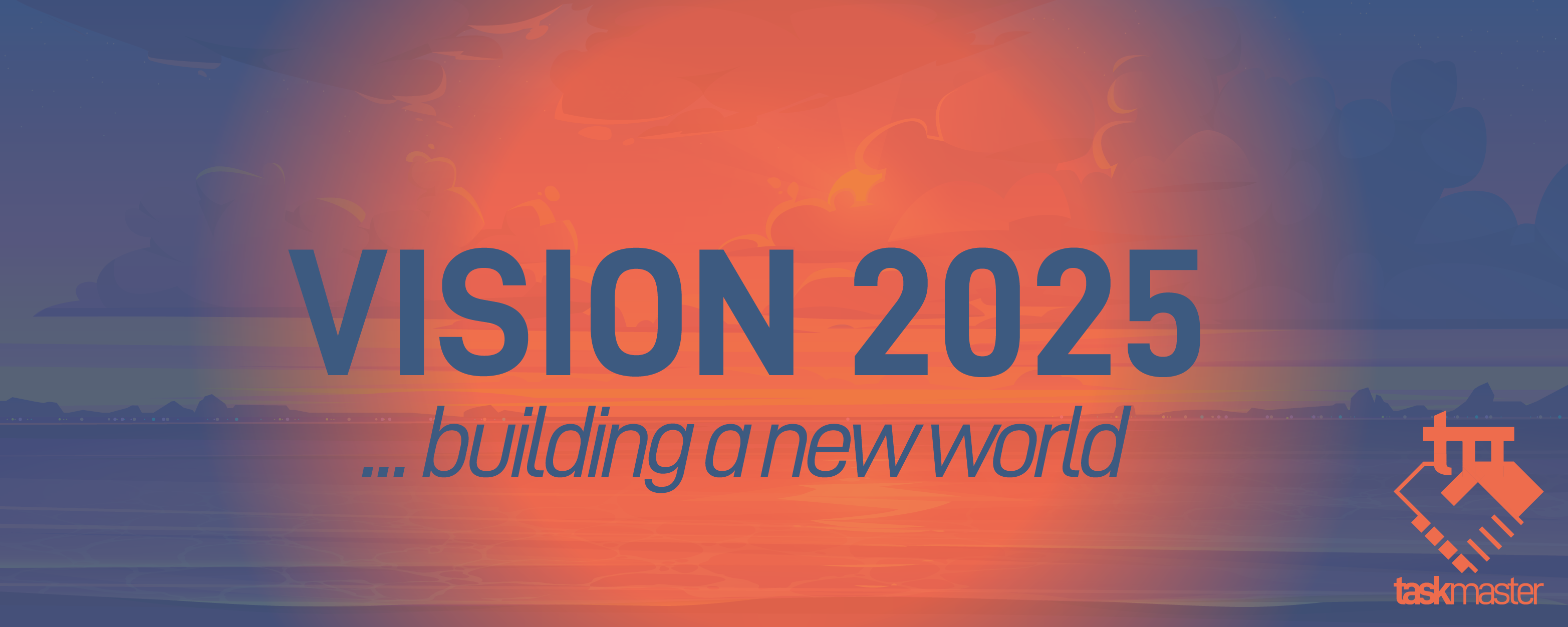 logo by @st8z
Posted Using LeoFinance Beta
---
---