Justin Sun Putting A Bullseye On His Chest
Marketing genius or scammer?
Whatever one's personal feelings for Justin Sun, there is little doubt he is a lightning rod in the cryptocurrency space. The Tron founder is known for his acquisitions which come with a lot of hype. Where Sun might fall short is in delivering.
All his projects appear to be light on coding. Instead, Sun tries to bundle together projects that are basically copied from others. In an open source space, this is a viable way to approach things.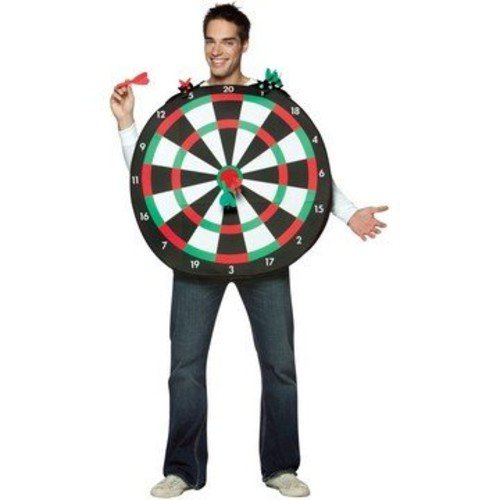 Source
The challenges enters when things go wrong.
Thus far, Sun exploits have not caused him much issue. One barrier he has is we are dealing with a global industry. Hence, jurisdiction becomes difficult. Most long time crypto people know to avoid his projects. This does not keep him from pulling continuing to try to bilk people.
His Entry Into The Stablecoin Space
By now, everyone in cryptocurrency is familiar with the UST/LUNA debacle. This garnered headlines both within and outside cryptocurrency
Isn't it ironic that, as that was taking place, Justin Sun decided to step in?
Savior or opportunist?
At the point where the industry was suffering its worst setback since Mt. Gox, Sun announced his new stablecoin, USDD. Of course, in Sun fashion, he had to one up everyone with a 30% payout on staking.
All is not going as planned for Sun on this one. There are already accusations of of misrepresentation, fraud, and Ponzi scheme. This was brought up by Coinzilla on YouTube.
He further went on to post this on Twitter: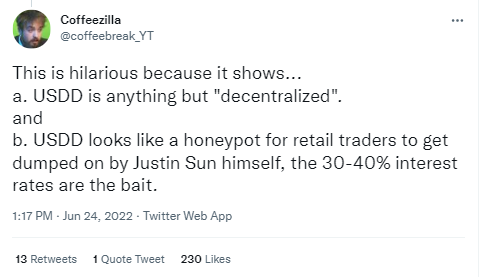 We have articles appearing on Hive laying out how USDD is a Ponzi scheme and it is Sun's exit scam from Tron.
Both are echoing what is floating out there.
Could this be the path that finally leads Sun into the arms of the authorities?
Stablecoins Are Radioactive
Since the fall of UST, stablecoins have become the third rail of cryptocurrency, at least as far as the regulators and politicians are concerned. They are radioactive at the moment.
Rarely a day passes that someone is not harping about them and how much of a threat they are to the "stability of the financial system". This is all bogus, of course, since the amount we are dealing with is nothing more than a rounding error for the global financial system.
Nevertheless, the powers that be are presently up in arms over this. For now, it is best to fly under the radar as much as possible.
That is not Sun's style. He is all about the pomp and circumstance. He seeks to garner attention, no matter what the cost.
Thus far, it hasn't really hindered him. However, USDD could be his Waterloo.
Now is not a good time to be capturing attention of shenanigans involving stablecoins. All eyes are on them and, if one is misbehaving, this is putting a giant bullseye right on the chest. Sun is walking right into this one.
Decentralization Is A Defense
We are entering a period where there are basically two choices: be decentralized or fully comply.
With the introduction of regulation, anything that is not truly decentralized will have to obey. There is simply no way around it. Any point of vulnerability that exists will be targeted by governments and the associated agencies.
This is something the cryptocurrency industry is going to learn. Unfortunately, for many, it will be a rude awakening.
As discussed by many, Founder's stake, ninja-mines, and an overwhelming amount of control will cause one major issues going forward. If it can be pieced together who is running things, there is the target.
With USDD, Sun is going to have a tough time denying his full control over the system.
According to the investigation, the answer is 683 million tokens out of a total number of 723 million tokens that have ever been minted. This indicates that Sun has personally minted 94% of all of the tokens that are now in existence of the stablecoin, despite wanting to see USDD grow in an organic decentralized fashion.
Source
It is rather difficult to maintain a claim of decentralization with numbers like this.
Hive Backed Dollar
On Hive, we have the Hive Backed Dollar (HBD) which serves as the blockchains stablecoin. Unlike what Sun is doing, we are not looking for the quick hit with this.
Instead, there are different project teams that are working on the development pertaining to this stablecoin. Over time, we are seeing progress. It might not seem monumental but, in this realm, being the tortoise is much preferred to the hare.
This is often a topic of discussion within the community. Figuring out ways to expand the depth and sophistication of this coin is vital. That is something that Sun simply skipped over.
As they say, a leopard does not change its spots. Those who are always looking for shortcuts are not going to alter their approach.
Nevertheless, the way things are right now within crypto, that could be putting a big ole bullseue on one's chest.
Justin Sun is accustomed to ducking arrows. Unfortunately for him, they might be increasing in number.
---
If you found this article informative, please give an upvote and rehive.

gif by @doze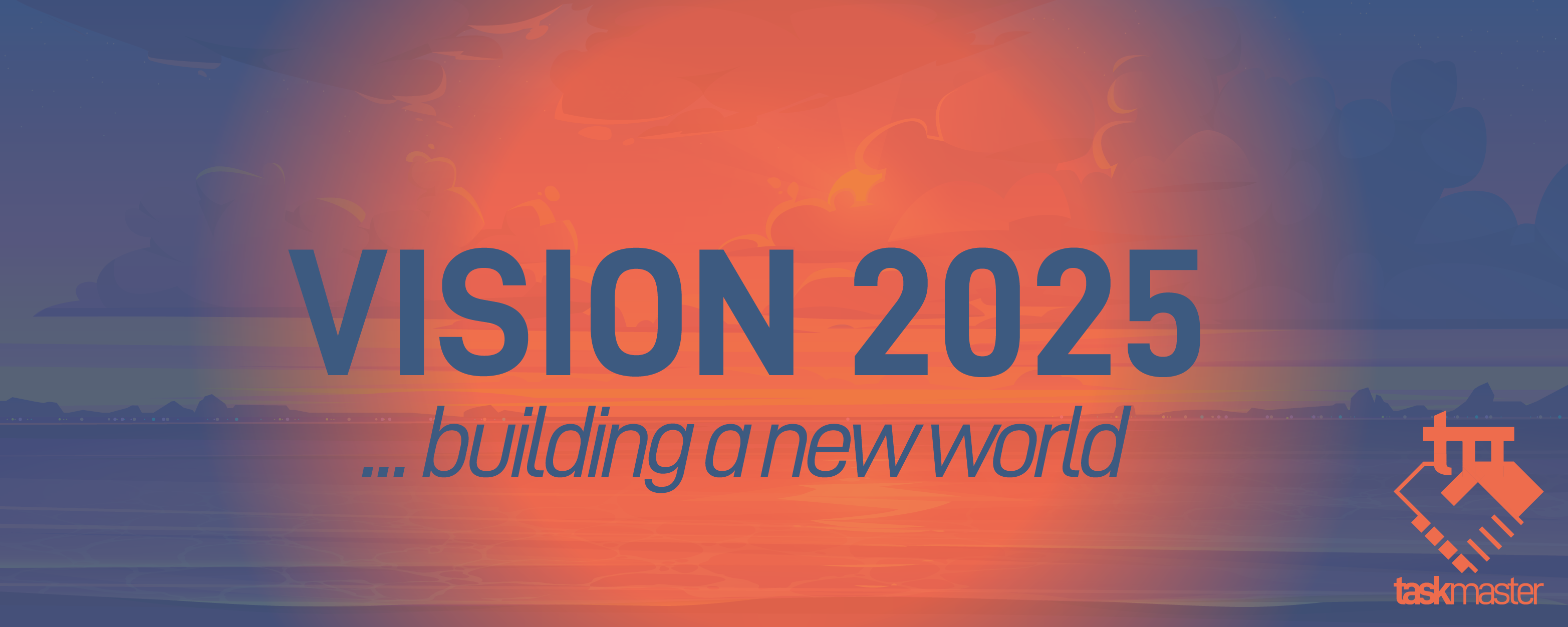 logo by @st8z
Posted Using LeoFinance Beta
---
---