The Case For HBD Eating Up Hive
We are watching closely our stablish-coin to see how it reacts. So far, we are looking at a peg that is not holding. The recent bull run saw a massive run up in the price of HBD, over 25% above the peg price. While this is much better than the multi-dollar price we saw in the past, it still is not acceptable.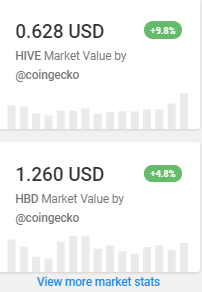 Therefore, more is going to have to be done to aid in this effort.
One of those the solutions is an adjustment in supply. This is something we already see changing.
The Case For A Stablecoin
Hive having a truly decentralized stablecoin is something that is needed.
HBD is not backed by any organization or entity. It runs on the Hive blockchain the same as the native token. This is important since we are seeing a lot of crackdowns by regulators. At some point, it is a good bet they will go after stablecoins in some fashion.
There is also question about what is backing those stablecoins. Tether is one that have come under heavy scrutiny about whether there is really the asset backing there. Many feel it is not. This could be another point of vulnerability if they are pushed to an open audit.
A stablecoin is vital for commerce. Cryptocurrency, in general, is treated like stock. People want to buy low and sell high. They are looking at the pricing each day, wanting it to moon. Obviously, this can be terrific for wealth creation yet it useless for commerce.
Merchants want stability. They do not want something that will go up 200% in a day. While that might seem like a windfall, if it can do that, the price can also drop 50% over the same duration. As we can guess, this makes the pricing of products and services a nightmare. Add in the fact that things can change quickly and merchants would be assuming a risk that they do not want.
Of course, having a "stablecoin" that moves 28% above its peg is not healthy either. Therefore, more needs to be done to get us there.
Hundreds of Millions of HBD
If HBD is going to be a commerce token, the supply is going to need to increase greatly. This is something that is required to have a thriving economy. Ultimately, the more liquidity in an economy, the better it is able to function. Those that lack liquidity tend to get locked up as the velocity of money stalls out.
By now we are all familiar with this chart by @penguinpablo that comes from his Hive On Exchanges Report.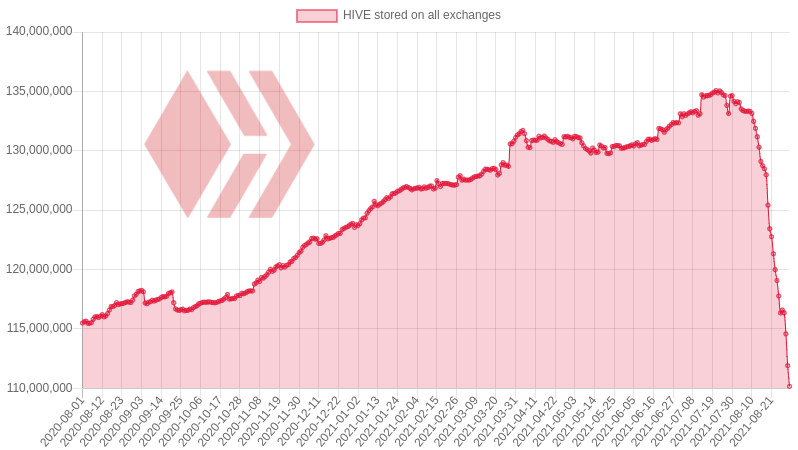 Many are pointing to the success of @splinterlands and the fact they are signing up so many accounts. This is causing a two-fold demand on Hive. The first is the fact it costs 3 Hive to create an account. In the volumes they are signing up, it is likely they are doing this for each account, compensated by the sale of Spellbooks.
The second is, of course, the need for each account to have a minimal amount of Resource Credits. Whatever the determined amount, the game required at least 10-15 HP per account that goes live and plays. When having 7K+ new players a day, this can add up.
There is however, another factor that could end up coming into play. Over the last few weeks, we see the amount of HBD in existence increasing. We are now near 25 million.
Here is what the situation looked like two weeks ago according to @dalz taken from Hiveblocks.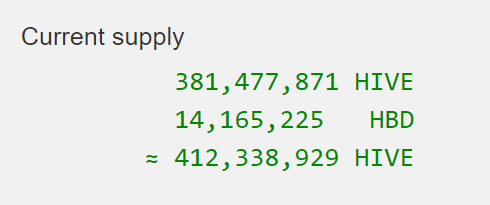 This is what it looks like right now, taken from the same site.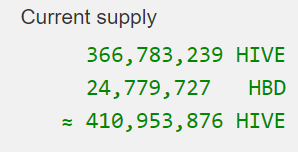 As we can see, in a two week period, almost 10 million HBD were created by converting Hive.
According to the post on [Printing HBD](Printing HBD | Data On HIVE to HBD Conversions And The Opposite By Date And Accounts) we see this chart and conclusion.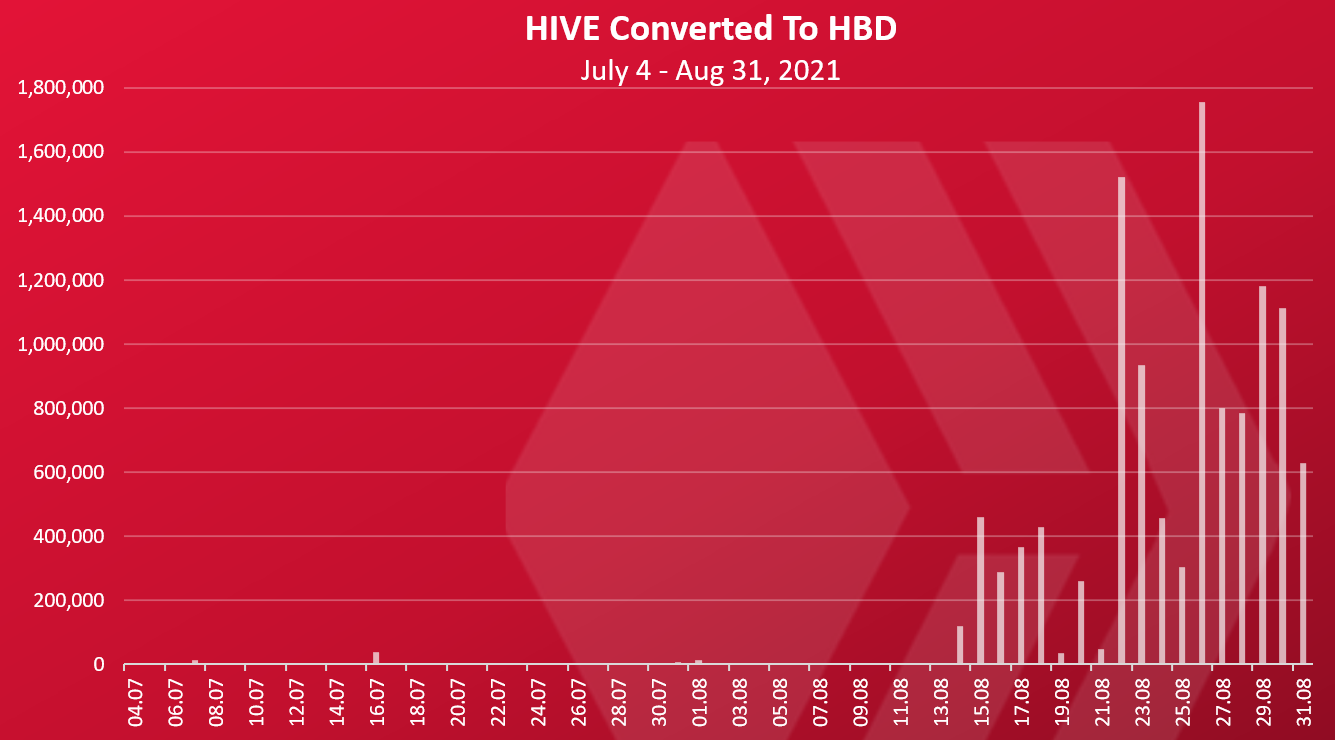 A total of 11.5M HIVE was converted to HBD in the months July and August.
You can only imagine how much Hive will be required to get this to a few hundred million, a minimum level required to operate as a commerce token.
Ways To Create HBD
The blockchain is programmed to generate HBD in a few different ways. There are a few options to tinker with it but overall we see how it is going to unfold.
This is obviously one of the easiest ways to get HBD into circulation. Content creators opt for the 50/50 payout which will give them half their rewards in HBD with the other half in HP.
There is one issue with this. If the HBD to Hive ratio hits 10%, then the blockchain stops printing until the level is below it. This is something that is going to be cause for debate.
For a better idea about this, check out Hive Dominance: HBD Buffer which presents the case for raising this limit), something that in light of what is happening makes sense.
Interest On HBD In Savings
The last hard fork actually increased the printing of HBD since any token put into savings will earn 10%. This means that the yearly amount of what ends up in savings is increasing 10% a year. Here is another area that can be altered to get more HBD into circulation. If the Witnesses decide to increase the rate, the total HBD will see more going into each savings account that is holding it.
This leaves us with the conversion. To get the big numbers, this will obviously be the primary method.
We do see an interesting loop. The value of Hive actually can assist in the expanding of HBD. When the price of Hive increases, as long as it is faster than the increase of HBD, it can produce more.
For example, if the price of HBD is $1.30 and Hive $.65, it takes two Hive to create one HBD. However, if the price of Hive jumps to $1.30, it only requires one Hive to generate a single HBD.
Thus, with the existing supply, the higher the price in USD, the larger the amount of HBD that can be put into circulation. Of course, the decreasing of the Hive supply through conversions should help to push the price of Hive even higher.
We can see how this can factor if in a couple applications are doing like Splinterlands and if millions of Hive are locked up in the SIP when that is released.
Suddenly, the liquidity of Hive is not as plentiful, forcing a run similar to a short squeeze in stocks.
For the moment, it looks like there will need to be a lot more conversion of Hive to get the price of HBD moving back towards the peg. The HBD Stabilizer is operating in high gear to do its part to get things aligned. However, it is evident that application is being overwhelmed by what the market is doing.
Nevertheless, if we start to see commerce emerging on Hive utilizing the HBD as the currency, a lot of Hive will be eaten up. Even 25 million HBD is nothing for commercial purposes.
This is just another way that the value of Hive will be pushed higher.
---
If you found this article informative, please give an upvote and rehive.

gif by @doze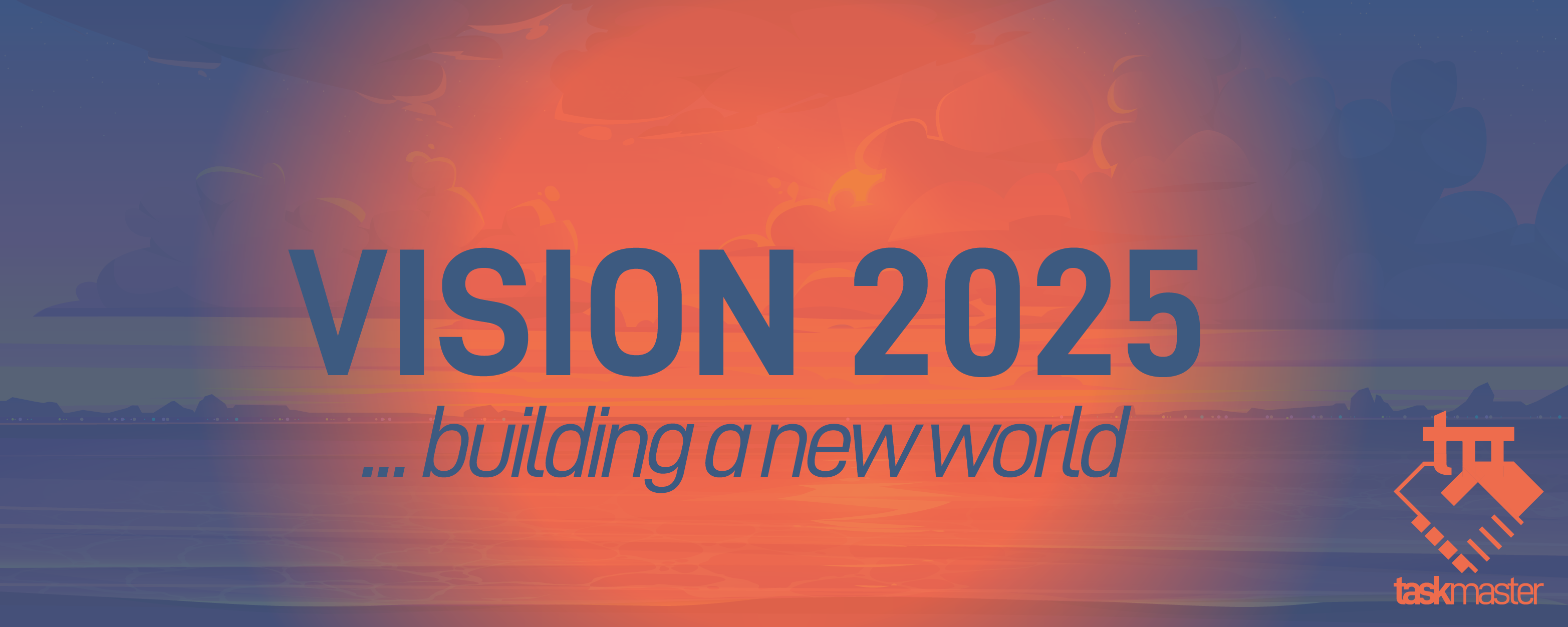 logo by @st8z
Posted Using LeoFinance Beta
---
---