Are We Heading Towards A Capital Crunch?
Money. Money. Money.
It fuels everything. This is at the core of our progress of society. All development, technological or otherwise, is funded through capital flows. This is something that has been with us for many decades.
The question is are we entering an era of when it will stop? This is something the few consider yet it is perfectly valid to look at.
We have a major storm potentially brewing and few seem to be bringing it up.
Old People
At the core of the issue, at least for the developed nations, is we have a lot of old people in the making. Nations are aging and the demographics are not pretty. This is going to create a host of issues, from healthcare to taxation. How are countries going to handle this?
We all know that as people age, their productivity starts to diminish. Throughout the careers, they work in an ascending fashion until they get near retirement. That is when things start to wind down as all extra money is poured into retirement accounts. Of course, the day eventually comes when the person leaves the workforce altogether.
It is easy to see the economic impact through the loss of productivity. However, what most do not consider is what happens when all that capital dries up?
When people retire, they tend to remove their money from markets. The tendency is to get more conservative in what they do with their money. This leads to market pullbacks while also hindering investment. As the money is directed to sustaining oneself, the productivity of those dollars (or whatever the currency) declines.
The challenge is that many countries are going to see this happen with millions of people over the next decade or two. In the United States alone, it is estimated there are more than 10K Baby Boomers retiring each day. These are not only removing their skills from the workforce but also taking their money with them.
Following In Japan's Footsteps?
Is everyone destined to follow in Japan's footsteps.
We all know that country entered a demographic crisis in the mid-1990s. Since that time, they battled horrific deflationary pressures, pulling out all stops to try and reverse the trend. The problem is that little worked. No matter how much money was thrown at the problem, the demographics could not be overcome.
This is something that shows up in the asset clases.
Here we have a chart of the Nikkei 225. Notice how it never got back to its all-time high.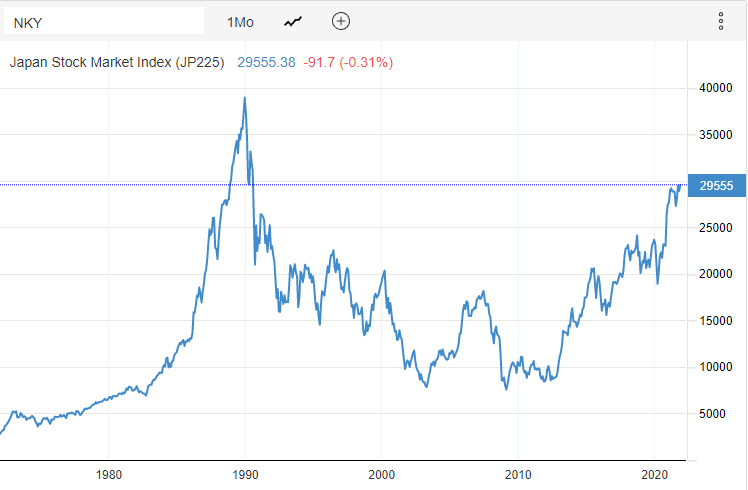 Even after the run up the past decade, the index is still off more than 23% from where it was in 1990.
People might point out that it was in a bubble. While that is true, the same point could be made about the equity markets in the US on a number of occasions and yet, today, we are sitting at new records. Hence, over time, even bubble levels can be surpassed although it could take decades.
Then we look at real estate. Tokyo is the world's largest city by population, accounting for near 1/3 the country's population. Nevertheless, we see a similar result in that sector.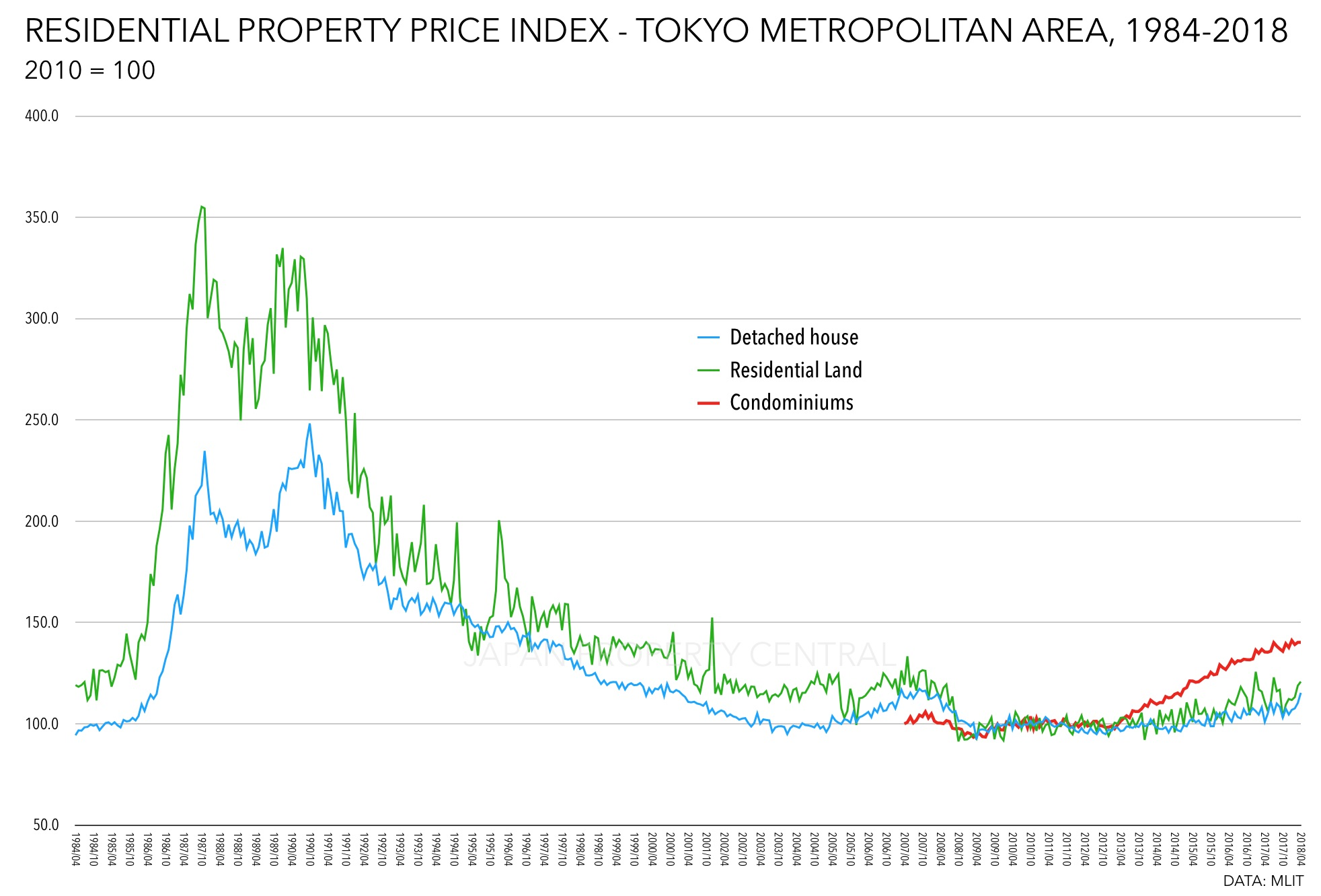 Surce
The problem with both of these example is there is a great loss of wealth. Few are able to time markets, especially when they take on "bubble-popping" proportions. The fact that they are still far below the highs set 3 decades ago shows how dire the situation can be.
Developed Nations Going Down The Same Path
We are likely to see a similar situation in many countries of the developed world. Some of the largest economies are on the verge of getting hit. At the top of the list is China.
There is little doubt that country experienced a huge run up in the price of real estate in that country. Over the last couple decades, the building that took place is stunning. They really were able to construct a lot in a relatively short period of time.
The problem is that, if it all crashes, the loss of wealth by the Chinese population will be enormous. This is not like the US housing bubble that was built on "liar loans". With this situation, people were putting down as much as 50%, while signing multi-generational mortgages.
Just consider what could happen to a city like Shanghai. It could easily follow what happened in Tokyo.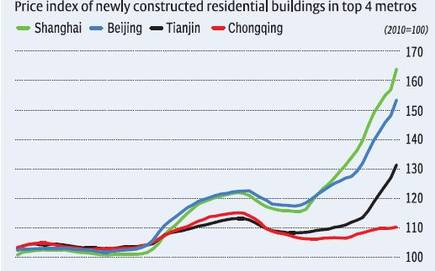 Source
There is every reason to believe that China is going to follow Japan down the demographic hole. The country had the one child policy in place for 40 years and it means that the country has a peaking population. There is also a great deal more males than females of child-bearing age. It is a situation that prevents the kick-starting of a baby boom.
As nations age, where will their economic productivity go? Will they follow Japan, realizing a slimming down of everything? If so, this is going to have a tremendous strain on capital since it is going to dry up.
This is just another reason why cryptocurrency is crucial going forward. We need to get as much wealth in the hands of the younger people around the world to fund technological expansion.
---
If you found this article informative, please give an upvote and rehive.

gif by @doze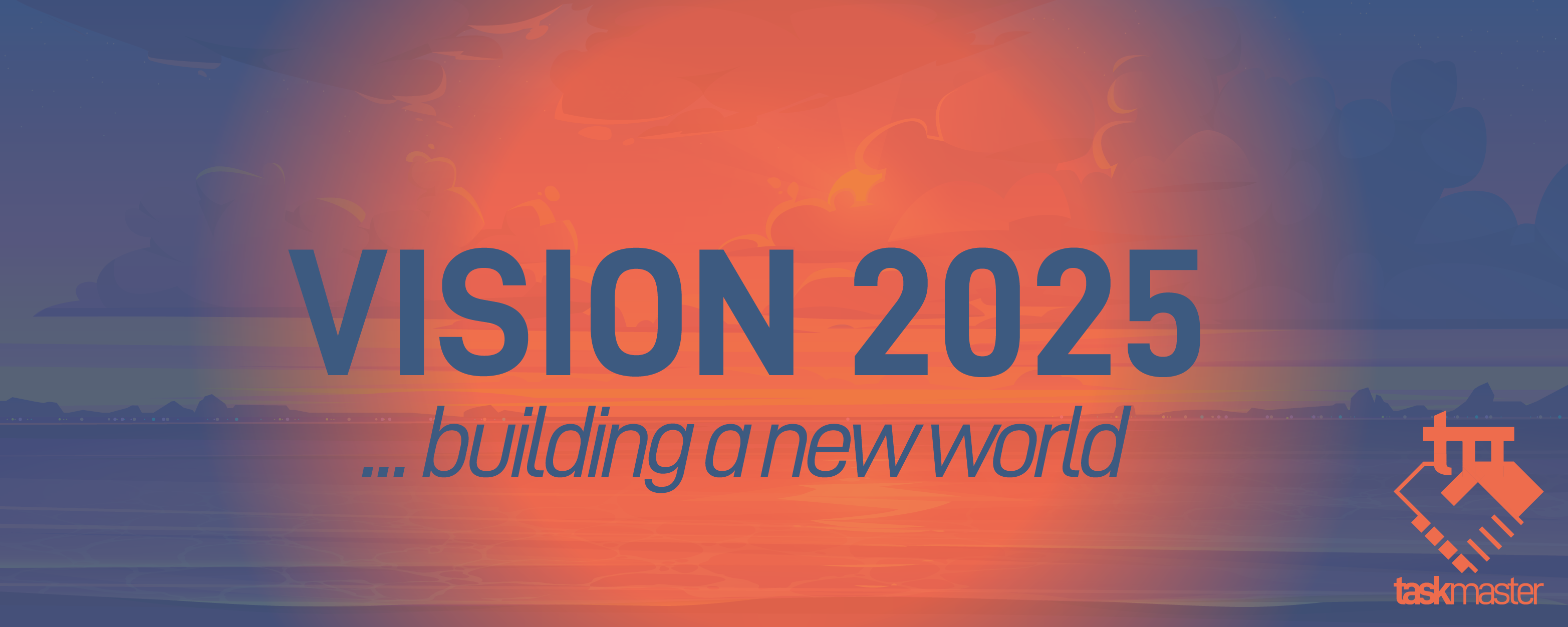 logo by @st8z
Posted Using LeoFinance Beta
---
---