LEO Is A Path To Wealth
Before starting, we will state that none of this is financial advice. I am just some bald guy in sunglasses making observations. As always, do your own due diligence and get the proper information from the professionals.
With that out of the way, who is ready to amass a huge amount of wealth? Before answering that question, tell us this: were you stacking LEO over the last year?
If the answer to the second is no, you are going to be kicking yourself. Oh well, no use crying over spilled milk. That said, there is valid reason for anyone reading this to take what is being shown here very seriously.
LEO is a wealth builder. It might not seem like it considering the path the token took over the last year. Anyone who knows me, or follows us on Cryptomaniacs, understands I do not look to markets to tell me what is valuable. Grasping how markets are driven (by fear and greed) leads to the conclusion they are insane. Therefore we have to use other techniques to assess what we think has value. Markets will eventually catch on although it tends to take some time.
My tune on LEO was consistent for the past 3 years. It was something that had great potential. This is no longer the case. It moved passed potential and is now in the value building stage. Some of the pieces are falling into place where we are seeing the value it brings to the market (non-financial) being shown.
The question is will the markets (financial) catch up?
On this case, I remain unphased: who cares? At some point, the market will see what is going on. However, that doesn't mean that all is dead.
In this article we will look at a couple points that are very telling. Basically, if you are not taking LEO very seriously, it is a mistake. This is a fantastic path to wealth.
Buy Wall
Do you know what a buy wall is?
This is something that investors and traders often use as a means of trying to determine if an asset is in demand or not. It essentially is a graphical representation of the bid and sell orders that were placed.
Most do not focus upon this because it rarely is telling of anything meaningful. It could, perhaps, confirm a viewpoint that one has although not often. Mostly people are continually putting in buy and sell orders on things. With automated trading, this is constantly changing.
Once in a while, though, something stands out. This is one of those times. Here is what the LEO buy wall looks like on Tribaldex.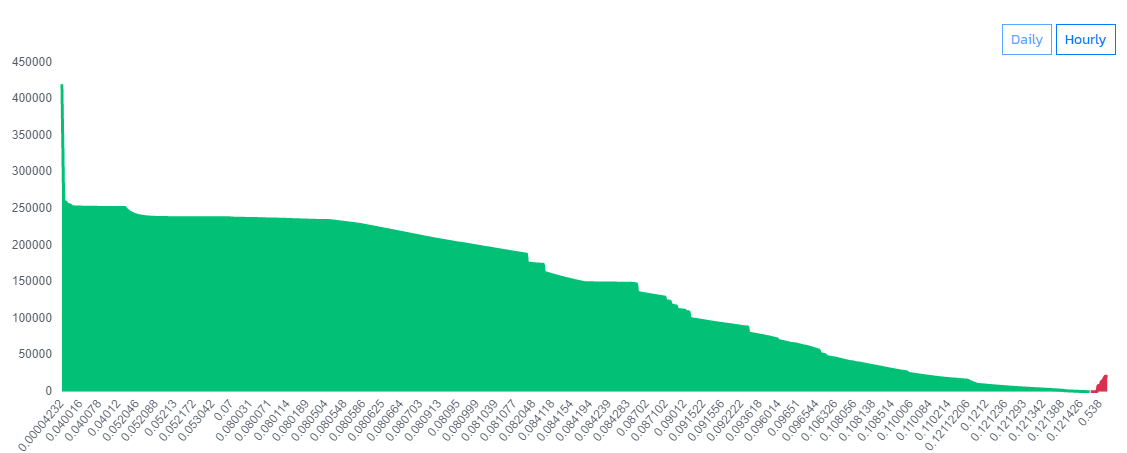 That is no joke.
To let you know a bit about me, I have either followed or invested in markets for over 35 years. This is the craziest buy wall I ever saw. The green is bids and the red sell.
So what does this tell us?
It is screaming there is very little LEO available to buy.
In other words, if you are a LEO holder, you should be very excited.
Sell Orders
We know markets are always changing. This is a snapshot in time. It is likely somewhat different by the time you read these words.
However, honing in on the sell side of the chart, what do we see.
Here is what the sell orders look like.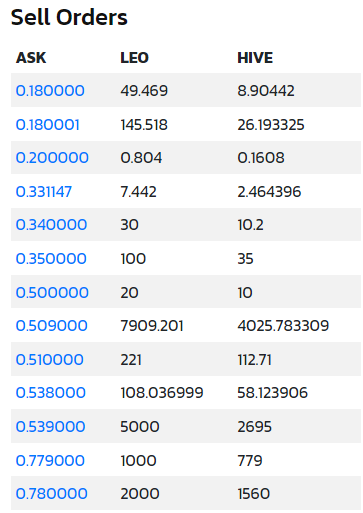 What do you see here?
When I look at this table, I see that, as it stands, 100 HIVE, or less than $40, will move the price up to over .50, or about 17 or 18 cents.
Now, before you get too excited, if someone did going in and sweep up all that LEO, other sell orders would appear. The point of this exercise is to realize that LEO is in short supply, at least on the open market.
Again, revert back to the buy wall graphic and look at it closely. This is the data that is captured there. There is not a lot of LEO between this price and $1. Once again, do not get to frothy over this. As the price goes up, sellers enter the market to take profits.
The point, so all are clear, is LEO is tightly held.
Gain
We all look at those tokens that jump a great deal with ency. PEPE garnered theattention of many over the last week. A lot are talking how they missed out.
While LEO is not in the PEPE category, there are some good things happening. Here is the 24 hour gain:

Nothing wrong with a 63% gain in 24 hours.
Be mindful, we should take this with a grain of salt. It is possible for someone to sell at market price and that get cut in half or by 2/3. Regardless, it does who how things are happening with LEO.
Build First
Leofinance has spent the last few years building. This is what always separated it from many other things in cryptocurrency. There was no monkeying with tokenonics to try and generate hype to send the price flying. Instead, value was being built. A lot of this meant experimentation, with some failures along the way.
In spite of that, we kept moving forward. We now have a couple revenue pieces, one that is already enter the market and placing buys. At the same time, we know the ad revenue purchases are just around the corner.
This means that we are going to see revenue flowing in to buy the token. It is not often we find something like this in cryptocurrency. Most depend upon people from the outside bringing money in and becoming the new buyers. Leofinance is operating differently.
The path is quickly unfolding. We are going to see continued buy pressure on LEO. The goal, as outlined in other articles, is to keep developing business endeavors under the Leofinance unbrella that generate revenues and keep adding buy pressure.
It is something that we can keep doing for years to come. The hardest part is to get that first spigot turned on.
LEO is a path to wealth. It is only a question of how much.
---
If you found this article informative, please give an upvote and rehive.

gif by @doze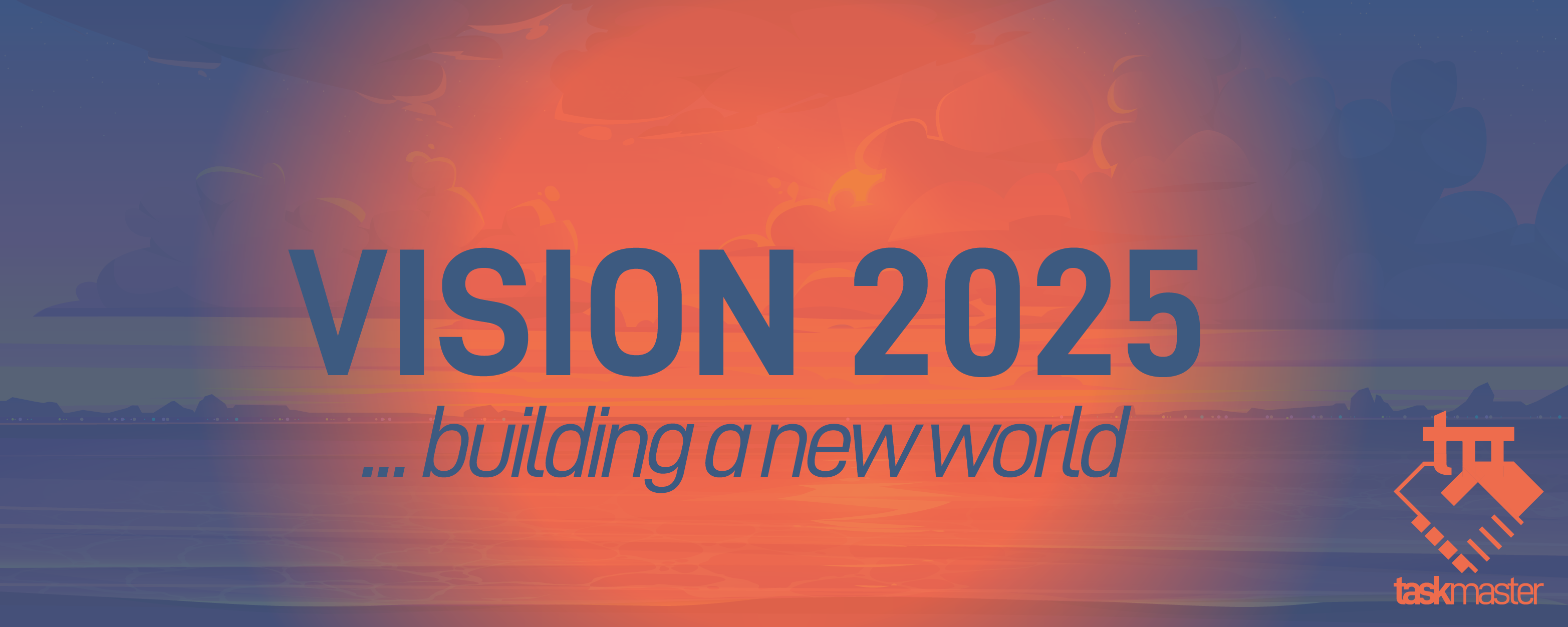 logo by @st8z
Posted Using LeoFinance Alpha
---
---