Leomarkettalk Achieves Enagement Goal
@leomarkettalk was started as a place for people to come and just kick back to relax. The idea is to get engagement happening on-chain using the comment section.
Since we are all anxiously awaiting the release of #ProjectBlank, it is a terrific way to practice for the introduction of that application.
Over the months, we have seen the traffic in there grow to dozens of people dropping by. The number of comments have increased steadily throughout the first part of the year.
Last week, we had an all time record, where we had 5 consecutive days of more than 600 comments. That is more than 3,000 comments. Keep in mind that according to the weekly reports put out by @leo.stats, the entire Leofinance platform has less than 10,000 comments a week (from the frontend).
Leomarkettalk was able to do more than 30% of the weekly total in just 5 days.
Also, at the beginning of the money, we set a goal of 10,000 comments made within Leomarkettalk for the month of April. March was the previous record with just over 8,000. That put our daily target at 333 per day.
Here is the chart as of yesterday.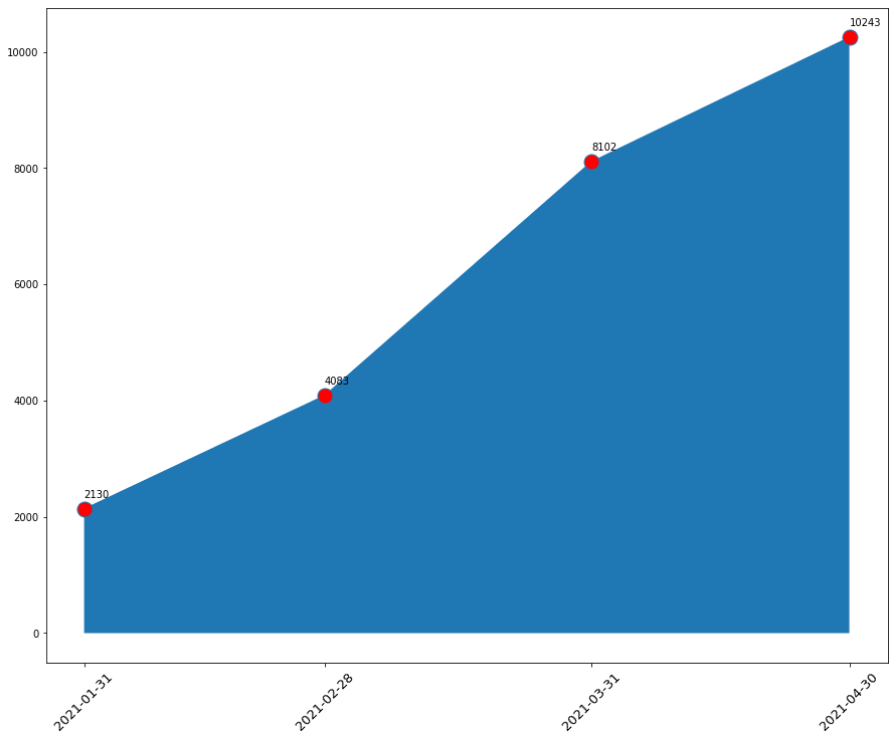 As you can see, we crossed the 10K level with a few days still left in the month. This means that the goal which looked like a bit of a stretch earlier in the month was accomplished.
What does this all mean?
On the large scale, it really isn't of great impact. However, it is an exercise in getting people to think about engagement. We have a lot of people engaging, they simply are not doing it onchain.
Why is this important?
Frankly because people will not stick around someplace that is dead. It is really that simple. Think back to the forum days. Did you go to a site that hadn't had much posted of late?
Well, take that idea and fast forward to this era. We are well past the forum stage and into social media. What Leofinance is lacking is the social aspect. According to the stats, once against from Leo.stats, there were over 1,000 people who posted from the front end.
Yet, we could not reach 10K comments in a week. Overall, for the month, we had roughly 35K comments. That is an average of 35 per person, FOR THE ENTIRE MONTH.
Are you telling me people are only capable of making an average of 1 comment a day?
People wonder why Leofinance and Hive are not taking off. There are many reasons for that, more than can be put into this post. However, one of the main reasons is that Leofinance is essentially a dead forum.
Sure, there are posts being put up throughout the day. That is steady. Yet, if we look into those posts, there are very few comments. Outside some automated posting, there often is nothing there.
Now I will grant a lot of what is posted on Leofinance is tough to comment upon. Many of the posts are really nothing more than reward scalping. People using DBuzz, a microblogging application, do not deserve an upvote let alone a comment. Leofinance is a long-form site. So put in a bit of effort.
Of course, before targeting that, are we doing our part to aid Leofinance going forward. Many talk about needing more users. Why do we not market and bring people here? Well, why market to bring people to a place where there is little engagement. They will just head back to Twitter, Facebook, or wherever.
The deal with tokenization is that we are all owners now. Each of us is responsible for the path and direction of this project. Yes, the team developing the applications and operating on that level have a lot to do with it. Nevertheless, that does not exempt people from doing what they can to enhance things.
Here is an idea expressed by @hitmeasap: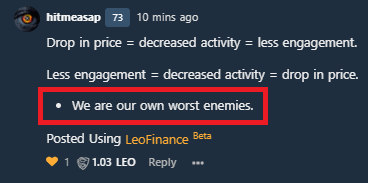 We certainly are.
It seems many want to take yet refuse to give.
Leomarkettalk shows what a few people can do it they dedicate themselves to engaging. These numbers were the result of, maybe, a few dozen people stopping by. What happens to this platform if there are 500 people actively engaging each day?
In my mind, this is something that everyone not only can do, but if they are a LEO holder, has a responsibility to do. It is amazing how people are quick to churn out a post yet refuse to set aside some time to comment.
It is hard to have social media, even focused upon finance and crypto, without the social part.
Perhaps this is why we see a chart like this: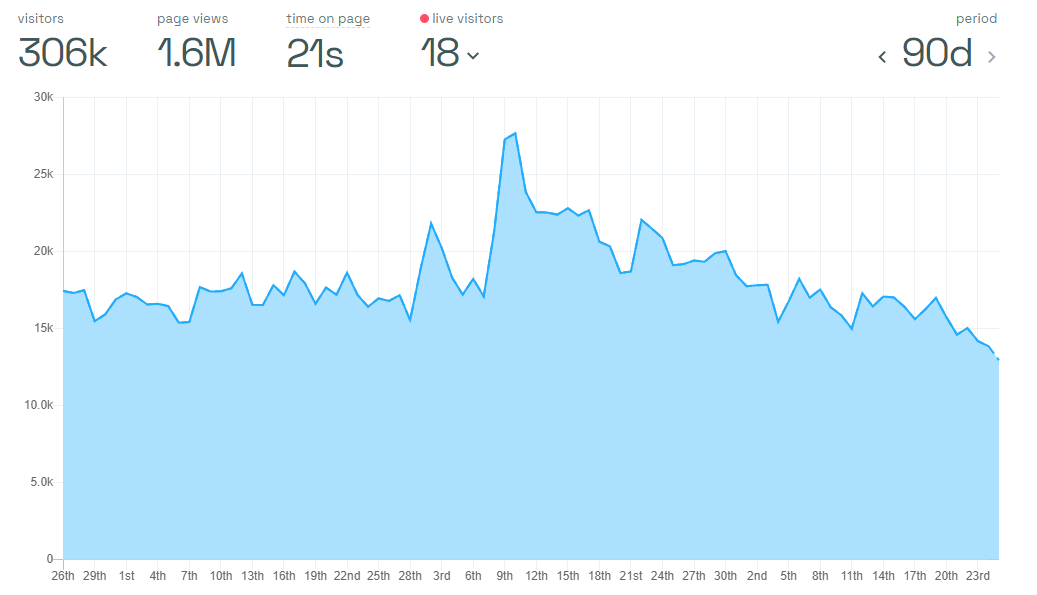 ---
If you found this article informative, please give an upvote and rehive.

gif by @doze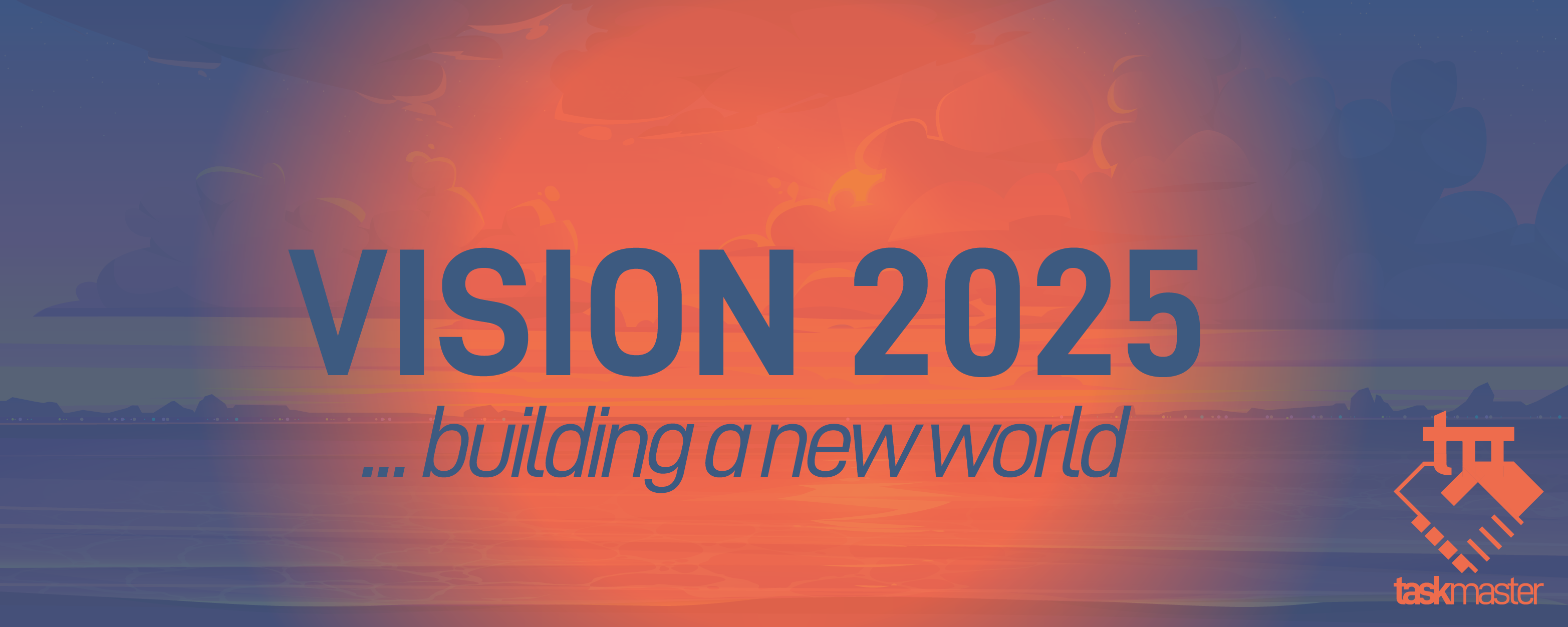 logo by @st8z
Posted Using LeoFinance Beta
---
---