LeoThreads Notifications: Engagement On Steroids
Leofinance keeps chaning things.
We were told that May, after the UI entered beta, would be the month for debugging. There were a lot of things that blew up immediately, especially with mobile.
That said, we did progress through those 31 days, and improvements were made. Of course, any developer will tell you that never stops. But we do see massive improvements compared to where we were a month ago in terms of the site performance.
Once that was addressed adequately, we were told that features would be added back in. Sadly, the edit button on posts is still missing along with GIfs and emojis. So, we will have to be patient on that end of things.
What we did get was an update to the publish screen. Posting long form has been much better over the couple weeks.
There was also a change in the layout of the "Articles" tab. This was just added so go explore on your own.
One thing that we will highlight in this article deals with notifications.
Notifications
An update was made the other day which brought filters to the notificaitons. We also saw the layout redesigned for better reading.
Here is what it looks like.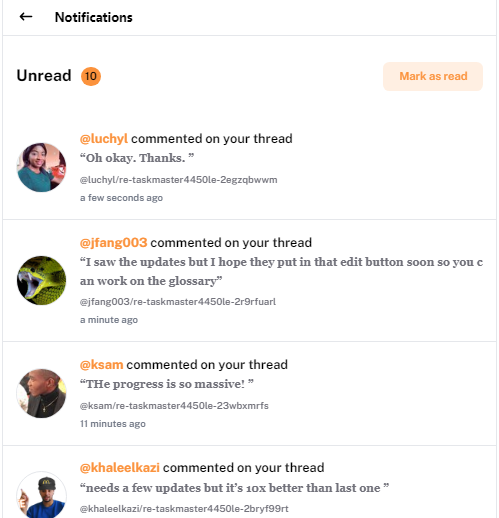 Notice how the comments are aligned and each ready to reply. The nice thing is the ability to right click on each, open in a new tab, and reply. This takes engagement to a completely new level.
Earlier today Khal was commenting how he was able to respond to 50 comments that were made to him regarding different facets to the site. It took him only a few minutes to go through them all.
Of course, the filtering helps. We are able to isolate comments and mentions, to respond to those directed at us. Things such as votes can be filtered out of the list.
There is another piece to this.
Conversations
One of the keys to engagement is conversation. In other words, being able to go back and forth with another.
Here again, we see how notifications can help with filtering. Let us use the search feature.
Let us say we want to focus upon what a particular threader directed to us. We can search based upon their username (or parts of it).
This is what it looks like.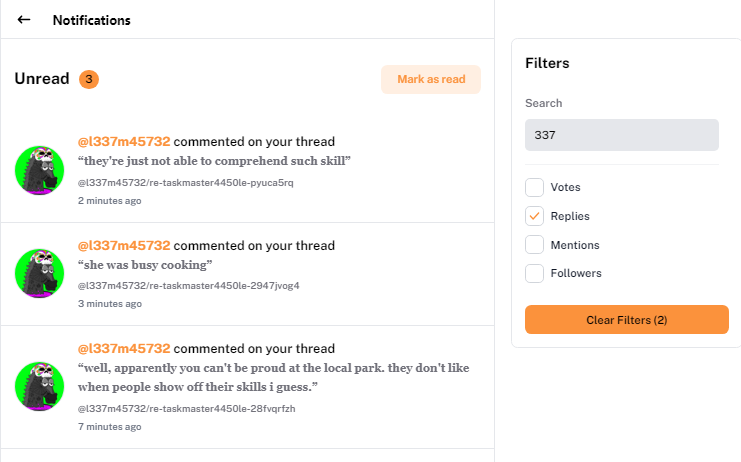 Under this scenario, I was able to isolate the replies from this particular individual. This means that anything Nifty sent my way can now be responded to.
Consider how this enhances engagement. We can actually have "conversations" with people, directing messages to them based upon what they sent to us.
Of course, this is a public interaction. However, it is not filling the main page. People will be responding to the comments directly.
1,000 Thread Challenge
With the new notification, engagement is never easier. When it comes to LeoThreads, this is the #1 goal. We need to always focus upon this.
If we consider the ad revenue, we need to understand how important it is to get more activity going. Time on site, pages views, total pages, along with click on ads and site rating are the usual parameters that feed into ad payouts. We don't know exactly how this is structured by those with online backgrounds are familiar with all the different metrics.
Last month I set a goal to do 5,000 threads. Fortunately, there was enough activity so the total ended up being almost double that.
Now, we will engage in another fun challenge. On Friday, I will shoot for 1,000 threads/comments in one day. With the notification screen laid out the way it is, if the activity gets going, it could be possible.
The key is always activity. People seem to overlook the fact that, no matter what marketing is done, if the site is dead, new people will not stay. As soon as they arrive, they will see nothing happening, and leave.
We need to do all we can to alleviate this. Those who believe in quality content, well I will have a post about that coming up. For now, numbers are what is crucial. This is what will end up feeding the ad revenue and enhance the price of the $LEO token.
People need to think in terms of engagement. Without it, this is destined to be a total failure.
---
If you found this article informative, please give an upvote and rehive.

gif by @doze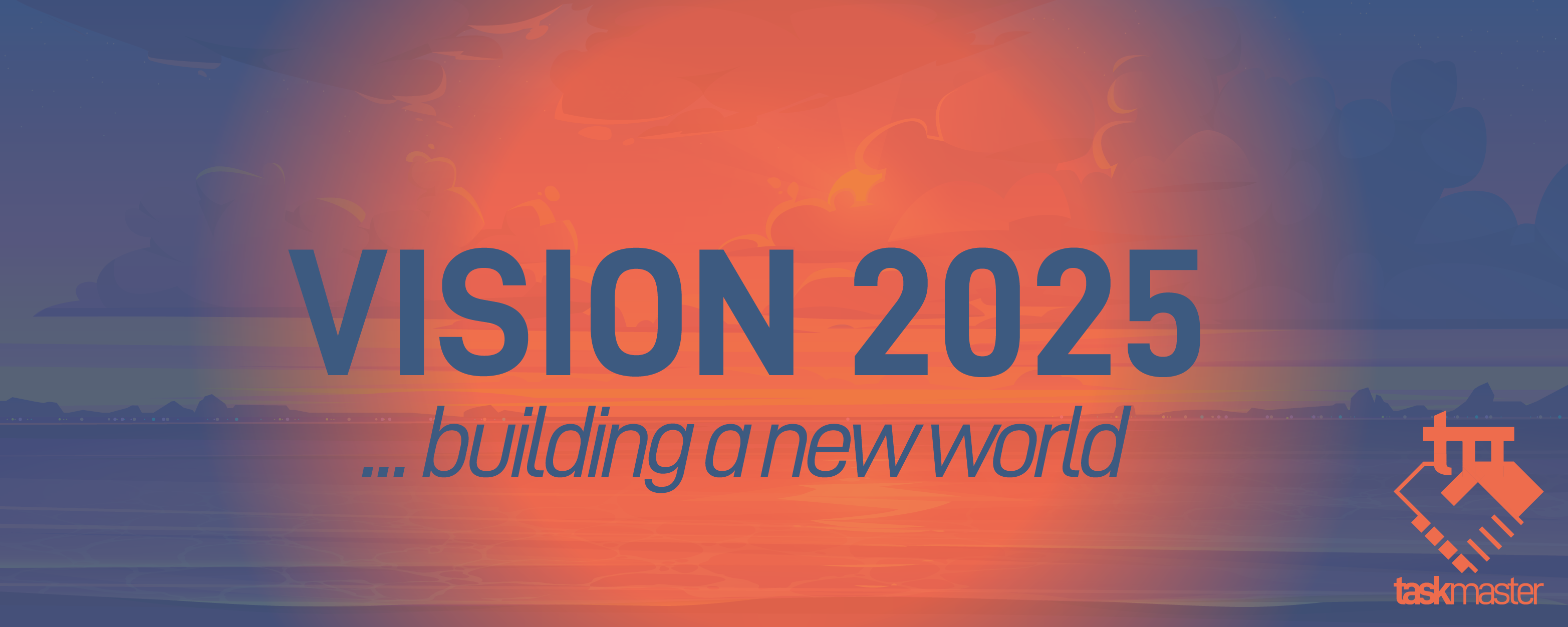 logo by @st8z
Posted Using LeoFinance Alpha
---
---