The Gamification Of LeoThreads
We have the campaign that is going this month. Right now, we are almost half way through the month. A couple weeks ago, Leofinance moved from Alpha to Beta with the UI. It has been a struggle with some issues popping up.
It was decided that the month of May would be used for debugging. While the development team is hard at work on that, the rest of us can start to lay the foundation for what is to come. This starts, in my opinion, with getting activity. So far, the community is doing a terrific job.
One of the concerns is whether that activity will drop a great deal after the campaign ends. To many of us, Leothreads is now a way of life. It is something that will carry forward. In fact, we are just starting to uncover some use cases for it. The flexibility of Leothreads is incredible.
How do you keep activity up? A way that is discussed is to gamify the activity on Leothreads.
For months I wrote about how people love stats. We like gamification. Even without rewards, people will do things simply for ranking.
An example is how people are trying to get in the Top 50 threads for the month. There are people setting goals surrounding the number of threads they create.
This is something that we should take to another level. Fortunately, there might be something in the works.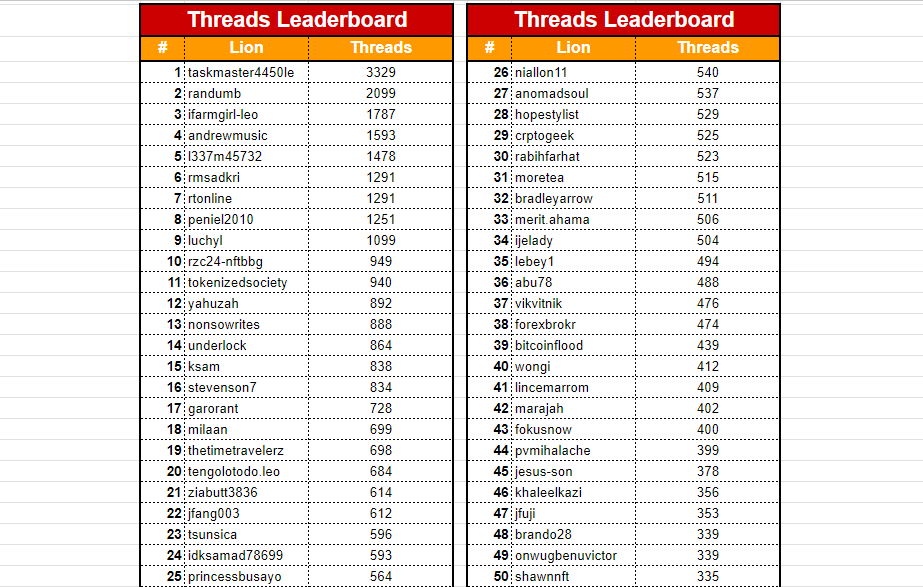 Gamification Site
We are looking at some things in the future that could help this along.
The image above is put together by @anomadsoul during the campaign. It is the leaderboard of threads for the month of May. In other words, this is the number of threads done by people since the release of the new UI.
This one shows only half of the chart. There is another one that has #51-100.
Here we see a major point of gamification. I understand there is a campaign going on, some of it tied to threading. In spite of that, I see a lot of people motivated to try and move up on the leaderboard.
Basically, people are excited about numbers, rankings, and having an impact. This is one way to do it.
The idea is to keep this data coming out regarding threads. As stated, people love this type of stuff. We know the developers are hard at work with handling the bugs. It is likely adding new features of this nature are low on the list.
So why not develop a site for this. Here is where the data can be pulled, and posted on a website. This would allow any user to pull the data, create charts, and post pics of what is taking place. At the same time, it allows everyone to see what is going on and where they stand.
For example, we could have a table similar to this with weekly and monthly data. Even if it is updated once per day, that would give everyone context to what is taking place. At the same time, we could add in some contest or things of that nature.
This is a simple idea that Eric had which could fill the void until the developers can address it on the UI.
Being A Part Of Something Growing
As much as these tables are important, there is something that really gets my juices flowing.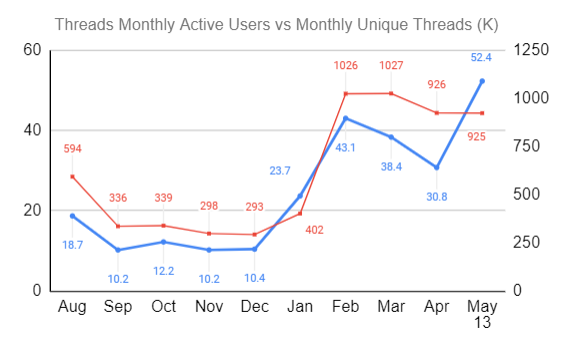 What I love about this chart is it shows the growth over time. We can see where things started and how they are now. Obviously, there was a blastoff in the month of May, as we are already at a record month. Keep in mind this chart is from two days ago so May was recording 12 days.
The total for the month of May will be unreal. There is potential that we might surpass 150K threads for the month. This will take some doing but we are likely at around 60K already.
What I am driving at is people like numbers. We like to be a part of something that is growing and not dying. These numbers reveal the excitement surrounding the campaign. It is also a major selling point.
To illustate I will harken to Tesla. For month I stated that we need cumulative numbers. A site like mentioned above could include that. As of the last chart, we are, according to my calculations, at roughly 250K threads since released in August of last year. The key is acceleration.
If we could the number of things, it gamifies the totals that the community focuses upon. Here is where Tesla enters. Look at this chart to see what we can do with threads.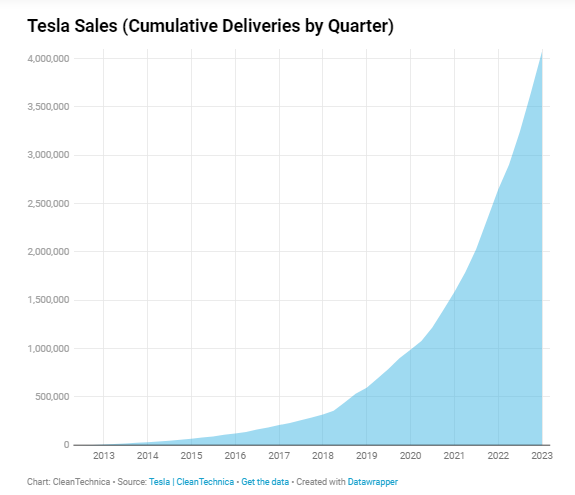 Source
This is the total sales of Tesla on a cumulative basis. Notce the curve of the chart. It is getting parabolic. The point it is an attention getting.
Imagine people putting together graphics like this. It might take over a year to hit the first 1 million threads. After that, perhaps it accelerates and does it in 6 months. The next million could come in 3. After that it might take a month.
How does this look in chat form? Exactly as shown by Tesla sales. What happens if we take that to other social media platforms as a promotion tool?
I mean, seriously, who doesn't want to be part of a chart that looks like that?
This is what the gamification of LeoThreads is all about. It is something that I feel is crucial to the platform.
---
If you found this article informative, please give an upvote and rehive.

gif by @doze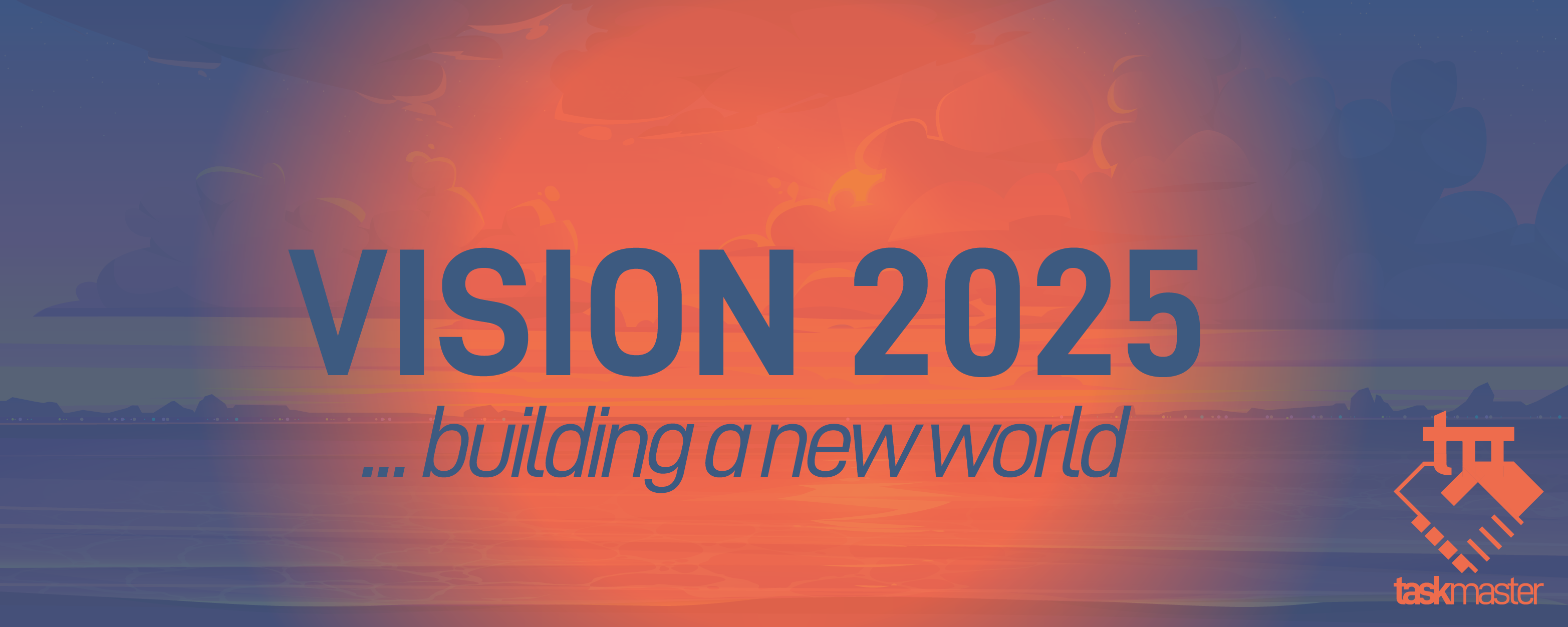 logo by @st8z
Posted Using LeoFinance Alpha
---
---