Things Are Getting Bad: US Used Car Prices Coming Down
It is time, once again, to get on Jerome Powell. The Fed Chair is once again proving that he, along with his team, is asleep at the wheel.
A few months back, the Fed stated (actually it was Powell who said it) that it was becoming data dependent. This is true although they are now using two metrics: unemployment and the PCE (another version of the PCI). That is the extent of the data it is concerning itself with.
Unfortunately, both of these are lagging indicators. There are other things that give a better impression of both the economy along with growth and inflation expectations.
Of course, with the sole focus upon prices, they are missing everything that, quite frankly, is starting to scream.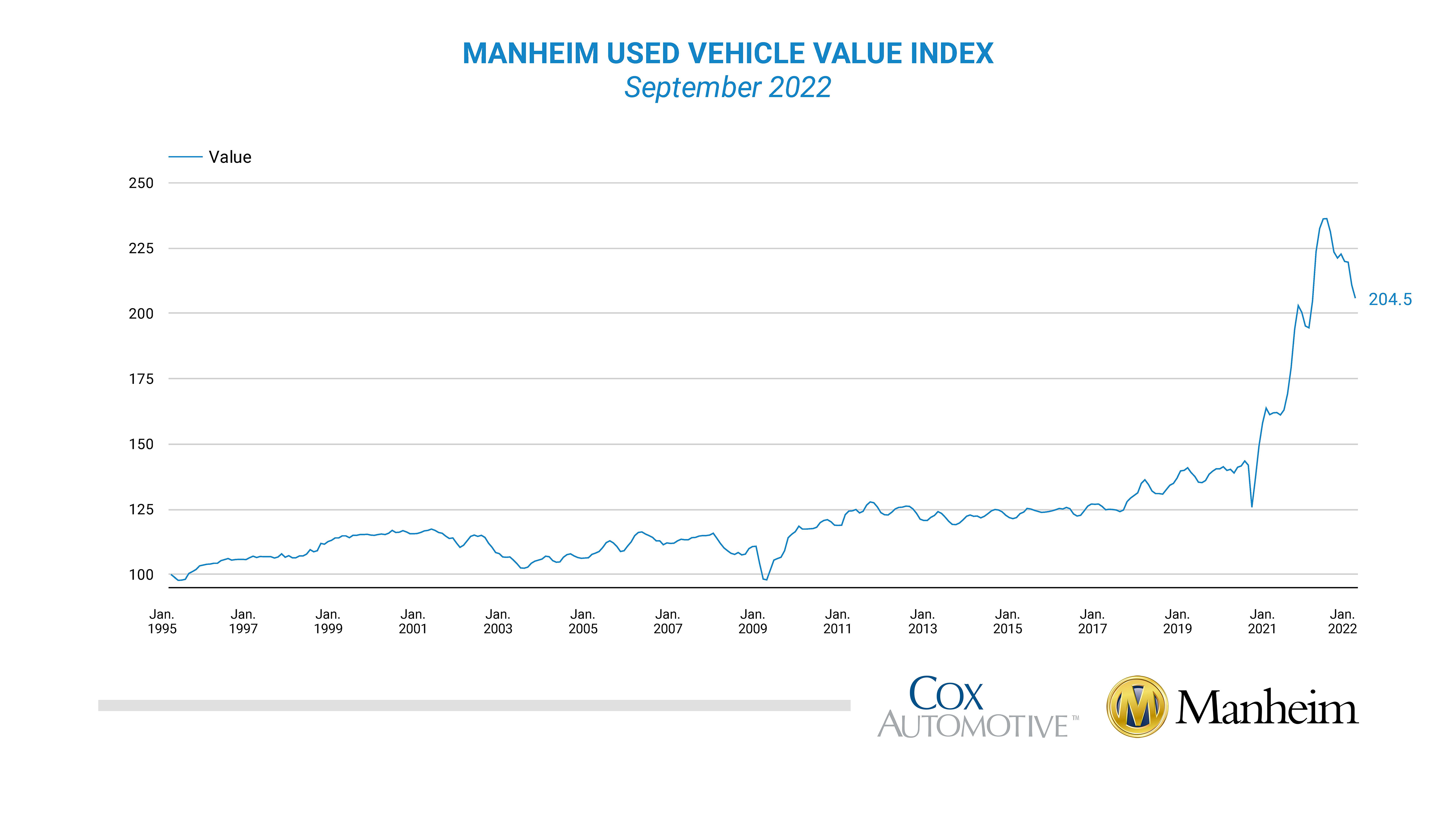 Used Car Pricing
One of the things that happened since the COVID lockdowns is we saw prices explode. This was across the board in many different industries. It is a situation, however, that cannot be attributed to the Fed. Most CEOs for the past two years, on earnings calls, use the same line: supply chain disruption.
We ended up see a supply side shock. This was enhanced by a demand for goods as a result of people not spending on services along with the stimulus checks sent out by governments.
Put this all together and we see 40 years highs in the CPI, PPI, and PCE.
One of the areas many pointed to was car prices. Due to a shortage of new vehicles, used car price skyrocketed. It was a truly epic move, one that affects many things going forward.
As you can see from the above chart, there was a parabolic rise heading into the end of 2021. Yet, at that point, something interesting happened, the index started to roll.
Here is the Manheim Used Vehicle Value Index in table form: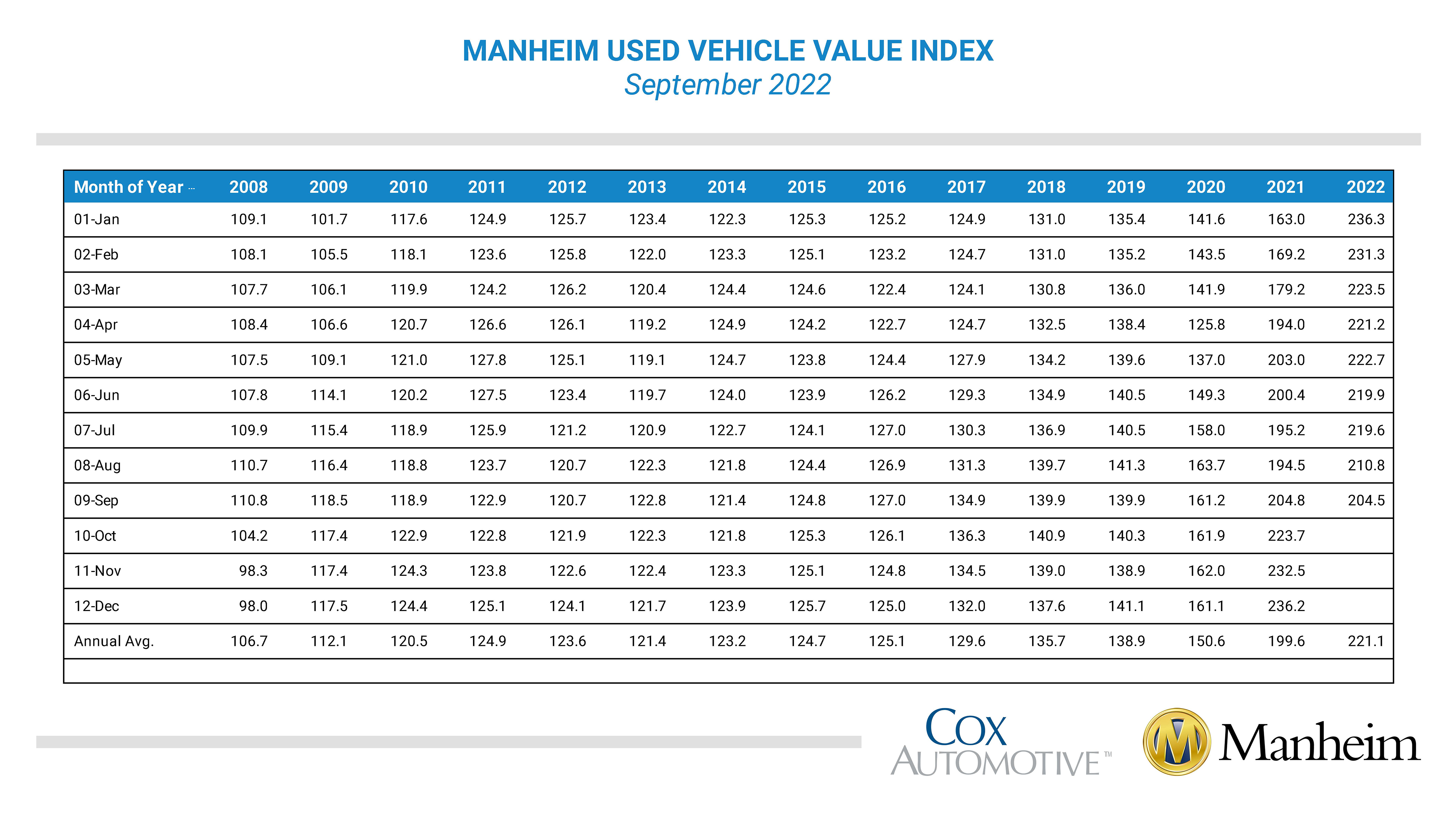 Source
As we can see, the peak was 236.2 back in Dec of 2021. We are now showing a reading of 204.5. This is a 13.4% drop in 9 months. The challenge is the 3.0% decline in September, month-over-month, was a record.
So what is this telling us? Quite simply that used car prices are rolling over. This is a major problem when we look at the financing issue.
$1 Trillion Over Capitalized
A decrease in automobile prices is a problem. While this is good for the consumer, it is bad for the $1 trillion in automotive paper that is out there. This is now at risk.
Before going any further, we will state this is not large enough to cause systemic issues. It could, however, cause some major pain to the banks and other financial institutions who have this paper.
We saw a great deal of excess loan-to-value on these vehicles. In the new car realm, they were going 160% of the value of the vehicle. While it is unlikely there was that much excess on used vehicles, this is an alarming development.
As prices drop, the loan-to-value ratios get worse. This makes repayment even more difficult since refinancing is no longer an option. Plus, when trying to trade a vehicle in, the buyer will have to add money to the deal since the used car is in deficit.
Obviously, if defaults start rising in any significant proportions, this could really impact the banks. We are already seeing them tightening the lending standards as they are aware of their exposure.
All of this factors into the inflation question. While the Fed is convinced to keep raising rates, we see clear signs the economy is sick.
For the moment, automobile default rates are increasing yet are still below historic norms. The challenge is that, as the economy takes some turns down, the numbers will jump. We know the Fed is already on record as saying it will keep raising interest rates until the unemployment rate move higher.
If this occurs, we can see those who lose their jobs while having car loans outstanding forced to make a choice.
There is $1 trillion worth of paper out there, a significant portion that could end up being defaulted upon.
This is something to keep an eye upon.
---
If you found this article informative, please give an upvote and rehive.

gif by @doze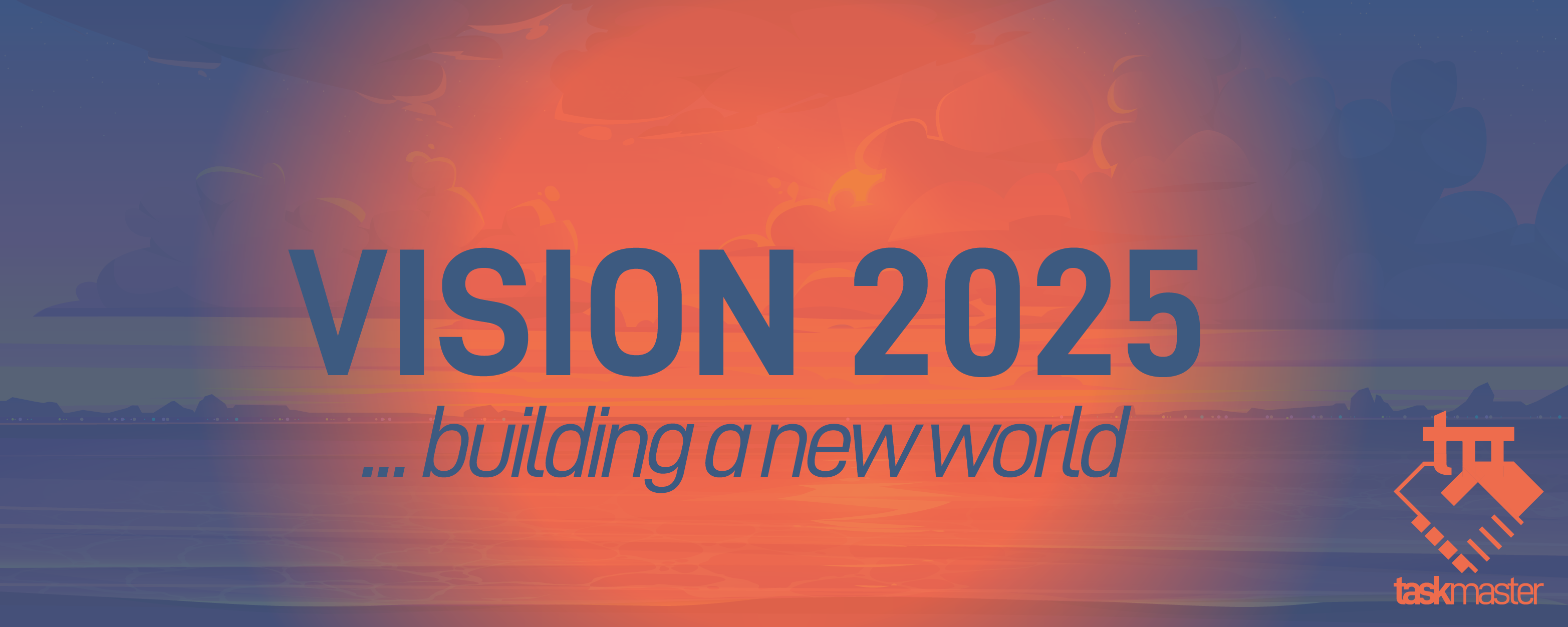 logo by @st8z
Posted Using LeoFinance Beta
---
---