One of the cheapest monsters on splinterlands and why i prefer it?
Today i will be telling you about one of my favorite monsters to use on splinterlands. And why i am leveling it up a ton. Now for awhile whenever i have some extra dec i purchase one harvester and combine it. I currently have a gold harvester as well and that i level up sometimes. It does 2 damage and has 7 hearts and cost 5 mana.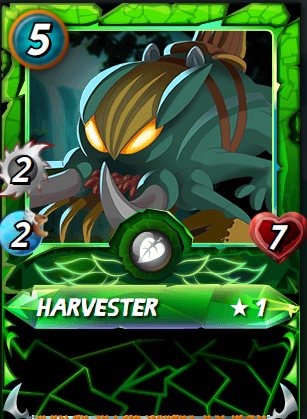 It is one of the cheapest cards to get on splinterlands but it helps out in battle. My mylor crowling thorns ability helps a lot as well in getting extra damage. You can see a fight i did recently here: https://splinterlands.com?p=battle&id=7113a21e49d92ab462cff4a630380f18c3156a50&ref=teenagecrypto
It shows you just how good these setups can be. I am currently saving for more monsters and hope to giveaway some more when i get enough dec. If anyone wants to help towards the earning process you can join splinterlands here: https://splinterlands.com?ref=teenagecrypto each day my cards value is going higher and higher and today my whole deck is worth 500$. The spike within the past month is crazy. I should've bought more dec awhile ago cause the price of that also skyrocketed. Once i get to a pretty stable collection i will sell some cards for silver. Or maybe rent some cards out like i did awhile ago. As of this moment my 2 harvester cards are at level 4 and contain the oppress ability. I think i can get this to max level the question is should i sell it. You can let me know in the comments what should i do?
Thanks for reading, Mr.Crypto
---
---