The new 2022 quarter and 7 day stats.
I was at the local gas station recently where they have a coin pusher and i got 5$ worth of quarters to play with. I played a few minutes and got some more quarters then i looked through my small pile and found a 2022 quarter.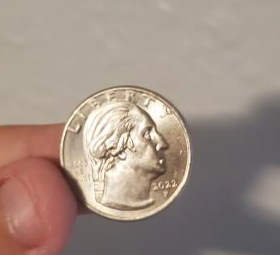 I got another quarter out because it looked off. I noticed that George Washington's neck was a little bigger and his hair looked a little different. So it seems they made a little bit of an update to the coin. Do you like the new 2022 version of the coin?
Now on to the stats, so my april challenge is going good so far and i'm stacking hbd and hive bit by bit. For those who don't know i am doing a challenge to see how much i can earn in one month actually trying on hive. I post when i can and haven't been motivated to post in awhile. So i pushed myself to do more this month and i hope it pays off.

So the past 7 days i have been busy but i earned a small bit. Finals are coming soon and i wasn't thinking when i started the challenge but i am going to finish it. I will try as much as i can before time is up. I actually earned 12 hive yesterday because i won a giveaway hiveslotgames was doing so that helps with the challenge. But we are half way through the challenge and we will continue. Thanks for reading the post today and wish me luck.
Yours truly, Mr.Crypto
---
---