2022 Savings wrap ~ what I learnt for 2023
I firmly believe mistakes are only mistakes if we don't learn from them. Then they become lessons learned.
Midway during 2022 I took the plunge after seeing the wonderful posts of @mypathtofire and signed up for Saturday Savers under the watchful eye of the quite incredible @shanibeer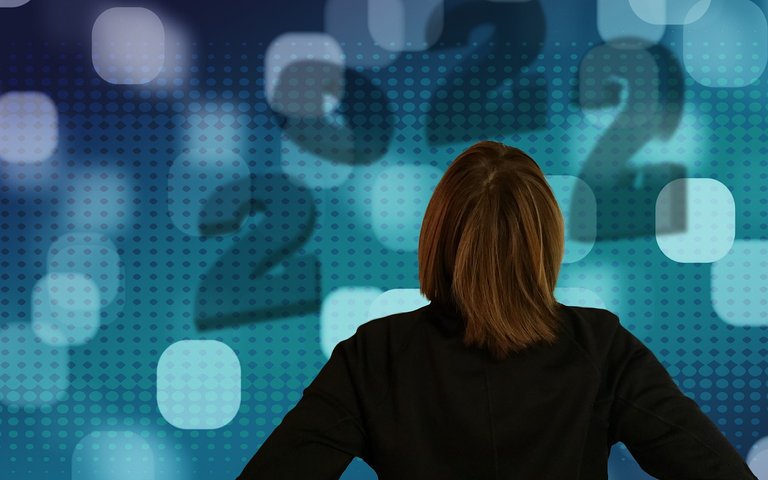 Source Image by Gerd Altmann from Pixabay
To be honest, I had seen some posts and thought it was like some secret society on LeoFinance that you only joined by invitation after making the correct funny handshake with someone.
Heck no, it was a doddle! You basically comment on the latest post from @eddie-earner and @susie-saver 👉Saturday Savers Club 👈 then make a post with a couple of goals on it.
If you want to join in 2023, message me and I can help or just check that post and the links in it.
My Savings partner @coquicoin has been fantastic and without her I would not have reached these awesome results which I am going to share!

This is my recap for 2022 not my 2023 goals
Primary Goals
The two goals that I put down for Saturday Savers were:
✔️ 2500 HP
✔️ 2500 LP
✔️ I duly completed them and then set stretch targets of 3000 HP and 3000 LP which were completed on Hogmanay!
When I joined the Savers I was pretty clueless about layer 2 tokens and passive income tokens. Through the club I learned about EDSMM and if there are any left they are a great bet to buy before they run out!
I did set a primary target of 75 EDSMM
✔️ Boom I got 150


Secondary Goals
Thanks to mypathtofire I discover DHEDGE and I love that as a passive income token (that votes on your posts too!)
I did set a primary target of 1000 DHEDGE
✔️ Boom I got 1500
One thing about this year is that I have learnt which tokens to focus on next year and this will include ALIVE, SPI, BRO
I am not really into the Hive games, but I will continue with Rising Star and play the new @craftink game from @hiq and @hiq.magazine which I do the proofreading for. My tip for 2023 is INK ...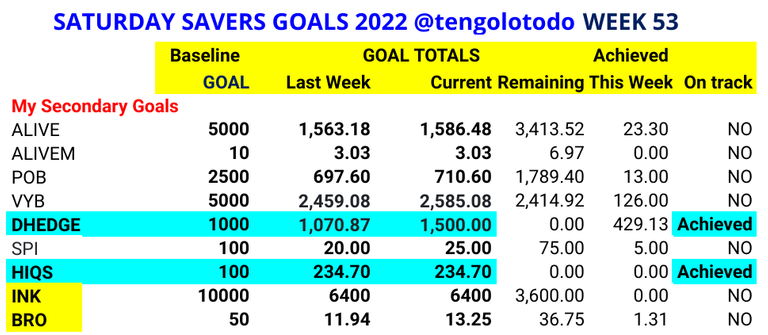 Tipping Goals
The tipping tokens are a bit of fun, and to these you could add WEED, in 2023 I would be monitoring these as often.



Lessons Learnt
The actual Saturday Savers Club 365 Challenge I did not participate in, as I joined halfway through the year.
However, I started doing this in December with Hive and HBD and also powering up daily 1 Hive.
It was 31 days of success and I am doing that this year.
The club is a fantastic way to save and reach goals in Hive. I recommend everyone does it!
Overall I loved doing this, and I have grown my Hive account which was one of the main drivers behind this!
My rating, I give myself an 9/10!
Look out for my 2023 Introduction post in the next couple of days!

Disclaimer
This is NOT and in no way is it meant to be investment advice. As always please do your own research before investing.
There you go that's my week 49 savings and progress report.
To get involved do check out @eddie-earner or @susie-saver for details about the Saturday Savers Club and activities for this week, you could even win something! I just want to say a big thank you to @shanibeer for running all of this.


Many thanks to @raj808 for the banner design 🙂


Thanks for visiting and enjoy the rest of your day!
All images and ramblings are from me, the mad Scotsman TengoLoTodo and pictures taken with my Smartphone or Canon Powershot camera.
@tengolotodo January 5th 2023
DO WHAT YOU LOVE AND DO IT OFTEN
Haste Ye Back!
Posted Using LeoFinance Beta
---
---