Back in Amsterdam and what about HiveFest 7

Hello Hello to all the music lovers of Hive
It is Tuesday already and of course that means that it's time to share some tunes!
I don't know about you but I had great fun watching HiveFest 7 live streams from Amsterdam.
It was good to put faces to some of the names that I have seen or tried to interact with over the past year that I have been here on Hive.
Maybe now that I know more about them and their activities there might be more two way engagement.
This was the seventh HiveFest and it looked great, mind you, as with Hive itself being newcomers, you do get the feeling you have missed the party (well I do anyway). Maybe that is why I seem to engage most with fellow newcomers.
However, I will leave the two official videos for day 1 and day 2.
It is also a handy reference for me to refer back to them from time to time.


HiveFest7 2022 Day 1
HiveFest7 2022 Day 2

So you might be thinking that is very good and there were some great talks in those two videos but what has that got to do with ttt!
You are correct!
I had a brainwave and thought I would pick three tunes by the Dutch musicians as HiveFest is coming from the Netherlands!
Okay then ....
Silence
I could not think of one let alone three Dutch groups!

The formalities
If you wish to participate then I defer to the simple jist on how to do it from @ablaze ...
The jist is as follows

Every Tuesday I'm going to share 3 songs which I like to listen to and I invite your feedback in the comments below. Better still, why not have a blast of your own Three Tune Tuesday and mention me in the post and I'll come and find the post and upvote it. If you could also use #ttt or #threetunetuesday tags that would be great. It'll be a sweet way for us all to discover new music. You'll also be in with a chance of winning the prize - more on that later.
This week is week 69 of ttt and if you wish to participate then follow the rules laid out by @ablaze in his post from this week Sabrina Dinan for Three Tune Tuesday Week 69

Formalities over, let's get down to the tunes!
So I gave up with my idea of having three tunes from Dutch artists. I do like Dutch art and in fact a couple of my favourite painters are Dutch.
Perhaps you have heard of Pieter Bruegel or Hieronymus Bosch and his crazy painting The Garden of Earthly Delights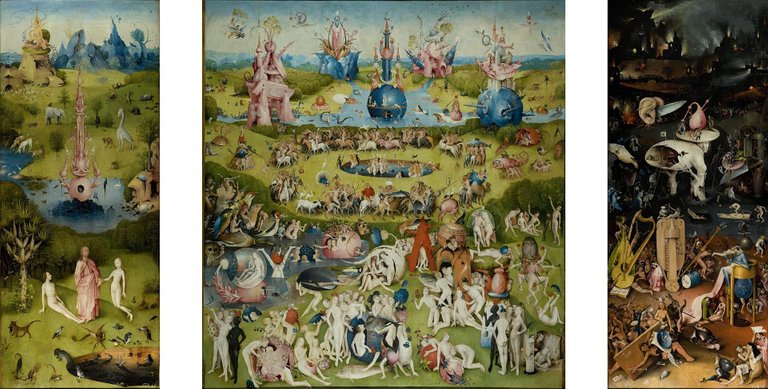 Do you remember the city that HiveFest was held in?
It is in Amsterdam and I have a few stories about my times there, however this is a family post and those will be for another day...
David Bowie ~ Port of Amsterdam
I remembered that Bowie sang an Amsterdan cover song. Amsterdam was originally a song by Jacques Brel
The search went on and I discovered it was not only Bowie that had sung a song called Amsterdam!
My ttt post was decided upon after all!
Nothing But Thieves - Amsterdam
It has been absolutely ages since I have listened to anything from Nothing But Thieves. A great band they are too!
Coldplay - Amsterdam (Live in Amsterdam)
So to round of this Amsterdam ttt post we have the awesome Coldplay playing Amsterdam live at Amsterdam Arena in Amsterdam!

I hope you enjoyed these three very different Amsterdam songs!
Which was your favourite?
Does anyone top the voice of Bowie?
Note: The three YouTube videos that I have shared are not owned by me, I am simply spreading great music on Hive.
I wish that you all have a brilliant rest of your week, and until we meet again enjoy your tunes 🎶🎵🎶


All images and ramblings are from me, the mad Scotsman @TengoLoTodo unless otherwise stated.
DO WHAT YOU LOVE AND DO IT OFTEN
Haste Ye Back!
@tengolotodo
20/09/2022
---
---