Billy the Binman
cock-a-doodle-doo blared out from the phone on the bedside table.
A well-judged elbow in the ribs woke Billy from a deep slumber.
"Aww for fluff's sake it's Sunday!" exclaimed Billy.
"Well you only have yourself to blame as you were the one that volunteered to work overtime Billy" said Mrs Binman.
"Aye right enough hen" replied Billy as he got out of bed and plodded through to the kitchen to make his coffee.
After finishing the three s's and bringing Mrs Binman her morning coffee, Billy stepped outside sat on the wall and waited for his morning lift.
---
Headlights came hurtling towards Billy. Even though it was summer in Scotland, it was still dark at 3am.
With an almight screech of it's brakes, the big bright yellow bin lorry pulled up alongside the kerb, and in jumped Billy.
"Good morning ya ugly numpty!" grumped Colin towards Billy.
"Good! it's fluffing four on a Sunday morning, what's good about it, ya bawbag!" retorted Billy back to Colin.
"Actually it is good William because you are alive William, it is good William because we are ALL alive William! Never forget that William and good morning William!"
---
Quentin was the intellectual of the trio. Educated at Oxford in England, Quentin had successfully trained as a doctor. However, he had since found out that he had a fear of blood and even more bizarrely a fear of people. This meant being a doctor was impossible, and Quentin the doctor became Quents the binman and he absolutely loved it.
---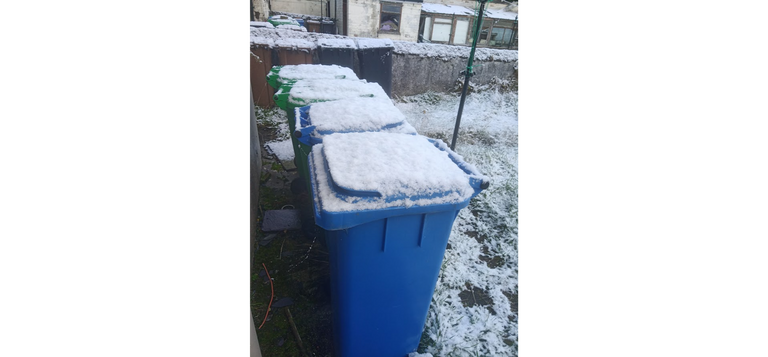 "Ach enough with the philosophical claptrap Quents, we're all trying to wake up here!"
"Speak for yourself William, some of us have been up for two hours already William! Perhaps you would like to collect the lorry from the depot William, get our schedule sorted William and then pick us up for a change William!"
"okay okay keep your fluffing hair on, oh wait you don't have any!" laughed Billy
---
For the last three years, swearing had been banned by the council, and if someone swore they had to pay a fine, so now the three men would fluffing swear all day long without actually swearing!
---
"What was for dinner bawbag?" asked Colin swiftly changing the subject.
"Pancit" replied Billy.
"What's fluffin pansy when it's at home?" asked Colin.
"Not pansy, it's pancit and it is basically noodles."
"Why not call it noodles then? You had fluffing what was it ah yes arrepas the other night, why not call it a sandwich?"
"Because you neanderthal they are Arepas from Venezuela and are basically corncakes. You call things as they are called in their country of origin. You would not call haggis stomach filled shite would you?"
"You speak shite, you really do Billy, what was it the missus made you the other night, oh yes I remember .... afluffingakara!
"Akara and it is a delicious bean cake."
"So call it beancakes then, I swear you have a bloody United Nations harem in your house billyboy!"
"Ah behave Colin, don't be a jealous arse!"
"Chidren, Children calm down, as I have told you many times before, a pizza a day keeps the doctor away" laughed Quents the could be doctor that wasn't.
"Anyway our route is starting at Hope Street today and we are nearly there, so get yourselves ready." said Quents.
"Hope, I need some bloody Hope sharing a cab with you two numpties!" laughed Billy
"Don't we all" chimed Colin and Quents in unison.
---
Despite the hostility towards each other Billy, Colin and Quents were the best of friends and had been working together as a team for the last ten years. They had been voted the council's best bin team for the last 8 years and it meant that they were known as The Troubleshooters and were sent where no other team would dare to collect. Today's route would see them start at Hope Street and finish up at Rage Road.
---
Quents was the designator driver and just sat behind the wheel all day. It was Colin and Billy who would wheel the bins and put them into the trash part of the lorry to be crushed. This morning they working quickly and had emptied the bins on Hope Street in no time.
Now The Troubleshooters were working on Trouble Terrace, the clients (the council made the binmen refer to the bins as clients) on Trouble Terrace were the worst in the Kingdom. The people living there were a rabid bunch, and Billy and Colin never knew what they would find!
---
"Hey Billy, do you think it is break time yet?"
"Let's finish Trouble Terrace then stop for a cuppa!" grinned Billy in the dark.
"Fair enough, just three more bins and then a cuppa" whooped Colin.
Suddenly Billy stopped frozen in his tracks as he spied his next bin.
"Hey Colin, get your bloody arse here right now!"
"What is it?" shouted Colin
"Look, look what's hanging out the top of the bin!"
"What is it?" shouted Colin again
"It's a fluffing foot!"
---
TO BE CONTINUED ... PART 2 TO BE RELEASED Friday August 12th 2022

All images and ramblings are from me, the mad Scotsman @TengoLoTodo unless otherwise stated.
DO WHAT YOU LOVE AND DO IT OFTEN
Haste Ye Back!
---
---