Flog the wee buggers I say
Hello Hello all Hivians on The Interwebby!
I had some thoughts in mind to post about for the May edition of #bom
This post is a non-entry but after what Mrs T and I saw on our evening walk in the woods tonight, it will make me slightly change tack on this post.
Education is the topic!...
So what the fluff is Education anyway
education
noun
1 the process of receiving or giving systematic instruction, especially at a school or university.
The pretty standard meaning from Oxford Languages
although I do like their second meaning ....
2 an enlightening experience.
What we saw in the woods tonight most certainly was an enlightening experience.

What is the purpose of education?
Education is the engine of our economy, it is the foundation of our culture, and it's an essential preparation for adult life.
But education is also about the practical business of ensuring that young people receive the preparation they need to secure a good job and a fulfilling career, and have the resilience and moral character to overcome challenges and succeed.
So said UK Schools Minister Nick Gibb in his address to the Education Reform Summit in July 2015.
Once it gets light after 5pm, I meet Mrs T off the bus from her work and we walk home via the Park and a wooded trail.
I have shown it many times, and speaking of education, we walk past the Wizard.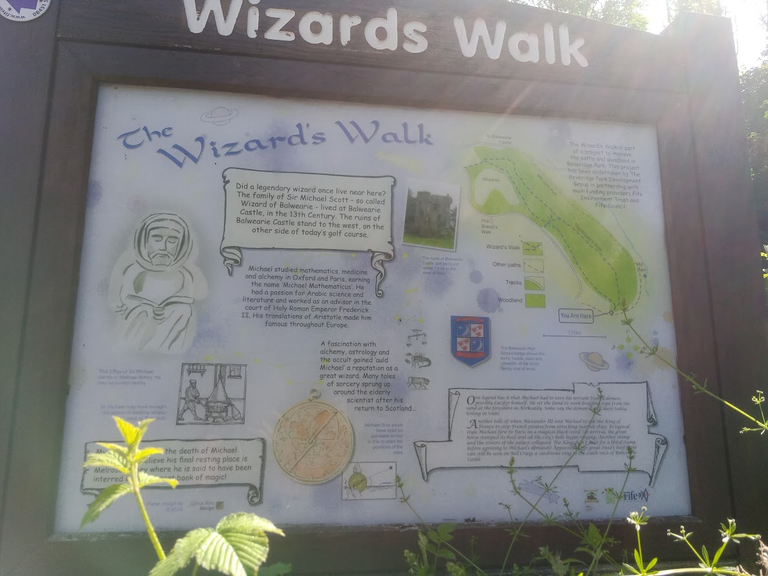 Michael Scott was born in 1175 yes almost 1000 years ago and he ...
was a Scottish mathematician and was educated at Oxford and Paris, and worked in Bologna and Toledo, where he learned Arabic. His patron was Frederick II of the Holy Roman Empire and Scot served as science adviser and court astrologer to him.
So says Wikipedia
That was him a couple of years ago when we first went to that particular walk. Some idiots had already cut his hand off.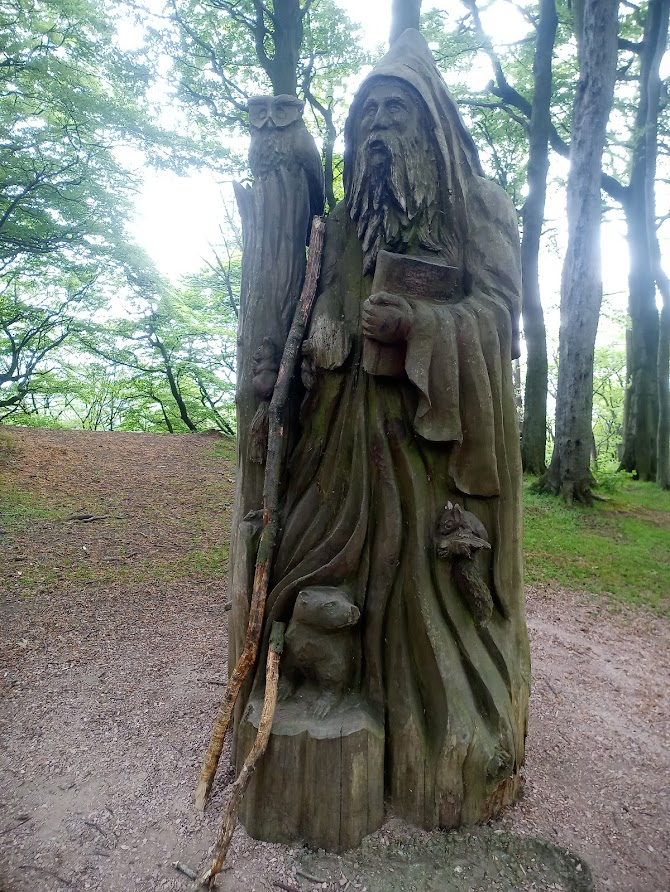 This was tonight and the staff was cute but look at the book and his hand ...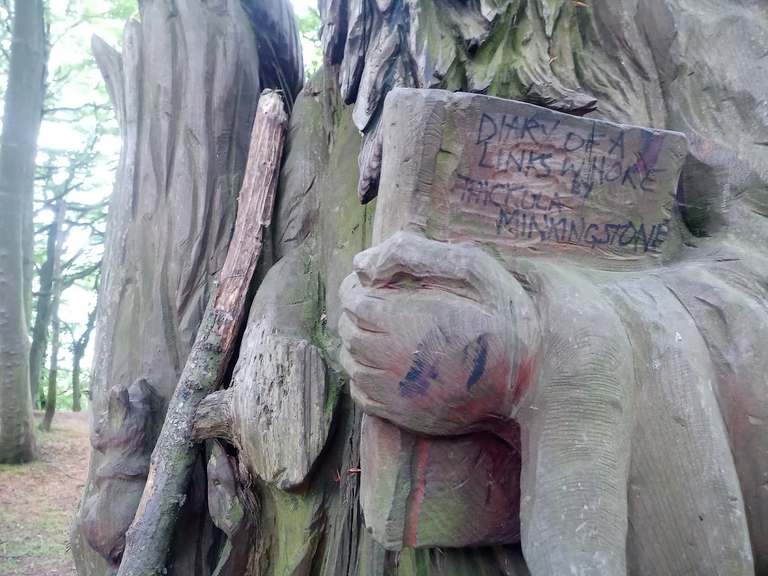 The reason this irks me so much, it is another example of little neds getting away with blue murder.
Yesterday I was reading this article to Mrs T Children as young as 11 blamed for growing attacks on shop staff in Kirkcaldy

Gangs of youths were physically hitting female members of staff!
I mean what the actual fluff ...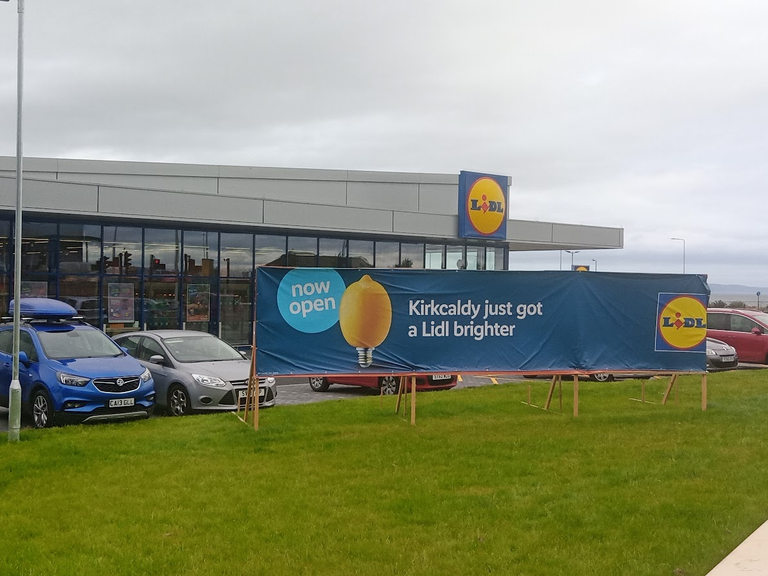 That is the shop in question, and often where I go at least once a week.
Mrs T of course was worried, but I would have no qualms knocking seven shades of shit out of anyone I saw attacking a woman.
Seriously though, what has happened to our society. These little neds vandalise things, and shoot themselves in the foot.
Whatever happened to the village bobby giving you a clip round the ear or telling you that he would report you to your father.

Can you imagine being a teacher now?
I used to lecture to Masters students at a University in Aberdeen from time to time.
It was a doddle, they were all over 21 and actually most were overseas students who had paid money and wanted to learn.
It made my job easy.
But can you imagine having to teach kids now?
You can't say or do anything without being accused of this that and the other.
In my day, we had teachers throwing chalk at us.I remember one guy got a cut on his forehead from a blackboard duster that the teacher had thrown across the room to get him to pay attention.
And I am sure you all did the extra padding when you knew you were getting six of the best.
Our school The Edinburgh Academy used the clacken!
Fluff me ... did it hurt!
The clacken, or clackan, is described in the Scottish National Dictionary as "a wooden hand-bat or racquet used by boys at The Edinburgh Academy and Royal High School".
Some of you might remember Mastermind and Magnus Magnuson he went to The Academy and was a classmate of my father.
He wrote Clacken and the Slate by Magnus Magnusson
We got punished at school, I won't deny that.
I saw @lizelle mentioning Lines, lol well we had Lines, second offence was the dreaded Red Lines, which had to be signed by a parent or guardian. Me being at boarding school meant that the guardian in question was our House Master who would then give you six of the best with the house clacken for getting Red Lines!
After Red Lines we would get detention, then suspension etc.
Nowadays I think the PC brigade would have a pink fit.
But it instilled morals and values into us, something that today's youngsters seem to lack!
As Mrs T says ...
Kids of today, what do you do with them?
Thanks for visiting and enjoy the rest of your day!


All images and ramblings are from me, the mad Scotsman TengoLoTodo and lead image created my me in canva.

@tengolotodo May 18th 2023

DO WHAT YOU LOVE AND DO IT OFTEN
Haste Ye Back!
---
---