Talk Time With Tengo Episode 4 on January 17th
GM:FRENS
Well I am sure it is Good Morning somewhere with at least one of you who is reading this!
Oh God ~~~ Tengo has finally flipped his lid I hear you murmur!
Last Tuesday night saw the return of Talk Time with Tengo ... shameless plug follows!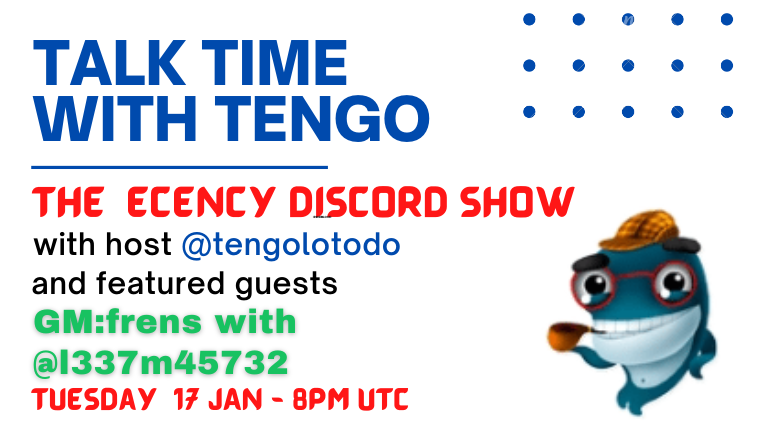 We are back with a stellar line-up for 2023!
Join in here if you are not in the Ecency Discord Server.
The link to the show that should take you to the voice event!
The fourth episode of the talk show with yours truly is being held in voice chat in The Ecency Discord Server tomorrow January the 17th at 8pm UTC
There are a plethora of projects being run on Hive, often we are not aware of what is out there and how it can be benifical to us or how we can be a part of it.
Hive is not just about posting pretty photoessays to reap the rewards. Oh no, this to me is a Social platform so come on and let's be social!
---
The first ever cross-blockchain social NFT project Built on Threads
GM token is something that is very special to me, as I have wanted to create a social token for a very long time. When the launch of Threads alpha on LeoFinance, I knew it was time. I immediately knew how I was going to get the token into circulation..
@l337m45732 | Founder - GM:FRENS
---
Yes the latest victim guest on Talk Time with Tengo will be @l337m45732 aka Nifty the Founder of GM:FRENS
This is such a cool project, I do collect GM tokens and I also have some GM NFTs!
Yes before you ask, we will be having some Giveaways!
Look out for a post tomorrow from @tengolotodo.leo in LeoFinance which will explain some more about the project and who knows if you memorise everything you might win something!
---
The first episode was a blast and we heard all about @craftink from the three @hiq hivians @smooms @mary-me and @quekery, they kindly gave us an update on the project and returned with some more $INK that was given away!
So please do check out their new website
By the way their last @craftink post had a cracking giveaway that is still open for entries!
CraftInk | Website Reveal & Winner of the Card Giveaway & New Giveaway
I see that you have not entered @lhes @pinkchic @deraaa and many others! Don't delay ~ Get it done today!
---
The second episode featured another project that I am so happy to be a part of and that was Dreemport, and yes for show number 2 we had as the featured guest the pirate queen herself @dreemsteem
Dreemie also aired the breaking news that she will be coming to the UK in January, and along with @samsmith1971 and @penderis will be in Scotland for a few days.
BREAKING NEWS It seems she is bringing the cold weather!
---
Enough from me... so come on and join us tomorrow at 8pm UTC
Scroll down in Ecency Discord to where you see VOICE. You can listen in at #chat-voice and use #event-chat to type comments.
Again the link is Ecency Discord link
If you have a project that you would like showcased or you would like to be a guest, do let us know in the comments below or in discord!
As this is early days, we are exploring the idea of having one show a month at different time to suit people that cannot manage the current time.
Currently Tuesday at 8pm UTC works for the host, but we are open to suggestions!
I would like to say a big thank you to @good-karma for letting us host the show in the @ecency discover server and to @melinda010100 for distributing ecency points and @beeber for being such a star and helping me out🙏🙏🙏
Grab a drink and let's chat!
---
---