Will it be Lucky Game Week 13 for Hive fpl players
Hello Hello Hivians and especially to all my fellow hivefpl fans and players!
Q2 of the ⚽️ is well under way.
This is gameweek 13, so will it be lucky or lucky for our teams?
So Stevie G got the sack, 11 months after he left Ibrox. It is interesting to note that whilst he was at Rangers, we all thought that the brains of the operation was Mick Beale and some even fancied him to take the Rangers job, but he followed him to Villa and is doing well at the wee Rangers, Queens Park Rangers.
On the day Gerrard got his marching orders Wolves were after making Beale their manager, it's a funny old game that's for sure.
Villa are just an also ran, with players low on confidence, I don't have any of their players in my team. Do you?
Enough of the brummy bollocks let's get back to the real ⚽️⚽️⚽️ at hand 👏👏👏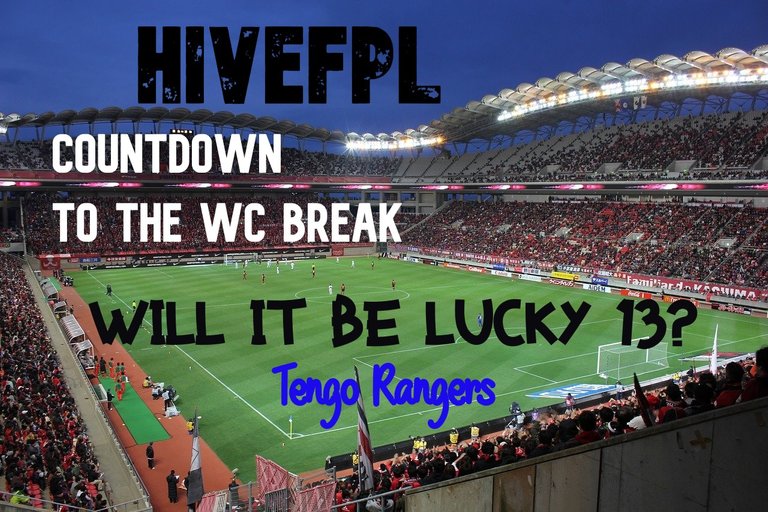 source Image by David Mark from Pixabay modified by me in pixlr.com

How did I get on in GameWeek 12
With Arsenal playing in Europe, it meant that their game against Manchester City was postponed, this was going to have a huge impact on my team as I had 3 players from each team in my fpl squad!
I did make a transfer and swapped De Bruyne for Salah. So I had players out for the week.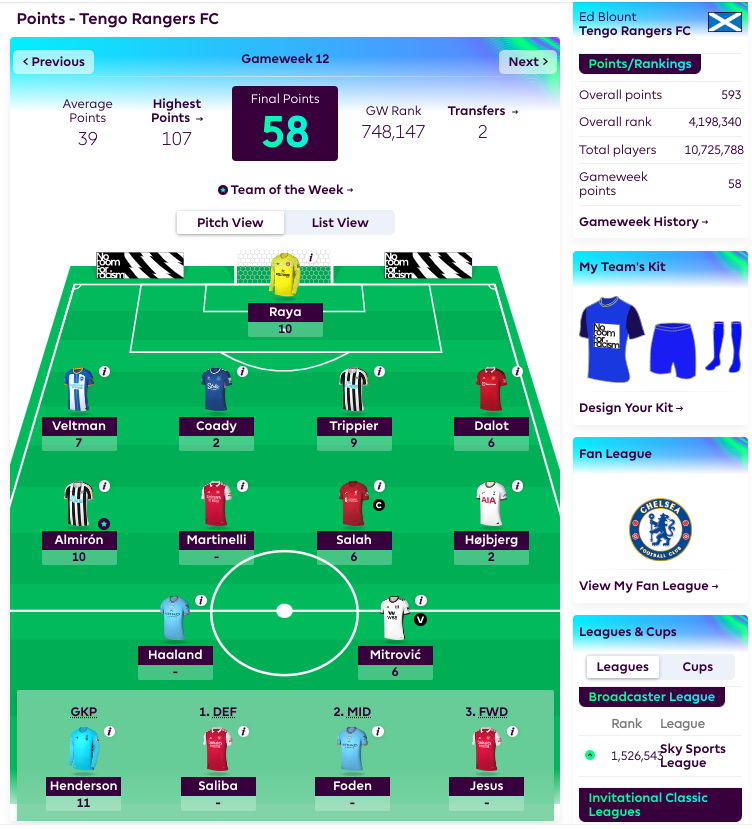 I picked up 58 points, so am pretty chuffed with that. My goalies actually performing best in my squad.
Goalkeeper
Raya - Brentford 10 points
Defenders
Veltman - Brighton 7 points Clean Sheet
Coady - Everton 2 points
Trippier - Newcastle 9 points Clean Sheet
Dalot - Man Utd 6 points Clean Sheet
Midfielders
Almirón - Newcastle 10 points 1 Goal scored & Clean Sheet
Martinelli - Arsenal 0 points NO GAME
Salah - Liverpool 6 points Clean Sheet
Højbjerg - Spurs 2 points
Forwards
Haaland - Man City 0 points NO GAME
Mitrović - Fulham 6 points 1 Goal scored & Clean Sheet
Considering I was only using 9 players who could play, my points total of 58 is pretty darn good.
It did push me up our Hive fpl league a little.

Actually 7 places, from 69 to 62. Considering how crap I was at the beginning (well some say I am still crap!) I am doing okay.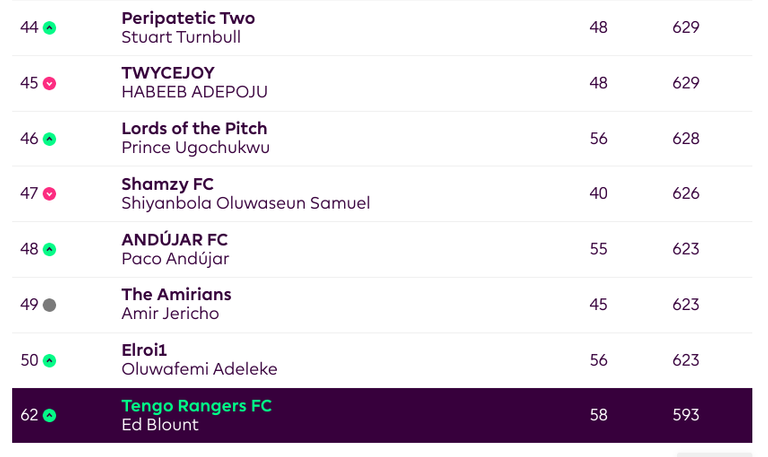 Next step is to crack that Top 50, a good couple of weeks should see that come to fruition.

GameWeek 13 Fixtures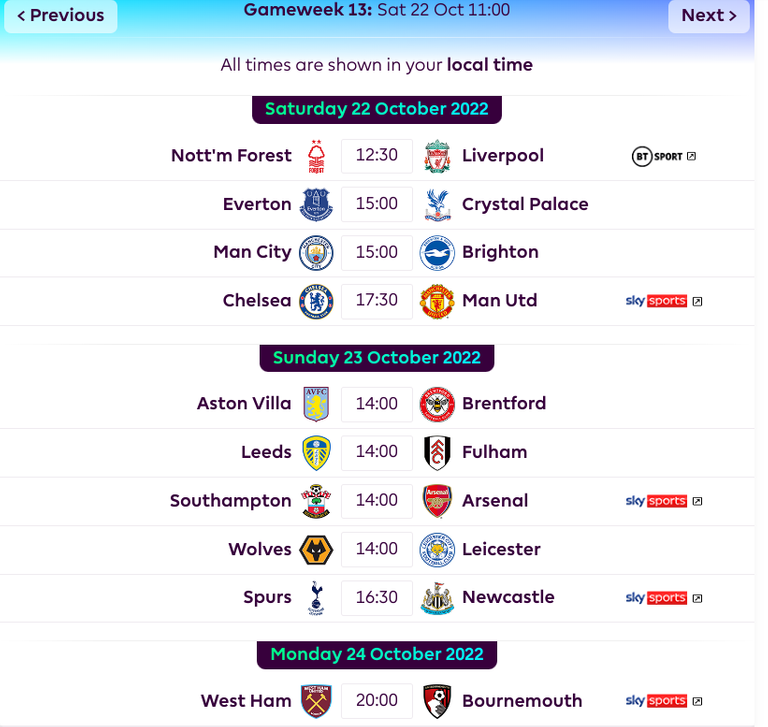 The matches this week and my forecast and comments, feel free to ignore and/or give me pelters in the comments...
| Match | Forecast | Comment |
| --- | --- | --- |
| Saturday 22nd October | | |
| Notts Forest 12:30 Liverpool | 2 | Salah hat trick |
| Everton 15:00 Crystal Palace | X | low scoring draw |
| Man City 15:00 Brighton | 1 | Foden and Halaand to score |
| Chelsea 15:00 Man Utd | X | Potter and Haag score draw |
| Sunday 23rd October | | |
| Aston Villa 14:00 Brentford | 2 | Toney penalty |
| Leeds 14:00 Fulham | 2 | Count end up 2-5 |
| Southampton 14:00 Arsenal | 2 | 1 or 4 for Arsenal |
| Wolves 14:00 Leicester | X | Goaless draw |
| Spurs 16:30 Newcastle | X | Huge test for Spurs |
| Monday 3 October | | |
| West Ham 20:00 Bournemouth | 1 | Easy Hammers win |

So this is my current set up for gameweek 13.
What do you think?
Will it be lucky gameweek 13 for me and Tengo Rangers?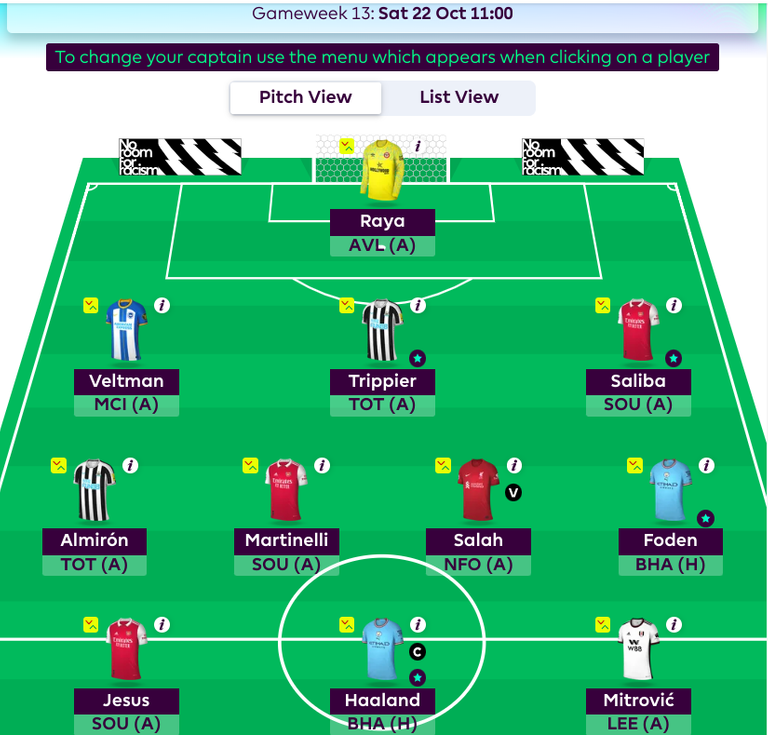 I am confident with Raya in goal against Villa.
Saliba should be a sure bet against a Southampton attack who are not scoring the most of goals.
Trippier well he could score against Spurs, that game is probably the pick of the week I think.
My dilemma is whether to keep Veltman of Brighton, who of course are away to Man City. The alternatives are Coady of Everton who are at home against Crystal Palace, and Dalot of Man Utd who are away to Chelsea.
On second thoughts, I will plump for Coady in place of Veltman.
My midfield quartet are all capable of scoring this week!
Almirón away to Spurs and in great form
Martinelli will fancy himself against Saints
Salah I reckon his 3 goals against Rangers will kickstart his season, I would not bet against another 3 here against Forest.
Foden could well score and assist Halaand at home to Brighton, well I fluffing hope so, especially as I just dropped Veltman to the bench🤣
---
Up front I have my deadly trio of strikers playing.
Jesus is away to Southampton and I think he is due a goal. Halaand at home to Brighton is also due some goals.
Meanwhile Fulham are playing a hopeless Leeds team and that should mean easy pickings for Mitrovic and I can see a goal and a penalty for him!
I can still make changes to my squad until 11am Saturday morning!
Halaand captains and Salah is the vice-captain!
But I think this is as good as I can do!
I would love to hear your thoughts so....
Many thanks for reading, and if you are playing hivefpl good luck!

In the meantime have a great weekend!

All images and ramblings are from me, the mad Scotsman @TengoLoTodo unless otherwise stated (screenshots are from my fpl account.
DO WHAT YOU LOVE AND DO IT OFTEN
Haste Ye Back!

@tengolotodo 21/10/2022
---
---