win with lpud and the hivefest competition ~ it's all going on at Leo Fianance
Hello Hello lions and all Hivers
It is almost here! Are you ready to rumble?
What am I talking about?
Most of you will know, but for those who don't!
I am talking about #lpud of course!
Yes the 15th of the month is when we power up our LEO tokens for LEO Power Up Day and in doing so we have the chance to win some seriously stonking prizes!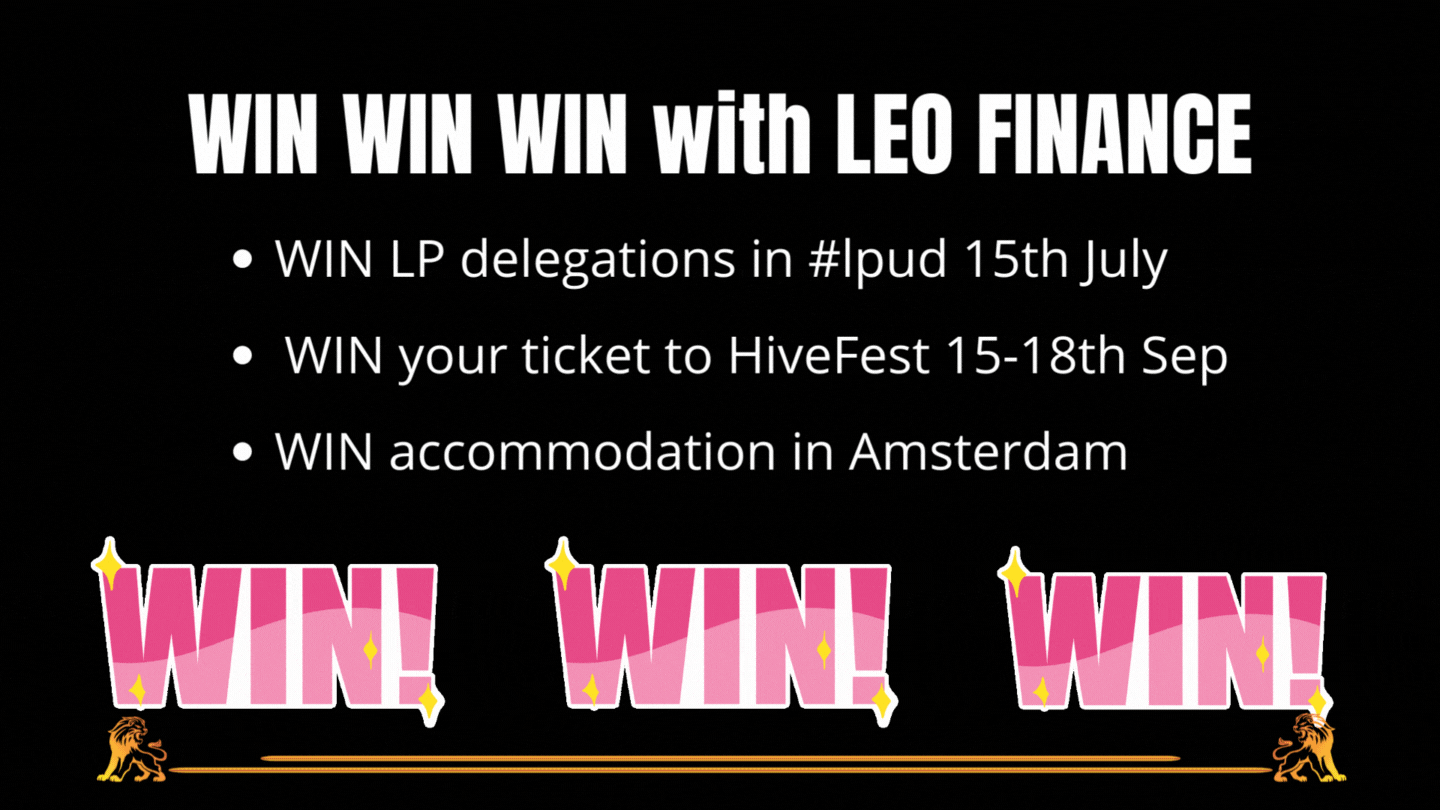 I feel like we are tucking into a 3 course meal today!

The Starter ~ 🍕🍕🍕 Pizza Power Up Day 14th July
First things First today is the 14th of the month and that means you can power up your pizza for pizza power up day.
I powered up 300 Pizza 🍕🍕🍕, which basically means that I staked it.
I even saw my name automatically mentioned by the bot in the Pizza Discord Server

How cool is that!

The Main Course ~ Win HIVEFEST Tickets and Accommodation in Amsterdam 15th - 18th September
Being a newcomer to HIVE I have never attended a HIVEFEST. Nor do I know that much about it! However, the people in the know that have been are raving about it!
Check out this post from @rolandp to know more about tickets and pricing
HiveFest is the annual Hive ecosystem gathering and was last held in-person in
Bangkok 2019 ~ to know more about HiveFest check out their official website hivefe.st
But did you know that you can WIN Two tickets + accommodation in the contest being run by

@leofinance

and

@blocktrades

?
Well now you do, for full details check out Leo Finance and Blocktrades want you to attend HiveFest! - Win Two tickets + accommodation from LeoFinance and Blocktrades
To be in with a chance of being eligble to win this prize you need to do the following (refer to the above post for FULL details:)
Have a Leo Finance account. (Let me know if you are unsure about this)
Follow @leofinance, @blocktrades, @leogrowth and @hivefest on the Hive Blockchain, follow @financeleo on Twitter and join the LeoFinance discord server.
Make a post about the LeoFinance + Blocktrades contest. Share on Twitter using the hashtags #leofinance, #hive, #cryptocurrency and #hivefest.
Post at least 8 times using the Leo Finance frontend (desktop or mobile) during the month of July. Then share those posts on Twitter using the hashtag #leofinance, #posh, and #hive.
Participate in the Leo Power Up Day in July 15th and make a post about joining this initiative any day before the 15th using the tag #lpud. Then share your post on Twitter using the tags #hive #leofinance, #cryptocurrency and #lpud.
Participate in July's Bring your Fam to Leo initiative that will take place from July 25-31 (the final week).
Subscribe to the Leo Finance Newsletter and make a post about why it is important to be informed about the current markets and how the Leo substack provides useful information related to the crypto space. Then tweet about it using the tags #leofinance #substack #newsletter and #crypto.
It sounds like it will be an absolute blast, and the weather at that time of the year will be just perfect. So good luck and get your entries in right now!!!

For me though, dessert is the best bit of a fancy meal!
Dessert ~ LPUD LEO Power Up Day 15th July
Read all about it straight from the Lions Den LEO POWER UP DAY is Tomorrow! | LPUD in the official post from @leofinance
Why Power Up?
Your account will grow and you will get greater curation rewards
You are helping the LEO Ecosystem grow!
How to Power Up?
Go to your LEO wallet and hit the Power Up arrow button
What do I need to do?
You must power up at least 200 Leo on July 15.
You must not have powered down Leo since June 15.
Make a post about Leo Power Up Day using the tag #lpud. Then Tweet about it
What prizes could I Win? (to be eligible your LP must be more than 200 and less than 20k)
3 random LPUD participants will be given a 20k LEO POWER delegation for 3 weeks
NOTE Participating in July's LPUD edition helps you become eligible to win one of the two HiveFest giveaways
Bonus Prizes:
Random users might get one of these Leo Power delegations for 3 weeks:
( I won't cause a tagest and tag them but just put a @ in front of their name to visit them)
5k from edicted
4.5k from leomarkettalk & taskmaster4450
3k from lbi-token
3k from investing-dude
3k from anomadsoul & leogrowth
2k from steemstreems & whatsup
2.5K from roleerob
2k from whatsup & scaredycatguide
Last month we powered up 174,000 LEO POWER as a community! That's over 4.2% of the liquid LEO Supply.
source LEO POWER UP DAY is Tomorrow! | LPUD
That is mind blowing stuff ~ so come on, get your LEO ready and join in tomorrow and let's hit that 200k mark!

IF YOU HAVE ANY QUESTIONS AT ALL PLEASE DROP THEM BELOW
Thanks for reading and see you at #lpud tomorrow!
Posted Using LeoFinance Beta
---
---