Are You a RISING STAR Yet?

Part of me wasn't sure if this little idle game would catch on… there isn't much to it and it's kind of a niche topic that I knew wouldn't appeal to absolutely everyone-- indie rock music. A bit obscure, right?
But it has caught on. Like wildfire, apparently!
RISING STAR: MY FIRST HIVE GAME
I've actually always intended to write some kind of review, but I just ended up digging my heels in and finding too many things to distract me… an increasingly common problem these days within the Hive ecosystem!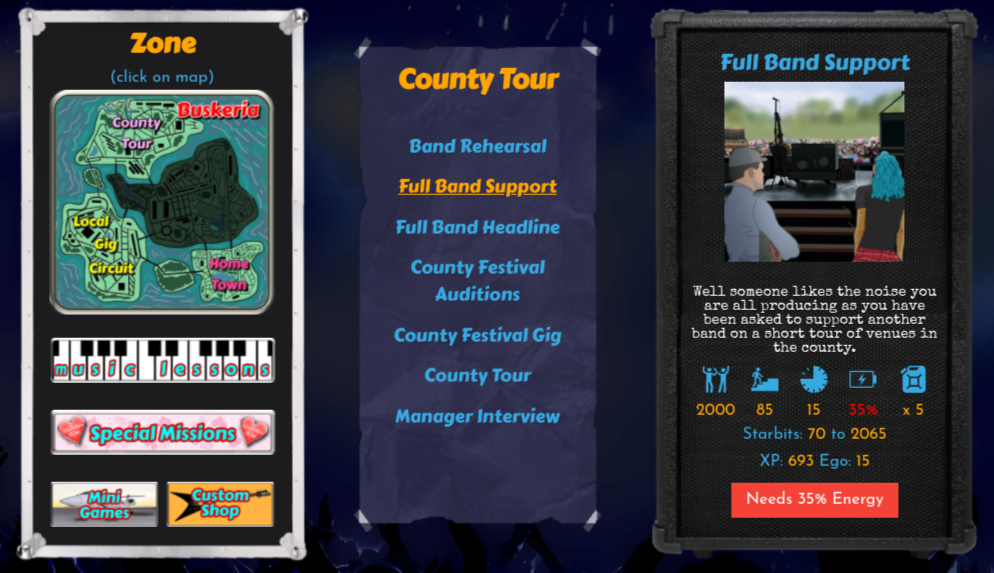 But it's time… now that everyone has already heard about it-- and half of you reading this are probably already well on your way to the Local Gig Circuit or the County Tour-- it's time for me to chime in with my own two sats.
Or perhaps I should say my own two "BITS".
STACKING STARBITS
For the few among you who aren't yet familiar with RISING STAR, it has a native Hive Engine token called STARBITS... this is the currency you will earn for doing missions (from illegal busking all the way to county and country-wide tour gigs, as well as special missions and seasonal card challenges).
I've been at it for a while too-- one of the original rockers, I think-- so stacking them has become a lot easier. From just doing missions, I can easily earn around 10k Starbits every day (worth 2.6 HIVE right now) if I have decent luck.
And that's not even counting the other 10k Starbits I get for being one of the 66 "Starbits Millionaires" in the #RisingStar crew and doing that special mission once a day. Check out the sweet card you get when you reach the milestone balance and request your Millionaire status...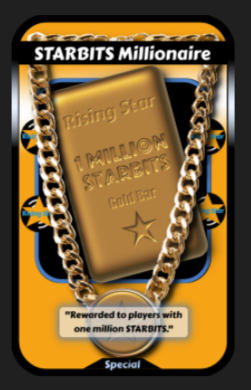 But you gotta spend it to make it!
That's my philosophy anyway, and it is how I approach playing these idle crypto games. I wanted to build up an account that would become a decent passive income... and HIVE was dropping from around $0.25 at the time, so all the pieces fell into place... I threw some of my own #Hive onto the stage and watched it grow.
Without going into too much detail about strategy, I'll just say for now that I do have one. It has matured and been adapted over the months that I've been playing, but it's a big part of the reason I am where I am on the leaderboard.
THE RISING STAR LEADERBOARD
Right! I should mention the daily Hive pool that is split up among the game's most active players. The pool is up to 36 HIVE, and my 9th place share is 1.19 HIVE... every day! The top 102 spots get a piece of it right now. Check out the screenshot of the Top 20 below: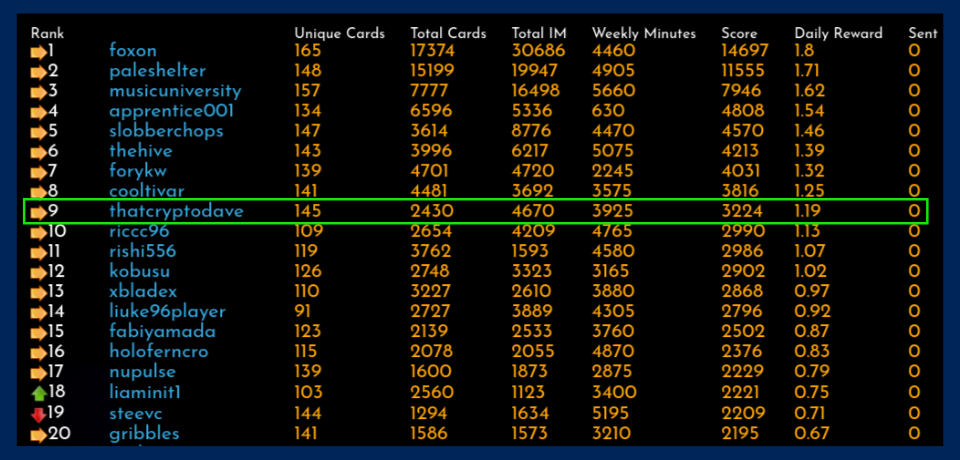 I decided early on that I wanted to be near the top of this leaderboard, and that all my moves should be motivated by that... so I needed to stick as close as possible to the metrics they use to weigh our accounts. These are unique cards, total cards, total IM and weekly minutes played-- in that order.
If admiring complex math equations floats your boat, here's how they tally up our account scores (as is stated in the FAQ):
(Total IM * Total IM Percentage) + (Total Cards * Total Cards Multiplier * Total Cards Percentage) + (Unique Cards * Unique Cards Multiplier * Unique Cards Percentage) + (Total Minutes Played * Weekly Minutes Multiplier * Weekly Minutes Percentage)
So without getting too specific in this post, I'll say that this is exactly what I've done (and still do): I focused on collecting as many unique cards as possible, and I bought more selectively at times instead of buying mountains of blind packs. Little things like that can go a long way over time.
And I played the game a lot!
That might sound like a no-brainer, like the usual greeting card sentiment meant to placate the little people sweating their asses off at the bottom: "You can't win if you don't play" and other soft shoulder punches...
But it's essential with RISING STAR, and I think it's one of the novel features that helps make it such a notable success. You can't just spend a bunch of money, then sit back and count the consequent rewards...
If you don't do the missions, you don't get any Starbits... so even the biggest whales need to put in their time if they want to earn an income and stay on top of the leaderboard. That's a beautiful thing!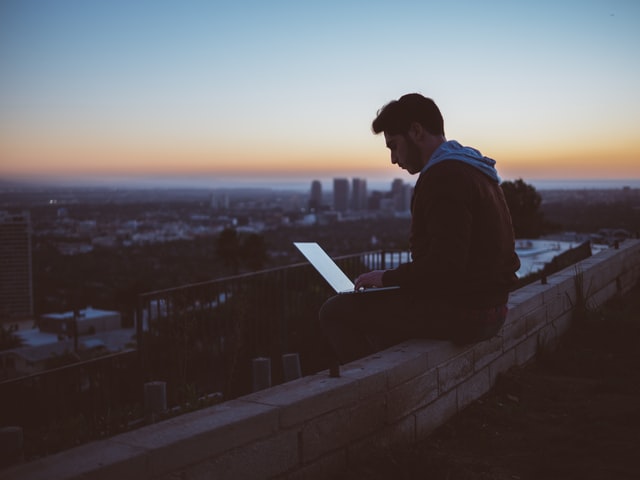 RISING STAR STRATEGY SERIES?
I'm thinking of doing a semi-regular Rising Star post in which I talk about strategy and notable events in my own gameplay, so maybe I can do more of a deep dive on specific moves and ideas in the next instalment.
No two players are going to be the same though, so my preferences and chosen manoeuvres may look drastically different from those of other veterans in the Rising Star World... it's worth checking out a few different perspectives if you're genuinely interested in fine-tuning your game. Just saying.
---
Is that something you even want? Let me know in the comments if you're tired of seeing posts like these, or if my perspective would be worth reading once in a while. If you haven't started your band yet, click HERE or on any of the other links in this article to get started! You can thank me later. :)
---
---