Wednesday night thoughts...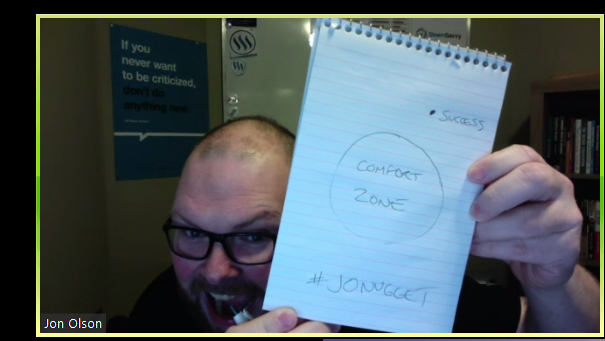 The above picture is of my good friend and co-host of The Sports Nerds, @jongolson. Jon has been an online entrepreneur for over 20 years and anytime I need advice on how to traverse this world of internet marketing I go directly to him. Problem is, I don't listen very well. Do you see that pad he is holding and the message he wrote? I am sincerely afraid of getting out of my comfort zone... I like being comfortable, I hate stress, anxiety, and the fear of failure is not just in my "online adventures" but in real life as well. I can trace this fear back to my childhood and my father's voice in my head telling me I would never amount to anything no matter what I tried, and that voice was joined years later in my late teens and 20's by my current step-father repeating a lot of what my father said, so I have had these voices in my head for most of my life and I have allowed them to control what I did or did to accomplish the last 40+ years of my life. Self-motivation is not a strong suit of mine, as Jon will agree, and most of it is due to listening to those voices in the back of my head telling me I can't succeed, that I will never amount to anything...
Jon will also tell you that I have made posts in the past on this same subject, that I look inward for a solution and expose my thoughts in a blog post promising that I will change, promising that moving forward it will be different, only to slide back into my old habits and not make any progress. Well, yeah he's right, I HAVE done this in the past, thinking that putting these thoughts down and calling myself out will make a difference. It has never worked and I don't foresee that my behavior will change after this post either, but the difference in this one is that for the first time in a LONG time I actually WANT to get out of my comfort zone... discuss things that I have little knowledge about, and not be afraid that my opinions will be smacked down by those that know more than I do. I have to admit I am not an expert in Sports, despite the fact I am The Sports Nerd, and I know there are plenty of people out there who know more about sports than I do. So instead of trying to be an "expert", I am going to go with just being myself. A guy that loves sports (well MOST sports, Soccer has no place on my blog, sorry gang) and loves to talk about sports, no matter if I am an expert at it or not.
I am going to attempt to raise the level of discussion in this community with my words, my humor, and my knowledge, (or lack thereof) and bring a different view of sports that most of you probably have not seen before... the view of the FAN, the view of a guy that just loves sports and doesn't pretend to be an expert at any of it. I never played professionally and I am certainly not a journalist, but I am a sports lover and I will talk about whatever sport is on my mind at the moment until I am blue in the face. I'm going to post short quick comments, and at times, long-winded diatribes that will bore the FUCK out of you. What that means is I will be myself, I will be honest and I will try to be intelligent. Most of you have no idea who I am, and that's ok, cause that is gonna change in the coming months...
I'm about to be uncomfortable...
Enjoy the ride...
Join me and my cohosts @jongolson, Ken Costlow, and Eliot "Big E" Lomba each and every Sunday night at 7:30 PM Eastern time for The Sports Nerds! 90 minutes of sports talk, trash talk, and laughs as we discuss the week in sports.
https://www.vimm.tv/c/the-sports-nerd
https://www.facebook.com/groups/1839617396217126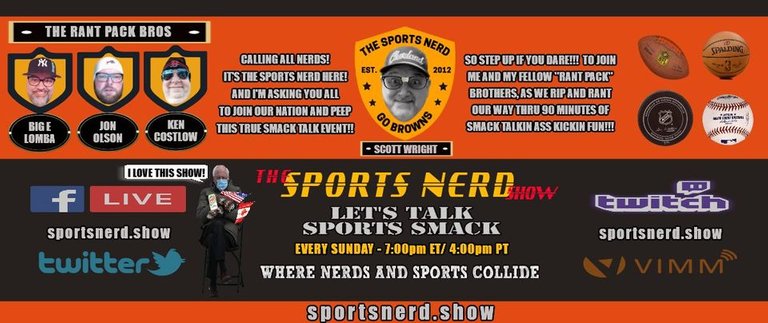 ---
---