EN/ESP - USD/JPY Analysis for April 22nd
English
What's up investor friends?
In the April 14 analysis we found USD/JPY above the downtrend line visible on daily candlesticks. The pair was holding between the downtrend line and the resistance at 109.50. It had managed to break the channel to the upside but was showing little strength.
Two possible scenarios had been put forward for the pair, a bullish one with a target at 111 and a bearish one with targets at 108 and 107. However, we discussed that the bearish pressure was strong, the pair was holding below the 109.50 resistance and the bears were dominating in the short term.
Possible scenarios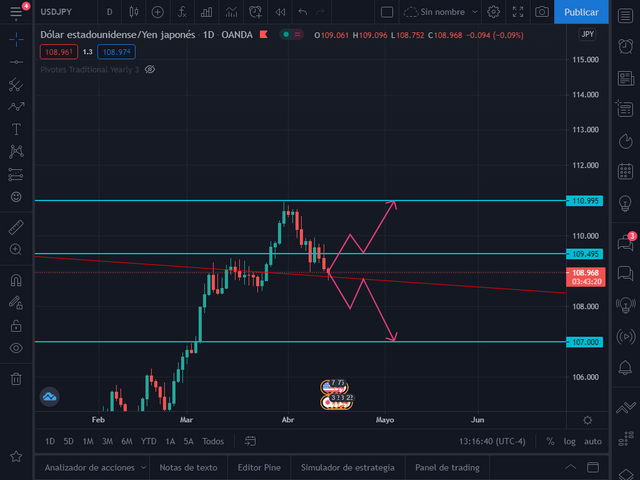 Results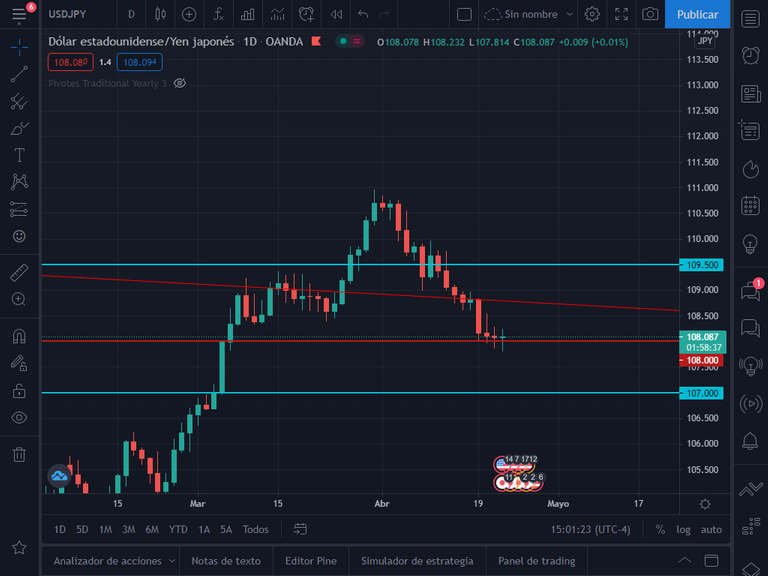 As you can see, the bears kept control of the pair taking it back below the trend line and driving the price down to the 108 support, which by the way has been resisting the bearish force for 4 days now.
4-hour candles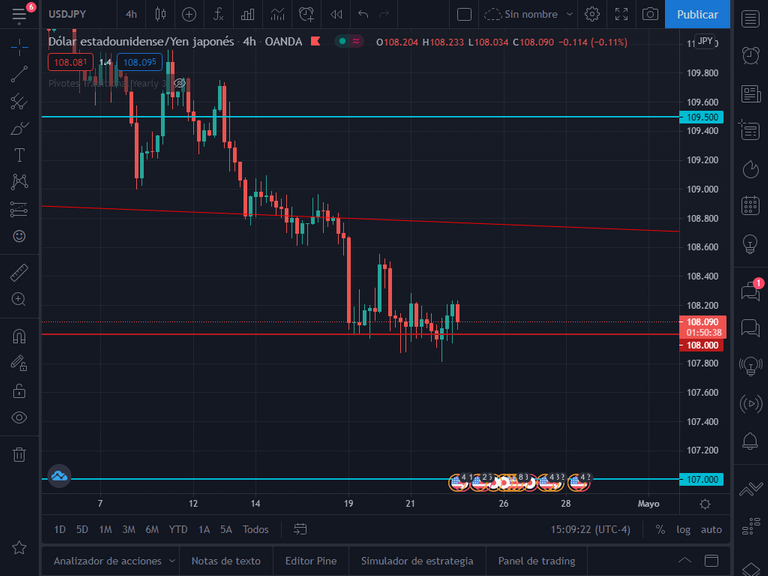 At the moment the bears are still in control of the market and as long as they stay below the downtrend line, they can take the pair to the next support at 107. This last support is of utmost importance for the bulls, as if it is broken, a steeper drop and total control of the bears in the medium term could come.
At the moment all is not yet lost for the bulls, as in higher temps they have a possible upside point. On monthly candles we can see the March close above the downtrend line.
Monthly candles
With all these points in mind, we can propose two scenarios:
Scenario 1
4-hour candles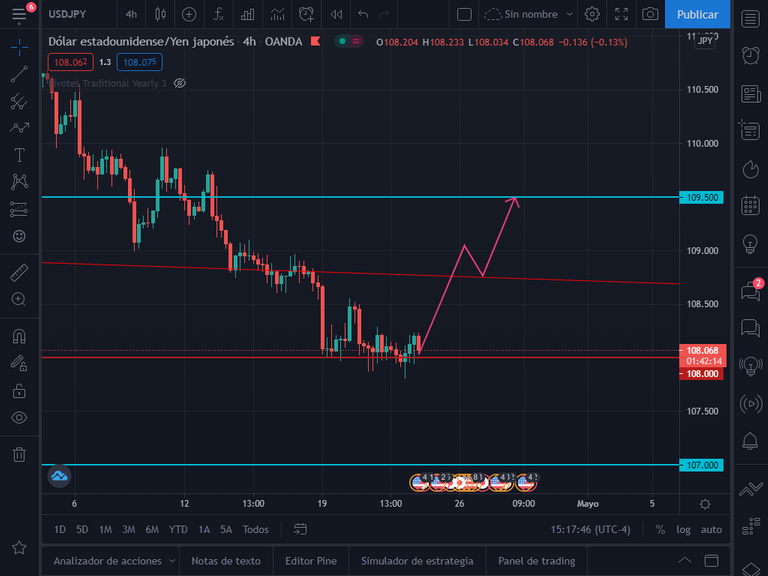 As I told you, the bulls still have hope for a recovery. If they manage to hold the current support at 108 and recover above the downtrend line, they could continue their bullish route to 109.5 and 111 prices in the short to medium term. I recommend buying the break above the downtrend line with Stop Loss below 108.55 and Take Profits at 109.50 and 110, where exactly the R1 of the annual pivot points is located.
Scenario 2
4-hour candles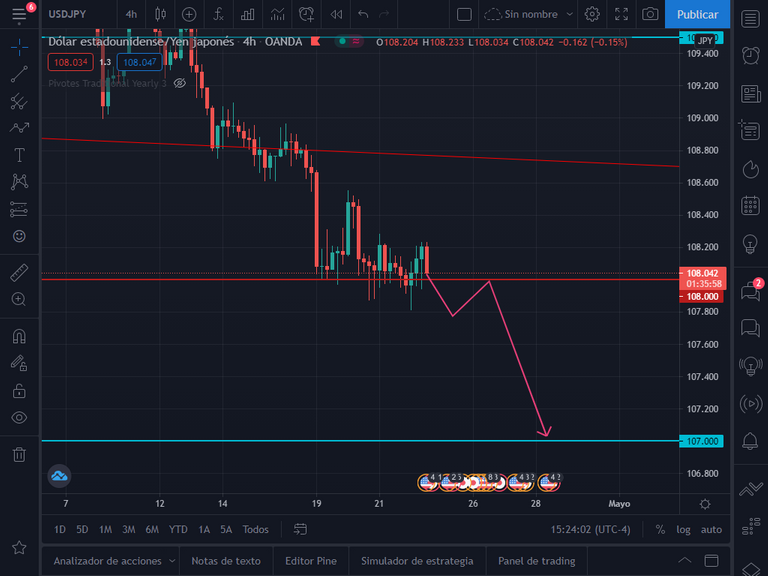 In the event that the bears manage to hold below the downtrend line, we could see a break of 108 support and a quick drop to the 107 area. This support at 107 would be the last hope for the medium to long term bulls. If this support is broken, we could see the pair drop to the lows of 106 and 105 most likely. I recommend selling if a convincing break of 108 support is achieved, placing Stop Loss above 108.30 and Take Profit at 107.
I consider the bearish scenario to be the most likely, as the long-term trend remains bearish since 2016. The only way for the bulls to change the long term trend is to break the trend line.
We must watch for price action and then go with the flow. I hope this information is helpful to you fellow traders. Best of odds to you 💪📈.
Disclaimer
The information given in this article is only my analysis and personal opinion. Be sure to do your own analysis and research. Trading cryptocurrencies, forex, commodities, etc, is risky.

---
Español
¿Qué tal amigos inversores?
En el análisis del 14 de abril encontrábamos al USD/JPY por encima de la linea de tendencia bajista visible en velas diarias. El par se mantenía entre la linea de tendencia bajista y la resistencia de 109.50. Había logrado romper el canal al alza pero se le veía poca fuerza.
Se habían planteado dos posibles escenarios para el par, uno alcista con objetivo en 111 y uno bajista con objetivos en 108 y 107. Sin embargo hablamos de que la presión bajista era mucha, el par se estaba manteniendo por debajo de la resistencia 109.50 y los osos dominaban en el corto plazo.
Escenarios posibles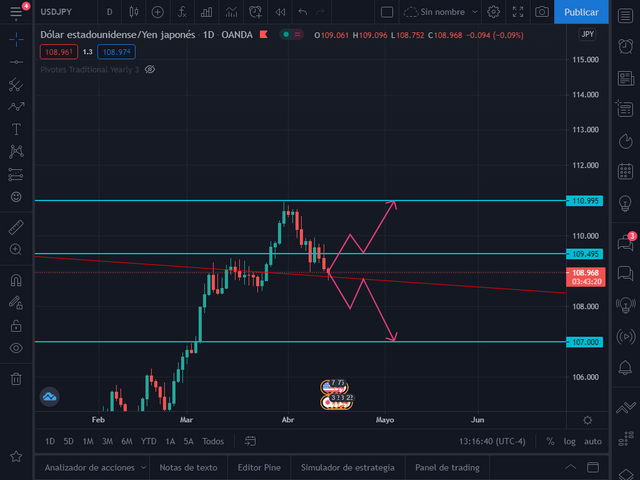 Resultado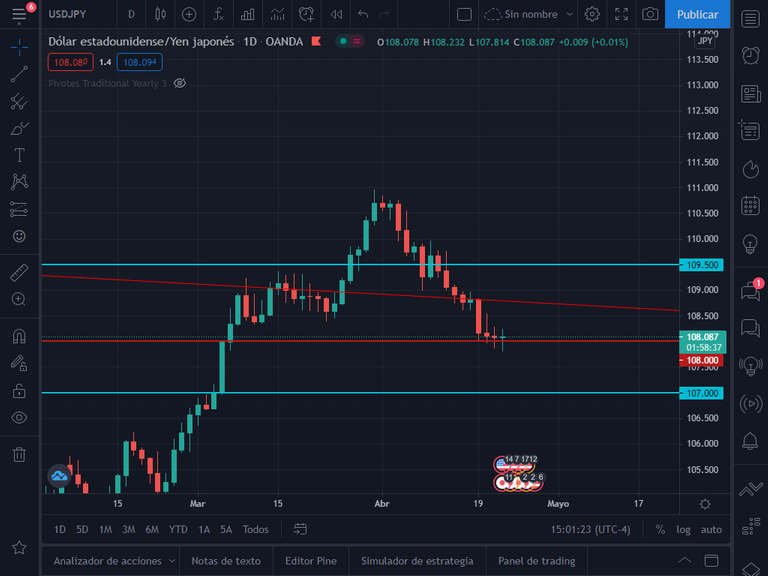 Como pueden observar, los osos mantuvieron el control del par llevándolo de vuelta por debajo de la linea de tendencia y haciendo caer el precio hasta el soporte de 108, que por cierto lleva 4 días resistiendo la fuerza bajista.
Velas de 4 horas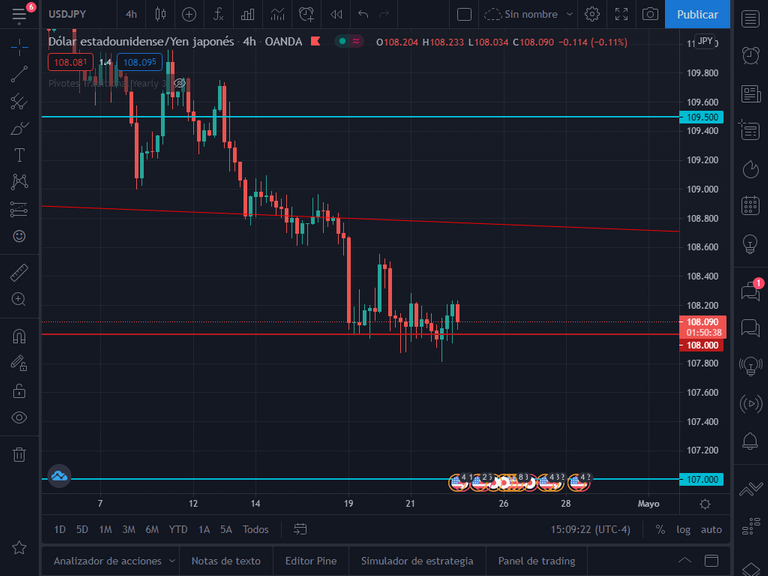 En estos momentos los osos siguen teniendo el control del mercado y mientras se mantengan por debajo de la linea de tendencia bajista, podrán llevar el par hasta el siguiente soporte en 107. Este ultimo soporte es de suma importancia para los toros, ya que si es roto, una caída mas pronunciada y control total de los osos a mediano plazo podría venir.
Por el momento aún no está todo perdido para los toros, ya que en temporalidades mas altas tienen un posible punto a favor. En velas mensuales podemos observar el cierre de marzo por encima de la linea de tendencia bajista.
Velas mensuales
Teniendo todos estos puntos en cuenta, podemos proponer dos escenarios:
Escenario 1
Velas de 4 horas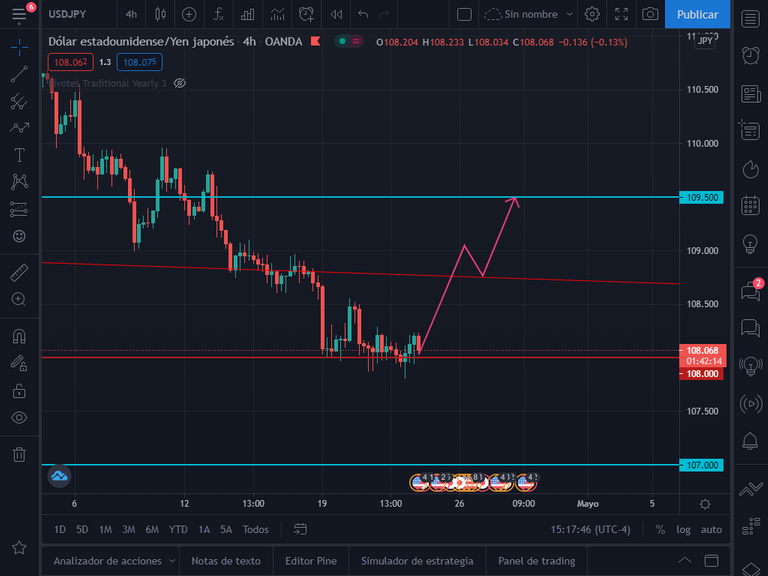 Como les dije, los toros aún tienen esperanzas de recuperarse. Si logran mantener el soporte actual de 108 y recuperarse por encima de la linea de tendencia bajista, podrían continuar su ruta alcista hasta los precios de 109.5 y 111 en el corto a mediano plazo. Recomiendo comprar la ruptura por encima de la linea de tendencia bajista con Stop Loss por debajo de 108.55 y Take Profits en 109.50 y 110, donde se encuentra exactamente la R1 de los puntos pivotes anuales.
Escenario 2
Velas de 4 horas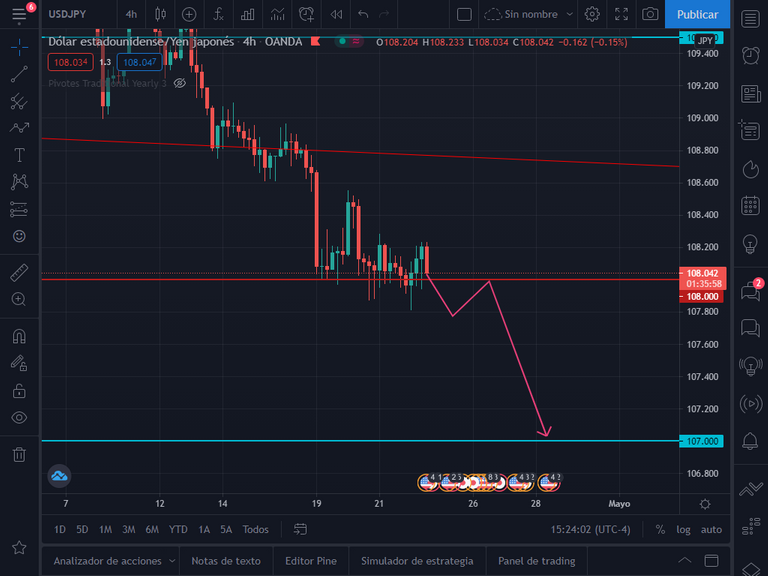 En el caso de que los osos logren mantenerse por debajo de la linea de tendencia bajista, podríamos ver una ruptura del soporte 108 y una rápida caída hasta la zona de 107. Este soporte en 107 serían las ultimas esperanzas de los alcistas a mediano - largo plazo. Si este soporte se llegara a romper, podríamos ver al par caer hasta mínimos de 106 y 105 muy probablemente. Recomiendo vender si se logra una ruptura convincente del soporte 108, colocar Stop Loss por encima de 108.30 y Take Profit en 107.
Considero que el escenario bajista es el mas probable, ya que la tendencia a largo plazo sigue siendo bajista desde el año 2016. La única manera de que los toros cambien la tendencia a largo plazo es rompiendo la linea de tendencia.
Debemos estar atentos a la acción del precio y luego irnos con la corriente. Espero esta información les sea de utilidad amigos traders. Las mejores de las probabilidades para ustedes 💪📈.
Descargo de responsabilidad
La información que se ofrece en este artículo es sólo mi análisis y opinión personal. Asegúrese de hacer su propio análisis e investigación. Operar con criptomonedas, divisas, materias primas, etc, es arriesgado.

Posted Using LeoFinance Beta
---
---